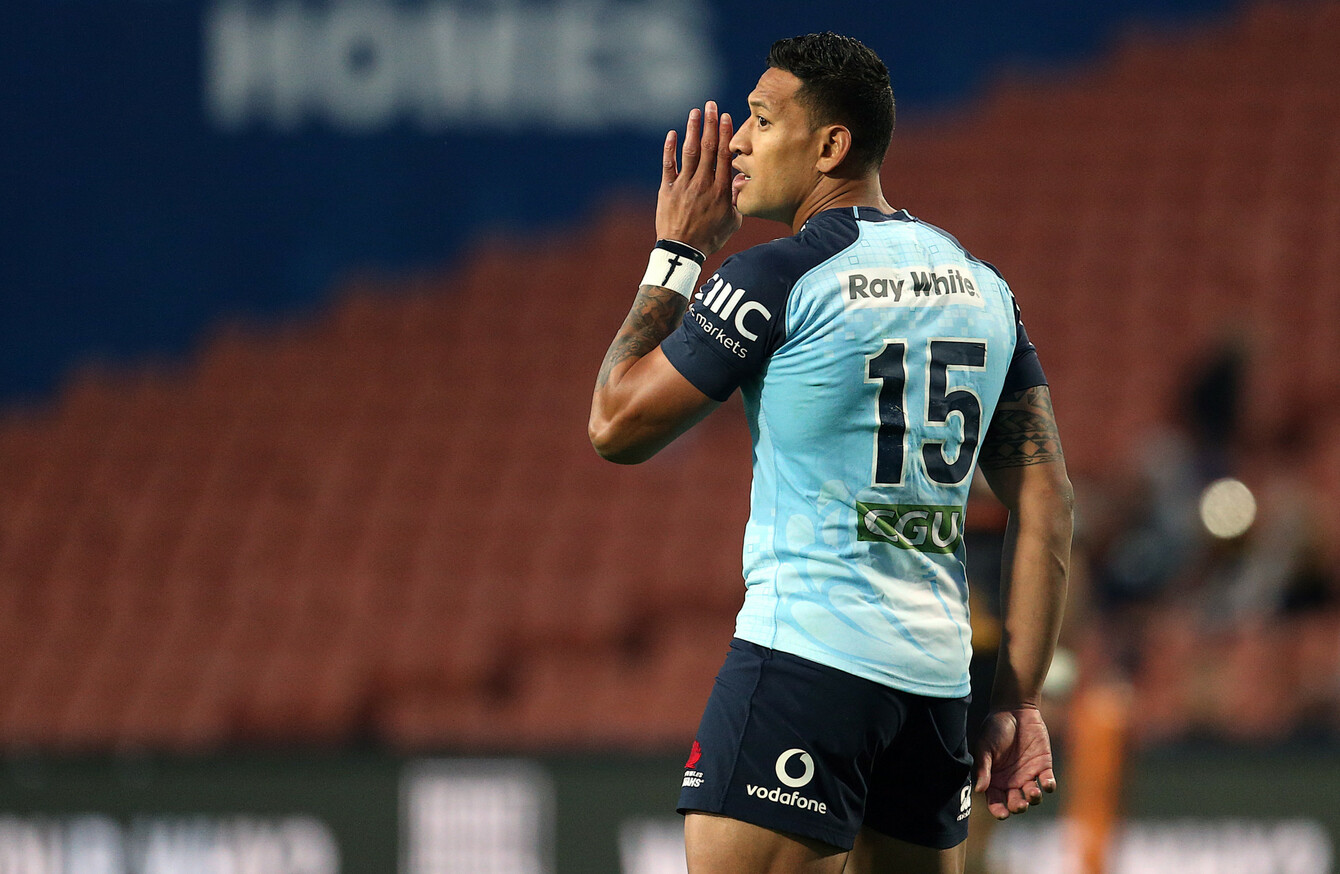 Image: Photosport/Bruce Lim/INPHO
Image: Photosport/Bruce Lim/INPHO
AUSTRALIAN FULLBACK ISRAEL Folau has taken to Twitter with highlighted bible verses ahead of a showdown with rugby chiefs following a backlash after he said gay people were destined for hell.
Folau, Australia's highest profile player and a devout Christian, sparked outrage with his reply on Instagram last week when asked what was "God's plan for gay people?"
"HELL.. Unless they repent of their sins and turn to God," he said.
Rugby Australia, which has an inclusion policy designed to stamp out discrimination and homophobia in the game, summoned him to a meeting over his social media use, reportedly to be held tomorrow.
Ahead of the showdown, Folau used Twitter yesterday to highlight a bible verse from Matthew 5 that some perceived as him positioning himself as being persecuted for his views.
"Blessed are they which are persecuted for righteousness' sake: for theirs is the kingdom of heaven," it said.
"Blessed are ye, when men shall revile you, and persecute you, and shall say all manner of evil against you falsely, for my sake."
Rugby Australia is seen as conducting a balancing act. Folau is the sport's most marketable star. But one of Rugby Australia's leading sponsors is Qantas, which has made clear it is not happy with what was said.
Qantas' chief executive Alan Joyce was a key proponent of same-sex marriage last year when such unions became legal in Australia.
Nigel Owens, the world's most high-profile gay referee, has also taken issue with Folau's views, penning a highly personal column for WalesOnline over the weekend.
The Welshman, who controlled the 2015 World Cup final between New Zealand and Australia, said the comments were a setback for young people struggling with their sexuality and could "tip them over the edge".
"Yes, you are entitled to your opinion but one should understand what that opinion can do to young and vulnerable people's lives in particular ones in a bad place dealing with their sexuality.
"When you say first of all that you respect everybody and their different views and opinions, then you can't mean that if you are saying gay people should go to hell because of who they are.
"All that should matter is that if you are a decent human being then you should be respected and treated the same as everybody else and you should treat and respect everybody else the same as well too," he added.