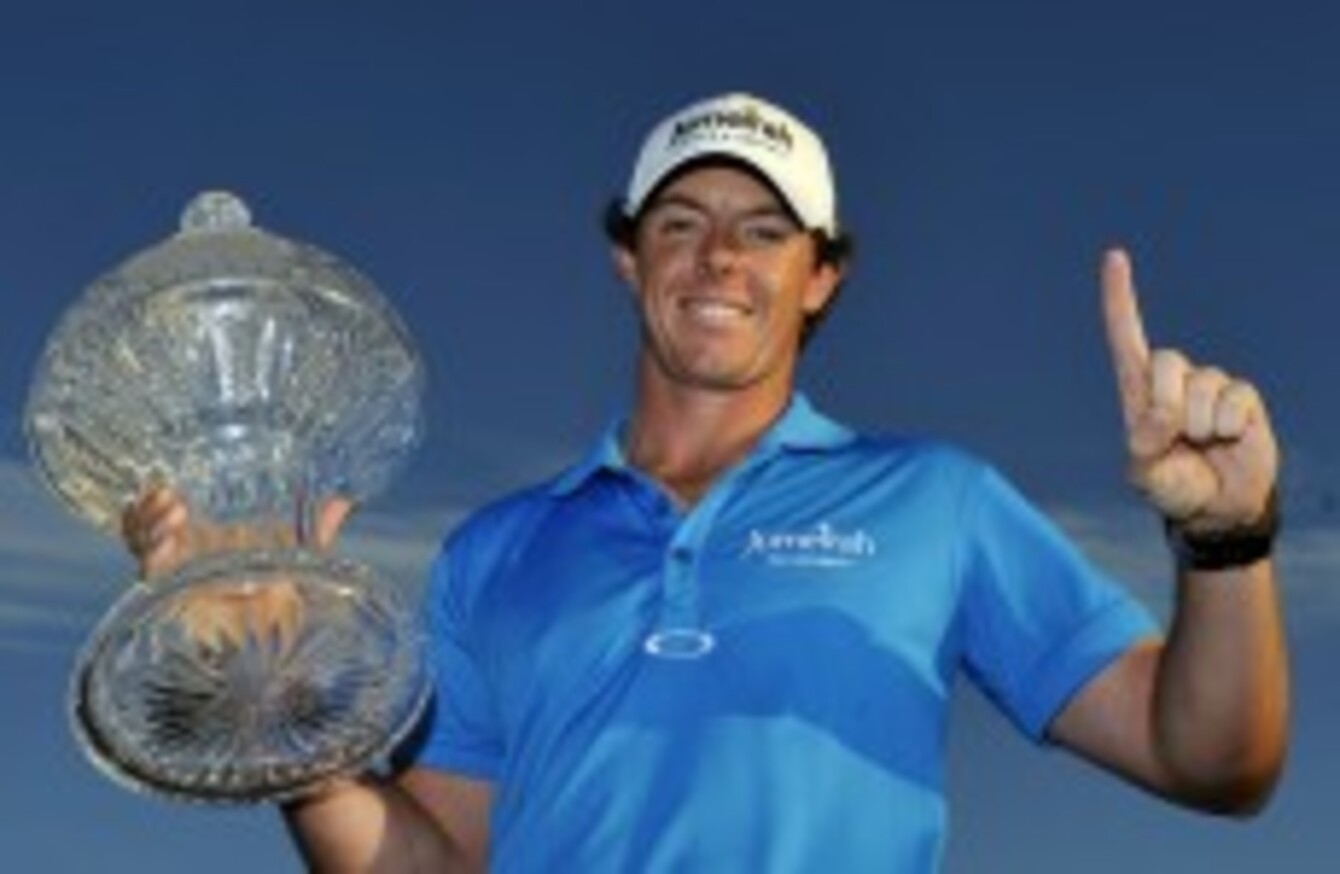 McIlroy with the Honda Classic trophy last night.
Image: Rainier Ehrhardt/AP/Press Association Images
McIlroy with the Honda Classic trophy last night.
Image: Rainier Ehrhardt/AP/Press Association Images
GOLF'S NEW WORLD number one Rory McIlroy said his ascent to the peak of the sport is a dream come true.
The 22-year-old held off a fast-finishing Tiger Woods by two strokes at the PGA National Champion Course in Palm Beach Gardens, Florida, on Sunday to take out the Honda Classic, and in doing so he leapfrogged Englishman Luke Donald to the top of the world rankings.
McIlroy, at 22 years and 10 months old, became the second-youngest man ever to hold the top ranking, after Woods attained the honour aged 21 years and five months in 1997, and he said he was thrilled with his achievement.
"It was always a dream of mine to become the world number one and the best player in the world," McIlroy said.  "But I didn't know that I would be able to get here this quickly.
"Hopefully, I can hold onto it for a little longer."
The Northern Irishman began the day two strokes clear of his nearest rivals, but with Woods flying home with a sizzling eight-under par 62, McIlroy had to deal with anxious moments – and he said those made the victory all the sweeter.
"It was a lot more meaningful," McIlroy said.  "The way I won today was great. I made a couple of par saves early and there was a 62 (Woods) and a 63 (from Lee Westwood) out there, which was unbelievable playing."
McIlroy was on the 13th hole when he heard the gallery cheer for Woods and he knew he had a fight on his hands.
"I heard the huge roar and it definitely wasn't a birdie roar," he said.  "That's when I knew he had probably got to 10 (under)."
After blowing the four-stroke lead he held heading into the final round of last year's US Masters, golf's new supremo said he was looking forward to a return to Augusta.
Tiger Woods waits to putt on the 10th hole during the final round of the Honda Classic in Palm Beach Gardens. (AP Photo/Rainier Ehrhardt)
"I think it's great for the game and I think everyone is excited for Augusta to roll around. I definitely know I am," McIlroy said. Woods was delighted with his 62 – his lowest score since 2009 and his best final-round score ever – and said it was reward for a lot of hard work.
"I've been close to shooting this score, or scores like this. And it was just a matter of time before things all fell into place," Woods said. "I think I just need the time. I switched coaches and I got hurt for most of last year, and I started putting the pieces together.
"Each tournament I've progressed, I've gotten better. And it's just a matter of time before I put it all together for an entire tournament."
Like McIlroy, Woods can head to Augusta full of confidence as he bids for a fifth Masters title and his first since 2005.
"I'm thrilled at the fact that each and every week, my game has gotten better. Each tournament it's gotten better, and that's the whole idea heading into April," he said.
Moments after he achieved a lifetime goal, meanwhile, McIlroy took to Twitter to update his followers: "What a day! Very honoured and proud to be the worlds number 1 golfer! Thank you to everyone who has supported me along the way!"