ANY LEINSTER FANS concerned that standards in the province might have dropped since the glory days of their Heineken Cup successes would have taken solace from watching Jack Conan speak post-match on Saturday in Belfast.
The Old Belvedere man was as polite as ever before taking his seat in the media room at the Kingspan Stadium following his side's 17-13 defeat to Ulster, but he was seething behind those good manners.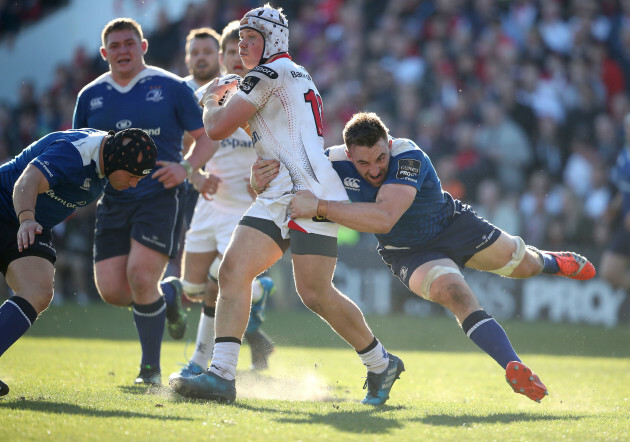 Dan Sheridan / INPHO Conan looks to tackle Ulster's Luke Marshall. Dan Sheridan / INPHO / INPHO
While the loss to Ulster didn't cause earth-shattering damage – Leinster had already secured a home Guinness Pro12 semi-final, albeit they dropped from from first to second in the table and will now host the Scarlets rather than the Ospreys – Conan was angry.
His team-mates below in the changing room were angry. The coaching staff were angry too. This performance simply was not up to the standards they set for themselves.
"Pretty gutted, to be honest with you," said Conan of how he was feeling. "Personally, it was my 50th cap and I wanted to go out there and have a good one, not a day to forget.
"So I'm annoyed at myself and my performance. It's not up to the standard of Leinster Rugby or myself, that I'd like to think I live by, so I'm sure there'll be some harsh words come Monday morning.
"That's rugby, we'll get to go again in two weeks and hopefully I get the chance to right a few wrongs against the Scarlets.
"I know the lads are gutted, this same fixture last year we came up here and they beat us heavily. We came here to fix that and we didn't, so it probably hurts twice as much."
Ulster were the more aggressive side on a day when they said goodbye to Ruan Pienaar, Roger Wilson and a handful of others, with Conan disappointed to see them winning more of the collisions.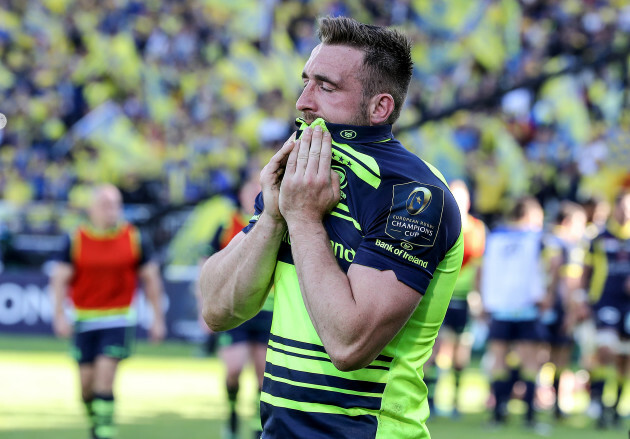 Dan Sheridan / INPHO Conan has emerged as a leader for Leinster. Dan Sheridan / INPHO / INPHO
The fact that Leinster had secured their home semi-final as early as 15 April was surely damaging to their focus in recent weeks, but Conan said that such a dip was inexcusable.
"We can't use that as an excuse, we can't change our mindset from game to game.
"It does come quick and fast, it is tough at times… to get up for those games is very difficult, but that can't be an excuse for under-performing. You can't want it one week and then switch off, come out and put in a sub-par performance and let a team roll you over because you want it that bit more.
"That's not good enough. Maybe for other sides that's fine, but that's not the way we conduct ourselves; it's definitely not the way we train and I know Stuart [Lancaster], Leo [Cullen], Fogs [John Fogarty] and Girv [Dempsey] were bitterly disappointed.
"They had a few choice words at half-time, I'm not looking forward to going in on Monday now and having to look at that again because there will be some people picked out for mistakes they made – myself included, I'd a few turnovers that let them into the game. It's just not good enough."
Leinster now have strong motivation driving them ahead of their semi-final against the Scarlets on 19 May at the RDS.
They will watch the Champions Cup final this weekend with regrets too, and it will be a major surprise if they don't hammer out of the blocks against the Scarlets in two weekends' time.
Their review of the Ulster defeat will not skip over any of the gory details, as they look to ensure it never happens again.
"Absolutely, we're big boys," said Conan. "We're not going to go in there and pat each other on the back and tell each other we'd a good game when we came out and massively underperformed.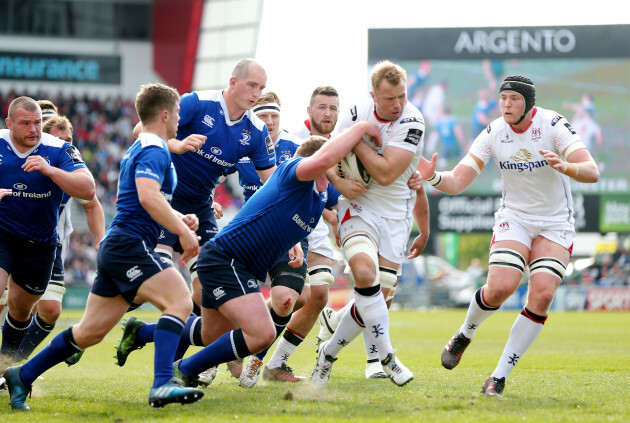 Presseye / Darren Kidd/INPHO Roger Wilson batters through Leinster to score. Presseye / Darren Kidd/INPHO / Darren Kidd/INPHO
"We're bitterly disappointed come 80 minutes, it doesn't matter if it was your first cap or your 50th or your 100th for Leinster. If you made mistakes today and let them into the game and cost us opportunities, you're going to hear about it Monday.
"You've got to take it on the chin, it's not a personal attack on anyone. It's to make the environment and the team better.
"We'll learn from this, the despair drives the desire and in two weeks' time we'll get to right this wrong."
The42 is on Instagram! Tap the button below on your phone to follow us!