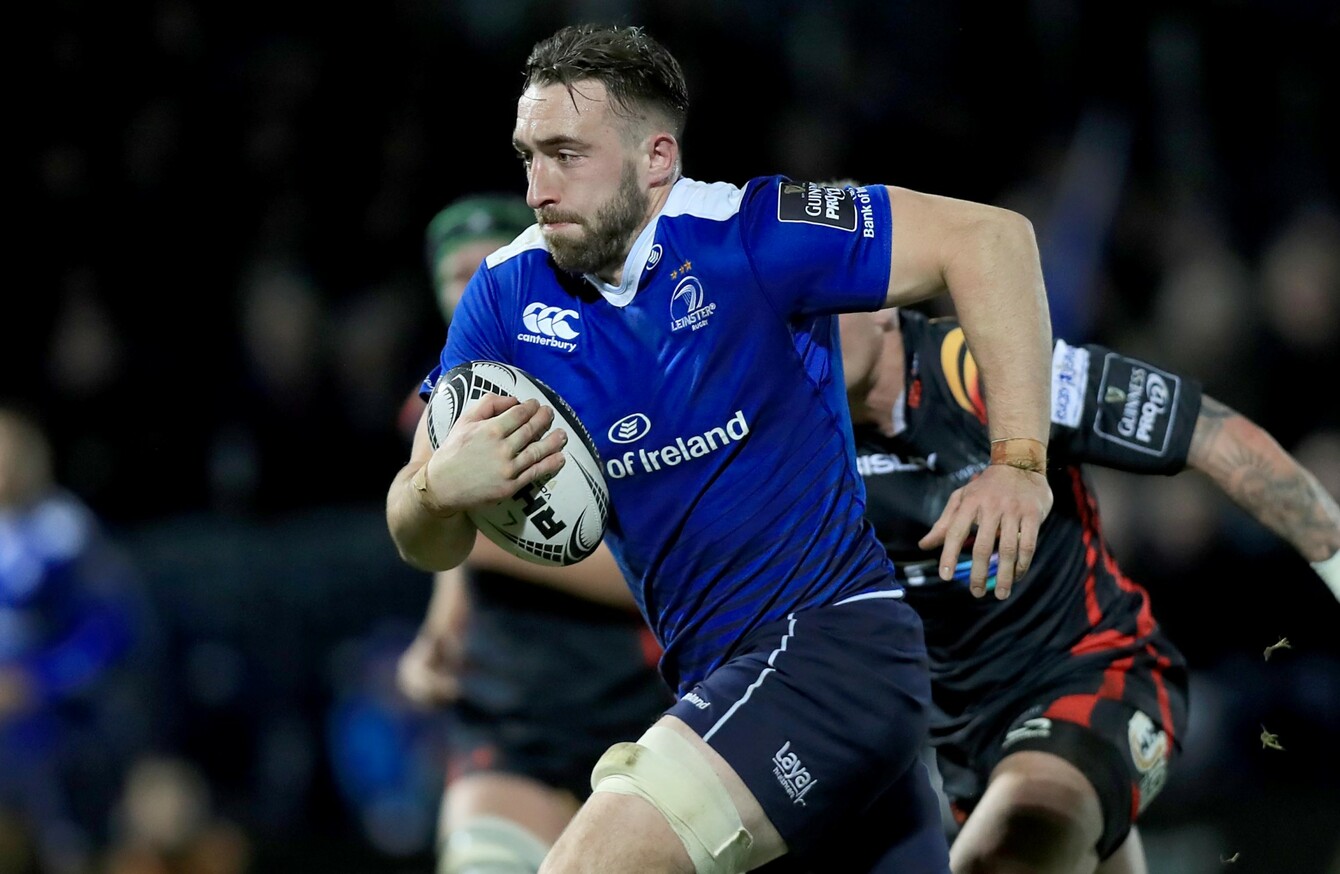 Conan is willing to fight for his place at Leinster.
Image: Donall Farmer/INPHO
Conan is willing to fight for his place at Leinster.
Image: Donall Farmer/INPHO
LEINSTER'S JACK CONAN is hoping his time on the physio table over the past couple of seasons will help make him a better player.
The once-capped Ireland international suffered an ankle injury in a pre-season friendly against Gloucester in August, while broken bones in both feet ruled him out for over three months last term, but he believes he can bounce back stronger than before.
"I missed a few games at the start of the season, it was disappointing to get another ankle injury, but I have put it behind me now and I would like to think I am better for it," Conan said ahead of tomorrow's inter-provincial clash with Ulster.
"More than anything, it can be mentally tough to deal with at times. But I think I am mentally stronger and physically that bit more developed now.
"You also get to see so much more standing at the sideline, as much as it is miserable, you do get to discover the nuances of the game, look at videos and see the areas that you can improve, and that is something I tried to work hard on."
Despite the setbacks, international aspirations remain firmly on the radar.
"There are times, even over the November internationals, when you see lads getting caps, am I envious of them? Absolutely," Conan continues.
"That was me at one stage getting my first cap.
"Maybe if I was fit, things would have worked out differently and I would have played, but that is not something you can hold onto.
"I would like to use that [the injuries] as fuel to the fire and it is something that pushes me on to be better and drives my want to get back in the green jersey and my want to get back and play rugby for Leinster."
The 24-year-old is hoping the intense battle for places at Leinster can spur him on, and although competition is fierce, he sees no reason to look at leaving the eastern province in order to get more minutes on the pitch – for the time being at least.
"I'm very loyal to this club and they've stuck by me.
"At times, they've given me opportunities when they didn't need to. For the moment, I'm here and giving it my all and then I'll see what happens down the line.
"We all push each other on. It is helpful and if there are any criticisms, it's always constructive. Nobody ever tears anyone down.
"I wouldn't say it is fiery. That's not to the benefit of the team, for people to go out and being overly aggressive in training. No-one thinks 'he is putting that bit more effort in', that's not how it works.
"There's no trying to show anybody up. Everyone is for the betterment of the team. The standard is high and we try to push each other on.
"Your months or your weeks of just training and not getting the chance to play are redeemed by Leo giving you the call.
"You've got to take the jersey and realise this opportunity may not come around too quickly again, somebody else may come back in the team."
After a disappointing St Stephen's Day loss to Munster, Leo Cullen is expected to have a host of internationals returning to his side for the meeting with Ulster, but Conan doesn't want to use the inexperience of the squad that travelled to Thomond Park as an excuse for the lacklustre performance.
"It is not about experience, it is decision-making and being a smart rugby player. It is not necessarily about what age you are or how many games you have played either.
"Indiscipline is a mindset, you don't need to have a 100 caps for Ireland or Leinster to know it."
With the nortern province travelling to the RDS on the back of a straightforward win over a below-par Connacht last week, the number eight expects another difficult encounter.
"They might not have as many internationals as we have, but they still have a good pedigree.
"We know the dangers they'll bring and they like to play an expansive wide game, they've got the skills to do it and the players to do it.
"It will be a big task for us this weekend, but we always back ourselves at home, and we know the boys who get the opportunity to run out this weekend will right a few wrongs."
The42 is on Instagram! Tap the button below on your phone to follow us!