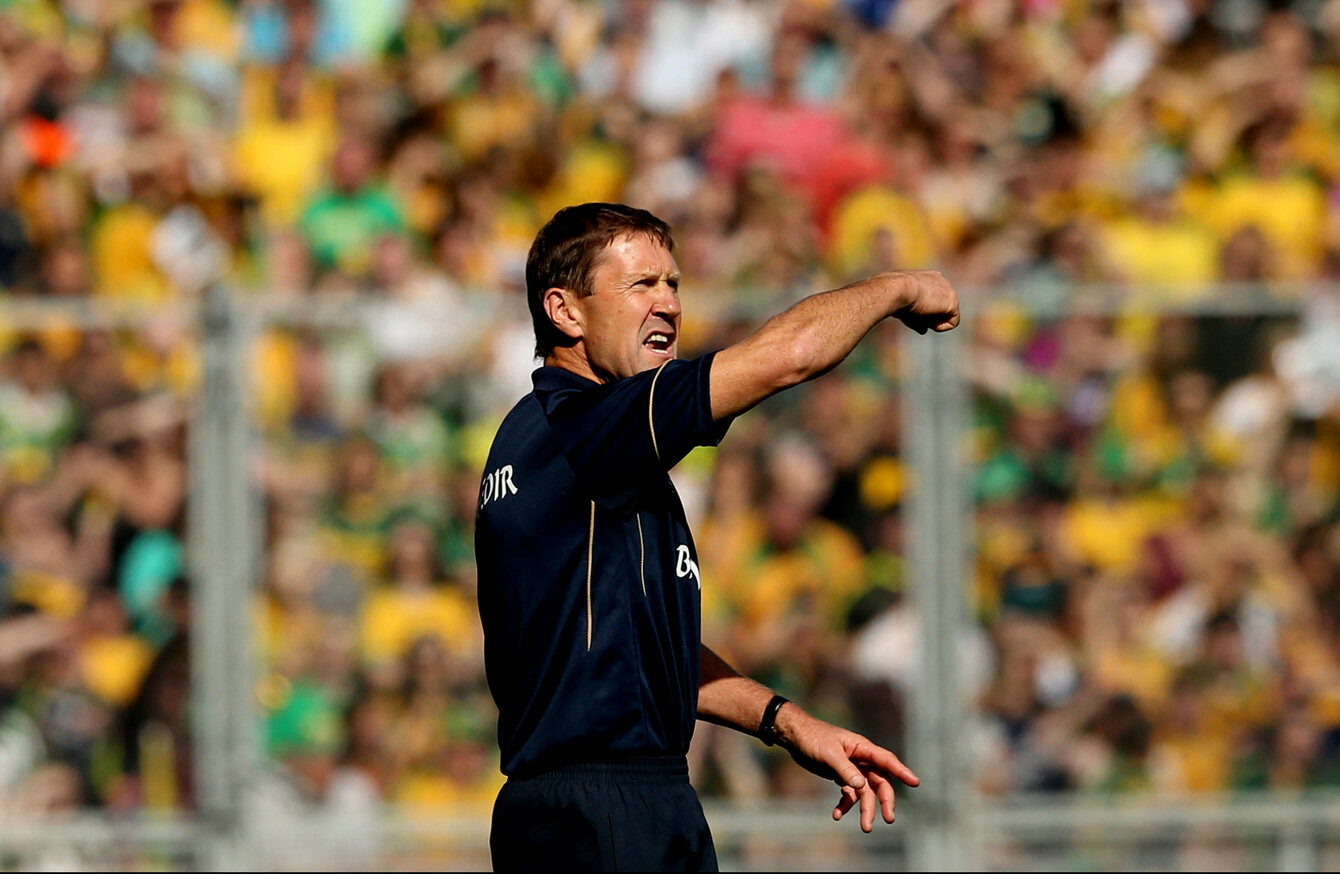 New Kerry boss Jack O'Connor.
Image: James Crombie/INPHO
New Kerry boss Jack O'Connor.
Image: James Crombie/INPHO
JACK O'CONNOR HAS been ratified as Kerry senior football manager on a two-year term at tonight's county board meeting. 
His backroom team will include Diarmuid Murphy and Micheál Quirke, with the rest of it yet to be finalised by O'Connor. 
After a robust debate, county board chairman Tim Murphy defended the process that led to O'Connor's appointment and rejected claims that outgoing boss Peter Keane was treated unfairly. 
He said the process was unusual because previous managers left of own accord after their term was up, but in this scenario Keane wanted to remain in charge.
He also rejected "wholeheartedly" a suggestion there was a conflict of interest in the five-man selection committee, which included a former selector and player of O'Connor's.
And Murphy found it "disheartening" to hear media reports that the outcome of the recruitment process had already been decided before the interviews took place.  
"We made our final decision on this last Friday week," Murphy told delegates in an online meeting.
"The suggestion about it being a done deal going back three or four weeks ago is again totally erroneous, totally untrue and totally unfounded.
"And I find it very disheartening and very disconcerting that people would actually believe that five people of the integrity and the character that were on that selection committee would in any way sully the reputation of Kerry in any form or fashion. I think it's disgraceful, it's the lowest of the low."
In a prepared statement, the chairman outlined the sequence of events that led to O'Connor's appointment for his third stint in charge of the county.
He said he "went into more detail than normal…in order to completely clarify matters for tonight's meeting and to counter any false or misleading information that appears to have been circulating over recent days."
He met Keane for a review of the year on Monday, 6 September, nine days after the Tyrone defeat. On Wednesday, 8 September, he met with the Kerry executive committee and they discussed the findings of the review meeting with Keane. 
Murphy was mandated by the executive to put form a select sub-committee to advance matters.
"As part of this mandate, an instruction was given to interview but also to open up the process to other candidates," explained Murphy.
The following day, Keane was informed of this and Murphy said he "confirmed his willingness to proceed on that basis but asked that the timeframe be expedited as far as possible."
"The five-person selection committee subsequently met and interviewed Peter Keane on the following week. And before we formally issued a public statement outlining the process of appointing the next Kerry senior football manager, I personally phoned Keane to reinsure that he was fully aware and accepting of competitive process they were undertaking in accordance with the wishes of the county executive.
"Again, he confirmed his understanding and acceptance of this," he continued. 
"Over the course of the following two weeks, the selection committee met the other parties who had expressed an interest in being considered for the position.
"All the parties were given the utmost respect and confidentiality by the selection committee and were given ample time and opportunity to communicate their respective offerings through whatever means they felt appropriate."
Murphy also made it clear that the Kerry squad was consulted in the process.
"In order to make an informed and objective assessment, the selection committee considered a wide range of constructive views. The county executive, the clubs of our county and from the Kerry senior players.
"All such discussions, as always, will remain confidential. The process undertaken was fair and equitable to all concerned."
He added that the aim of the selection committee from the outset was to do "what is best for Kerry."
He said he personally contacted Keane and Stephen Stack and advised them they were unsuccessful in the process. The chairman added that he thanked Keane for all his years service to Kerry football and informed him they'd issue a full and wholesome statement in due course thanking him.
Then a delegate from St Mary's, Cahersiveen read out a statement on behalf of the club voicing their deep disappointment with how clubman Keane and his management team were treated in the aftermath of the All-Ireland semi-final defeat to Tyrone. 
"Peter Keane, Maurice Fitzgerald and their colleagues were treated in a disrespectful way and the issue was issue dealt with in most unsatisfactory manner," said St Mary's delegate Christy O'Connell.
They also took umbrage with "leaks to the media".
In response, Murphy denied that any member of the selection committee leaked information to the media, suggesting they came "from people with axe to grind or different agenda to what we had." 
Finally, Murphy thanked outgoing boss Peter Keane for his long contribution to Kerry football.
"I'd like to formally thank Peter Keane and his family for their collective contribution to Gaelic football in Kerry.
"Peter and his family have had a long association with Kerry football. His playing career began with the St Mary's club in Cahersiveen and he went on to represent Kerry at minor and U21 level as a player. At club level he managed his native St Mary's to All-Ireland junior championship glory in 2011 and went on to manage Killarney Legion to a county championship final appearance in 2015.
What are they
really like?
Rare insights on sport's biggest names from the writers who know them best. Listen to Behind the Lines podcast.
Become a Member
"Along with his family he is deeply ingrained in the best traditions of Gaelic football in Kerry and runs a very successful supermarket business in Killorglin, actively sponsoring many underage competitions in Kerry.
"In 2016 he was appointed Kerry (minor) football manager. Kerry had already won successive minor All-Ireland titles in 2014 and 2015. Peter and his management team went on to win both Munster and All-Ireland minor titles in the three following successive years, culminating in a historic five-in-a-row All-Ireland in 2018.
"His managerial expertise, acumen and success of both club and inter-county level was duly recognised and he was appointed Kerry senior football manager in October 2018.
"Peter had worked with many of the players at minor level and would have been very familiar with them. In his first year as senior manager he succeeded in reaching the 2019 All-Ireland football final. Following an enthralling draw game with Dublin, Kerry lost out in the replay.
"It was a remarkable achievement in his first year as senior manager to reach the final with such a young and inexperienced team and we must rightly acknowledge and compliment this.
"Following the disappointing loss against Cork in the Munster championship in 2020, played in monsoon-like conditions, the team emerged as a energised and extremely focused unit in 2021, playing some swashbuckling football under Peter's tutelage with Kerry ultimately sharing the Allianz League title and winning the Munster championship in exceptional style in a sun-drenched Fitzgerald Stadium in July of this year.
"The team were very well prepared in a position for an All-Ireland semi-final appearance against Tyrone on 15 August 2021 but a Covid-19 outbreak in the Tyrone camp meant the game was put back for one week initially and then for a second week.
"The unpredictable environment of Covid-19 and its effects again came back to (affect) Kerry's preparations and unfortunately we lost to the eventual All-Ireland winners Tyrone in a very tough encounter in Croke Park.
"Peter, your contribution, expertise and commitment in developing the plans for the growth of our players and ambition for improvement going forward is fully acknowledged and will benefit the overall Association in Kerry for manager years to come.
"We wish to thank and salute you for the incredible service you've given to Kerry, the many personal sacrifices you've made along the way and the amazing determination and resilience you've shown over the past two years in particular in what was a very challenging Covid-19 environment.
"We also wish to thank and acknowledge your selectors: Maurice Fitzgerald, James Foley and Tommy Griffin, who collectively and individually have made such an important and meaningful contribution to Kerry football.
"Finally we wish yourself, Siobhan and your family all the very best in the future. Míle buiochas do ghach rud."
The42 is on Instagram! Tap the button below on your phone to follow us!