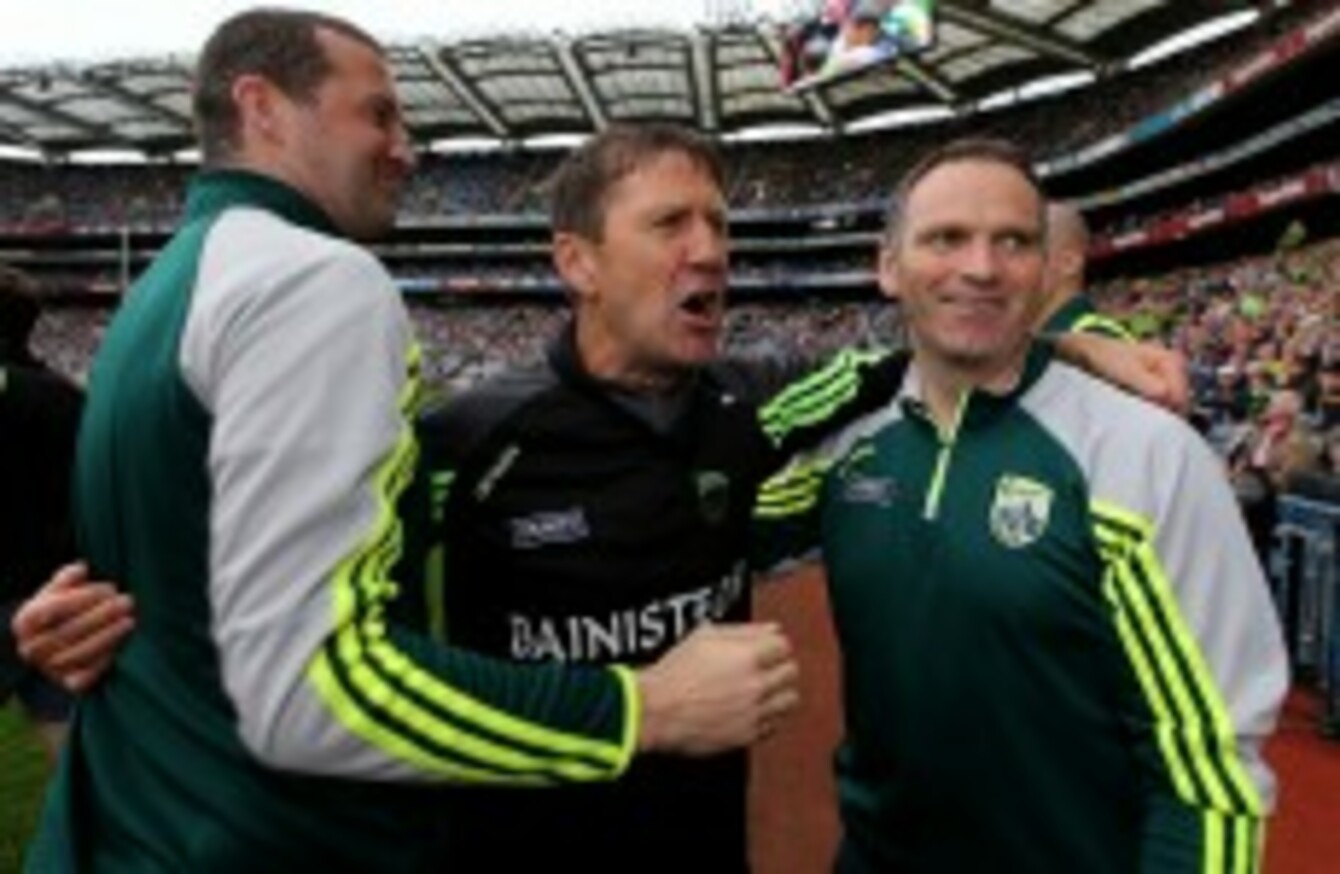 Jack O'Connor celebrates All-Ireland minor football success with his backroom team.
Image: Donall Farmer/INPHO
Jack O'Connor celebrates All-Ireland minor football success with his backroom team.
Image: Donall Farmer/INPHO
KERRY'S TWO-TIME All-Ireland minor football winning boss Jack O'Connor has admitted that he was tempted to go again for a third year at the helm.
Instead, the ex-senior supremo has made the step up to the U21 ranks for the 2016 campaign.
It's a logical move for the Dromid Pearses man, who masterminded All-Ireland glory in 2014 and 2015 at minor level.
O'Connor, speaking on Radio Kerry's popular Terrace Talk show, admitted that he found the going tough in the early part of this year, as he worked with a new crop.
And the man who masterminded All-Ireland senior titles for the Kingdom in 2004, 2006 and 2009 explained that he couldn't go through that again.
"In many ways it's a great set-up to be involved in," he said.
"We had developed a good system and had a good relationship with the schools.
"Of course it would have been nice to stay there but the start of (the) last year was difficult.
"After winning an All-Ireland the year before, starting at the bottom of the mountain and trying to climb that mountain again with a new group, I found that mentally difficult at the start of the year, for two or three months.
"I couldn't see myself making much progress but bit by bit, they started to click.
"(But) I couldn't put myself through that again, I found it difficult.
SEE SPORT
DIFFERENTLY
Get closer to the stories that matter with exclusive analysis, insight and debate in The42 Membership.
Become a Member
"That's the reason I'm going to the U21s, we put two years work into these (minor) lads, getting them to play how we wanted them to play. It should be easier to get our message across."
O'Connor also paid tribute to the work done by his former senior captain Declan O'Sullivan with the minor team.
A clubmate of O'Connor's, O'Sullivan is credited with the fluid forward play that flourished in the concluding stages of the campaign.
"Bringing in Declan O'Sullivan half way through the year was a great move, he was a great forward himself, I think the young lads looked up to him and respected him and he certainly got the forwards motoring really well.
"It's every bit as important to blood the managers and coaches of the future as it is to blood the players. He had finished up playing with Kerry and it's a big wrench as well, when you pull out from the Kerry scene.
"I know myself, I missed it when I was away from it after leaving in 2006. You need to fill that void some way and it was just out the blue some day, I said what have I to lose bringing him in for a couple of sessions and as it turned out, he was such a revelation that he was a big part of our success for the rest of the year."
O'Sullivan, who will link up with O'Connor at U21 level, has already been touted as a potential senior coach and manager in the future.
"You can never say that but all I know is that it's a good idea to get experience, I'm around a long time myself, I've seen it all," said O'Connor.
"It's great for him to come in a bit under the radar and get a bit of experience, without being plunged in at the deep end.
"I think it's a mistake for people to be thrown in at the deep end. When you're thrown in at that level, you have to be ready for it and you have to have learned from mistakes of the past.
"Eamonn Fitz and Diarmuid Murphy came in with me in 2009 and they got a lot of experience in there as well for a couple of years. That's very important and something that should be done on a more organised basis than on an ad hoc basis."