FOR JACK O'CONNOR, there was always a sense of destiny he'd play with Wexford.
His father John and uncle George both won an All-Ireland with Wexford during their pomp in 1996, while another uncle Arthur played senior football with the county.
"There is (a sense of destiny) but it's a choice," he explains. "I love playing, I love playing championship matches. That's what I train for and when I train I know this is what's going to be the end product. I could be doing anything else in the world but this is what I love and this is what I want to do.
"With John and George there probably was a bit of destiny there."
Matt Browne / INPHO Jack's father John O'Connor Matt Browne / INPHO / INPHO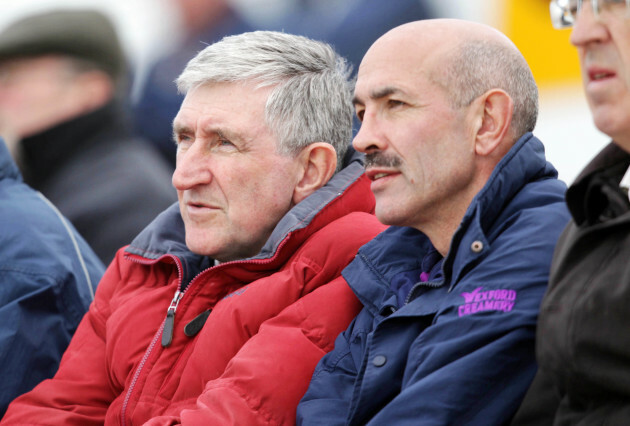 Donall Farmer / INPHO Jack's uncle George O'Connor Donall Farmer / INPHO / INPHO
For the O'Connor clan, hurling is an obsession. Six members of the one family regularly start with their club, making up a sizable chunk of the St Martin's starting 15 in the Wexford club championship.
Jack and his brothers, Rory and Harry, are joined by their cousins Barry, Joe and Patrick.
Hurling wasn't always the be-all and end-all for him, but he always knew his path would lead him there eventually.
"I can remember being a mascot for the 1997 (Leinster final), I was totally into hurling, playing up against the wall and all of that," he says. "From nine to 14 I wasn't as big as the other chaps, I didn't make the U14 panel and barely scraped onto the U16 panel, and came into it at minor.
"I always knew I'd get into the hurling but I just enjoyed the craic I had with rugby and soccer. When I got to minor my body started filling out a bit more, that's when I made a choice to go playing hurling instead of staying with the rugby.
"But there was a big influence in hurling in the household, my father and my uncle and people in the club, friends and family."
Jack has been in and around the Wexford senior panel since 2014, although his focus was on the U21s during his first two. Rory is following a similar path.
"This is my fourth year, my second year starting – the first two years were more of a taster, I was still playing U21 and in my head that was my main team. But it was still great to be in to see what it was all about.
Ryan Byrne / INPHO Rory O'Connor during the 2016 Leinster MHC final Ryan Byrne / INPHO / INPHO
"(Rory's) finishing the Leaving at the moment, when he's done he'll be back training with the U21s. Davy has him around the camp as well, so it's an exciting time for him.
"He's a very skilful hurler, I don't say it to him but I'd say it to others, he's nearly the best of all of us. It'll probably take him another year or two get up to senior level, but he's good."
With a first Leinster final appearance in nine years on the horizon, it's a good time to be involved in the Wexford set-up.
"People are on a high, there's a real buzz in the county which is great for people, they haven't had something to celebrate for a long time. I see that in my mother and father and uncles, that age group, it's great to give them something to cheer. And more to come, hopefully.
"When I play I put that to one side and just concentrate on playing, I don't look into the media. I like to go home and see they're enjoying it, they're all behind me, but when I go out onto the field it's hurling and that's that. I don't get caught up in the other stuff."
The42 is on Instagram! Tap the button below on your phone to follow us!