RARELY BEFORE HAS a player become so representative of a province as quickly as Jaco Taute has at Munster.
They love him in Thomond Park.
The aggression. The work rate. The thirst for physical confrontation. And the passion, that intensity he clearly feels when wearing the famous red jersey.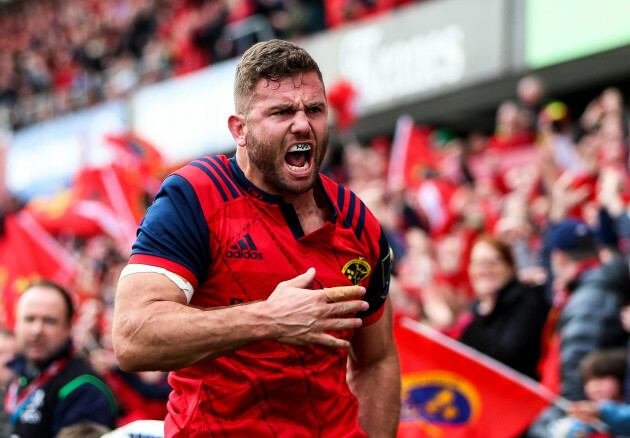 Tommy Dickson / INPHO Taute has shown real passion for Munster. Tommy Dickson / INPHO / INPHO
As Munster have negotiated their way through the most difficult emotional experience in their history, Taute has been a leader. The image of him beating his chest after scoring a try against Glasgow the day after Anthony Foley was buried will never be forgotten.
In several ways, it is a perfect marriage between player and province – even though Taute hails from the town of Springs on South Africa's East Rand.
He was something of a superstar as a youngster, rising rapidly through the ranks to make his Springboks debut as a 21-year-old. A series of cruel injuries – burst testicle, severe knee damage, more knee trouble, groin, ankle – halted his progress thereafter.
He was written off more than once and now, aged 25, Taute believes that his spirit matches that of Munster.
"All those struggles, it motivates you even more," says Taute at Munster's impressive high performance centre in the University of Limerick.
The room we're sitting in is almost entirely empty, fittingly. The move to Ireland represented a fresh start for Taute, a blank canvas, and he has feels a sense of kindredness here.
His thoughts come in staccato bursts as he speaks.
"To come to a place where rugby is so special to the community, to Limerick, Cork and all the counties… Thomond Park and the history behind it… Munster always being the underdogs and winning… That's special for me.
"I like that, because I'm a small town boy. In my life and coming back from injuries, you always heard people saying, 'He's never going to make it' and I feel like I can relate to Munster that way. It's a team that never gives up, always pulls the rabbit out of the hat.
"It's a special place and I think I've got that connection with it."
The bond was furthered by the shocking nature of Foley's death in Paris in October, around a month after Taute had arrived.
Tommy Dickson / INPHO Taute embraces CJ Stander after the win over Glasgow in October. Tommy Dickson / INPHO / INPHO
For himself and the other new faces in the squad, the aftermath has been a strange experience. Taute felt that the only way he could provide true support was by bringing every ounce of his work rate, as those around him struggled.
"We didn't know Axel that well," says Taute, "so we didn't know how to express how heartfelt we felt for the guys who had been training and playing with him for four years, even more for the coaches.
"The only way of showing that was by playing. That's trying hard every weekend and showing that you care for those players.
"Munster was almost everything to Axel. Not knowing him made it tough, because you can't relate to a guy who spent four years with him. We tried to support the guys and show them that we care. The only way you can show that is by trying your best.
"It's something I've never experienced in my life playing and hopefully no one ever experiences that again. It was shocking and humbling at the same time, because it teaches you to appreciate everything."
Taute has certainly maintained that mindset, repeatedly mentioning how grateful he is to be fit and healthy at Munster.
He is enthusiastic to have extended his deal at the province through until the end of the season and says he can "definitely" see himself remaining here beyond the summer.
Things could have been so different for Taute, although he doesn't waste time wondering.
Raised in Springs, to the east of Johannesburg, Jacob Johannes Taute was part of a sporting family. His father played provincial rugby, his brother was a cricketer and his two sisters enjoyed athletics.
He was already in demand by the time he featured for the U16 Valke provincial team at the U16 Grant Khomo Week, a national competition involving the most promising young players in South Africa.
Photosport / Anthony Au-Yeung/INPHO Taute makes a break for the Lions in 2012. Photosport / Anthony Au-Yeung/INPHO / Anthony Au-Yeung/INPHO
Scouts from Hoërskool Monument, one of the leading rugby schools in the country, spotted his talent despite a series of hammerings for the Valke side. Taute was convinced to move to the boarding school in Krugersdorp, west of Jo'burg.
"It worked out perfectly. It's a really strong, competitive school," says Taute of 'Monnas,' an institution that has produced Springboks like Brendan Venter, Jaque Fourie, Willem Alberts and Heinke van der Merwe.
"It was an eye-opener to see how good the boys were. You had to train hard and play hard if you wanted to play for the first team."
Clearly Taute did so, as he galloped up the ranks. He played for the Lions provincial side at the U18 Craven Week – the national provincial competition – in 2008, despite being a year younger than most of his team-mates.
He starred in that tournament the following year too, then made his Currie Cup debut for the senior Lions team just months later, while still in school and in the middle of final year exams.
2010 – three Super Rugby caps, third place in the Junior World Championship with South Africa's U20 team.
2011 – a full Super Rugby campaign at fullback for the Lions, another Junior World Championship. Taute was marked out as a major prospect in South Africa.
"Stuff happened quite fast, but it wasn't always a smooth ride. It was tough because the Lions didn't do very well in Super Rugby those years. A team that doesn't win, you struggle as individuals as well.
"I think some guys, when they're young, go into a winning team and it's smooth sailing. I went into a team that wasn't winning and it was very tough, so I learned a lot of lessons."
The Lions struggled again in 2012, winning just three Super Rugby games, but Taute continued to show his promise, now playing in midfield.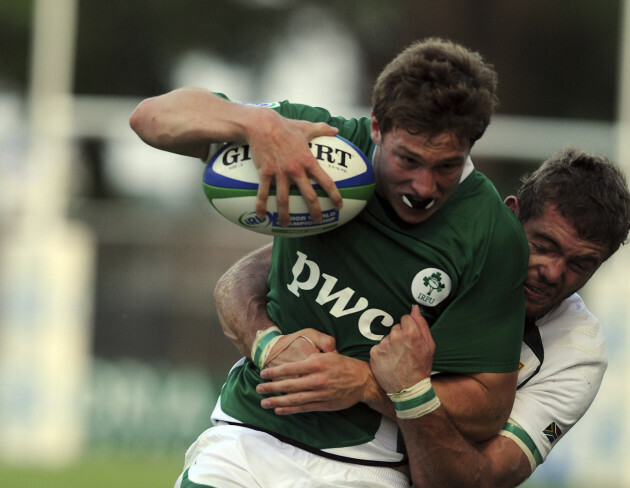 Dino Panato Taute tackles Brendan Macken at the 2011 JWC. Dino Panato
Springboks coach Heyneke Meyer involved him in Springboks camps and then handed the then 21-year-old his Test debut in a Rugby Championship clash with Australia, when Taute started alongside Jean de Villiers in a 31-8 win.
"It was amazing," he says. "If you love rugby in South Africa, you want to become a Springbok. It was a massive achievement for me and starting your first Test is amazing."
He kept his place for a defeat to the All Blacks a week later, before travelling on the November tour of Europe and starting the 16-12 win over Ireland.
Winning in a Springboks shirt for a second time was a precious feeling, but that night in Dublin allowed Taute to build some important bonds with men who would become his team-mates in the future.
Simon Zebo was at fullback for Ireland, with Conor Murray at scrum-half. Keith Earls, meanwhile, was Taute's opposite number at 13. The South African was struck by the Munster men's friendly attitude post-match.
"It was at the function after the match and I always remembered them," says Taute. "Sound fellas, friendly and talkative. Simon and Conor are great chaps, down to earth, humble guys, so I always remembered having a good craic after the game."
A night out?
"We did have a night out that night, I think we went to Copper Face Jacks. It stayed open late but it was fun!"
Little did Taute know that the Irish trio would be his team-mates in the future. Returning home to South Africa after a season that had brought his first three Test caps, he was only thinking of a long stint as a Springbok.
"I remember coming back from the autumn internationals and that's normally when the guys back home have pre-season and they give the Springboks time off until January," he recalls.
Lorraine O'Sullivan / INPHO Tommy Bowe braces for impact against Taute in Dublin in 2012. Lorraine O'Sullivan / INPHO / INPHO
"I remember training straight away when I came back. I was training hard and trying to be super fit and work on stuff. It makes you more hungry because you want to play at that level again. I thought I could keep going but all the injuries happened."
With the Kings replacing the Lions in Super Rugby in 2013, Taute needed to make a move and settled on the Stormers in Cape Town, initially on loan. Enthusiastic after his Springboks caps, he was eager to make an early impression but was crippled by injury.
First, a burst testicle on his debut against the Bulls. "That was horrible," he says, shaking his head and opting not to go into further detail.
An operation meant a short stint out of the game, but his comeback lasted only two games before a vicious knee injury against the Cheetahs. Taute not only tore his ACL, but also his PCL, MCL, medial meniscus, lateral meniscus, and part of his calf. The kind of knee injury that can end careers.
"It's the worst one you can get," says Taute. "I remember I got an infection in the knee after five months of rehab too, randomly. I had to have a clean out again and I was five steps back in my rehab.
"That was tough but I took it week by week and here I am three years later still playing and loving it."
It took a full year to get back on the pitch, but Taute then enjoyed an injury-free run as he played virtually the entire 2014 Super Rugby season for the Stormers and then helped Western Province to the 2014 Currie Cup, playing alongside current Munster team-mate Jean Kleyn.
"That was probably my best season," says Taute, but more injury travails followed. Knee surgery to clear out loose cartilage and then a groin injury meant Taute's 2015 was ruined, although he was fully fit again in time for the start of the 2016 campaign.
Then an ankle injury, meaning just four Super Rugby appearances last year.
As Taute dealt with these cruel injuries, playing only intermittently as he looked to battle back to form and fitness, he faced criticism from Stormers fans and some of the wider South African rugby public.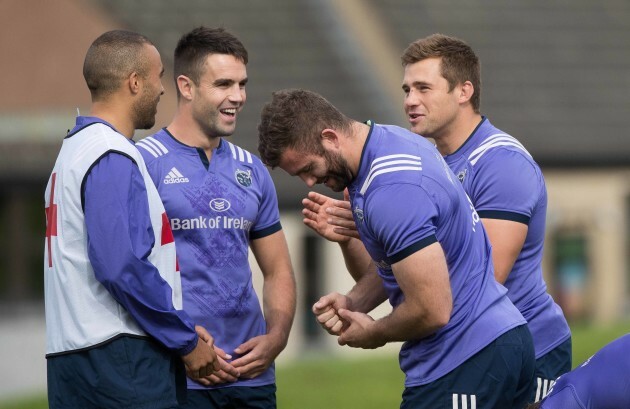 Morgan Treacy / INPHO Taute has fitted in well at Munster. Morgan Treacy / INPHO / INPHO
"It was tough, I'm not going to lie," says Taute. "A lot of people don't know about the behind-the-scenes work you put into coming back from things like this.
"You're playing to get back into the team, and also in different positions – I don't think that helped me a lot. The competition was tough at the Stormers, they had great centres and fullbacks.
"I worked extremely hard every time I got injured to come back in better shape. It never seemed to click. I played well here and there, but I couldn't get going in Super Rugby because I was injured the whole time.
"The only season I played in full was 2014 at fullback. In 2016 again, I was in the best shape of my life and come January, syndesmosis in my ankle. I missed the majority of the season but came back when we got into the quarter-final, we got absolutely ravaged by the Chiefs.
"It was tough but tough times are good for you sometimes, it teaches you a lot about yourself, the bigger picture and the grand scheme of the things."
Then out of the blue last August came a call from Rassie Erasmus, the new director of rugby at Munster. Taute had worked with Erasmus briefly during his time with the Springboks, but knew him by reputation more than in terms of a working relationship.
Francis Saili had been ruled out for the first half of the season and Erasmus told Taute he was looking for a medical joker.
"I just said, 'Yes, I would love that.' A fresh start, something different. A change is sometimes as good as a holiday. I said I'd love to."
It helped that Taute was familiar with Munster, having watched their European successes in the 2000s. Peter Stringer crossing for that famous try against Biarritz in 2006 is the strongest memory he has of watching the southern province.
Taute got in touch with his friend Kleyn, who had moved to Munster only a few weeks before, while he also spoke to a school friend who had played with Old Wesley after school about Irish culture. But even before that, his mind had been made up.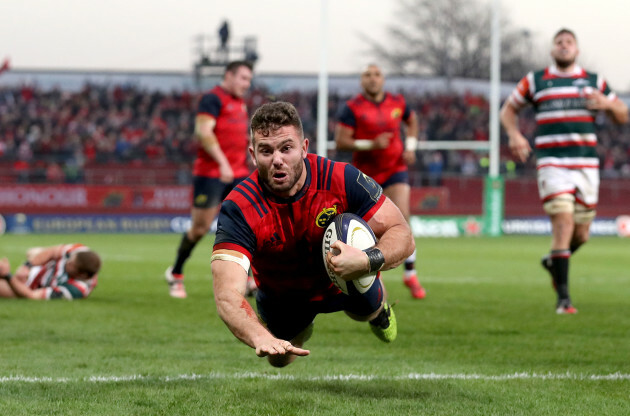 Dan Sheridan / INPHO Taute starts again today against Glasgow Warriors. Dan Sheridan / INPHO / INPHO
While he may not have known Erasmus very well, Taute was linking up with his long-time Stormers and Western Province coach again in Jacques Nienaber.
"He's a great man and a great coach," says Taute of Nienaber. "He's technically very good, he's motivating and he loves his job. You can feel that, so it's fun to work with him.
"He challenges you a lot, so there's no place for complacency or staying in your comfort zone."
Linking up with Nienaber also meant that Taute was going into a defensive system that he knew well, even if there have been some tweaks at Munster.
Taute says he loves to defend, and misses that side of the game when he plays at fullback. His intelligent reading of the game allows him to shoot out of the line regularly, from where he unleashes the aggression that comes to him so easily.
"It's just my personality trait. I enjoy it. I can't put my finger on it, but I love it. That's where a few of my nicknames come from too – I think I work hard and I love to be a leader on the field in that aspect, try my best and be aggressive.
"Sometimes they call me the Frogman, or Frog. It's just because you play and lead, and just defend. It all comes naturally. I don't need to think, 'I'm going to be physical.' It just happens."
The calls for Taute's initial four-month loan to be extended rapidly grew into a cohesive roar from Munster's supporters, and it came as little surprise that Erasmus brought his case before the IRFU.
Keen for Munster's resurgence to continue, the union's performance director, David Nucifora, was receptive and when the Stormers also agreed, Taute didn't think twice about signing on until the end of the season.
"I'm so glad it panned out that way because I'm really enjoying the whole place," says Taute. "It's been going well for the club. I'm in a privileged position because the team's been winning.
Tommy Dickson / INPHO Taute and some of his Munster team-mates watch the province's A team. Tommy Dickson / INPHO / INPHO
"There's so much hard work left and I'd rather be here to work hard than just go. I'm very glad I could stay and be here for the journey because it's been a special journey so far."
Taute's current contract with the Stormers – he remains on loan now – expires later this year, meaning he would be available to sign on a longer-term contract.
Munster may not be given the IRFU nod in that case, however, although their argument would be strengthened if Saili – now back from injury – was to leave in the summer.
"We don't even think about it because me and Francis are good mates," says Taute of the potential for one of them to be kept on. "We're the same age and we're both very competitive players. We're both enjoying this experience because we know if one slacks off, the other will take your position – even if we're mates.
Now living with second row Kleyn in Castletroy, five minutes from Munster's training base – after initially moving in with Saili - Taute is enjoying living in the "cool" city of Limerick.
Himself and Kleyn will get the braai going as the weather improves, but the rugby is keeping Taute happy for now. Can he see himself staying with Munster longer-term, beyond the summer?
"Yes, definitely," says Taute. "If it's going this well, why would you want to change anything? I'm enjoying the experience, enjoying the place, the club, I'm enjoying my rugby.
"What I've learned is that at the end of the day, that's the most important – to enjoy what you do."
Ryan Byrne / INPHO Taute wants to help Munster to win trophies this season. Ryan Byrne / INPHO / INPHO
For the rest of this season, Taute is hopeful of featuring at outside centre as often as possible. He's happy to play fullback "if the occasion comes up," while he also points out that he can cover inside centre.
"I enjoy playing 12 as well, if that's needed in certain games when internationals are gone. Because a guy like Rory Scannell, he's around the corner and very close, I feel, to get pulled up into international rugby."
Taute has achieved plenty in his first four and a half months with Munster, certainly in terms of earning respect from team-mates and supporters alike, but he believes there is plenty more to come.
From a personal point of view, he has obvious ambitions of playing for the Springboks again, but Taute thinks only of the collective.
"I would love to contribute to Munster winning trophies again," says Taute. "That's the bigger goal because my Dad taught me from a young age that you're never bigger than the game and the team always comes first.
"For me, that's what I want to show – that the team comes first and that Munster can win trophies.
"Everyone wants to play international rugby and I have all those aspirations of playing at my very best. But to do that, first you have to give everything to the team."
The42 is on Instagram! Tap the button below on your phone to follow us!