CRAZY. BRUTAL. WARFARE.
If Jaco Taute's pre-match lexicon is anything to go by, it's safe to say that the dynamic South African centre is fired up for his first taste of European knockout rugby.
Taute has been involved at the business end of the Currie Cup and Super Rugby before, but this week has been a new experience for the 26-year-old. Although he's enjoying the build-up to Munster's European Champions Cup quarter-final against Toulouse this weekend, he believes the preparatory work is done. Taute is ready to get stuck in.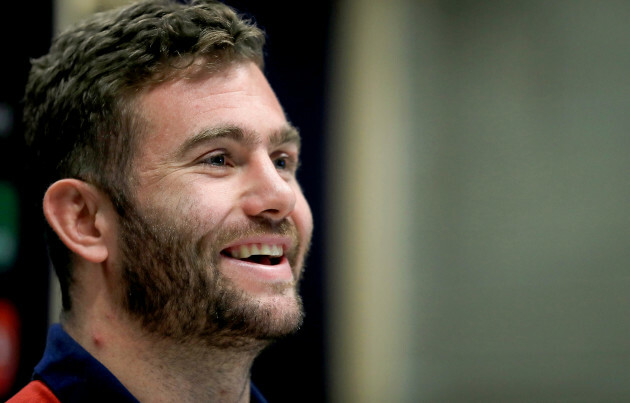 Donall Farmer / INPHO Munster's Jaco Taute speaking to the media this week at their UL training base. Donall Farmer / INPHO / INPHO
"The place is buzzing and the team is ready," he says. "All the players are ready and you can feel the excitement around. We will probably have to take it back a notch so we don't overdo it, but yes, there's definitely excitement and the guys are ready to go. You can feel that energy, it's just a special week."
Saturday evening's clash with Toulouse at Thomond Park marks Munster's first venture into the knockout stages since the Heineken Cup became the Champions Cup. When the southern province most recently reached the last eight, Taute was watching as they recorded a 47-23 win against the French side in Limerick.
"I remember the quarter-final in 2014," he recalls. "Massive occasion, great game and it was a good result for Munster. It's two massive clubs and heavyweights of Europe so it's going to be a great occasion and a special, special moment.
"I'm very excited. It's going to be cool. I've had a few similar occasions and it's going to be all-out warfare. I think it's a special game between Munster and Toulouse because there have been finals, there have been knockouts, so they will be coming here to get a scalp.
"It's going to be all-out warfare, it's going to be crazy and I can't wait for it. Like I said, it's one of those occasions you want to be part of. I think it's very good for the community because it has been three years since there's been a quarter-final at Thomond so I think the fans deserve this one. I hope they enjoy it as much as we will enjoy it."
Toulouse are currently in ninth place in the Top 14. In spite of defeats to Wasps and Connacht, the four-time European champions managed to make it through to the Champions Cup quarter-finals after overcoming Pat Lam's side at Stade Ernest Wallon in their final Pool 2 game. Munster have done their homework and Taute expects a physical encounter.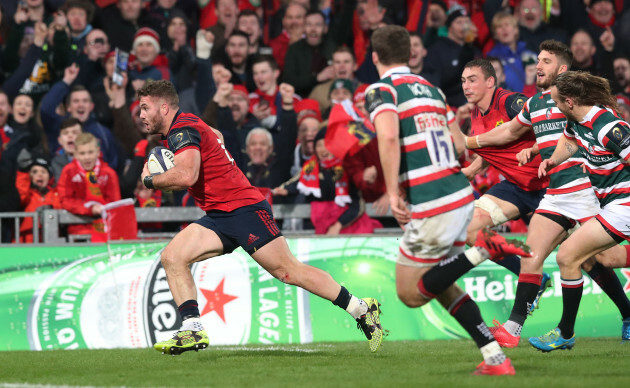 PA Wire / PA Images Taute scored two tries in Munster's home win against Leicester Tigers in December. PA Wire / PA Images / PA Images
"It's hard for all the French teams [to know what gameplan they are going to use] but we've done some good analysing on them and we've done our research," the Springbok said. "I think they'll play a good brand of rugby, take their chances when it's on and take their opportunities.
"If we slacken off in certain areas they will attack that. It is going to be a physical match in Thomond Park for the first 20 minutes and it will be brutal. We will have to stick to our guns but they will definitely come with a balanced game, but more attacking. They will run it from everywhere so we will have to be prepared."
In spite of the fact that he's been capped by South Africa, Taute's arrival at Munster in September wasn't greeted with any great fanfare down south. He was initially brought in as injury cover for Francis Saili and Munster supporters have seen enough imports struggle in the red jersey by now to convince them to reserve their judgement.
But Taute didn't take long to win them over. He scored the first of eight tries in 19 appearances so far in the game against Leinster at the Aviva Stadium last October. Another try followed a fortnight later in a bulldozing display in the memorable home victory over Glasgow Warriors in the Champions Cup.
Taute — who represented the Stormers and Western Province in Super Rugby and the Currie Cup respectively last year — was due to return to South Africa when his short-term contract ended on New Year's Eve, but Munster managed to work out a deal to keep him until the end of the season.
"I think I would have cried," Taute says, when asked how he'd be feeling this week if his time at Munster had ended before he had the chance to face Toulouse in this weekend's Champions Cup quarter-final.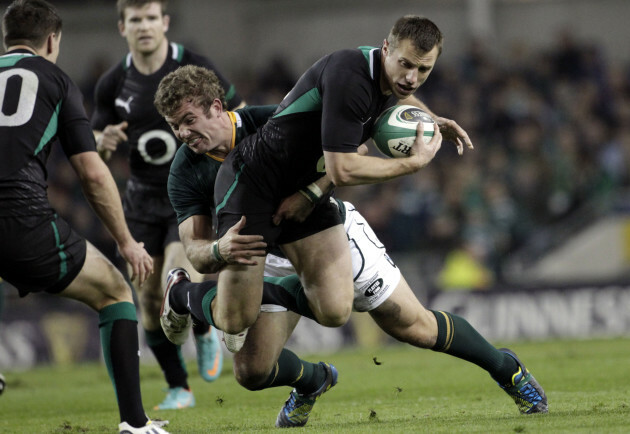 AP / Press Association Images Taute tackling Tommy Bowe while playing for South Africa against Ireland in November 2012. AP / Press Association Images / Press Association Images
"The season has been so great and we've been working really hard. We've been keeping our feet on the ground but I think the biggest thing is that we don't get complacent. We know what to do so I feel it would have been sad not to play or be involved.
"I'm just very grateful. Yes, I count my blessings every day. It's been a special time so far but it's not over yet. We've got some hard work to do and it's exciting."
Uncertain about what the future holds, Taute says a decision has yet to be made over whether he'll still be a Munster player beyond this summer. However, he does believe he has improved as a player during his time in Ireland.
"I don't know yet," Taute says. "We'll have to see. I would love to play here but there is still a lot of water to run under the bridge, so we'll take it week by week. I've been doing that for the past number of weeks and it's been paying dividends so I don't like to look too much ahead into the future; [I'm] just running out on the pitch and giving it my all."
Exclusive Six
Nations Analysis
Get Murray Kinsella's exclusive analysis of Ireland's Six Nations campaign this spring
Become a Member
He adds: "Yes, I feel like I've been playing some good rugby but you have to always raise your standards, never [be] happy and always chasing perfection. I don't think you will get there but that's what keeps you motivated and hungry to play your best.
"I've been lucky that the team has been playing very well and the thing is if you contribute as an individual in a team sport, you will always look a bit better. If you focus too much on yourself, you will let yourself down and the team and that's what's great at Munster and for me as well.
Cathal Noonan / INPHO "I would love to play here but there is still a lot of water to run under the bridge." Cathal Noonan / INPHO / INPHO
"I like contributing to the team and I've learned lessons in my life, that if you want to play good you have to play your best for the team and if the team plays good the individual will play good. So the team is the most important. That's how I like to see it and that's how I like to play my rugby."
His future will need to be resolved soon, but in the meantime Taute is focused on what he hopes will be another special occasion at a sold-out Thomond Park: "Ah, man. I don't think you can ever get used to that feeling. It's absolutely insane.
"Any player that plays a game can feel that atmosphere and can feel the crowd, so it's going to be great. It's a special place and I don't think you can say any more than that. You have to be there to feel it and know how crazy it's going to be."
He adds: "It's going to be a thrilling game. I think we all can't wait for it. I think we all want to get this week over and we're probably not going to sleep this week we're so excited.
"But like I said, it's a massive occasion. I think it's fitting for the community and fitting for the fans and for us I wish this week would be over. If we could play tomorrow, we'd play."
Jaco Taute is ready to deliver again for Munster this weekend. If he doesn't, a deficiency in determination and desire is unlikely to be a factor.