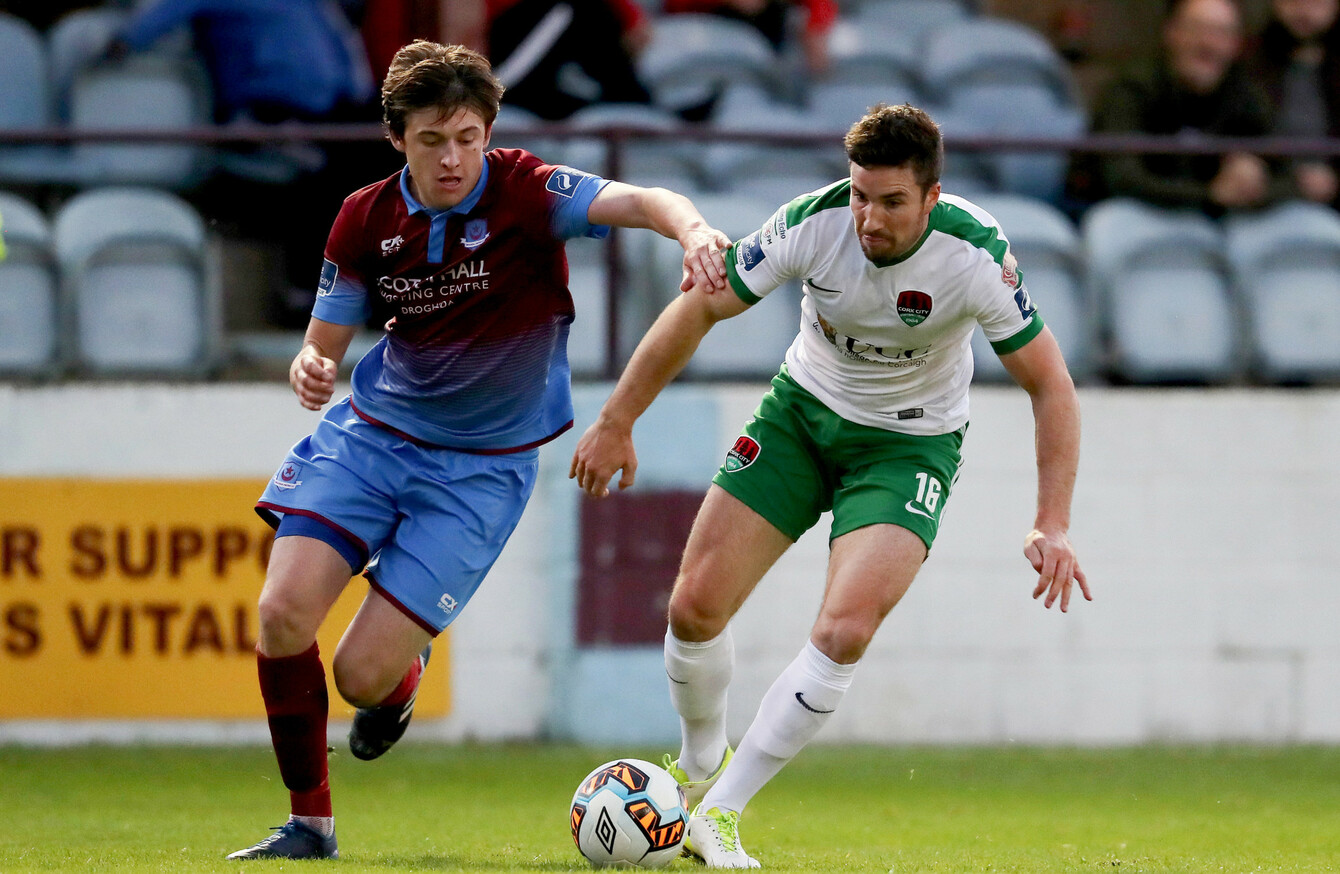 Jake Hyland pictured competing (file pic).
Image: Bryan Keane/INPHO
Jake Hyland pictured competing (file pic).
Image: Bryan Keane/INPHO
WHEN MARK DOYLE scored the winning spot kick on Monday night, Jake Hyland's pain dissipated slightly.
The Drogheda captain was watching the nerve-wracking penalty shootout in the First Division play-off semi-final from a livestream at the Mater Hospital.
He had been involved in the game until the 37th minute, when his participation was prematurely ended.
It was a huge match for Hyland and co. The outlook did not appear promising for Drogheda prior to kick-off. They had lost the first leg of the First Division promotion-relegation play-off semi-final 1-0 at home.
Shelbourne started the game on top, but were dealt a blow, when defender Reece McEnteer was sent off after picking up a second booking early in the game.
Sean Brennan added to Shels' woe, by putting the visitors ahead on the night and levelling the tie on aggregate.
Owen Heary's men were really under the cosh then and had to revert to a backs-to-the-walls performance.
With the Drogs dominant, Hyland suffered his moment of serious misfortune. A poor tackle from James English meant the Dublin side were reduced to nine players, but the 23-year-old midfielder was also unable to continue.
"I dropped deep to receive the ball, beat a man and it was on for me to pass it to the wide man," Hyland tells The42.
"The player who was tackling me was in between. I sort of invited him in, passed the ball and as soon as the ball left my foot, I was up in the air. I didn't really anticipate the tackle.
After was a bit of a blur. Your adrenaline is running. I wanted to stand up. That's the worst thing I could have done. My body wouldn't let me stand up. Next thing, the physio was over. They brought a stretcher out from the back and I calmed down a bit. The club doctor said: "We can't tell if it's broke. It's obviously not broken in half because there were no bones sticking out.' That was a positive straight away. I think that calmed me down a little bit."
In their skipper's absence, Drogheda doubled their advantage, before a depleted Shels produced an improbable comeback, with substitute Adam Evans scoring in the 77th minute to bring the came to extra-time and eventually penalties.
Hyland went straight to the Mater hospital for x-rays and had to wait around for over eight hours, a situation made all the worse by the fact that the match was an evening kick-off, so the player was stuck there through the early hours of the morning.
"It was a long night," he recalls. "The girl working there said that there was something like 40 people ahead of me. I was sitting there with a broken leg and I'm frustrated as it is. But in fairness, Drogheda were really good. They arranged for me to go see the club doctor once he started work. So I went home and freshened myself up, then I went straight up to Drogheda, and they were brilliant, I was seen to straight away and there was no waiting around.
"Obviously, I was worried as well, and didn't know the extent of the injury. You don't want to be waiting there for 8-10 hours, wondering what the problem is. So I was delighted to get it looked after and now, I'm on the mend."
The remainder of the play-off at least kept him somewhat distracted, but it was not an easy watch for Hyland.
"I think the fact that we won the game on penalties definitely helped me," he says. "I couldn't believe we conceded against nine men, so I was pretty annoyed in hospital with the position I was in, so I was thankful at least I've got a game [the play-off final first leg against Finn Harps] to go and watch on Friday."
When Hyland was eventually seen to, the news was worse than anticipated — his leg was broken.
"I was shocked initially. I had a lot of bruising around my ankles. Both ankles were really swollen. I was thinking: 'Hopefully, the worst thing it is is ligament damage.' At least then, when it's ligament damage, you can still bear weight on it."
It was not as bad a break as the injuries in recent times suffered by Irish internationals Seamus Coleman, James McCarthy and Alan Judge. Coleman and Judge were ruled out for one and two years respectively, while McCarthy is still recuperating from his debilitating setback. Hyland, by contrast, is hopeful he can return in time for the start of the 2019 campaign.
"The doctor said it doesn't need surgery with it being the smaller bone. You can put a cast on it for the full six weeks, because I'm only young as well, that helps everything — it helps knit the bone together.
"It's still very sore. I have a hard cast on the back of my leg just until Monday. Hopefully, on Monday, the swelling will be down. There was a bit of ligament damage done on my ankle as well, so I'm going to get a full hard cast on Monday and it will be six weeks from then wearing that. We have to go back, reassess with the doctor, maybe wear a boot if things go to plan and hopefully, around Christmas time, January, I'll start putting weight on it and doing a bit of training.
"Obviously, I'm gutted to be missing the play-offs. But it's happened now and it's just something I'm definitely going to have to make myself stronger and overcome.
"As my manager [Tim Clancy] said to me: 'Would you rather it happened on the first game of the season and you miss the entire season?' I know I'm missing the biggest games, but I've played every game bar two this season, and that was through a suspension and injury. 
"People say 'you're going to have up and down days,' and I definitely will, but it's behind me now and I'm looking forward to the next six weeks and getting stuck into it, trying to get back on that pitch.
"My aim is to be back starting the first game of next season. That's going to be a tough task, after missing three or four months of being out, not running even, but that's my aim and something that I'm hoping to do already." 
Despite the setback, Hyland bears no ill-will towards English, after his rash tackle, which Shels boss Owen Heary was among those to strongly condemn.
"The game was obviously going against them at that stage, because we got it level and we had a man extra," he explains. "I don't think anyone goes in deliberately to do someone, but as Owen said, it was a stupid tackle.
"As I was saying afterwards, I can't believe someone would make that tackle with 10 men. You have to look at that situation. It wouldn't be something I'd do. You have to think of your team in that situation, but it happened. My dad spoke to me a lot after it happened and said 'you can't go back in time and change it'. My leg is broken. And I'm definitely going to use it to make myself mentally stronger and come back a better player hopefully."
And has English been in touch to offer an apology?
"He has. In fairness, he's gutted. He said obviously he didn't mean it, and I know he didn't. It was just one of them bad tackles. It could have happened to anyone. Their players were wound up after getting a red card, so it's not as if anyone was out to get me. It was one of them games, where they were down to 10 men, the game was level and it could have happened to anyone on the night — it's just unfortunate that it happened to me.
I've had loads of contacts from Shelbourne, I used to play with loads of their players. As soon as the game ended, they were on the phone to me seeing was I alright. It's good to see a lot of people contacting you and [to know] you've a lot of friends in football."
It is the first serious injury Hyland has suffered over the course of his career. The player initially played for St Patrick's Athletic and Bohemians, mainly at underage level. It was only after he moved to United Park ahead of the 2016 season that he established himself as a first-team regular in the League of Ireland. The midfielder helped the club gain promotion to the Premier Division in his debut campaign, but could not prevent the team going straight back down the following season. Shortly after taking over at the start of the season, new boss Tim Clancy appointed him as club captain and Hyland has since been a virtual ever-present in the team — appearing in 27 of the club's 29 league/play-off matches so far.
His absence will no doubt be keenly felt on Friday night, as the Drogs continue their promotion bid in a play-off against Finn Harps, where the winner of the two-legged tie will go on to face Limerick, with a place in next year's Premier Division up for grabs. 
Proper gutted but will be back stronger 100 percent👊🏻 thank you to everyone for the texts, top class👍🏻 looking forward to seeing the lads do the business now Friday night! https://t.co/bwFqRZucMX

— Jake Hyland (@JakeHyland8) October 9, 2018
In addition to being unavailable for his team's key upcoming fixtures, to make matters worse for Hyland, he won't even have the consolation of work to distract him over the coming weeks. His job as a carpenter requires him to be on his feet regularly — something which is beyond his capabilities currently.
"My boss is big into football," he adds. "One of the lads I work with is at the game and they knew straight away. I was on the phone, they said they're going to miss me, but what can you do? I can't work with one leg.
I spoke to my parents and I'm going to have to make the most of every day. I can't be lounging around not doing things. Tim and Drogheda are going to help me. I'm going to go up and watch training and help. Tim's probably going to speak to me and help me with more things, maybe even getting involved in coaching in the off-season, getting things started, because that's something I'd like to do down the line and now that I have the spare time, it'd be silly not to utilise it.
"So there's a lot of learning to be done over the course of this injury, and obviously, I'm going to learn about my body. I'm already Googling things, wondering how can I get back quicker, what are the best things to eat, what are the best things to do. So it's going to be a long road, but it's definitely one that I'm not afraid of."
While he will only be able to watch on nervously on Friday, Hyland is confident the team can cope with his absence and compete in the Premier Division should everything go perfectly in the next few weeks, citing their shock FAI Cup win over Shamrock Rovers earlier this season and their narrow loss to Waterford as evidence that they are capable of holding their own against some of the top sides in the country. 
"Bouncing back against Shelbourne and the whole situation and the drama, I think we can only use that to our advantage. Finn Harps will be looking at that saying: 'Look, they lost their captain, they might have one or two lads suspended, they played 120 minutes, penalties, couldn't score against nine men.' We just need to use it as an advantage. I listened to the League of Ireland podcast today, and Shane Keegan said he'd have Finn Harps as massive favourites. I think that's brilliant for us — the underdog tag suits us.
"We have to be going out there, playing with no fear. We're definitely a match for them. We've beaten them this season already, so we're really looking forward to it. I know Tim is going to have a gameplan set up. Obviously, 120 minutes [against Shels] is going to be tough on the lads' legs, but I've no doubt that they're all going to be up for it and looking forward to it. 
"I think there was a stat that we were in the play-off positions for 26 of the 27 weeks of the league. We went out and lost to UCD. Tim was just saying to us our last two games were must-win games. He said we deserve it, because of the hard work we've done.
It's Tim's first job in management and because he's doing such a good job, people tend to forget that and are almost saying Drogheda faded off. But it's obviously not easy, going in with a new bunch of players, he signed a lot of players, he had a short pre-season in the First Division, so I think we've done really well.
"Our expectation was to make the play-offs at a minimum and to challenge UCD in the league — we did do that, but it's a young and quite a thin squad as well. With young players, you're going to have inexperience. He made me the captain, I'm only 23. So we're all going to make mistakes and I think [when mistakes happen] we just get on with it and move on to the next game, and that's what we've done all season. We had a little blip just after the mid-season break, but other than that, we've been quite consistent. I know how good the training methods are and how well they have us set up for Friday night, so I'm really looking forward to going out and watching the lads put on a performance." 
The42 is on Instagram! Tap the button below on your phone to follow us!