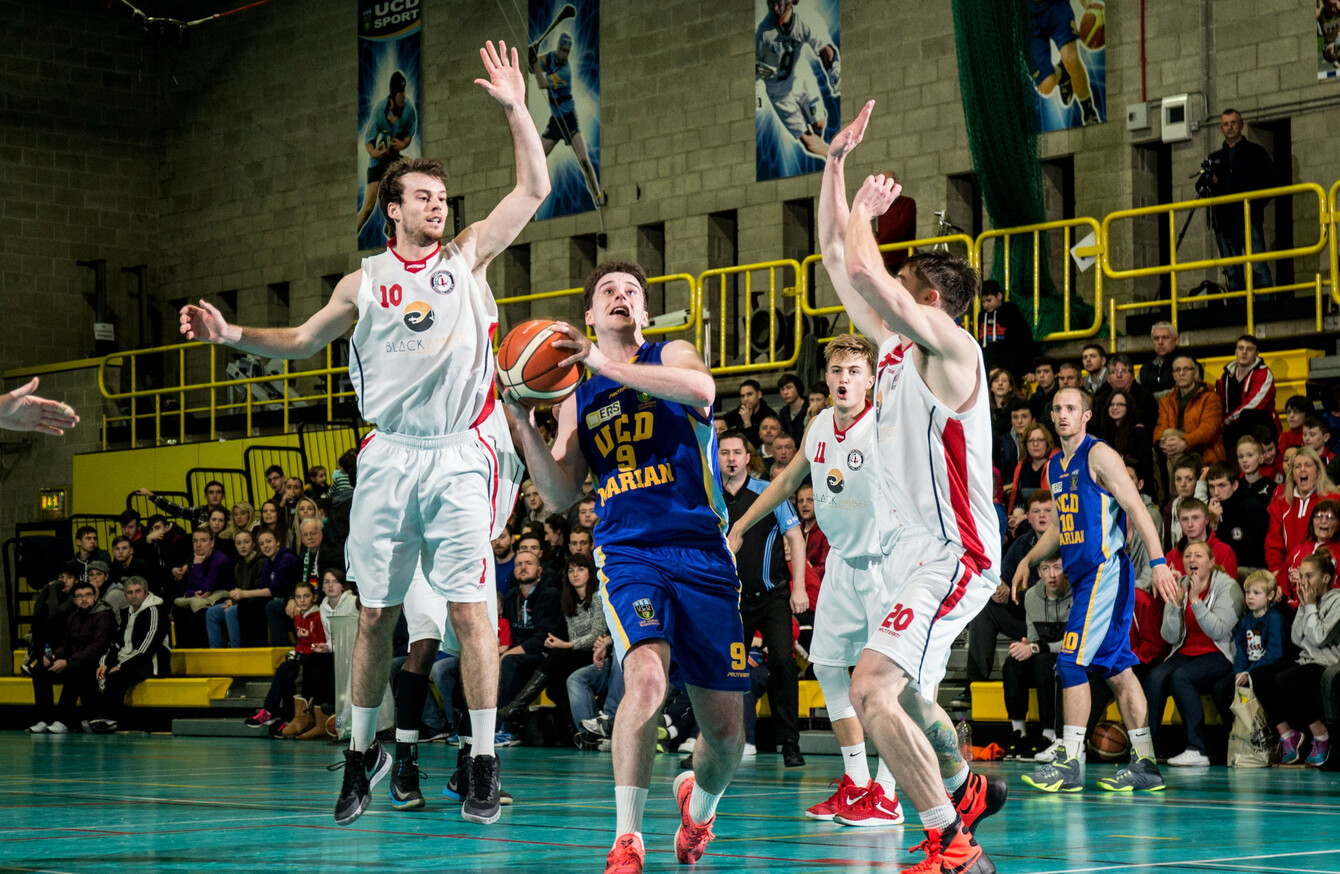 Stephen James (left) buts his brother Dan (middle) under pressure.
Image: Cathal Noonan/INPHO
Stephen James (left) buts his brother Dan (middle) under pressure.
Image: Cathal Noonan/INPHO
PAU AND MARC Gasol, Steph and Seth Curry, Horace and Harvey Grant; there's something about the NBA that attracts brothers to the very top of the game.
Irish basketball is not much different and, this Saturday night, two will go head-to-head — while another coaches — as Black Amber Templeogue and UCD Marian battle it out for the Men's Hula Hoops National Cup.
Dan and Conor James play with and coach UCD respectively, while Stephen James is the captain of Templeogue.
The family ties are even deeper, however, as the trio's parents — Mick and Marguerite — were founding members of Templeogue and were still heavily involved in the running of the Dublin 6W club right up until Mick's sudden death in 2009.
Given the family's close relationship with basketball, it's little surprise they all started at a young age.
"I was probably thrown a basketball when I was a baby," Stephen told The42 this week.
"So I don't remember the exact first time I picked up the sport, but I was with the Templeogue academy since I was four. I came up through the ranks there all the way up to Super League."
Dan, who is two years older than Stephen, started a little later but, more than made up for it as he rose through the ranks.
"I've been playing since I was eight," he says.
"I started out with Templeogue. My parents were part of the group of people who started the underage basketball club there. I played there until I was U18 and, along the way, we were quite successful winning Dublin leagues and cups.
"I represented some junior Irish teams and, in 2007, Templeogue won the U18 National Cup. After that, I took a scholarship to go to UCD and started playing with UCD Marian.
"There, we won the U20 National Cup in 2009 and the senior National Cup in 2011. "
But it wasn't just basketball for Dan as he played two other sports at quite a high level too.
"I played soccer, DDSL Premier, until I was 16. I played Junior and Senior Cup rugby with High School and a bit of tennis in the off-season. I suppose I tried to play a bit of everything but, once I got to international level with the basketball, that took my full focus.
There were times when I might be training seven sessions a week across three teams. But it was a good thing to be busy through my late teens. It's different when you're older I think, but when there's progression to be made still, I'm not sure there's any harm in training with a few teams, particularly in an international set-up, because there's so much room for growth.
"I guess you do hear people talk about burn out but, maybe I've been lucky, but I've had no issue with injury as yet."
Despite Dan and Conor playing for UCD, their father's death in 2009 sparked an interest in returning to Templeogue when it became a Super League side to play alongside Stephen. It wasn't to work out, however.
"I was actually injured when the lads came back," Stephen says, "so I didn't get a chance to play with them because they were back with UCD by the time I was fit."
Dan admits their brief return was probably a case of the heart ruling the head.
"When we left initially for UCD after the U18 grade, Dad was keen for us to stay but then he understood the decision because, at that time, Templeogue didn't have a senior men's team in the top league and it was the right thing to do for ourselves.
"It took Templeogue until 2014 — dad passed away in 2009 — but enough time had passed that Marian was our club. I'd still be friends with a lot of the guys in Templeogue, but we'd know them from our time as juniors and, when it came to the senior side of things, we were never really involved with it.
"Marian was our club, we'd won two National Cups with them, their first two, it very much felt like we were part of a new family.
But once Templeogue became a Super League team, there was something in my heart saying 'you have to go back and try it out' when, really, had there been less emotions involved, we probably would have just stayed.
"We gave it a shot, but it didn't work and we're obviously delighted Stephen is still there and captain of the side."
For Stephen, it's clear how much pulling on the Templeogue jersey means to him.
"Dad is always in my head, every time I play a game for the club," he says.
To have won the cup two years ago and the league last year, that was just so special for me. I know he would have been super proud about that. Playing for Templeogue just means a lot to me, and playing in the final for them even more so."
And while the younger sibling jokes that he's fully intent on "beating the shit" out of Dan on Saturday, both are adamant it's just another game, regardless of their family bond.
"I'm so used to it by now, because we've been playing against each other for the last four years that, for me, it makes no difference who [Dan and Conor] are," says Stephen.
"I just approach it the same way as I would for any final. Obviously, for any outside parties, that's where the story line and the entertainment is but, with regards the three of us, I think we're fine with it."
Dan is fully in agreement.
"At this point, there's no real rivalry or extra incentive or anything like that. If it was Conor maybe, we'd have been used to training against each other the whole way up as we're the same age, but Stephen is two years back so we never really played much against each other coming up through the youth ranks.
"Obviously there is some sibling rivalry but we've both good heads on our shoulders to be able to put that to one side and concentrate on our jobs on the night."
That night is unlike most others as it is the final of the Hula Hoops National Cup. With UCD having beaten Templeogue on both occasions they've played this season, the latter are keen to make amends.
"It's never nice to be beaten full stop but obviously they beat us earlier in the season on our home court and that wasn't fun so we felt like we owed them one a couple of weeks ago. Unfortunately for us, it didn't work out," says Stephen.
"We just can't lose to a team three times in one season, that's our approach to the game, we just can't let that happen. So we do have that extra little bit of motivation but, I think, just being here would have been enough.
"If you can't get yourself ready for a National Cup final, I don't think you can get ready for anything."
For Dan, victory on Saturday would obviously be a proud moment, but he insists the goal for UCD at the start of the year was the Super League title.
"I'm feeling confident but it's always tough to beat a good team three times in one season, no matter who they are. That game two weeks ago was obviously great because it shows we can be 20 points better than them but I think this is a very different test.
"We've been there before a couple of times but so have they so it's going to come down to who is going to be able to hit the big shots on the day, who is going to stick to their game plan and I wouldn't expect the margin to be as big again.
"For us the league is the number one priority, it's a better test of who is the best team and, while the National Cup is special, it's easier to win given the number of games involved."
"Ideally, of course, we'd win both."
Black Amber Templeogue take on UCD Marian in the final of the Men's Hula Hoop National Cup on Saturday, 27 January at the National Basketball Arena, Tallaght, throw-in at 8pm. 
The42 has just published its first book, Behind The Lines, a collection of some of the year's best sports stories. Pick up your copy in Eason's, or order it here today (€10):