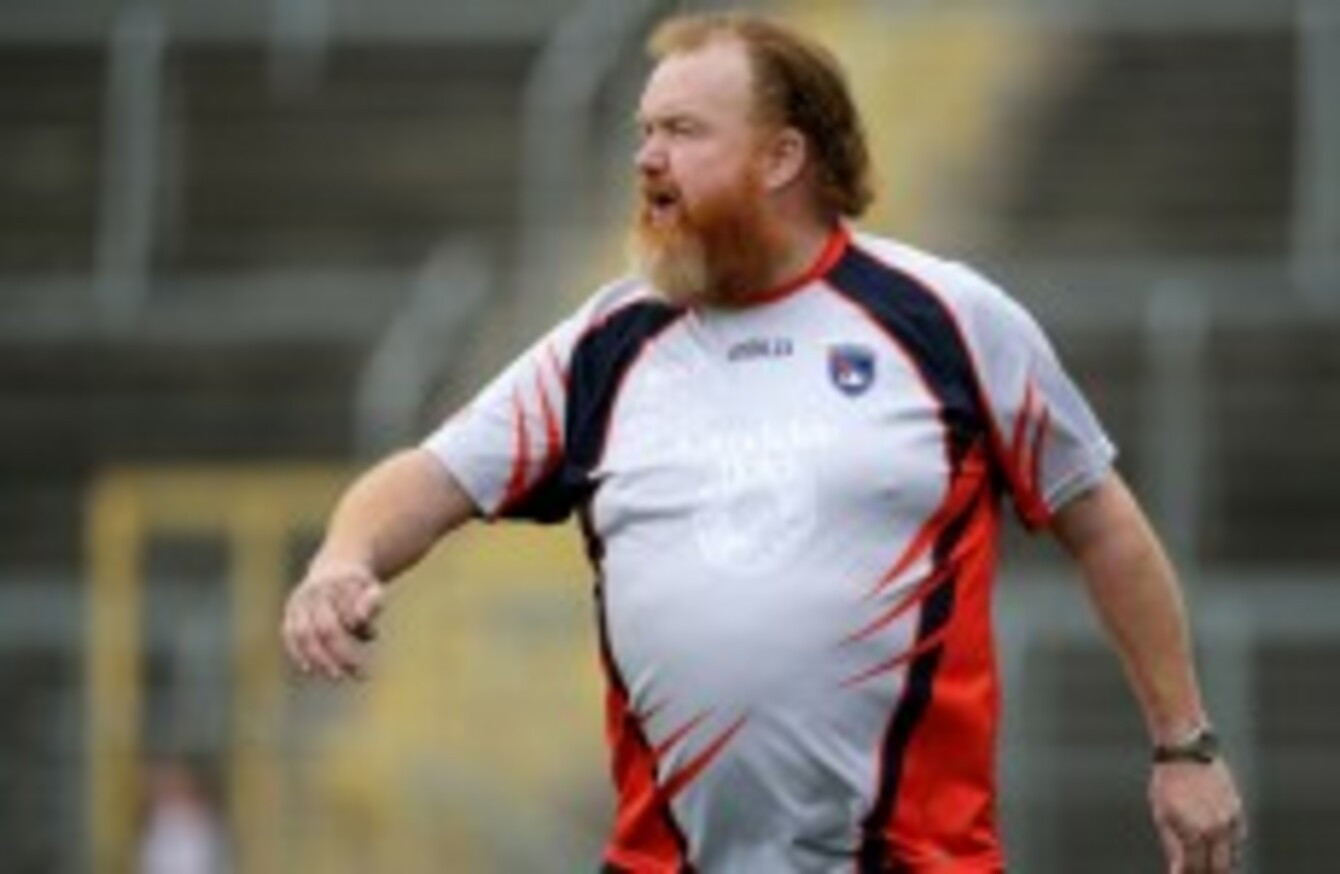 Former Armagh ladies football team manager James Daly.
Image: Morgan Treacy/INPHO
Former Armagh ladies football team manager James Daly.
Image: Morgan Treacy/INPHO
TAKE A GOOD long look at the picture at the top of this story.
After tomorrow evening, James Daly's beard will be no more.
To honour the memory of his late wife, Ann, a charity match – All in for Ann- featuring the cream of Ladies Gaelic Football will be held in Dromintee tomorrow (7pm).
And Daly has pledged to shave off his beard later in the night to raise funds for cancer research.
70 players have committed to the event as rival All-Ireland final managers Eamonn Ryan (Cork) and Gregory McGonigle (Dublin) team up to take charge of one team, with Daly in charge of their opponents.
After the game, a bumper raffle will take place in a nearby marquee, with a host of stunning prizes up for grabs.
"Marty Morrissey will be there to do MC," Daly revealed.
"We have a big marquee and we're going straight in there for live music from 8.30 until the wee hours of the morning.
"I'm having the beard shaved and my daughters, Katie and Megan, are having their hair cut and that will be donated to the Little Princess Trust (a charity that provides real hair wigs to boys and girls across the UK and Ireland who have lost their hair through cancer treatment).
"My son, Ryan, is getting his hair dyed. It's hard to get a 16-year-old to get his hair cut!" James smiled.
"Then we'll have a raffle and lots of very good prizes, followed by an auction.
"We have two pairs of authentic rugby boots from Ronan O'Gara and Brian O'Driscoll, a signed Jamie Heaslip training jersey, a signed 2015 Kilkenny hurley, U2 tickets and a package to the Manchester derby."
All proceeds are going to Cancer Focus Northern Ireland, whose resources are channeled towards cancer research and breast cancer awareness.
In July 2014, James lost his wife Ann following an eight-year battle with cancer.
Naturally, her memory will burn brightly this weekend but James is determined to ensure that the night is a celebration of Ann's life.
"No doubt, it will about all of the good things.
"It's also a huge coming together by the community to put this together.
"The money we've got already is unbelievable, there's more to come and we're very happy with that.
"It's been a hectic couple of weeks, dotting the t's and crossing the i's.
"It's been that busy, you're just flying, going from one thing to the next.
"Tomorrow is going to be tough but this whole thing has been about keeping her name alive, for the last 15 months.
"It ends tomorrow night and there will not be as much talk about Ann maybe ever again – that's a tough time.
"It's been a hard time but like everything else, you feel sorry for yourself but there's always someone worse off. There's a great buzz and we're expecting a big crowd for the game."
Mayo superstar Cora Staunton will play in the game while the female 'Gooch', Kerry's Louise Ní Mhuircheartaigh, has also committed her services along with Kingdom teammate Bernie Breen.
Another Mayo player, Fiona McHale, is also travelling to Armagh, along with Galway's Sinead Burke, Sligo goalkeeper Noelle Gormley, and a host of Ulster players including Armagh's Caroline O'Hanlon and Sinead McCleary, Gemma Begley from Tyrone, the Hegartys from Donegal and Karen Guthrie.