LAST SATURDAY IN Rome, James Lowe made more passes than carries.
Ireland's left wing still did damage with ball in hand as he carried for over 130 metres but these days, his passing and kicking are arguably as influential for Ireland as his running power.
His strike record of eight tries in 18 caps underlines that he still fulfills the traditional duty every wing has as a finisher, but Lowe is much more than that. For Ireland, he is a also a playmaker and distributor, giving them an additional creative influence from the number 11 shirt.
He provided the scoring pass for two first-half tries against Italy, with the second of them a particularly slick touch back inside for Bundee Aki to finish.
Earlier, Lowe had taken Aki's offload, accelerated, drawn the last defender, and freed captain James Ryan for the opening Irish try.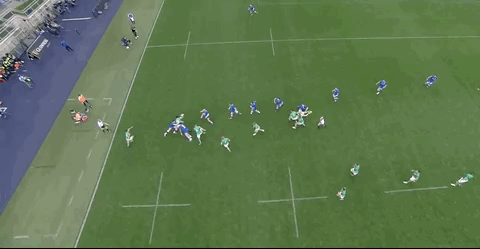 Both of these passes come out on Lowe's left wing. The real value he adds is all over the rest of the pitch. Lowe has license to roam for Ireland and be part of the chains of short passes they use to confound defences.
So it's no surprise that Lowe ended up with more passes last weekend than carries, even if he hadn't realised.
"I didn't know that," said Lowe today, speaking as he helped to launch the new Tackle Your Feelings podcast.
"My body probably tells a different story because I feel like I've been hit by a bus still!
"It's just dependent on how the game flows and the areas of the pitch you end up in. Obviously, I'm always just running around trying to look for work anyway and trying to get my hands on the ball. If the right thing is to pass it, then that's it. At the end of the day, it's decision-making and I don't think I did anything too crazy that would make you question that."
Lowe has grown increasingly comfortable slotting into positions behind Ireland's pods of forwards, a role that would more traditionally be taken up by out-halves, fullbacks, or centres.
We see a simple example below. Watch how Lowe starts behind a pod of two Irish forwards, then links the passing chain from Jack Crowley to Jimmy O'Brien, who adeptly slips Aki into a sliver of space.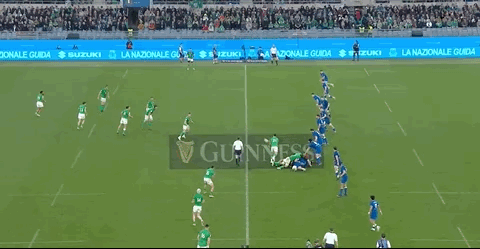 Lowe says Ireland boss Andy Farrell has been pushing him to get his detail nailed down for this kind of role in the Irish attack.
"Faz during the week always would be getting into me… not about how bad I was behind those shapes, but what I needed to get better on," explained Lowe.
"It's something I had to sit down and watch and really figure it out. You just watch… I'm fortunate enough to have potentially one of the best 10s to have ever played the game in my team so I've got a fair bit of footage of him.
"Just watching him and what he does and looks for. I sat down and watched him for a fair bit and things started clicking. It wasn't perfect on Saturday but I think it's heading in the right direction."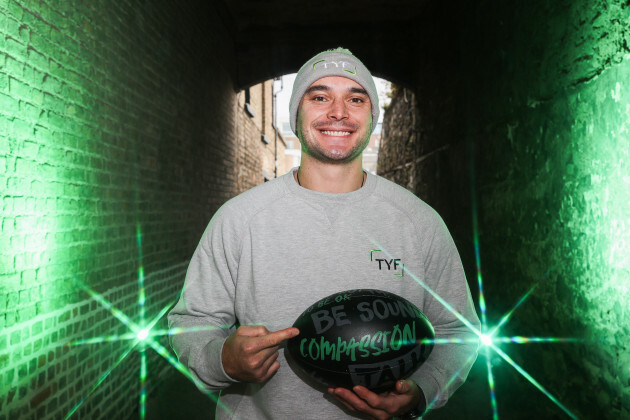 Tom Maher / INPHO Lowe was launching the Tackle Your Feelings podcast. Tom Maher / INPHO / INPHO
What is it that Johnny Sexton does so well in those positions?
"Man, I don't want to talk about Sexton too much cos he's an old man!" replied Lowe.
"But he knows his limitations and what to look for. Half the time, he's just looking at what the defence does and that then dictates his pace, depth, and timing onto the ball to make sure he doesn't get whacked ball-and-all.
"You see some of the times when he's got the ball cocked and he's ready to pass and he's still running at full speed – and I know full speed for him isn't that quick but he's still managing to get half-gaps and sneak through holes.
"I know he does get whacked but he puts other people through holes the whole time, so if I could get half as good as he is, then I'd be a happy man."
Finishing remains a crucial job for Lowe, of course. He dotted down against France in acrobatic but controversial fashion for his eighth Test try.
Speaking after that game, Sexton joked that he hasn't seen Lowe working on that particular skill, whereas he has noted veteran wing Keith Earls practising it.
"That cheeky b*stard…" responded Lowe today.
"I don't know… no, I'm not going to lie. I haven't practiced that or I don't practice it that often. It's once in a blue moon that something like that happens.
"I probably do need to practice because I didn't know my toe was out but I thought I put the ball on the line anyway, so I didn't think it was a try straight away. It's one of those things that sort of happen once a year where you get the opportunity to try and finish like that."
Lowe is honest enough to admit he doesn't think that score should have been given.
"I'm glad we were awarded the try. I don't think it was a try but that's the fortune of playing at home. That decision is a 50/50 and we're away from home and I don't think it's a try."
And he knows he should have had his ninth Test try last weekend in Rome after just 83 seconds only to lose the ball forward as he attempted to ground it.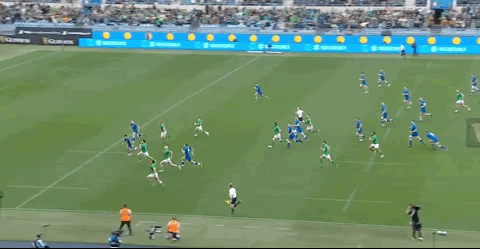 He doesn't think going one-handed was the issue, but perhaps his choice of finish.
"I'm sure I'll get given out to on Wednesday [when Ireland are back in camp] but at the end of the day it would have been fine if I'd put it down. It wasn't that flash," he said.
"Replaying it in my head I could have just ran straight at Capuozzo. He's quite a slender human so hopefully I would have ended up over the tryline. A little bit disappointing but fortunately we were able to score a couple more down that end."
"When you are caught on camera it doesn't matter, does it!" he argued.
Lowe's other try in this Six Nations was a defensive score as he picked off a Dan Biggar pass and raced clear against Wales.
That wasn't the only intercept he has made in this championship.
As we see below, Lowe picked off a Paolo Garbisi pass last weekend for the turnover that led to Aki's try just three phases later.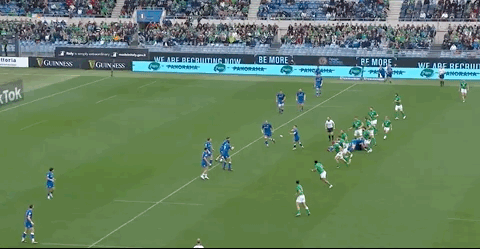 Lowe explained that being aggressive and making reads on the edge is a requirement within Ireland's defensive system.
"When you see people going for intercepts, you sometimes see it as sort of a last resort, but I guess how we're trained and conditioned to defend now – it's just getting up into space.
"You're trusting that while there are people [attackers] outside you, if they do throw that pass, you're well placed to be able to pick it off." 
Lowe readily admits that he doesn't always get his defensive reads spot on.
"I didn't get it right the whole time on Saturday," he said. "Capuozzo got the ball and was able to get inside and make metres on my inside shoulder a few times."
We see one such example below.
But Lowe believes he's getting more right when it comes to his reads, particularly given that Ireland's wings have to be proactive in the team's system.
"I think I picked off three on the weekend and it was just about being in the right space and trusting the fact that if they do throw that pass that I'm able to catch it.
"If they throw a short ball, I'm able to hit the dude on the inside as well. Like I said, it's how we want to D within our D system. If I can pick them off, I can pick them off."
Among his defensive highlights in this Six Nations has also been a big jackal turnover penalty close to Ireland's tryline.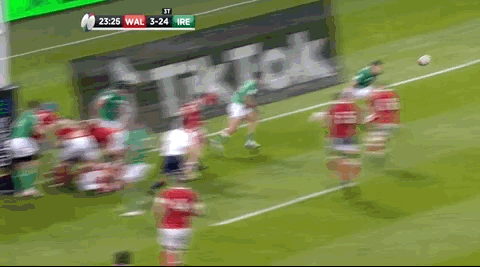 In this case, Lowe is happy to give credit to Garry Ringrose.
"You don't get many opportunities," said Lowe of that rare breakdown steal.
"Garry was Mr. Fix It there when Wales were on the front foot. Garry made an incredible tackle on Biggar. It was an incredible individual one-on-one tackle and he managed to make it.
"There was a window of opportunity to go in there and I thought I'd poke my nose in. Fortunately, I came out with the ball. It was a pretty big moment because they were hot on attack."
And Lowe's kicking is a huge part of Ireland's game now. 
He has kicked 19 times in play in this Six Nations, which is second only to scrum-half Conor Murray's 20.
We've seen real variety in Lowe's kicking, including this banana kick against the French, which was close to being a 50:22.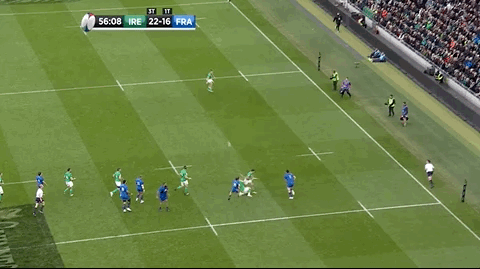 The power of Lowe's left boot means Ireland regularly use him to exit from their 22 or to find space deep behind the opposition during kick exchanges, but he is clever with his attacking kicks too.
This example in the opening minute against Wales resulted in Ireland getting the lineout platform for their first try.
Lowe had a similar kick against the French, although with a different technique whereby he drilled the ball into the ground to draw an error from French fullback Thomas Ramos.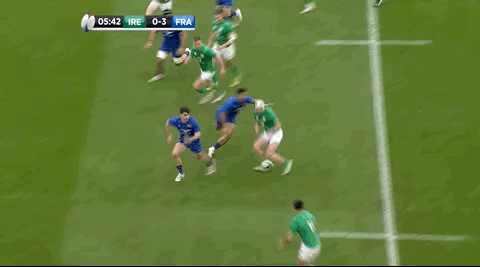 Ireland were held up over the tryline from the subsequent lineout attack.
We have even seen the Irish wing using his right boot to kick once in this Six Nations.
He's 30 now but Lowe continues to grow as a force at Test level. He knows he's not perfect and continues to chase improvement, but he already brings a hell of a lot to the party for Ireland.
__________
Rugby Players Ireland in partnership with Zurich and the Z Zurich foundation are launching their new 'Tackle Your Feelings Podcast' alongside James Lowe.
Comprising of seven episodes, the 'Tackle Your Feelings Podcast' encourages listeners to rethink their approach to positive mental well-being. Released every Thursday, the podcast is available to listen across all platforms.