FIRST, JAMES LOWE explains that not everyone is happy with his moustache.
It's impossible to miss the slug over his top lip when he walks into the meeting room of Ireland's team hotel an hour east of Paris.
"My wife was pissed off this morning when I FaceTimed her because she was teasing all the girls, the other partners, that her husband hadn't got a 'tache yet," says Lowe.
"She was surprised when I rang her this morning but that was only because I had a moustache. It's here to stay."
Lowe, as tends to be the case, is in relaxed form but you can sense the excitement coursing through him too. Even one of the most chilled-out men in the Ireland squad has been willing tonight's clash with the Springboks to arrive as soon as possible.
This has always looked like the key fixture in Pool B of this World Cup and after Ireland's big wins over Romania and Tonga, Lowe says this one will be "a whole new beast."
Growing up in New Zealand, he was one of many who had a sporting dislike for the Springboks.
"New Zealand and South Africa didn't really like each other, in a respectful way in terms of rugby," says Lowe.
Dan Sheridan / INPHO James Lowe in Paris. Dan Sheridan / INPHO / INPHO
"My primary school, we used to… Crusaders used to play one game a year in my hometown, Nelson, and we used to play against the Cheetahs. The Cheetahs would always come to my primary school, a random thought I just thought of it then.
"But I guess it's a rivalry. Still battle-hardened, still physical. I don't see any difference playing for Ireland."
The Springboks' famed defence means things certainly will be physical tonight in Paris. Lowe is well able to mix it and his power is an important weapon in attack for Ireland.
This will be his first time facing South Africa, having missed last November's clash due to injury, but he knows what's coming.
"I guess you've just got to realise that your time and space is being taken away," says 23-times capped Lowe. "They bring a serious amount of linespeed.
"With that obviously comes opportunities, but not many teams are able to exploit that sort of defence.
"So we're going to try our best, hold our feet. They commit to players very, very early and it works, so why would they change it? It's up to us to try and pick it apart and get the ball to space because there is space. It's just so blooming hard to get it there."
Lowe points out that the Boks are just about physicality. Wing duo Cheslin Kolbe and Kurt-Lee Arendse are a case in point, just two of the "freaks" who can cut you apart.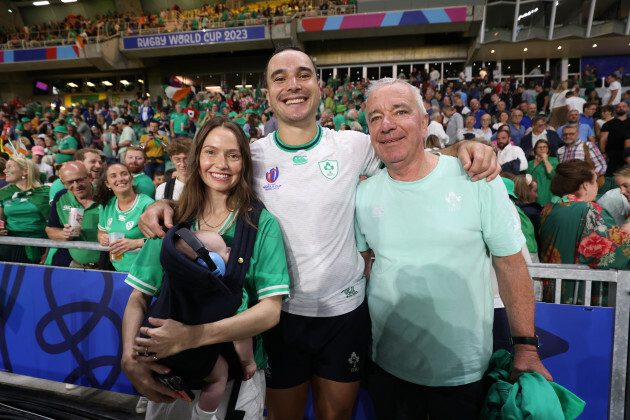 Dan Sheridan / INPHO Lowe with his wife Arni, son Nico, and father Geoff Dan Sheridan / INPHO / INPHO
"They're obviously very, very big men but if you look at the backline, it's scary enough," says Lowe. "You just look at the two wingers there.
"They are very similar players, great on their feet, great reads on D, seriously brave for their size. I know we can expect them to kick the ball a lot but ball in hand they have serious, serious individual threats."
He is interested by the Boks' decision to go with a 7/1 bench split. Scrum-half Cobus Reinach is the one back included and can also play on the wing. 
Lowe jokes that he wouldn't fancy such a role himself.
"If I was the only back on the bench, I would be, we would be in a lot of trouble!"
He's happy the talking is all done and it's time for him to do what he does best.
The pressure and noise will be intense tonight but Lowe is aiming to take it all in his stride.
"I'm very, very excited, don't get me wrong, but it's a game of rugby at the end of the day.
"It's the one thing I think I know how to do so far in life."