EITHER WAY, JAMES Lowe was going to be smiling. That's the way he's tuned, but the result of Saturday's one-versus-two showdown at the Aviva Stadium admittedly left him with mixed feelings. Overall, though, he was just delighted to be there with his parents.
The Auckland-born winger, who qualifies to represent Ireland in 2020, had feet in both camps, with many of his current team-mates in green and many of those in black former team-mates.
He just enjoyed an epic Test match, and occasion, for what it was.
"Yep, Dad had one of my old New Zealand tops and an Irish beanie on, it's a little mixed obviously," Lowe explains.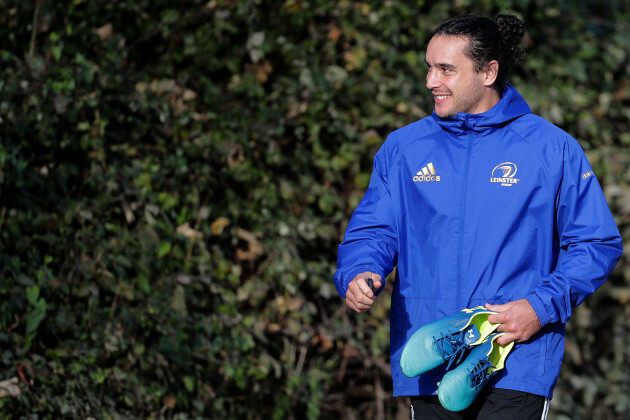 Laszlo Geczo / INPHO Lowe arrives for Leinster training yesterday. Laszlo Geczo / INPHO / INPHO
"I have friends in both sides, so either way I was going to be happy. Take the jersey off we're still mates." 
During his time in Super Rugby with the Chiefs, Lowe shared a dressing room with a number of Steve Hansen's All Blacks, and caught up with some of them during their week-long stay in Dublin.
"I played with a fair few," he says. "Brodie Retallick. Liam Squire, Ardie Savea, Damien McKenzie, Anton Lienert Brown, Nathan Harris [wasn't in the matchday 23], you know everyone. TJ [Perenara] was my New Zealand schools captain. Ofa Tu'ungafasi, too.
"We're still good mates, keep in touch, give each other stick. We went out to Krispy Kreme, they were staying in Blanchardstown. Nothing changes. We were always going to find a doughnut parlour."
Lowe admits it was one of the best performances against the All Blacks he's seen. 
"Yeah, like, if you break it down, defence wins the game," the 26-year-old offers.
"Everyone talks about the set-piece play, don't get me wrong it was a work of art, everything that unfolded from it, but defence won that game.
"It's what you have to do against the All Blacks, you have to starve them of the ball and be clinical with it. The Irish forward pack definitely stood up, they were smashing people left, right and centre. Rory Best, holy crap, when he put a shot on Brodie, it sent shivers down my spine and I was blooming halfway up the stands.
"It was an awesome performance and something Ireland should be proud of. They've dominated the northern hemisphere for so long. I mean the Irish team is awesome."
A first defeat in Europe in six years, Lowe considers the timing of Saturday's 16-9 loss might not be the worst thing for the All Blacks as they go into 2019 bidding to win a third successive World Cup. Hansen's side will come back stronger. 
"It's an awesome time for them to lose, to really put things into perspective, and understand that there's a storm coming from the north," Lowe continues.
"Looking forward to Japan, is it a bad thing they lost in the northern tour? They'll learn from that and they will come back another beast.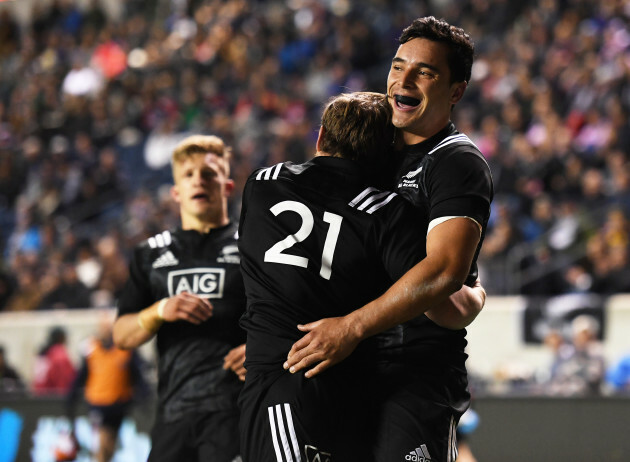 Photosport / Andrew Cornaga/INPHO Lowe in action for the New Zealand Maori back in 2016. Photosport / Andrew Cornaga/INPHO / Andrew Cornaga/INPHO
"People talked about them potentially not respecting the Irish in the lead up to Chicago, but you have a degree of respect for everyone you come up against, and this Irish team has proven that they're definite title contenders.
"When you look at the All Blacks team, they're still very, very young. Their bench, don't get me wrong, it's awesome and they'd start for most other nations but it's not the bench of old.
"Everyone is always trying to get better, they don't go back and say 'oh we just slipped up this time, water under the bridge.' They'll definitely learn, and come back with a bit of bite.
"I mean it might have been the wake up call they needed, I don't know. It's hard to say, isn't it? In terms of the bigger picture it could be a good thing that happened."
You wonder did watching Ireland's performance, and experiencing the sense of occasion, first hand on Saturday frustrate Lowe that he didn't arrive here earlier, and then you remember the type of character he is. 
"Blame Leo [Cullen], I guess," he laughs. "Nah, it's the way of the wind, isn't it? You can't really predict those sort of things and how everything unfolded. I still think I'm bloody lucky to turn up here when I did. It is what it is."
As it is, Lowe's energies are purely focused on Leinster. Until the time comes, he won't give too much thought to the idea of playing for Ireland. It's a while away yet, a lot of rugby to be played. 
Going back to Saturday, he makes a point of adding how much of 'an absolute bloody freak' James Ryan is after watching his Leinster team-mate produce a truly world-class performance against the All Blacks.
"His numbers, something like 19 carries, 17 tackles, I mean that speaks for himself. I saw him today and I went up for a handshake and he was just like…[moves like a robot and laughs]. He was immense.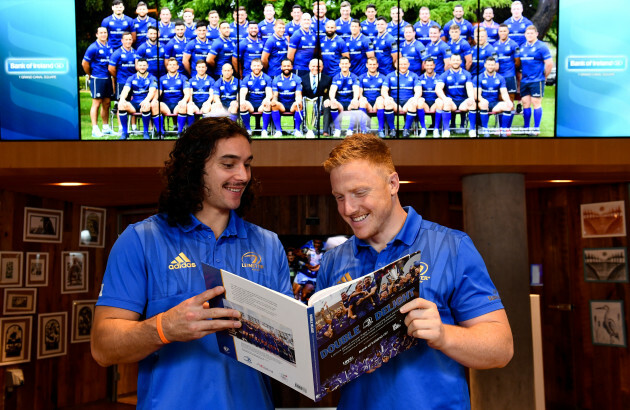 Sam Barnes / SPORTSFILE Lowe and James Tracy launching 'Double Delight', a picture diary looking back on Leinster's double-winning season. Sam Barnes / SPORTSFILE / SPORTSFILE
"Since I've got here, he's the softest hard person I've ever met. Throughout the week you wouldn't know you're going to get that sort of performance out of him. He still has a lot to learn which the scary thing. 
"You're saying those numbers and they're world class, and this kid is like, what, 22? He still can't drive! Imagine when he gets all the pieces of the puzzle."
Ryan has been released by the IRFU back to Leinster and won't feature in the final November Test against USA on Saturday, but for Lowe the attention is on the return of the Pro14 on Friday evening.
Having been excused from the trip to South Africa in round eight, the Kiwi winger is keen to get back on the pitch when the Ospreys visit the RDS this week — and it will be even more special with his parents in the crowd for the first time.
"Yeah, if I get to play," he smiles. "See how that goes. It has been a long time between drinks since my parents have been here. It's an exciting time and I know they're excited.
"It was my Dad's 60th on Saturday and I mean I keep it quite quiet, but he was telling the bloody world. He had a few pints shouted for him.
"He really enjoyed himself and hopefully on Friday night if I get to run out at the RDS it will be another special occasion." 
Subscribe to our new podcast, Heineken Rugby Weekly on The42, here: