JAMES LOWE TAKES a seat and starts by letting us know that his mum has texted to tell him she's annoyed.
Lowe has just scored two tries and run riot in Leinster's dominant win over Wasps, so it's nothing about Lowe's performance that stressed her out, rather the incomplete coverage on New Zealand television as she watched on from home in Nelson.
"She said they cut the game off during one of my interviews," explains Lowe with a shake of the head and a laugh. "You don't want to annoy my mother!"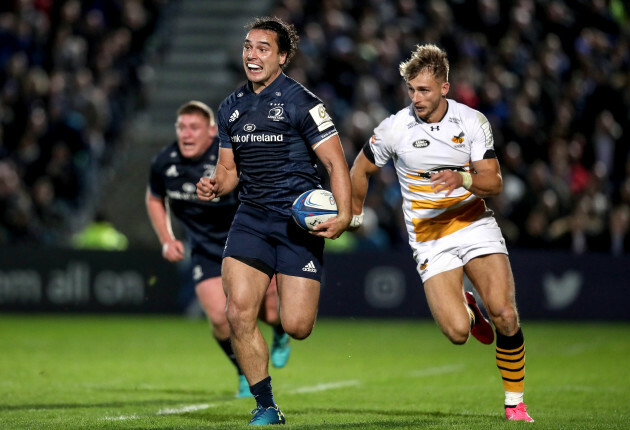 Dan Sheridan / INPHO Lowe has six tries in five games so far this season. Dan Sheridan / INPHO / INPHO
With his next sentence, Lowe outlines that his parents will be visiting him in Ireland during the November Tests.
"Man, I'm excited. It should be some craic."
It's Lowe down to a tee. Open, honest, engaging and always capable of getting a laugh.
Box office on the pitch, the Kiwi wing is also a godsend off it in an era where many professional athletes are guarded and wary around journalists. 
His infectiously positive personality has helped him become a fan favourite at Leinster since arriving at Leinster 11 months ago, although his skill out on the pitch is perhaps most important.
Yesterday's showing against Wasps underlined just how exciting the 26-year-old is as he tore the English side apart, the crowd audibly thrilled every time Lowe touched the ball.
The chants of "J-Lowe… J-Lowe… J-Lowe" during and after the 52-3 win said it all.
"It's cos I look different, that's literally it," says Lowe of his ever-growing status with the Leinster support. "I'm really enjoying my time here.
"Isa [Nacewa] just messaged me, man, like he's still watching. I thought he'd left us and bloody pushed us to the side but he's still there and he was a huge influence last year.
"We lost a big part of the team and the culture and boys have stepped up and really filled his shoes. It's like we haven't missed a beat since he left and everyone thought the world was over.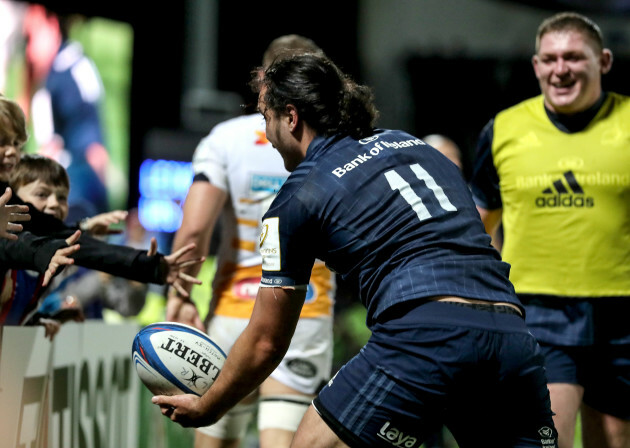 Billy Stickland / INPHO The Kiwi is a real fan favourite. Billy Stickland / INPHO / INPHO
"I've settled in well, everyone's been really welcoming. We've got a good foreign group, we're going to some bloomin' silly paint thing tomorrow, all the partners and a few of the boys."
Lowe clarifies that he's heading to a Paint and Prosseco event on his day off on Saturday, free to enjoy his weekend after Leinster secured five bonus points to kick off their Heineken Champions Cup defence.
"I don't really know the prosseco side but I'll back my painting skills and I'll tell you on Monday how we go!"
With his girlfriend enjoying her job in Bank of Ireland, Lowe says life in Dublin has been extremely enjoyable so far.
Apart from one minor issue on Thursday.
"My car got broken into," says Lowe. "Man, I couldn't bloody believe it! They didn't take anything but, man, I don't know what's going on – they broke the smallest bloody window and then just ran off.
"If you find them, tell me. The police rung me yesterday and we had a funny chat. I was like, 'Man, if you do find them, give me 10 minutes with them.' He just giggled to himself.
"But apart from that, it's been outstanding. Me and my girlfriend have really settled in, we're enjoying our time here. That's half of it, you get your life sorted off the field and on the field becomes easy."
What Lowe does on the pitch certainly isn't easy and there are few players like him in this part of the world.
The fact that the former Chiefs and Tasman Makos wide man is in Ireland at all simply underlines the scary depth of the All Blacks – Lowe would walk into many Test teams.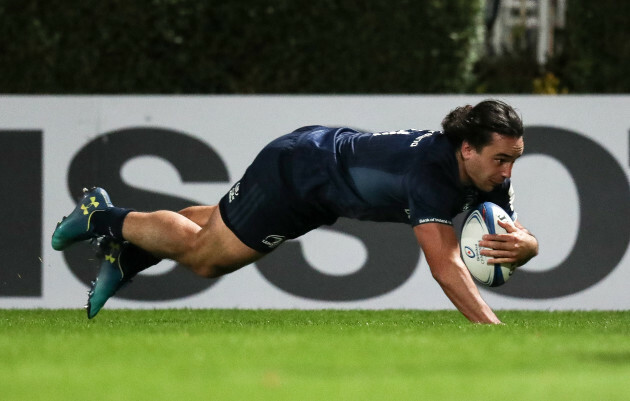 Billy Stickland / INPHO There's more to Lowe's game than pure finishing. Billy Stickland / INPHO / INPHO
His second try last night was a straightforward run-in thanks to Johnny Sexton's between-the-legs brilliance and Robbie Henshaw's draw-and-pass, but his first was a magnificent solo effort.
Henshaw freed him on a lineout starter play near halfway before Lowe stepped Willie le Roux and fended Elliot Daly on his way to the tryline.
"Oh man, your head goes out the gate," says Lowe of what he was thinking once he got behind Wasps. "You don't know what to do.
"You always try and get the ball back in two hands. That's the big thing, because then the defences don't know what you're going to do.
"I didn't know what I was gonna do so imagine what they're thinking! I just kept on bloody running, saw the tryline and jumped over. Now we're here."
One of Lowe's most popular party pieces is his habit of being tackled, releasing the ball, getting back to his feet immediately, scooping the ball back up and carrying again.
It's a common enough skill in New Zealand but Lowe's excellence in this area is proving infectious in Leinster as many of his team-mates have begun to copy him.
"I should copyright it!" laughs Lowe. "Nah, I didn't invent it. It's something from back home, you don't want to die with the ball even when you're on the ground. Release it and get up and go.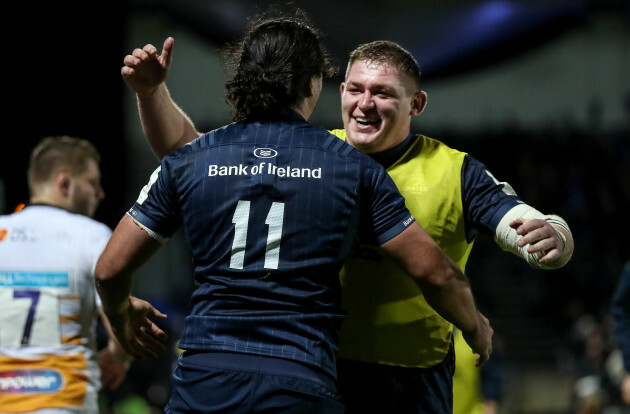 Dan Sheridan / INPHO Lowe gets a hug from Tadhg Furlong after his second try. Dan Sheridan / INPHO / INPHO
"I actually had Sean Cronin on top of me in the first half, he bloody gave me an earful after.
"He was like, 'James, don't do that!' I was like, 'Come on, Sean.' Na, he's a good boy, he's all good."
Leo Cullen has spoken about how influential Lowe has been on the training pitch for Leinster, bringing little skills like the one above to the mix.
Having been in a high-performing Chiefs environment before his move to Leinster, Lowe also has a keen understanding of how important the ruck is.
"Yeah, hit on suspicion," is how he sums up that mentality. "If anyone's in that metre, you just get rid of them.
"Every time you go to a ruck you should completely rearrange it. If you go off your feet, you've got to take someone with you. It's kind of like a little rule.
"You can't take it too far but if they land around the ruck, it's fair game. It's not my area of expertise but I know that every time I go near a ruck I'm taking someone with me."
Subscribe to our new podcast, Heineken Rugby Weekly on The42, here: