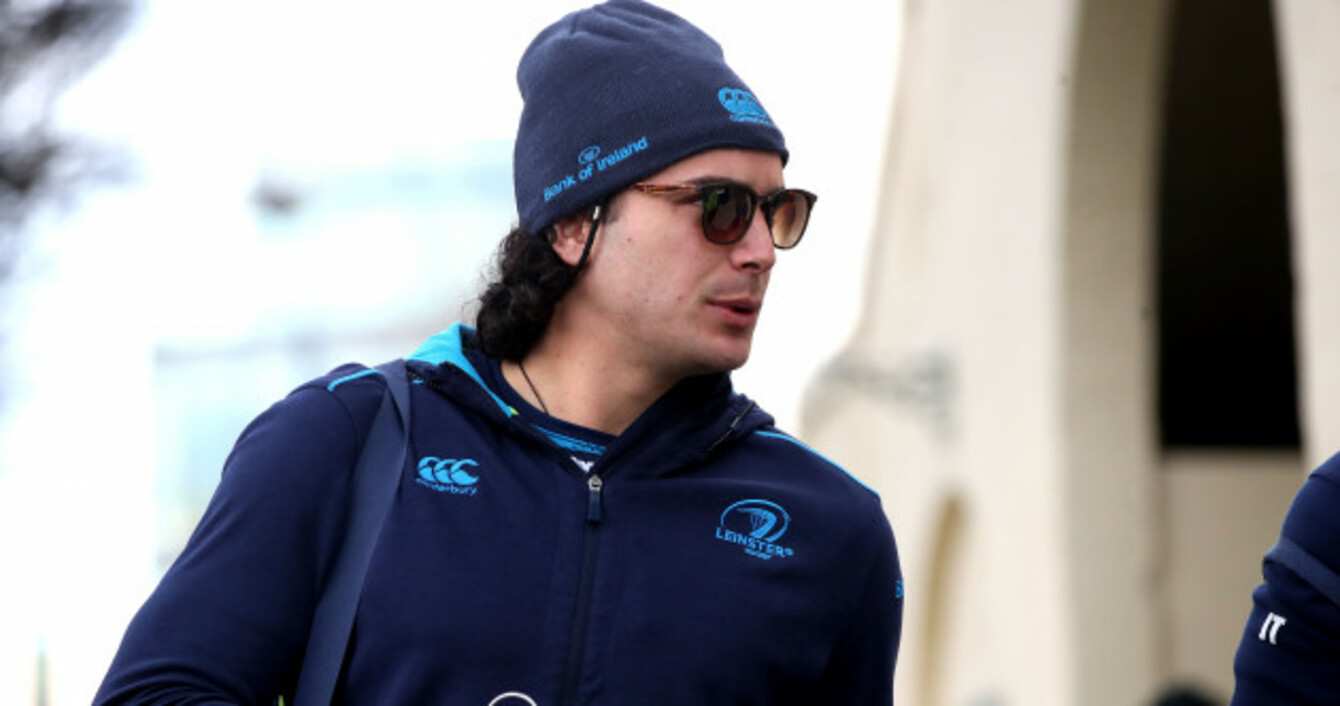 Lowe arriving at the RDS before his man of the match performance against Scarlets on Saturday.
Image: Byran Keane/INPHO
Lowe arriving at the RDS before his man of the match performance against Scarlets on Saturday.
Image: Byran Keane/INPHO
A BOX-OFFICE hit already, the James Lowe show is worth the admission fee alone. A maverick, an entertainer, a match-winner. The freewheeling Kiwi is having a transformative effect on Leinster, both on and off the field.
Five tries in six appearances barely scratches the surface. His brilliance adds a new dimension to Leinster's attack, his enthusiasm, energy and exuberance within a dressing room contagious. The joker in the pack.
He was brilliant on Saturday. A first-half brace in the 20-13 victory over the Scarlets proved crucial but Lowe's overall contributions are proving invaluable. See his offload inside to set Luke McGrath away for the hosts' third try. Or his innate ability to prise openings in the opposition defence. Or his 15 carries. All done with a smile.
Socks rolled down, orange boots and the unravelling of the man-bun; Lowe's play-off-the-cuff approach is breathtaking, refreshing and a joy to watch. He's already a fan's favourite. A collective gasp reverberates around the RDS when he gets his hands on the ball. Something always happens.
The man of the match award was a foregone conclusion. Lowe finished twice in the same corner in the first 40, demonstrating his power and dexterity as he held off the attempted tacklers to ground for both scores, the second of which gave Leinster a lead they never relinquished.
"Not too many hard questions please," Lowe announced upon arrival into the media room at the RDS. A breath of fresh air, but don't be fooled by the care-free, laissez faire demeanour. Winning is everything.
"You have to win," the 25-year-old says. "It's not entertaining if you don't win. It's a team game, you're based on performance and winning — Mondays are a lot grimmer at Leinster HQ.
"Even when we win it's a bit grim, you know? The boys need to smile more. Maybe that's just me, I'd be a rubbish coach."
A coach's dream, but also a nightmare. Some aren't a fan and they're quick to point out Lowe's defensive frailties, but impulsive players, whose default setting is positivity, are a rare commodity.
"Always, man," Lowe replies, when asked if he'll keep smiling the next time he makes a mistake. "It confuses everyone. 'Shit, he's done something wrong' but I just smile about it anyway.
"The way I relax is just to think about where you come from, what you've achieved so far, what you play for, who makes you happy, what makes you happy. I'm on the other side of the world playing rugby, I never in a million years as a 10-year-old thought I'd be playing for Leinster.
"On the other side of the world, just having fun. That's what you have to remember, I'm in a very privileged position and I know that. I do it with a smile on my face no matter what."
Lowe amuses and inspires his team-mates. Alongside Scott Fardy, the overseas pair played leading roles as Leo Cullen's side opened up a three-point lead over Scarlets at the top of Pro14 Conference B. It was a result of considerable significance.
While these international windows are when Lowe and Fardy are worth their weight in gold, Cullen could also derive huge satisfaction from the role his younger players had in the victory. Ed Byrne, Josh Murphy, Nick McCarthy and debutant Ciaran Frawley all stood up in different ways.
Lowe has been blown away by the depth which exists at the province.
"This is something I've never experienced and I don't think there will ever be anything like what Leinster have at the moment," he continued. "The amount of depth that this club has, the way they've been able to keep so many internationals is ridiculous.
"The amount of young fellas who from a young age all they want to do is play for Leinster…I've never been anywhere in the world (like it).
"I tell some of the boys back home. At the Chiefs we had one person in the squad who went to school in Hamilton and that's in the Super Rugby franchise. Here, you have five people who didn't go to school in Dublin and they play for Leinster — it's absolutely crazy.
"Nowhere in the world do they have what Leinster has right now."
Cullen is digging deeper into his stocks, though.
The midfield options are perilously low now that Rory O'Loughlin has entered the return to play protocols and scrum-half is an area of fresh concern following Luke McGrath's knee injury. Updates will be provided later today.
McGrath had a scan on the problem yesterday and if the damage is serious, Cullen and Stuart Lancaster would have to drop one of Lowe or Fardy for the Champions Cup quarter-final against Saracens.
An awkward selection headache which may not come to pass, but Jamison Gibson-Park's promotion in the absence of McGrath would leave Leinster picking between their other  Antipodean players. Needless to say, Lowe isn't a fan of the regulations.
"It sucks, eh?! They need to change the rule. Can we do it here? Put your hand up if you want three foreigners playing. Yeah! Alright. World Rugby, come on!
"It is a shame, it's only New Zealanders and Aussies! C'mon, something's wrong there, eh? You can't just single us out. I don't like it.
"I've played with Jamo back home — we're the same age and played New Zealand U20s and we both didn't make it.
"It's a good problem to have, because you've got three foreigners that want to play week in, week out so it depends on the balance of the team, the dynamic of the team and who comes back from internationals.
"I remember the Edinburgh week, all three of us were named to start but we had to wait to see which internationals came back from camp to see who wasn't playing. It's a good problem to have, it's just a shame we can't play together — I like playing with Jamo."
The entertainment in the post-match press conference continued.
"Cheers fellas, don't write anything mean," Lowe added, before exiting stage left.
"Imagine if we read the paper one day and it was all positives…imagine that guys, I would buy it! I'd buy them all."
And off he went. Come back for more of the same next week.
The42 is on Instagram! Tap the button below on your phone to follow us!