JAMES LOWE IS beaten to it when asked to reflect on his intercept try in Cardiff on Saturday.
"He hasn't stopped talking about it," interjects Dave Kilcoyne, sitting to Lowe's right in the media room at the IRFU's high performance centre in Abbotstown.
"I've been showing everyone the video!" smiles Lowe.
"It was pretty satisfying, I guess, because a couple of years ago I wouldn't have done that, I would have done something pretty stupid.
"I would have tried to whack someone or shot in. I was kind of in the right place at the right time and that's all she wrote."
It's a throwaway remark but those few sentences are a reminder of just how far Lowe has come as a Test player. Cardiff was one of the stops on his bumpy first experience of the Six Nations back in 2020, where the winger's defensive work came under heavy scrutiny.
Three years down the line the 30-year-old has made himself a key member of the Ireland starting team and has earned a level of trust with Farrell that extends beyond the pitch.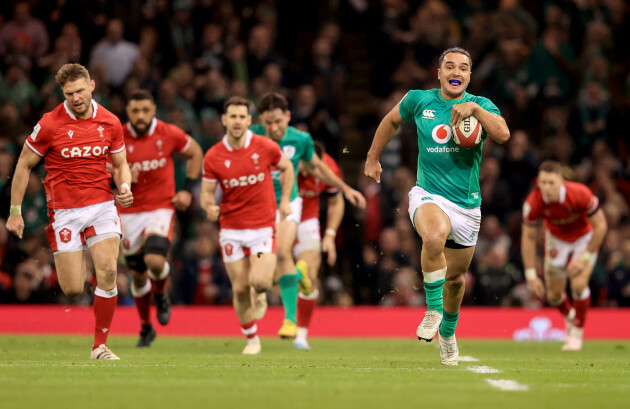 Dan Sheridan / INPHO Lowe runs in an intercept try against Wales. Dan Sheridan / INPHO / INPHO
Lowe recently needed to return home to New Zealand for personal reasons – not ideal preparation for a Six Nations but in Farrell's eyes, not the end of the world. 
"I'd told Faz that I had to pop home for a couple of weeks," he explains.
"We got across everything I needed to do to make sure when I did come back I hit the ground running. I came back, straight into Portugal (training camp) and it was the first time I'd trained with a team for three and half weeks and I felt like I was in great shape. I didn't skip a beat. I made sure I got across everything."
Fit and firing, Farrell backed Lowe to deliver in Wales – his first outing since Leinster's St Stephen's Day interpro with Munster.
It was nice to be given the opportunity and that trust was there. Faz gave me the opportunity after some good training and to be able to put in a performance that the team was happy with, that's all that really matters."
That trust between player and coach is evident across the squad, and stamped all over the way Farrell's Ireland look to play.
"He encourages you to be yourself," Lowe says of Farrell, "and not take away from the skills and the point of difference that have got you into this position, and then it's finding a way around a structure that Andy puts in front of us to make sure that we can express ourselves.
"We've got some freakish athletes as well. If you look at our back-rowers, pretty dynamic, six, seven and eight, even our locks, Tadhg (Beirne) moving into a lock who was predominantly a six a couple of years ago, it's very athletic and dynamic and just giving those boys the opportunity to play at the line, play little tips inside, balls out the back, Sexto turning corners, having forwards there, it's all part of our whole system.
"The quicker we can get off the ground and into shape, I think we can cause some problems."
The challenge this Saturday is to have all those pieces fall into place against France, a team Ireland haven't beaten across three previous attempts under Farrell.
This time they feel they can break that duck, with Farrell telling his players the key ingredient is to "be themselves" when the French come to town.
"It's imposing a game that we know we can play," Lowe continues.
It's tight shapes, it's at the line, it's being combative and physical and it's very, very easy to say and then you go (up against) France and get walloped in the first few contacts and you start second guessing yourself.
"But that's going to happen. It happens in a game where you're going to lose a few battles and have to play a bit smarter. But at the end of the day we know we've got a shape that can break down most teams if we get our own stuff right and the French are physical, I think it would be silly to say they're not bigger than us.
"We think we're fitter. If we can get around them, work around into holes and hopefully get a couple of weak shoulders and stay on top of them, it sounds very easy to do but obviously teams struggle to do it. We're just going to go out and play our rugby and see how we go."
It's a game that pits the top two teams in the world rankings against each other – high-flying Ireland heading into the clash fresh from a first win in Cardiff in 10 years, while France will be looking to improve on their showing against a spirited Italian side in Rome.
"We know it's a different French beast (this week), the France that we know is going to turn up and we're prepping for that and can't wait for the opportunity to test ourselves against the team that won the Grand Slam last year. 
"Their 9-10 combo is pretty scary, their back row is world class, a midfield that's pretty dangerous and a back three that would put the s******* up most teams.
"Individually they've got some pretty good firepower, so hopefully they don't string it all together."
Get instant updates on your province on The42 app. With Laya Healthcare, official health and wellbeing partner to Leinster, Munster and Connacht Rugby.
Originally published at 17.30