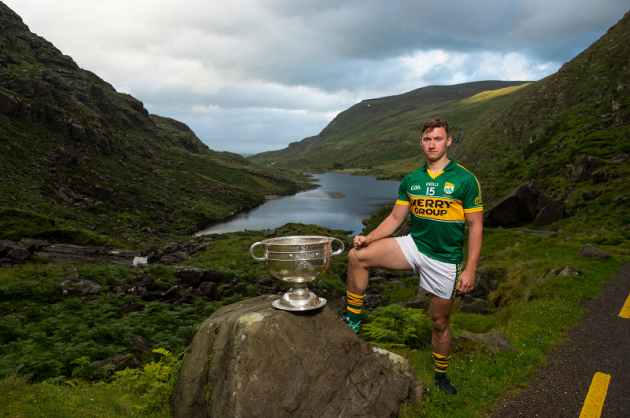 Sportsfile Kerry's James O'Donoghue at the Gap of Dunloe in Kerry Sportsfile
JAMES O'DONOGHUE HAS dismissed suggestions that Kerry footballers try to exert influence on referees, branding articles that make that assertion (as) 'absolutely horrendous'.
Kerry's engagement with referees was questioned before last week's Munster final replay but O'Donoghue insists observers watching on are not aware of what takes place on a pitch.
"Wasn't there a big campaign about respect for each other, the referee and the players?and then you shake the referees hand and you are influencing his decisions?
I think the articles written, some of them were absolutely horrendous.
"You might see something on the field when you are in the stand and you make something out of it in your head which isn't the case.
"The referee could want to say to you 'calm down a bit there', but then in the stand everyone thinks the player is trying to influence the referee's decision.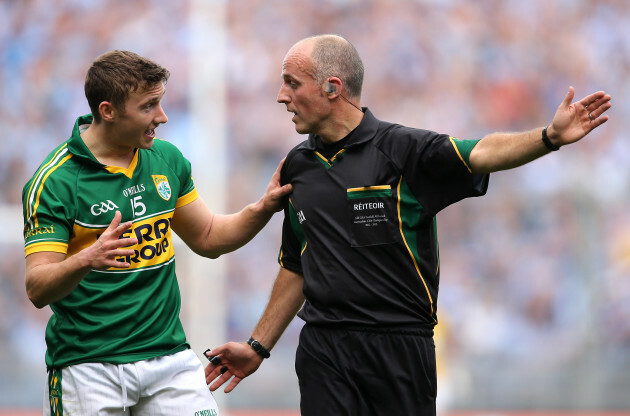 Cathal Noonan / INPHO James O'Donoghue speaks with referee Cormac Reilly during the 2013 All-Ireland semi-final Cathal Noonan / INPHO / INPHO
"That is not the case at all and I think it has been blown out of proportion.
"The referees probably deserve more respect than that to think a player having a word a and a wink is going to influence his decision. That is not true."
When asked if he can think of any reason why Kerry are being accused of trying to influence referees, O'Donoghue simply stated: 'I don't know'.