EDDIE HEARN SAID it with that cheeky-chappy smirk, a twinkle in his eye, aware he was appeasing an Irish-heavy media congregation.
"You've got James Tennyson, and he's ranked top-five with the WBA. I mean, it's crazy, but he might be looking at a world title shot next!"
There were polite chuckles from myself and the 25-odd other reporters jammed into that choky room in the bowels of Belfast's fast-emptying Odyssey Arena, as well as the few who spilled out of it with their voice recorders infiltrating the doorway.
Hearn was, after all, referring to a 24-year-old who, four years prior, had suffered a stoppage defeat to a Latvian journeyman who had until then won two of his 71 professional fights.
Tennyson was a guy who, while he had won explosively in front of his home crowd on the undercard of Ryan Burnett's world-title unification clash with Zhanit Zhakiyanov hours prior, had tested the tickers of his fearful faithful in a crack-for-crack humdinger with Aberdeen's Darren Traynor — calling upon no shortage of heart himself in the process.
Ah, he was still a bit away from world title contention, Hearn accepted. We all did. And the WBA rankings are generally daft, anyway.
Nonetheless, I saved the audio from that October evening cognisant that I'd likely revisit it someday down the line when nobody would be laughing.
Sure enough, 364 days later, on 20 October, Belfast's 'Assassin' — now 25 and the European champion at super-featherweight — will attempt to take out the Eddie Hearn-promoted Tevin Farmer and relieve the American of his IBF world title at the 20,000-capacity home of the Boston Celtics and Bruins.
He's in with a serious shout, and you can bet your bottom dollar Hearn doesn't find it especially funny.
Indeed, the only thing remotely amusing about the whole thing is that Tennyson's bid to conquer the world arrives almost exactly five years to the day since Pavels Senkovs, then 2-64-5(2KOs), delivered to him the type of reckoning that should have halted his march to within even an ass's roar of the position in which he finds himself this week.
"Oh, aye, it was a shattering moment," Tennyson tells The42 of the night his fledgeling career careened off the tracks some 16 stops before Saturday's destination, a shot at stardom at Boston's TD Garden.
"The world kind of like…caved in. It's a hard one, really, to explain — it was a bitter, bitter pill to swallow, getting stopped by a guy who I was supposed to look good against. Especially because I was so young — I was only 20 — and you're kind of looking at big things to come.
I had such a solid record [8-0, 7KOs]. You have the world at your feet in a way and then — 'boom!' — knocked out by a guy whose record was…shocking. My whole world shattered down around me.
There could scarcely have been a worse way to lose, not only in that his maiden toppling came at the hands of a man whose previous victory — one of two ever at that point — had arrived four years prior: Tennyson was put down in the second round by Senkovs before the towel flew in from his corner; he had to be saved from a man who was supposed to lose.
To make matters worse, this had been his maiden showpiece outing. Tennyson had fought predominantly in hotels on either side of the border before facing Senkovs on a Carl Frampton undercard at the Odyssey Arena. The fight had been scheduled as a big-venue breakout for the talented youngster, but just 41 seconds into its sophomore verse it turned into Heartbreak Hotel.
Worse still, the dissenting voices had been gifted vindication: there had been detractors within Irish boxing even when the West Belfast puncher — still a Babyfaced Assassin at this juncture — won his first professional Irish title aged 19. Manager-promoter Mark Dunlop, who has thrown and swallowed every punch with 'Tenny' since he turned pro in 2012, had so often been accused of overhyping his boy prodigy.
In the eyes of many, Dunlop had been left with egg on his face. Tennyson, for his troubles, had been left with a sore one, and his career was on eggshells.
Reputation in tatters, the rebuilding job from subterranean-level struck as being borderline quixotic.
Emily Harney / INPHO World title opponent Tevin Farmer (L), Billy Joe Saunders and Demetrius Andrade (R) watch on as James Tennyson addresses the media and fans in Boston Emily Harney / INPHO / INPHO
"It was a tough one, really. A long road back. But I'm a very determined person," says Tennyson.
The loss, I have to say… My heart was broken. It set me back. I was down in meself a wee bit. I remember just saying to myself: 'I need to get back from this. I need to get back to where I was and go from there.'
"I needed to build myself back up and start pushing forward again, step by step.
"You still do have those small, slight doubts in the back of your head, but it was more a case of having that wee bit of confidence in myself and saying, 'Listen, let's go.'
"You have to push those doubts to the back of your mind. I was very determined to get back on track."
"It's not really about defeat, you know? It's about how you build yourself up and come back."
A rematch was the obvious course of action, but having claimed his most famous scalp, Pavels Senkovs cashed a few more cheques and called it a day: he fought five more times in the space of four months — picking up a third career victory over British debutant Martin Hillman on his travels — before retiring from boxing in 2014, aged 25, sporting a record of 4-68-5, 3KOs.
"He broke my heart and got out," laughs Tennyson. "Fuck it, if I win a world title it'll be massive for him, like!"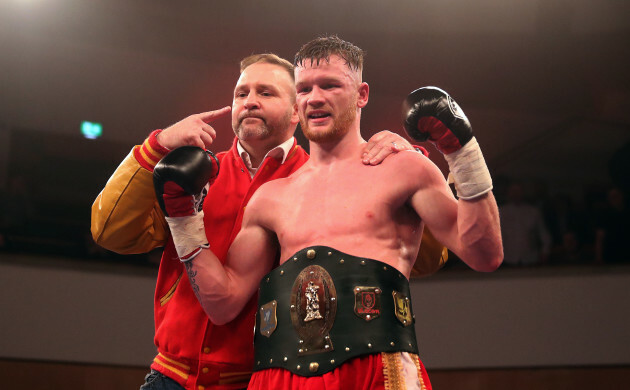 Brian Lawless Brian Lawless
Tennyson reeled off eight straight wins over the next two years, six of them quick, with another — his Celtic featherweight title win over Scotland's Kris 'Badger' Hughes — arriving via disqualification.
Brick by brick, what had been left in ruins by Senkovs was rebuilt. Tenny's record stood at a more-than-respectable 16-1, 14KOs, when he and Dunlop decided to roll the dice in the spring of 2016.
British champion Ryan Walsh, then 20-1-1, 9KOs, flung back snake eyes by way of a pair of venomous body shots: the Norfolk man halted Tennyson in the fifth round of 12 at Hackney Wick's Copper Box Arena. But this was less a disaster and more a lesson learned.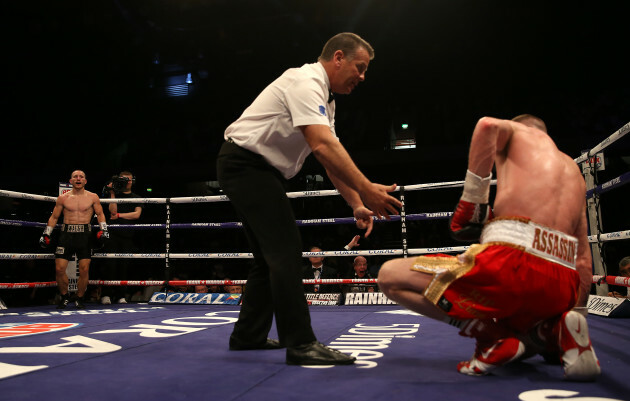 Adam Davy Down but not out: defeat to Ryan Walsh springboarded Tenny back towards the top Adam Davy
While a second pro defeat gnawed, Tennyson was mindful that he was bursting at the seams at 126 pounds and had probably asked too much of his body one too many times. Plus, he had recovered once from a setback altogether more inexplicable and inexcusable.
"Obviously, a defeat's a defeat — they're still hard to take, no matter how they come about.
"But I took a defeat to a guy at a higher level in Ryan Walsh, an unbelievable talent. He won the British title outright [defended the Londsdale belt three times], so when you take a defeat to a guy like that, you take it that little bit easier than you would against the likes of Semkovs.
"It's hard to take regardless, but after this one I was straight back in there. The second fight I had after that was against Declan Geraghty, another top-quality opponent, you know?"
In what was one of the most eagerly anticipated all-Irish showdowns in some time and with the Irish title on the line in March of last year, the Belfast Kronk fighter ploughed through Geraghty, the classy former amateur standout who had lost just once previously in 15 fights.
Conspicuously imbued by the extra few pounds he was carrying up at featherweight, The Assassin began to snipe his way through his new division.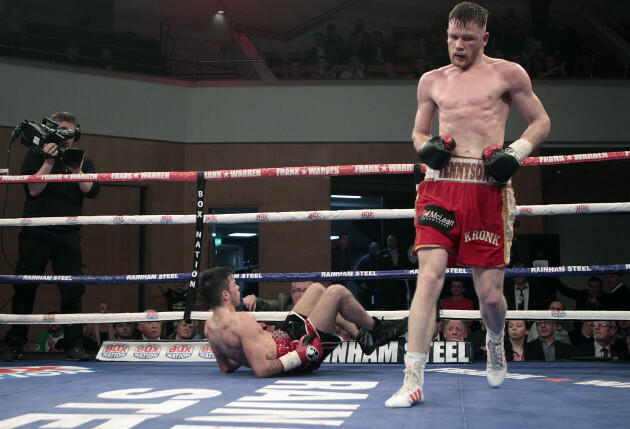 Presseye / Peter Morrison/INPHO James Tennyson knocks down Declan Geraghty in Belfast Presseye / Peter Morrison/INPHO / Peter Morrison/INPHO
A sixth-round stoppage of Briton Ryan Doyle [14-1-1, 8KOs] for a rankings belt catapulted Tennyson into the WBA's top five and he improved said lofty position when he scythed down Aberdonian Darren Traynor [14-1, 6KOs] in a rock-'em-sock-'em affair four months later.
Welcome to nosebleed territory. However, rather than take the Icarus route to Mexico for a short-notice shot at WBC World super-featherweight champion Miguel Berchelt in his back yard in February, Tennyson and manager-promoter Dunlop pocketed their dice and sat one out.
In a stay-busy outing on Dunlop's own show at Belfast's Europa Hotel that same month, Nicaraguan 'elite' journeyman Arnoldo Solano — who has taken a host of high-end Irish, British and European fighters the distance — was handed just his third stoppage defeat from 19; Tennyson creased him to the body inside a round.
The decision to decline a shortcut and remain on the conventional course paid off, figuratively and literally, when Tennyson blasted out unbeaten British standout and reigning European champion Martin J. Ward on a Sky Sports Box Office card at London's O2 Arena back in May.
Par for the course, however, he had his ribs rattled by a major speedbump en route to a career-best victory: the razor-sharp Ward sliced Tenny to the body early, felling him gruesomely in the second stanza of a memorable back-and-forth in the English capital.
"Once I got hit with that body shot, it felt like the ground was going to swallow me up," Tennyson recalls. "It was a devastating shot. He couldn't have landed it any better, really.
To be fair, it's a hard one to call, how you get up from a body shot like that. I'm not actually sure how it happens. I suppose, like I said, I'm a very determined person. I think it's a case of once I'm down there, I try and catch my breath and I'm just like, 'Fuck it — I need to get up and get this going again.' You know? I don't think there's actually any real answer for it.
"And as soon as I got up, the bell went. It kind of gave me that wee bit of time to regather myself and recover. But I think that was the best shot the guy could possibly throw at me.
"Once I went back out after that round, I started landing some shots again. I was thinking, 'You've thrown yours. Now, it's my turn.'
"Listen, it was a difficult shot to recover from, but afterwards I think I took some cracking shots to the body and sort of walked through them. At that point, I don't know what was going through his mind, but I'm sure he was thinking he'd just hit me with his best shot and I was still there, pushing forward."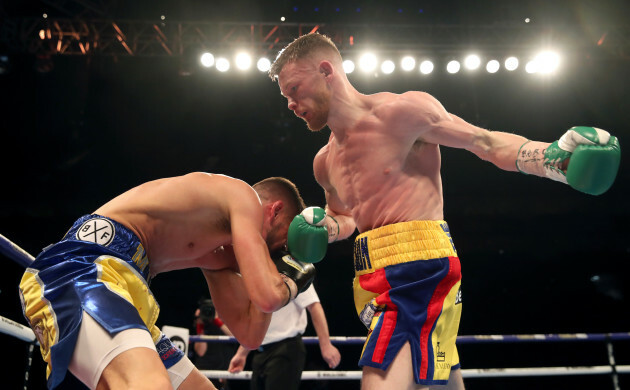 Nick Potts Nick Potts
With just over a minute to go in the fifth, Tennyson's bloodimindedness paid dividends: a thudding five-punch combination sent Ward sprawling back towards the ropes before two spiteful overhand rights drove him to the canvas.
Exclusive Six
Nations Analysis
Get Murray Kinsella's exclusive analysis of Ireland's Six Nations campaign this spring
Become a Member
Poised in the neutral corner and smelling blood, the excited Tennyson inadvertently left his gumshield slip from his mouth. It was a testament to his initial barrage that not even the extra few seconds sufficed to save Ward, who ate a pair of right uppercuts upon the fight's delayed resumption and was sent sprawling senseless into referee Victor Loughlin's arms for a first professional defeat in 22 fights.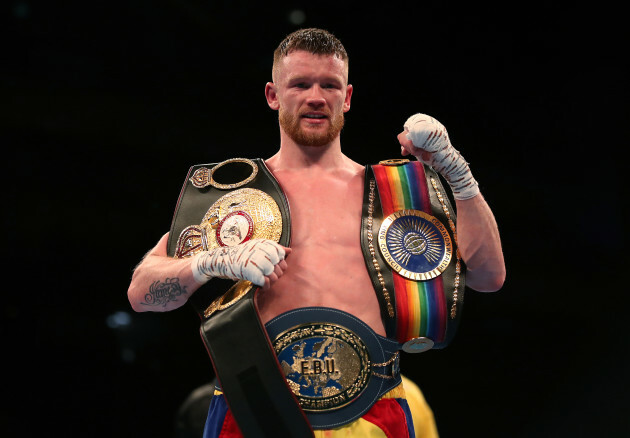 Nick Potts James Tennyson celebrates becoming EBU European super-featherweight champion Nick Potts
"It's been unbelievable," says Tennyson, kicking back on his bed in his Boston hotel room as he reflects on the journey which has taken him to within a fight of becoming Ireland's 22nd-ever boxing world champion.
"It's been an incredible turnaround for me. And it's only the start, really. Once I go in there and get this win on Saturday night, it's all going to change."
He describes it as "very, very special — a dream come true, really," to be sharing a world-title bill at Boston's famed Gahden with an Irish boxing icon in Katie Taylor as well as another compatriot in unbeaten heavyweight Gorey garda Niall Kennedy.
All that's left, now, is to win the bloody thing and join Taylor, Ryan Burnett and TJ Doheny as Ireland's fourth reigning world titleholder.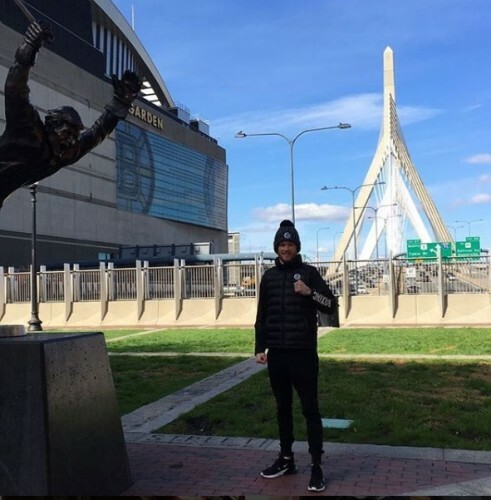 Tennyson stands outside TD Garden, the venue for his world title fight with Tevin Farmer this Saturday
In his way stands a diamterically different fighter but one whose pugilistic path is not all that dissimilar.
'American Idol' Tevin Farmer was a sob story to begin with: he lost a third of his first 12 fights as a professional, including his debut by stoppage. 18 months after he entered the punch-for-pay ranks, his record was 7-4-1, 1KO.
Six years later, he's a fairytale; a world champion with a 26-4-1 (5KOs) resumée, and still aged just 28, recently claimed to be eyeing up two properties to purchase with his newfound riches.
He has also pointedly indicated that his co-promoters Lou DiBella and Eddie Hearn have a fight lined up for him just a month after his first title defence versus Tennyson. "That's how you keep a fighter motivated," Farmer tweeted, seemingly suggesting he's neither scared of, nor particularly stimulated by, the impending challenge presented by this apparent blow-in from Europe — albeit he later denied as much. Sort of.
Who ever think that I'm over looking Tennyson is crazy. I know that man is coming ready. Overlooking someone mean you slacking in training etc. I'm busting my butt every day. The difference is "I just know he ain't beating me" it's levels this boxing ish✌🏽😎

— TEVIN FARMER (@TevinFarmer22) September 11, 2018
😂😂😂😂😂 https://t.co/PDFMuRGXOC

— TEVIN FARMER (@TevinFarmer22) September 24, 2018
James Tennyson Gone get his A** kicked. Point blank😠

— TEVIN FARMER (@TevinFarmer22) October 7, 2018
There's a stoicism to how Tennyson receives his own personal 'Mean Tweets' segment: it's not his style — yapping, Twitter, the whole thing.
He's content to leave his concrete fists, not his fingers, do the talking.
Most of it, anyway.
"I think he could be overlooking me, which would be a massive mistake," Tennyson says matter-of-factly.
If he's looking at other opponents and thinks this is going to be a walkover, that could spell disaster for him. If he's overlooking me, that'll cost him. I'll show him a bad night, you know?
"I don't think he's got knockout power to cause me any danger. I think he's more quick and sharp, more of a hit-and-move fighter. But I'll stand in the pocket with anybody, anyway — that's just who I am.
"I think he's just in his own wee world. He can believe what he wants to believe, and if he thinks he can look past me… He'll be mistaken, highly."
Of course, James Tennyson knows better than most that it can take only one shot to bring someone's own wee world shattering down around them.
Subscribe to our new podcast, Heineken Rugby Weekly on The42, here: