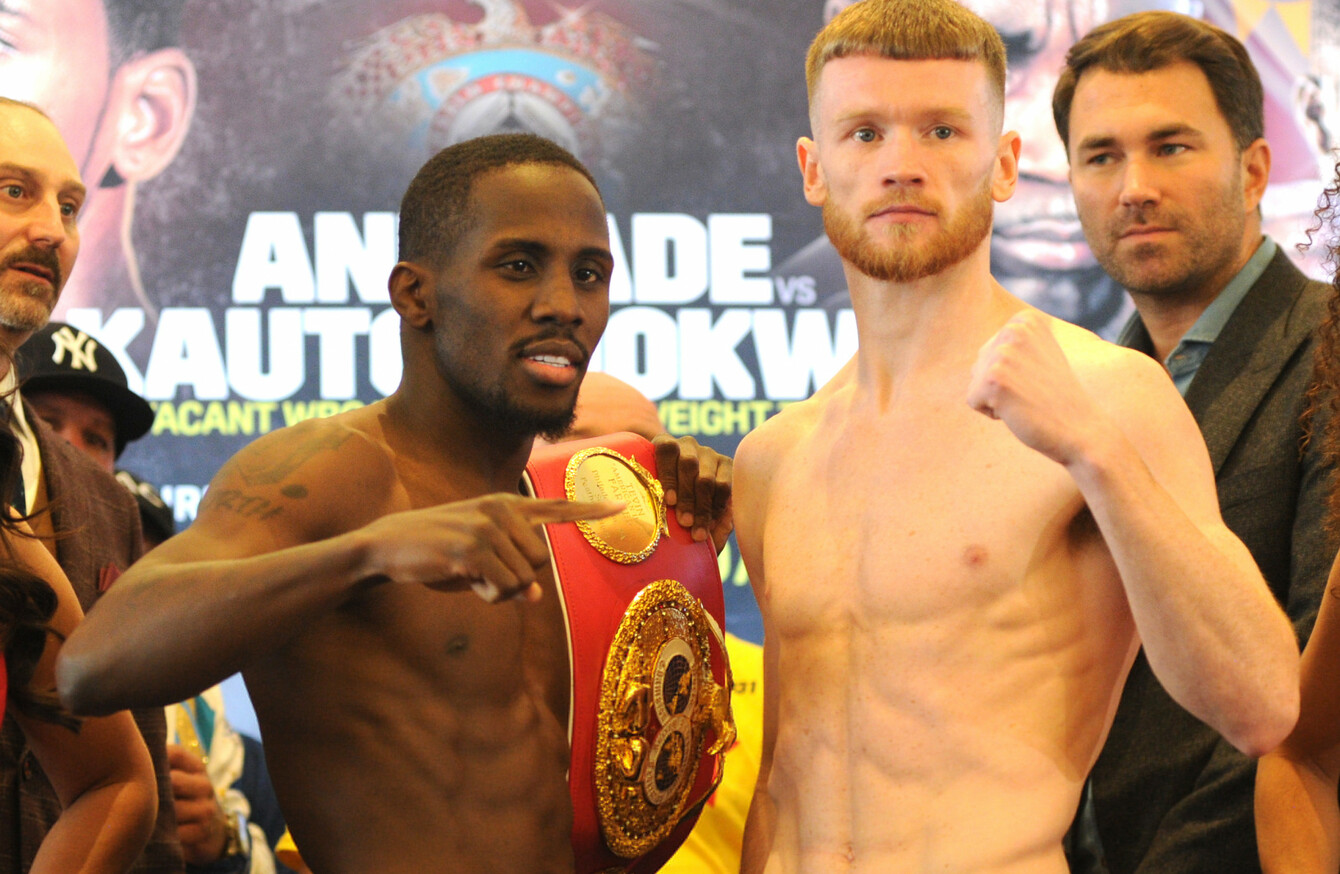 Image: Emily Harney; ©INPHO/Emily Harney/INPHO
Image: Emily Harney; ©INPHO/Emily Harney/INPHO
Gavan Casey reports from TD Garden, Boston
JAMES TENNYSON FELL short in his maiden world title tilt at Boston's TD Garden as IBF champion Tevin Farmer dropped him twice to the body en route to a 5th-round stoppage.
Farmer had edged a competitively-fought and enthralling bout for five rounds and retained his title in sensational fashion.
West Belfast's Tennyson will of course ponder what might have been, and one suspects he won't be thrilled by the nature of the stoppage: the fight was waved off before he had a chance to battle back to his feet.
'The Assassin' received well wishes from his opponent's co-promoter, Lou DiBella, by way of a fist bump as he paced the ring upon his entry, but the niceties ended there.
Tennyson, 25, went straight after Farmer, 28, throwing in bursts to both body and head — most of which Farmer managed to stifle.
Seconds into the first round, half of the arena erupted as Conor McGregor strolled in unannounced from backstage, taking a ringside seat to watch his compatriot.
Unperturbed by the commotion nor the onslaught in front of him, champion Farmer established himself behind the jab, snapping Tennyson's head backwards with a decent overhand left for good measure.
Tennyson again marched forward to start the second, throwing with real menace but again seeing much of his work smothered by some fundamentally sound Farmer defence.
He found the target with a stinging right hand to the beltholder's body, but Farmer replied with a sharp left to the jaw which drew gasps from the pro-Tenny crowd.
The third, too, was close, as both men took turns firing off at close quarters. Farmer nicked it in the final 10 seconds with a four-punch combo to the challenger's body.
Tennyson was finding most of his success on the inside where he could force his way through Farmer's guard, but he was largely inaccurate from the outside, where Farmer was fast finding his range and rhythm.
This was rubber-stamped in the fourth when Tennyson's Achilles heel was exposed. Farmer delivered a peach of a left beneath his rib cage, grounding the Irishman instantly.
Tennyson rose without much fuss — this wasn't his first rodeo, so to speak — but it was a big statement by the typically feather-fisted Farmer early doors.
And there would be no late entry: Farmer went back to the same shot a round later, lacing Tennyson to the body until he was grounded once more.
Referee Arthur Mercante was a bit hasty in his call to stop the fight, not even giving Tennyson a chance to peel himself off the canvas for a second time.
There were tentative protestations from Tennyson's side, but as soon as he regained his footing he strolled over to his corner where he leant on the ropes, plainly still in agony.
The Belfast man can come again — his career to date has shown us that much. Farmer, meanwhile, is eyeing bigger and better things, most notably a scrap with rival Gervonta Davis.