THERE ARE A multitude of factors that go into making a rugby player who they are, and Jamie Heaslip is no different.
The 31-year-old has enjoyed major success throughout his career, winning Pro12s, Heineken Cups, Six Nations titles, a Lions series and a Grand Slam. He sometimes reminds himself with determination that a World Cup is the one trophy still to be secured.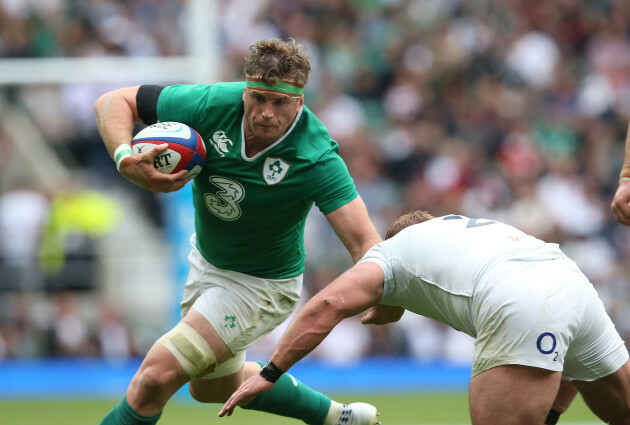 Heaslip carries the ball against England last weekend.
There have been disappointments and defeats to go along with the good days however, chief among them the experience of narrowly missing out on making Ireland's World Cup squad in 2007.
Perhaps he was better off not being involved in that infamous campaign, but learning of his exclusion was a big moment Heaslip's life at the age of 22. It wasn't quite a turning point for him, but it remains among those multiple factors that have formed the number eight as he is now.
Denis Leamy, Neil Best, David Wallace, Alan Quinlan, Simon Easterby and Stephen Ferris were preferred by Eddie O'Sullivan in the back row for that 2007 squad and the setback hit Heaslip hard.
"I remember in 2007 I was more worried about others than myself," says Heaslip of the lesson he learned. "I was more worried about what Leams was doing. It was kind of a shootout between myself and Leams, because you had people like Quinny (Alan Quinlan) and Fez (Stephen Ferris) who could play across the back row.
I remember thinking 'How is Leams playing? How is he training? What is he doing?' Wasting energy on that rather than putting energy into myself.
"When I look back at 2007 in the cold light of day, that's one of the things I take from it and that nothing is for granted. I thought I was deserving of it, but no one deserves anything. You gotta earn it."
Leamy at the time was a great deal more experienced than Heaslip, who was just at the beginning of his own international career after showing his promise at provincial level with Leinster.
Nonetheless, Heaslip had genuine hope he could make the cut. He recalls chatting to roommate Gavin Duffy at the team hotel at Killiney having travelled home the night of Ireland's 31-21 defeat to Scotland in a World Cup warm-up fixture, the pair of them working through the possibilities for the final squad.
With those who had missed out on O'Sullivan's final 30-man selection set to be informed the next morning, neither Heaslip nor Duffy got a wink of sleep.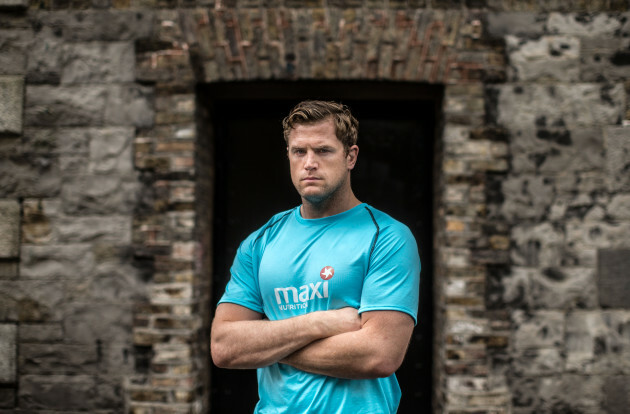 James Crombie / INPHO Heaslip is an ambassador for MaxiNutrition. James Crombie / INPHO / INPHO
"I go down to breakfast in the morning and don't make eye contact with anyone," says Heaslip. "I make it through breakfast without Eddie coming to me. I'm thinking, 'Fuck, I think I've made it.'
"Nothing happens and it comes to about 11 o'clock and I'm in my room.
"Then I get a knock, knock, knock on the door.
"It's just me in the room and I was thinking 'Fuck.'
"It was weird, Eddie wouldn't even come into the room. He just says 'You haven't made it'. "I was like 'Why?'
"He says 'I don't think you're big enough, I don't think you're strong enough and that's why.'
"I told him what I felt, which was a little bit in disagreement but in essence it doesn't really matter, you're not going to change his mind."
The conversation between O'Sullivan and Heaslip didn't last long, but then even a few minutes of interaction between the two men was a rarity at that time.
Bar Eddie calling me Graham (Heaslip's older brother, a former Connacht player) for two seasons, that was the only time he got my name right and talked to me," says Heaslip.
"I didn't really have a relationship with Eddie. I remember him coming up to me and telling me I'll never play for Ireland wearing white boots, which was an interesting one.
"In a way, that was kind of like my Dad, who's a military man and very old school. That's the way Eddie was, and different coaches have different personalities. They like players and they don't like players."
The fact that Heaslip's Leinster coach, Michael Cheika, had a different approach to dealing with players made it more difficult for the number eight to accept O'Sullivan's traits at that point in his career.
Cheika and another influential figure at Leinster helped Heaslip to deal with the immediate stinging feeling at having been left out by Ireland.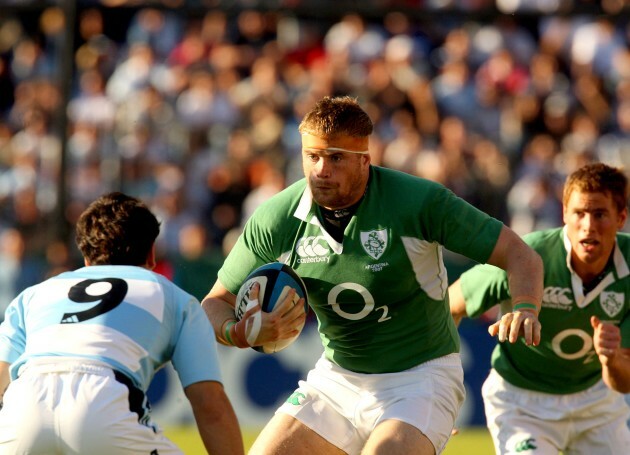 Billy Stickland / INPHO Heaslip in action for Ireland against Argentina in 2007. Billy Stickland / INPHO / INPHO
"I packed my bags up, didn't even say 'see you later' to anyone," says Heaslip of his reaction.
"I was coming down the back stairs in Killiney and I bumped into Mal (O'Kelly). I said it to him and he had nothing but words of encouragement going forward, the experienced guy that he was.
"I hopped in my car, headed straight for Naas. Michael Cheika rang me and I remember I had tears in my eyes. Cheiks is a hard individual and I was almost telling myself to be strong on the phone. He was full of encouragement and then he flipped it.
"He just said 'It's you against him now, isn't it?' He was trying to give me motivation, I suppose, for the rest of the pre-season and the time at Leinster. He said I've got an opportunity; that was great for me."
After getting off the phone to Cheika, Heaslip made it the rest of the way to his hometown and drowned the sorrows.
I got to Naas, dropped my bags at my parents, texted a couple of the lads the news and then we were in Hayden's bar in Nass until I don't know what time. I was carried home. That was that and it was done. I woke up the next morning and it was done."
Heaslip watched from home as Ireland's World Cup from hell unfolded, but took no satisfaction whatsoever from their failings. He just wanted to be back in the international fold as soon as possible.
O'Sullivan remained in charge for the 2008 Six Nations campaign and despite the fact that their relationship didn't develop, Heaslip started four games in that championship. Even now, the back row recognises that his attitude wasn't the most productive.
"I get it now, but back then I had a bit more of a fuck-you mentality, which is not right," says Heaslip.
"For a lot of that season and for a long time, I had a bit of a fuck-you mentality. It was good at times, but it was also bad because it put a focus more on me than a focus on the team.
"It's good to a point, but in a true team game you have to focus on others. It took me a while to come around to that thinking, but I was 22 and a lot of 22-year-old lads would have been like that.
"You don't get anywhere with that negative kind of thinking, and in hindsight it was a good thing that I was then back to Cheiks and his environment at Leinster.
"He kind of embraced people's differences and individuality, while trying to blend it into a collective. That's a better way of being I think. I kicked on from there."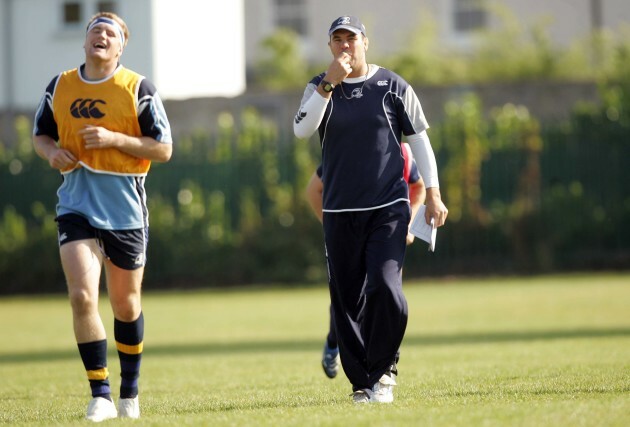 James Crombie / INPHO Cheika was crucial as Heaslip looked to bounce back. James Crombie / INPHO / INPHO
Indeed he did and hasn't looked back since, becoming a totemic figure for Ireland over the course of the nine years that have followed that character-forming blow. Today's Heaslip is a far more calm and reflective person, although not always in how he deals with losing.
He is driven by a desire for further success in his career, but the fear of failure is also a major motivator.
"You remember losses way more than wins," says Heaslip. "I'm a competitive man, but it's more the fear of losing, at times. I notice it more so doing my fitness games for example. I go mad if I lose, I go absolutely berserk.
"When I was in school, I was a good student and my Dad would give me a kick up the arse if I wasn't studying. He said 'If you weren't a smart student, I'd leave you be. You've got the ability.'
The disappointment of losing comes when you know you had the skills to do it. If you're beaten, you're beaten. If you get beaten by a better team and you know you've played really well, I can live with that. Those losses are fair enough.
"It's the ones where you played like a bag of shit and you know you're better than the other team, or when you do something stupid more than once. When you repeatedly do things badly as a group, that's where the frustration comes into it."
Heaslip's happiness is not completely tied up in the winning or losing he is part of on the rugby pitch. He's well known as a man who can forget about the game and that much won't change for the remainder of his career.
The summer break before Ireland's pre-season saw him travelling in the States, training at Jay Glazer's MMA gym in LA, driving the Pacific highway, and catching up with old friends including the Kitman Labs crew in Silicon Valley.
He jetted off to the Caribbean to take in some of the 20/20 cricket too, enjoying getting away from the "intensity of the structure" involved in professional rugby.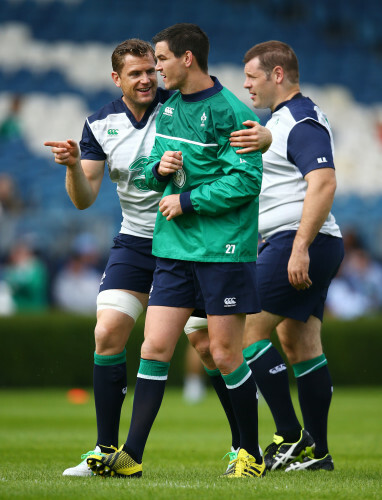 Cathal Noonan / INPHO Heaslip shares a joke with Johnny Sexton at Ireland training last week. Cathal Noonan / INPHO / INPHO
Not that he's found it difficult to get back into the swing of things as Ireland have prepared themselves for the World Cup – Heaslip may tune out to a degree, but his training regime continued in intense fashion during the month off.
A fairly voracious reader, Heaslip enjoys discussing the books he has worked his way through recently. His habit is to fold down the top corner of the pages that interest him and return to take notes a week or two after finishing the tome.
Tim Ferriss' podcast provides him with a flow of recommended reading and Heaslip  particularly enjoys sports books ranging from ultra marathon runners' autobiographies to studies of American coaches like Bill Belichick.
"I always give Michael Phelps' book to people as a present," says Heaslip when we ask if he reads as a way of furthering his rugby career. "He said he was going to win X amount of gold medals and I remember thinking why can't I say 'I'm going to win the World Cup?'
He set that goal eight years out and you look at how he got there. You start on ground level and build your way up. It was about putting specific targets and numbers on it, really specific goals, not vague intangible things.
"A lot of the things I do now come from what his book is about."
And so we roll back to rugby and the looming World Cup. Heaslip might give off the vibe of a man who will have little trouble in moving on from rugby after hanging up his boots, but it dominates the agenda right now.
The life bucket list can wait, Heaslip's rugby bucket list has one more important achievement to be crossed off.
"There's a lot of stuff I look forward to but rugby is only a short life, so I say make the most of it."
Ireland's leading sports nutrition brand, MaxiNutrition, is fuelling Jamie Heaslip to be at his best. Jamie uses MaxiNutrition's promax protein milk and bars to enable him to maximise his training. Visit www.maxinutrition.com for more information.