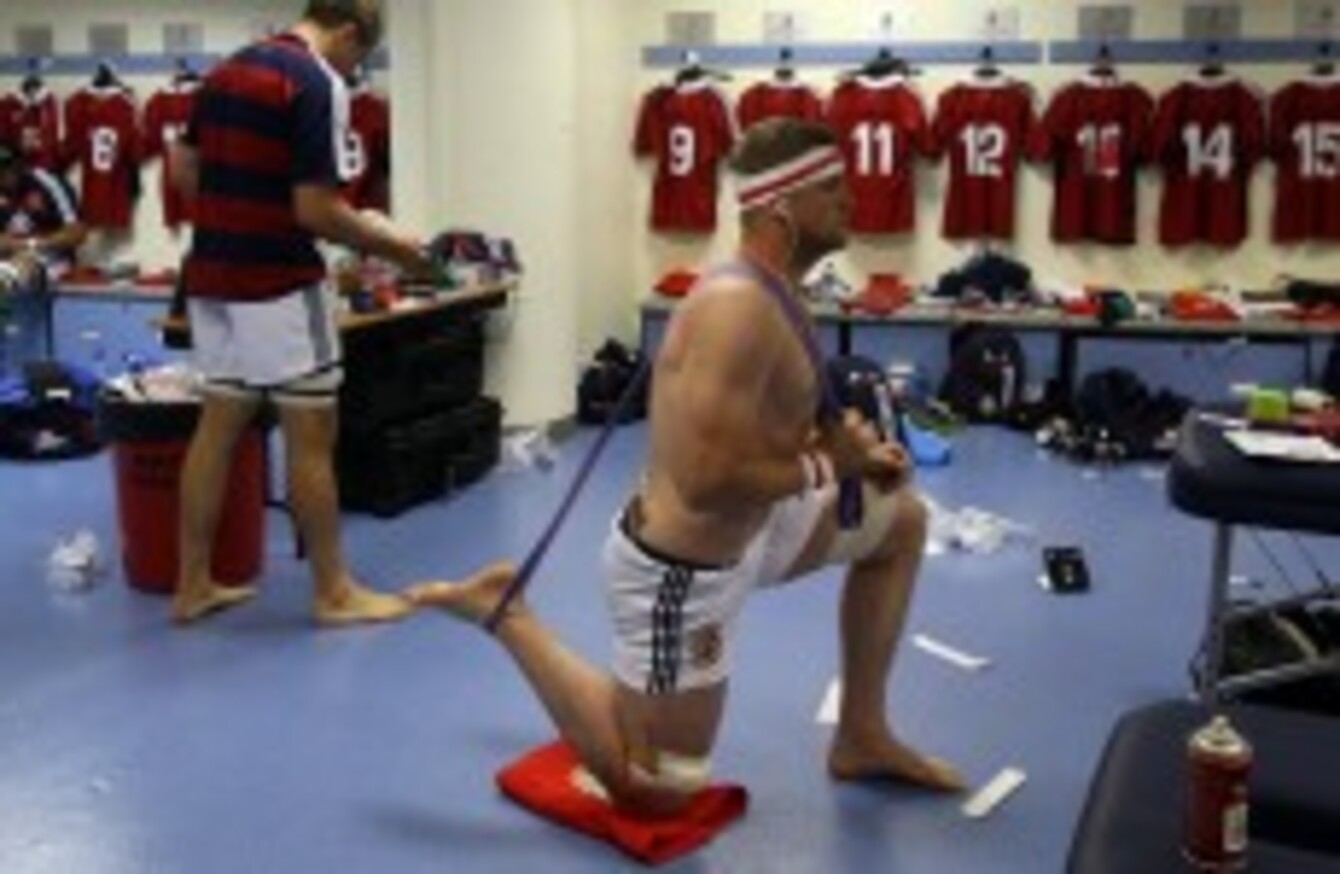 Heaslip stretches before a Lions match last summer.
Image: ©INPHO/Dan Sheridan
Heaslip stretches before a Lions match last summer.
Image: ©INPHO/Dan Sheridan
JAMIE HEASLIP SOMETIMES seems like the indestructible rugby player, given that he is so rarely injured.
But what goes in to avoiding the troublesome niggles that plague many a professional? The Leinster and Ireland No. 8 admits that luck has been on his side in a major way, but also reveals the 'little marginal gains' he has searched for and found in injury prevention.
The 30-year-old has always been quick to evaluate the weaknesses in his physical make-up and then take preventative measures before those minor issues turn into something altogether more serious.
"Physically, my neck used to jar up a lot, quite easily. So I do a lot of neck stuff now and I haven't had any problems with my neck in about three years since I started doing it.
My lower back used to get at me. I have a big curve in my lower back and it used to stiffen up quite a bit, it wouldn't take a lot for that to stiffen up. So I do a lot of core for that and it hasn't happened in a few years. You assess different things along the way."
Flexibility is a key concern in Heaslip's day-to-day existence. Images from behind the scenes on the 2013 Lions tour would invariably show the Leinster man stretching with tera bands [elastic rubber bands], or using a foam roller, while many of his teammates sat in the changing rooms watching on.
Heaslip credits Brian Green, formerly the IRFU's athletic trainer/physiotherapist but now working with the USA 7s set-up, as the man responsible for opening his eyes in this regard. The American introduced Heaslip to Kelly Starrett's work [the author of Becoming a Supple Leopard], whose videos the No. 8 began watching religiously on YouTube.
"All that myofascial stuff, there's a lot that can help you out. It just lets you to loosen out, keep the muscles nice and supple. Flexibility is a big thing in sport and it pays to keep yourself nice and loose.
"I do that for about half an hour in the changing room and we do it most days at home too. That half an hour coming into a game, it also helps you get into whatever kind of space you need to get into mentally as well."
Heaslip stresses that he is not alone in monitoring his injury prevention. Leinster and Ireland both use Kitman Labs' Injury Profiler system, which helps backroom staff in highlighting the risk of injury to players, based on data such as musculoskeletal assessments, game and training workloads, well-being tests, current injury information, and prior injuries.
The fact that Heaslip is an investor in Kitman Labs demonstrates "how much I love it," and how seriously he takes injury prevention: "It's about looking at injuries, monitoring players, making sure they're fresh, making sure they're not threatening to get even a simple soft tissue injury.
Even the strength and conditioning staff are really good in terms of preparing you for what we go through in the season, as well as our prehab and rehab, medical staff, masseuses and then any other things that can help you along."
Ensuring quality sleep is another aspect of his lifestyle that Heaslip feels is an essential part of staying fit and healthy. The former Newbridge College student aims for 7-9 hours of sleep each night, as well as topping that up with "little naps during the day if you can."
However, sometimes the search for physically-improving sleep at night goes even further than simple getting the hours in.
"I sleep in a feckin' altitude tent in pre-season. During pre-season, up goes the tent around the bed and I sleep in it. The whole theory of it is to 'live high, train low'. So your body gets used to living at altitude, you produce more red blood cells, you're able to carry oxygen more efficiently.
"So then when you train at normal sea level environment, your body is more efficient at transporting the oxygen around the body. It takes you about five days, a week, to adjust to it sleeping-wise.
"There's a notable difference when you're at altitude in terms of how you're breathing and how doing something is a whole lot harder, exercise and stuff like that. But it's only one thing I've done, I'm always looking at different innovations with things like that."
It's a phenomenally professional approach to being in the best possible condition, and Heaslip is a firm believer that every little action along the way counts towards making him a better and more effective player.
You're not going to get dramatically better once you hit a certain threshold, but you can always get little marginal gains which after a while all add up to make a dramatic difference."
Nutrition is another aspect of that 'marginal gains' theory in the world of professional rugby, and again Heaslip is at pains to point out that any success he is getting from the fuel he consumes on a daily basis is not just down to self-education.
"Nutrition's massive. I can't take a lot of credit; we've got an amazing nutritionist in Leinster, Daniel Davey, who also is heavily involved in Food Flicker. He gives us very good guidance. He gives us meal plans, he educates us a lot on food, he's always looking at the latest research, the latest science articles.
"He points us in the right direction. The thing about nutrition is that you are what you eat. What you put in is what you get out. In general I try to eat clean. At breakfast and lunchtime I tend to get my carbs in, then stay away from it outside of that."
Heaslip is a big believer in the value of natural, whole foods and avoiding overly processed products, but underlines the fact that supplements are also an important part of getting sufficient nutrients on board each day.
"They help me around training blocks, in those windows 10 to 15 minutes before training, during training and after training. You have the half an hour after training where you really need to get the right stuff in.
That's where they really help, the massive convenience in getting all the right measurements and amounts, so you don't have to worry about that. The day of a game they also help massively. Some guys struggle to get energy into them because you just don't want to be eating big meals before games."
All the pieces add up to that "dramatic difference" Heaslip is looking for, namely avoiding the injuries that affect so many of his peers. While each of the above elements are important, Heaslip happily admits that luck has played a starring role.
"Injury-wise, all I've had ever since I've been playing from the age of eight, bar stitches and stuff, I shattered my left eye socket, but that's just because I got an elbow to the eye. And then I had syndesmosis of my left ankle [in 2011], and that's it. [He did also fracture his right index finger in 2012 on the tour of New Zealand.]
"A bit of it's luck, and a bit of it's the way you're built. We're all built different ways, so I can thank my parents for that one I suppose."
Indeed, Heaslip truly believes that his DNA make-up has been extremely important in largely steering clear of the physio's treatment room. The No. 8 recounts sending a saliva sample to 23andMe, a genetic testing service based in the US.
While the Anne Wojcicki co-founded company have since been prevented from revealing too much beyond genetic ancestry by the US Food and Drug Administration [FDA] for insurance-based reasons, Heaslip claims that he got some unique feedback on his own DNA.
They told me that I wasn't too far off being a neanderthal, so that's interesting! Maybe that's something to do with it [laughs]. I'm big-boned or something, that could have something to do with it.
"All sorts of different things. I put a lot of it down to luck, I haven't got a lot of those big impact trauma injuries that some guys have picked up."
While the genetic test may have said different, Heaslip is far from a cave man in his intelligence with regard to injury prevention. Natural physical gifts certainly play a major role, as does luck, but all the other extra 1% gains are important too.
"All these different things come into it and I suppose I try to maximize all those little margins that I can get."
Jamie Heaslip has been announced as a new MaxiNutrition ambassador, as Maximuscle relaunches as MaxiNutrition in Ireland. The UK and Europe's leading sports nutrition brand is launching a new product range and campaign.
For more information on MaxiNutrition products visit http://www.maximuscle.ie.