EVERY BIT OF analysis to stem from Ireland's 58-15 win over Italy on Saturday in the Six Nations must be qualified with the recognition that the visitors were very poor.
Joe Schmidt and his players will take quiet satisfaction from many aspects of their performance, but there will be a recognition that Italy's disorganised and passive defence allowed Ireland to do things their previous four opponents had not.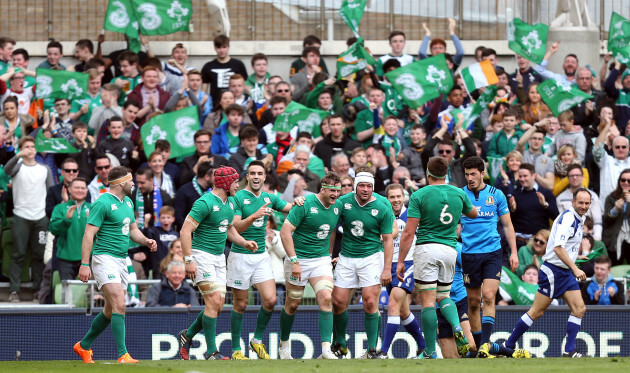 Colm O'Neill / INPHO Colm O'Neill / INPHO / INPHO
Speaking before the game, captain Rory Best indicated that much of Ireland's analysis within camp this season has been in a negative light.
The hooker mentioned that during the 2014 and 2015 title-winning campaigns, a large portion of their video reviews had been about highlighting good habits on the pitch, encouraging players into repeating those traits next time around. This season has often seen the reviews focus on things Ireland did not do.
Whatever about the strength of opposition, Saturday's display certainly allows Schmidt to show his players many examples of themselves contributing positively, after his side demonstrated an encouraging clinical edge on a fun day in the Aviva Stadium.
Jamie Heaslip's first try, just before half time, was quite possibly the most aesthetically pleasing Ireland have scored in Schmidt's time as head coach.
RBS 6 Nations / YouTube
The Simon Zebo offload has been the obvious and deserved focal point in this score since Saturday, with his teammates also delivering some gorgeous passing and offloading in response to the Munster man's flick.
Schmidt, however, will pick out further areas for his players to reflect positively on, none more so than the possession platform for this beautiful attack.
It may seem a moot point after an excellent display of running rugby, but Ireland kicked the ball wonderfully against the Italians. A total of 22 was the lowest from Schmidt's men in the Six Nations this year, but the accuracy of the kicking was at a peak.
There were regathered box kicks, some clever diagonal touches from Johnny Sexton, several delicious grubber kicks and a handful of superb restarts from Ireland. As with the rest of their game, the kicking benefited from a relative lack of pressure from the Italian defence, but Schmidt will have been pleased nonetheless.
Indeed, a reclaimed 22 drop-out was the source of Heaslip's first try.
Ireland don't always pursue a short restart game, but they very often get success when they do.
Clearly, there is some risk attached to kicking short in these instances, but the accuracy of Sexton's drop kicks and the ability of men like Devin Toner and Donnacha Ryan, as here, to compete in the air make this tactic a valuable one.
Jack McGrath responds well to gather the ball after Toner and Ryan combine to palm it towards their team, burrowing into contact in what was yet another outstanding display from the loosehead prop.
The key man to watch in all of this is Heaslip himself, who is involved in the first and only ruck of this attacking passage.
The number eight is second man into the ruck after Rory Best, although some might argue that Heaslip does not come through the 'gate' in joining.
Whether or not his entry is totally legal, Heaslip's rucking actions are vital to this try being scored.
Heaslip initially bumps Italy centre Gonzalo Garcia away from any thoughts of attempting to jackal, but he then finishes the job by actually felling Garcia beyond the ruck, taking him to ground and completely out of the game.
Obviously Heaslip himself is on the deck too, but his rucking means Garcia cannot take up a position in the Italian defensive line to the left of the ruck. As we know, that leaves Italy in position to be stretched and beaten by Zebo's brilliance.
The loop play between Sexton and Fergus McFadden is slick, before the out-half fires a pass out in front of Zebo to invite the fullback onto the outside break to the left shoulder of Michele Campagnaro.
Zebo transfers the ball intelligently into his right hand to free his left to fend Campagnaro as he makes that acceleration outside the Italian 13.
There is potentially an opportunity for Zebo to move the ball back into two hands as he gets beyond the first despairing grasp of Campagnaro, but he has already decided that he will draw fullback David Odiete and release the one-handed offload.
It's a sumptuous piece of skill from Zebo. The temptation is to actually flick the hand powerfully in this instance, but the Cork man instead gives a more subtle release to allow the ball to float into Jared Payne's hands, after the Ireland centre has worked hard to get into position on Zebo's shoulder.
The work rate from Sexton off the ball after his pass is as strong as ever, as he immediately goes upfield after finding Zebo.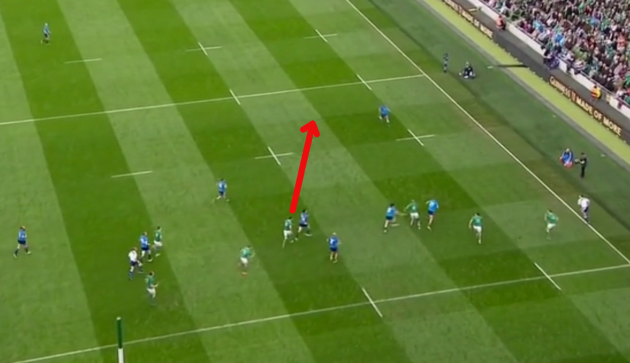 It's a typical line from Sexton, who always stays alive after passing, and it means he is in position to accept a clever pass back inside from Payne just before the Ulsterman is tackled by Guglielmo Palazzani.
McFadden is initially a little slower to react after hitting Sexton back on the loop, but then recovers expertly and shows his pace after realising that the break has been made.
The instinct here might be to track in behind the ball, but McFadden recognises that Sexton will need support infield and bursts away to the left.
Trimble, too, reads the situation very well, arcing back in from the touchline, first in response to Payne's line and then swiftly in reaction to Sexton getting the ball. As is habitual, the quality of pass from the out-half is superb, particularly given how fast he's moving.
Trimble gets his hands through and over the tackle of Sarto to find McFadden, and then the replacement Ireland back benefits from the hard work of Keith Earls.
Exclusive Six
Nations Analysis
Get Murray Kinsella's exclusive analysis of Ireland's Six Nations campaign this spring
Become a Member
When we go back to the very beginning of the phase, we can see Earls occupying his standard position wide on the left of the pitch inside the Ireland 22.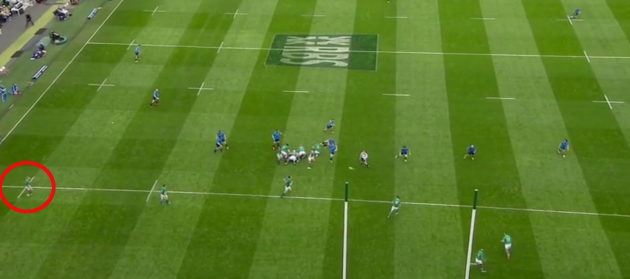 Around 13 seconds later, Earls is at the edge of the Italy 22 in a position just to the left of Trimble as the Ulster wing offloads to McFadden.
It's a superb bit of anticipatory running from Earls to get into that position at all, and he draws a cynical push from the desperate Sergio Parisse at almost exactly the same moment as Trimble finds McFadden.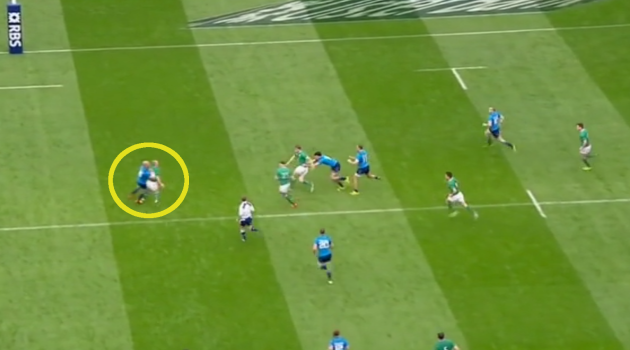 Parisse essentially removes himself from the game in taking out Earls and can't react to cling onto the surging McFadden.
Sarto, having not gone to deck in his tackle attempt on Trimble, does very well to turn on the pace again and cover across towards McFadden, who probably thought he could head for the corner flag to score.
With Mattia Bellini also corner-flagging in defence, McFadden needs a final outlet and Heaslip is in position to provide exactly that. The number eight finishes superbly to round off a high-quality attacking passage.
When we skip backwards to the moment Zebo makes his dart to the outside of Campagnaro, already we can see Heaslip reading the play and making his move after picking himself off the ground post-ruck.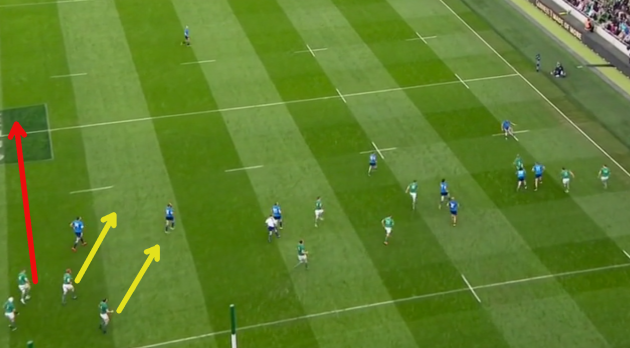 While some players will be attracted towards the ball in this instance or track it in case there is a need to hit a ruck, Heaslip actually sets off directly upfield, straight ahead.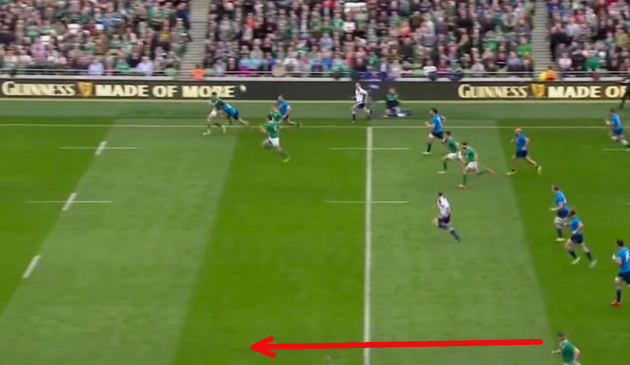 That choice of line proves particularly important with Earls heading across the pitch in his attempt to support the life of the ball.
Ireland would almost certainly score on the next phase even if McFadden was tackled by Sarto and Bellini, but Heaslip is there to finish.
"You've got to know the cheat lines," said Heaslip of his choice of running line here. "With the players that we have and the way we play, any time you make a linebreak you're just taught to get upfield. It's the shortest line possible.
If you're close to the ball, you've got to get at the ball, but if you're not, just run straight upfield. Sometimes you do it and you get absolutely nothing from it and sometimes you get on the receiving end of something.
"I probably ran it out of fear to be honest. Having Joe pull me up on the big screen with the laser pointer wouldn't exactly be a nice way to start Monday, but that's the kind of stuff that is the intangible stuff where you want to work hard.
"We've asked the question over the last couple of weeks if we can step up and work harder. You don't need any skill to work hard and run upfield."