IT'S LONG SINCE passed into the realm of cliché that Jamie Heaslip isn't a man who likes to fill his spare time with rugby.
Sure, that initially sounds bad. Especially to fans who often base their weekend around watching the number eight and his team-mates going about his business. But when you consider the amount of time devoted to analysis in the modern game, then maybe the benefits of getting the head out of the game for a few hours every day become clear.
Besides, it's not as if he is just rushing home to play FIFA and watch The Big Bang Theory. Heaslip is a man constantly seeking a sharper edge for his own performance. Let Leinster and the IRFU take care of the rugby side preparations, Heaslip is finding out about the rest of the world for himself.
He's made a habit of retweeting motivational lines from The Rock, but they're mere bite-sized snippets. It's a longer form of inspiration that demands most of his time.
"The Rock, he's just pure entertainment," Heaslip laughs before heading off for his MaxiNutrition photo-shoot.
"I don't think Stone Cold Steve Austin is on Twitter*, but he's another one I'd be a big fan of."
Heaslip's last outing for the nutrition brand was overshadowed by a man who starred in two sports and inspired men and women in many more walks of life, Jim Stynes.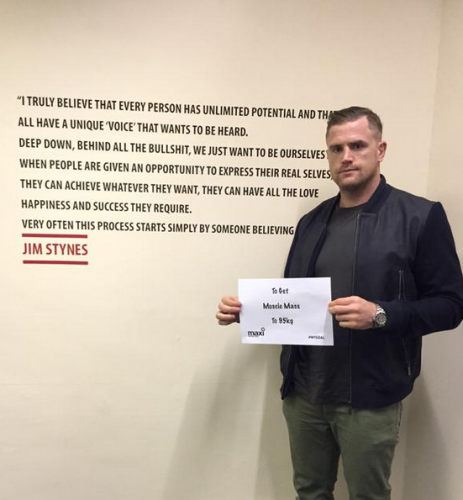 Jamie Heaslip / Twitter Jamie Heaslip / Twitter / Twitter
Stynes' message, written on an Ikon Talent (who represent Heaslip) wall, is a moving one and is obviously easily transferred to any scenario. The 31-year-old Leinster captain just chews up advice like that.
"Tim Ferriss is a fascinating character too – the best way to sum him up is that he looks for life hacks. He talks to people in all walks of life, experts in their field, be it a chess prodigy, or head of Google… all sorts of people who are high performers in their area.
"He then takes those golden nuggets and lays them out. He performs experiments on himself as well to back stuff up."
Another direction
Learning from outside sources isn't exactly a brand new idea. Heaslip is the latest in a long line of sportsmen who have sought to cross-pollinate skill-sets from one area to another.
Retired players in many codes have long boosted their pensions with after-dinner speeches about motivation and leadership – with an extra helping of jargon to show how the idea might apply to a room full of cut-throat business men and women.
Yet every sport is developing at a rapid rate and it's vital to keep up with the neighbours.
It's more than just mindset and psychology that cross codes, there are a plethora of examples when techniques are shared too.
It's notable that the best defensive team in the NFL have employed a rugby-style tackle into parts their game (rumour has it that Cian Healy was presented as a perfect case study for the Seattle Seahawks, though we haven't seen the footage) and now Irish rugby players could be picking up pointers from another direction altogether – MMA, GAA and any other sporting acronym you care to name.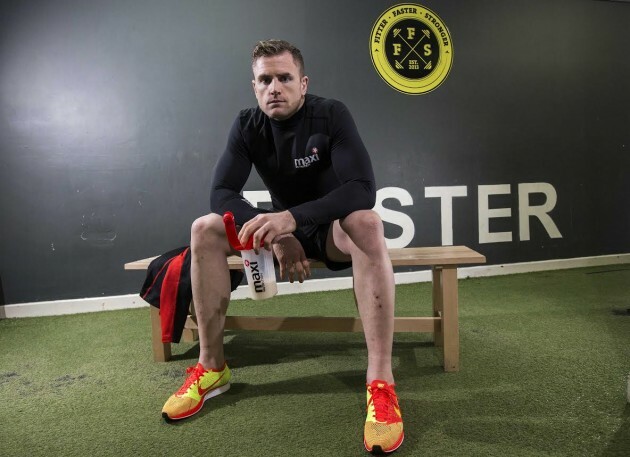 Morgan Treacy / INPHO MaxiNutrition helps Jamie Heaslip to be at his best Morgan Treacy / INPHO / INPHO
"Cathal Pendred, who's obviously friends with some of the lads, he's talking about getting us in. Taking people to the ground would be similar enough to a tackle, he's talked about that.
"There are always ways [to improve]. You look at Gaelic football, you look at Rob Kearney playing minor football for Louth. You can see when he goes up for a high ball there's no one better than him in the world. Those skills translate.
"I always think kids should play everything when they're young and you'll get a mesh and feel for everything when they're young and you might be lucky to excel in one of them."
Through all the words of wisdom that in all the reading material Heaslip gobbles up in the world of business or sport, the one source he appears to hold above all others is the most dominant Olympian of all time. Not because his 18 golds stand unparalleled, but because of the way he prepared to make the incredible achievements happen.
"Probably one of the biggest influences, book-wise, that I've read was probably Michael Phelps," Heaslip says reverentially.
"I mean if you want to see how a guy breaks down what appears to be a massive mountain to climb in terms of how many medals he wanted to win [eight golds in Beijing 2008]… it seemed like an impossible task, but when he breaks it down and the way he broke it down is so interesting. It's a great book that anyone should read."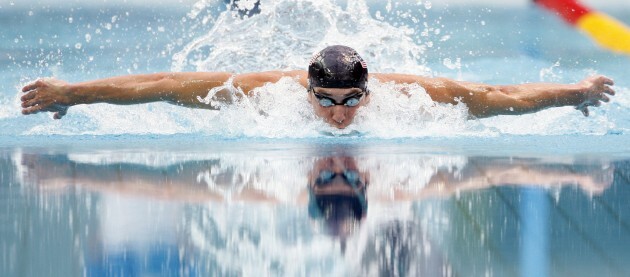 AP / Press Association Images AP / Press Association Images / Press Association Images
A quick search for Phelps' book post-interview brings a quote that must surely resonate with Heaslip – the man who says rugby is just his job, but has a seemingly irrepressible drive to be consistently excellent at it.
"Words are words," says the Baltimore Bullet, "explanations are explanations, promises are promises, but only performance is reality."
Just because one athlete is in the water and the other is wearing long studs doesn't mean there's not a whole heap they can learn from each other.
As the Kildare man says: "You've got to take [as examples] people in other sports, other walks of life or businesses as such.
People who are 

'outliers'

 in their division, or whatever you want to call it, always have a different perspective on how to achieve or sustain high level performance. You can always pick up nuggets of information from all walks."
Ireland's leading sports nutrition brand, MaxiNutrition is supporting Jamie Heaslip to be at his best in 2015 #MyGoal. Set your goal at www.maxishop.com
*Stone Cold Steve Austin IS on Twitter, @SteveAustinBSR