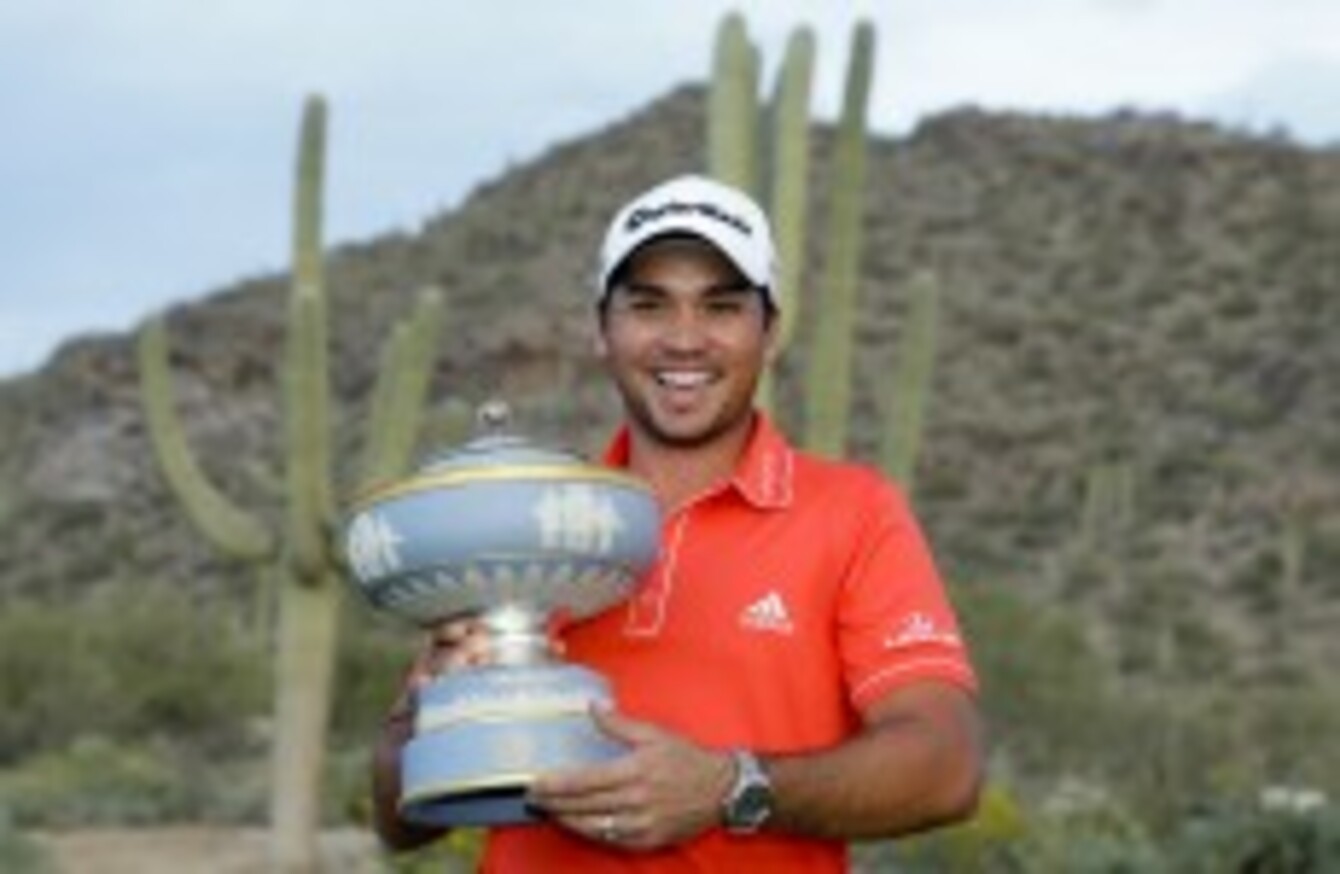 Jason Day, of Australia, poses with the trophy after winning his championship match against Victor Dubuisson.
Image: AP/Press Association Images
Jason Day, of Australia, poses with the trophy after winning his championship match against Victor Dubuisson.
Image: AP/Press Association Images
AUSTRALIA'S JASON DAY withstood the determined challenge of France's Victor Dubuisson last night to win the World Golf Championships Match Play crown with a birdie at the 23rd hole of the final.
Dubuisson had erased a three-hole deficit to extend the title match scheduled for 18 holes, and kept it going with two miraculous shots out of the desert cactus before Day finally sealed the win.
Day, 26, never trailed in the match after taking the lead with a birdie at the opening hole. But that fact hardly reflected the drama of the latter stages, when Dubuisson birdied the 17th and got up and down for par from a bunker at 18 to square the match as Day bogeyed 18.
The 23-year-old from Cannes, who won his first European Tour title at the Turkish Open in November, was in serious trouble at the 19th hole, where his approach shot bounced into the desert scrub and nestled in a clump of cactus.
He stepped up and took an unceremonious swing at it, sticking it six feet from the pin and making the putt to stay alive.
He hacked out of the scrub again at the 20th hole en route to a par that matched Day's. At the 23rd, Dove Mountain's drivable par-four 15th, Dubuisson ran out of steam.
His drive bounced into thick rough and his chip out ran almost 30 feet past the pin. Day was in the first cut of rough and chipped out to three feet.
Dubuisson's long birdie attempt was short and his par conceded before Day rolled in his winning putt — it was the first hole Day had won since the ninth.
"Long day in the sun I guess," a weary Day said. "Obviously, I didn't want it to go this long, but Vic, man he's got a lot of guts and a great short game.
"Pars straight out of the cactus twice. You're going to see a lot of him for years to come."
Day captured his second US PGA Tour title and his first in an elite World Golf Championships event. This week's $9 million tournament started with 64 players Wednesday and as the last man standing, Day collected $1.53 million.
Dubuisson earned $906,000 for his runner-up finish in his first WGC event.
"I think the biggest thing was how much did I want to win," Day said. "I was visualising myself with the trophy last night. I'm just glad I could finish it off, but it was a close one."
In the consolation match, Rickie Fowler needed 19 holes to beat four-time major champion Ernie Els and claim third place.
Disbelief
The long day in the Arizona desert started with the semi-finals, in which Dubuisson defeated his onetime idol Els 1 up and Day downed Fowler 3 and 2.
Day got off to a fast start, winning the first two holes. But Dubuisson won the next two.
Day came back with wins at six and seven, then Dubuisson conceded the ninth after hitting his second shot into the desert. At the par-five 13th, Dubuisson got up and down for birdie to move within 2-down. They halved the next three holes.
At 17, Dubuisson found sand off the tee, but put his approach within 15 feet. After Day missed from 20 feet, the Frenchman rolled in his birdie putt.
Day was on the green with his approach at 18, but further from the pin than Dubuisson, who was in a bunker. After Day blasted his birdie attempt past the hole and Dubuisson fired out of the sand to four feet.
Day left his par attempt short, and Dubuisson made his to force the extra holes.
After his improbable par from the cactus patch to halve the 19th, Dubuisson did it again at the 20th.
His chip from under a dried branch left him about a six-footer — and prompted Day to shake his head and laugh in disbelief.
Dubuisson admitted he was disappointed to see his heroics come to naught.
"I made some terrific shots, but I missed some shots at the end in the playoff," he said.