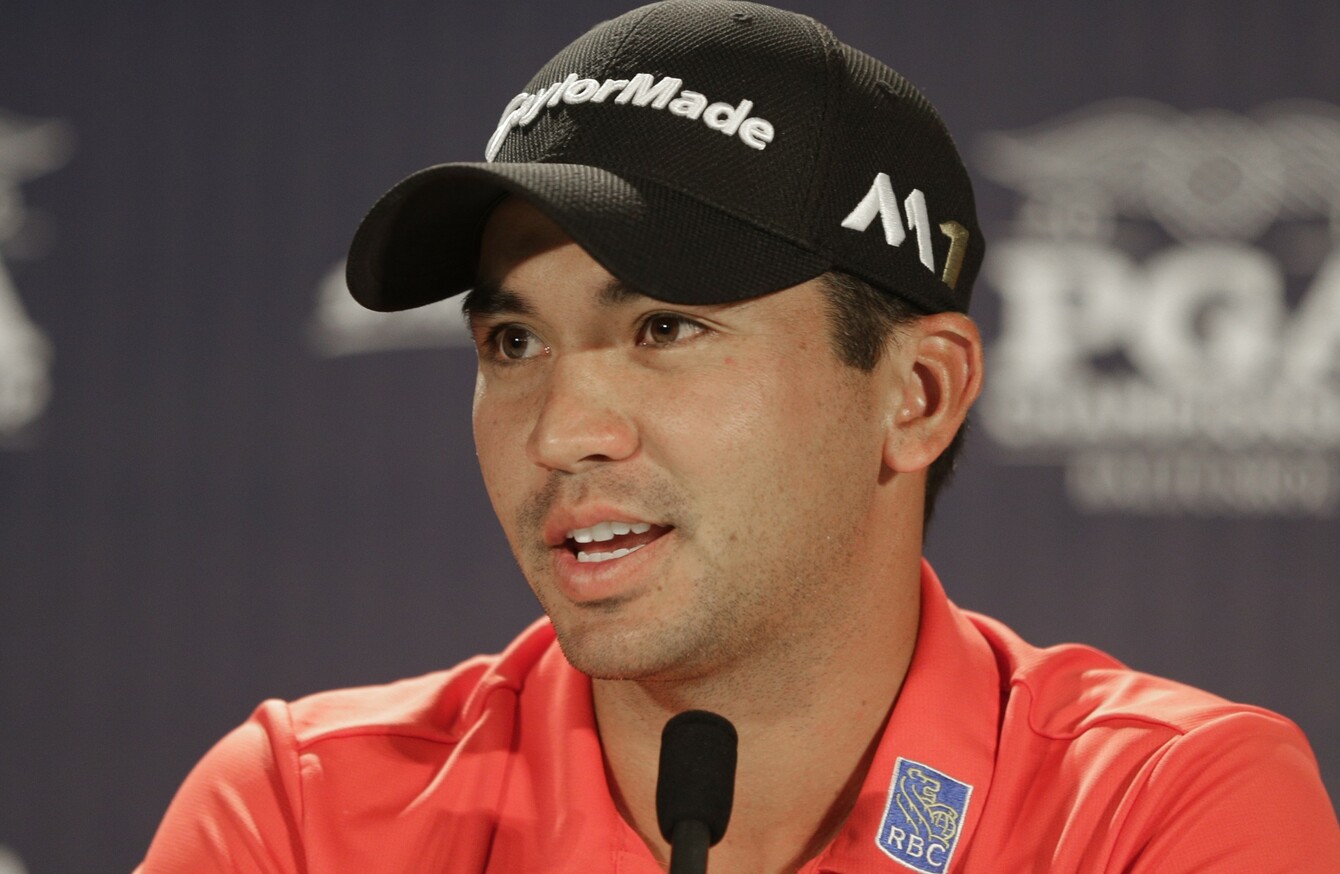 Day speaking to the media earlier today.
Image: Chuck Burton
Day speaking to the media earlier today.
Image: Chuck Burton
REIGNING CHAMPION JASON Day said he is "running on empty" on the eve of the US PGA Championship following a late-night trip to hospital on Tuesday after his wife suffered a health scare.
The world number one revealed he is feeling "a little bit under the weather" at Baltusrol, where he will start the defence of his title on Thursday.
Day's preparations for the US PGA have not been ideal, with the Australian not feeling 100 per cent and his children laid low by illness.
His wife, Ellie, then suffered an allergic reaction to eating seafood two days before the final major of the year.
He told reporters: "Dash and Lucy [Day's children] are sick right now, and Dash passed that on to me a little bit. I'm okay. I'm fine. I'm just a little bit under the weather.
"Ellie had an allergic reaction last night and had to go to the hospital. We were there until two o'clock or something like that. So I'm kind of running on E [empty] right now.
"She's fine. Everything was great. I had to call the paramedics over. She was kind of freaking out in the back of the bus, which is understandable, because she got all red.
"I've been in that situation before when I first ate seafood. That's why I don't eat seafood anymore. I started swelling up and I looked like Hitch on that movie!
"I was kind of calm about it, and she's like freaking out in the back on the bus, and she's like, 'Call 911, call 911.' I'm trying to look for Benadryl, and we didn't have any, so we ended up calling 911 and the paramedics came and they looked after her which is great.
"She's fine now. We got a little bit of loss of sleep but we're fine."
Day revealed that he had not even seen the US PGA course on Wednesday, but had picked the brains of the head pro during the champion's dinner.
The 28-year-old knows he will have to manage his expectations and be patient in Springfield, New Jersey this week.
Be part
of the team
Access exclusive podcasts, interviews and analysis with a monthly or annual membership.
Become a Member
He added: "With the limited practice and limited prep that I've had this week, I'm not coming into this week expecting a lot. I mean, obviously I'm expecting to win, but like I'm not really going, 'all right, you need to go out and force things straight away.'
"I've got to really try and manage my patience out there, because I have very little patience right now.
"Just for some reason, every time I get a little bit under the weather, I've got zero patience. I've got to try and manage that the best I can."
The42 is on Snapchat! Tap the button below on your phone to add!