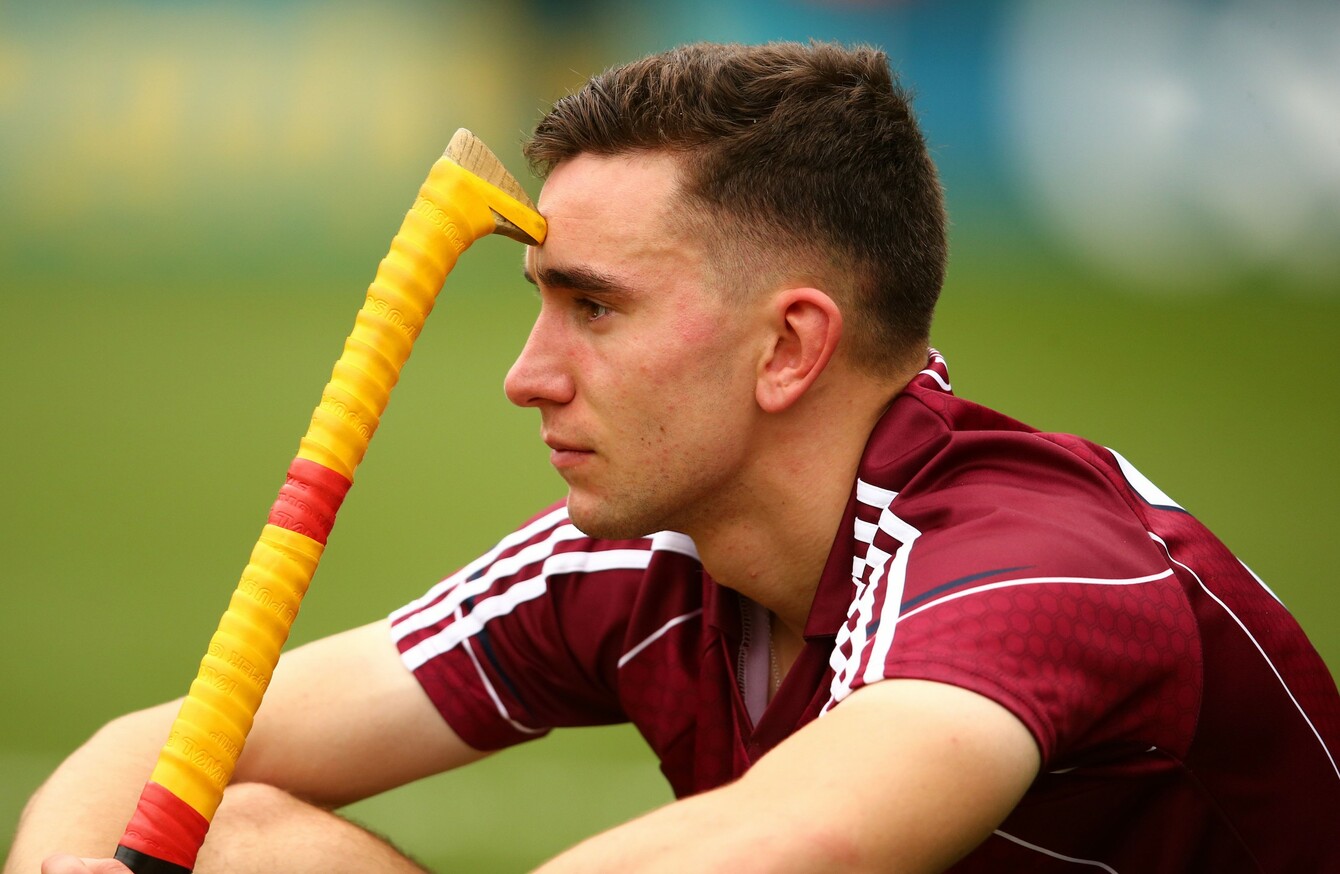 Flynn admitted the situation got 'messy'.
Image: Cathal Noonan/INPHO
Flynn admitted the situation got 'messy'.
Image: Cathal Noonan/INPHO
YOUNG GALWAY HURLER Jason Flynn admits that Anthony Cunningham's departure as manager got 'messy'.
And the classy 21-year-old forward admits that the Tribesmen have put themselves under pressure to produce next year having ousted the county's most successful boss in nearly 30 years.
"Anthony has brought on Galway hurling a lot," explained Flynn, who was speaking in Boston where he is playing in today's AIG Fenway Hurling Classic at Fenway Park.
"Even personally the last two years he has been very good to me and he gave me my debut. He developed me as a hurler, he's a gentleman and there's nothing behind it.
"As a group, collectively, we felt this was the best for Galway hurling. The vote went the way it did and that's it now.
"It got a bit messy for a while and there was a lot of pressure on players, county board, management and everyone around the county.
"Look, it was bad to be going to matches and everyone getting asked questions about what was going on.
"It's nice now to be able to say we can move on and look to the future. We're looking forward to 2016, we're looking to the future and the past is in the past."
In his four years in charge of Galway, Cunningham led them to a Leinster title and two All-Ireland final appearances.
Even though both of those ended in defeat to Kilkenny, in the case of 2012 it was after a replay, the players decided that they needed a new man in charge if they were going to win the Liam MacCarthy.
They passed a vote of no confidence in Cunningham and he eventually walked away from the job having initially dug his heels in.
Having forced their manager to resign Flynn knows that they now have to deliver the silverware, but he firmly believes that they can.
"Why wouldn't we?" he responded when asked did he believe that Galway could win the All-Ireland soon. "We're a young panel with a nice blend of older players too.
"This year six or seven of us played in our first All-Ireland final and the experience we got from that is huge.
"To lose in an All-Ireland is so tough, it follows you around everywhere and that's why getting back in to training as quick as we can is the best thing we can do."
Flynn was also quick to scotch rumours about a dressing-room bust up at half-time in the All-Ireland final.
Galway were three points up at that stage, but they were blown out of the water in the second half and eventually lost on a 1-22 to 1-18 scoreline.
"Nothing happened like that and I don't know where that came from," he said. "We were in a great place at half-time – four points up against Kilkenny.
"We were in a great place and had a great team talk at half-time. I couldn't believe it when I heard that, but I can say 100 per cent nothing happened.
"It's still hard to put a finger on it. Kilkenny ground us down and they were able to confine us as forwards.
"They really made it tough for us, won primary possession and made it tough for us to get on the ball. A lot of it experience from them, I suppose.
"They came out a different animal in the second half – they lay down a marker straight off and a few hard hits went in even before the ball was thrown in.
"You'd know by them that they were up for it and it just shows the level they're at and where we have to reach."
Dublin and Galway meet in this weekend's AIG sponsored Fenway Hurling Classic, an eleven-a-side game on a small pitch with goals-only allowed.
Already in excess of 20,000 tickets have been sold for the game at one of America's oldest and most revered sports venues.
Flynn, who only turned 21 last Monday, has taken a year out of his business course in GMIT and is working on the family farm with his father until next September.
This means he won't have Under-21 hurling or Fitzgibbon Cup to worry about next year and the dashing inside-forward is hoping that this will help him to kick on in 2016.
"I won't know myself," he smiled. "I'll have lots of time on my hands so I'll have no excuses.
"I haven't stopped hurling since the All-Ireland because we had the club and we had a lot of matches. It'll be nice next year just to have two teams to concentrate on; senior with club and county.
"This year I found it tough with all the teams. It's nice to have a chance to chill out and hopefully I'll have a bit more time next year to do that.
"If you told me when I was 14 that I'd be playing in an All-Ireland final at the age of 20, I'd have been over the moon.
"I only turned 21 the other day and I think there's always room for improvement. Joe Canning is still improving and he's 27, Colm Callinan is improving and he's near the end of his career so there's always room for improvement and to learn new things.
"Absolutely, I have improved an awful lot this year from last year, but hopefully I get better year after year. It's great to be young and looking forward for another year."