Murray Kinsella reports from Wellington
THE MAN THEY call 'Dutchy' was back in Munster last November, taking in the Māori All Blacks game at Thomond Park during his off-season stint of personal development in Europe and North America.
Jason Holland is now the highly-rated attack and backs coach of reigning Super Rugby champions the Hurricanes, but he still has close friends in Limerick, Cork, Midleton and further afield from his time as a player and coach with Munster.
©INPHO Holland was an intelligent centre in his playing days. ©INPHO
It was still a tough time in the province after the death of Holland's former team-mate Anthony Foley in October, but that November night was a real reunion as long-time friends came together again at the famous Limerick venue.
They toasted their old mate and Holland smiles affectionately as he says "there wasn't much development going on there that night." Axel would surely have approved of the celebration of the glory days gone by.
Holland did take time to sit down with Jerry Flannery and Felix Jones – both of whom are part of the Munster coaching staff now – with the Kiwi saying he was impressed with Jones' philosophy on attacking play.
Holland had already been in London with Hurricanes head coach Chris Boyd and New Zealand Rugby's coach development manager Bruce Blair for a coaching summit, and they left Ireland for Montreal.
In Canada, they spent four days at the base of Cirque du Soleil, where the theatrical production company train and rehearse.
We just watched how their coaches directed and how they put together their day. It was awesome, really awesome," says Holland.
"All their artists – who are top trampolinists and do all their tricks – we saw how they are taught, how they worked with different people from all over the world, there were lots of good little things to come out of that."
After that riveting learning experience, Holland, Boyd and Blair headed to Texas and spent time with the San Antonio Spurs, who are coached by one of the greats of basketball, Gregg 'Pop' Popovich.
The entire trip was important in 44-year-old Holland's ongoing development as a coach, and it's also an illustration of one of the things New Zealand Rugby does very well.
All of their promising young coaches are given personal development opportunities such as Holland's late last year, and he says it was extremely valuable.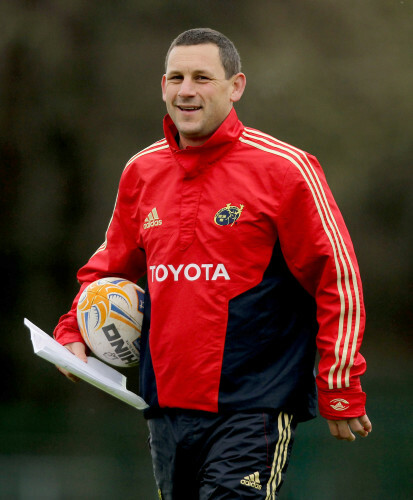 James Crombie / INPHO Holland first moved into professional coaching with Munster. James Crombie / INPHO / INPHO
Having retired from playing with Munster in 2005 and moved into coaching with the province in time to be part of the 2008 Heineken Cup success as backs coach, he has undergone a transformation in terms of how he interacts with players.
"Things like that get you of the box and thinking a bit more laterally," says Holland. "That was cool, looking at finding ways… I don't know how much you get out of going to other rugby clubs now, unless you're looking for detail around the game.
"It's all around culture and how you put your weeks together and teaching, how you can teach differently and how you can keep messages clear, all those sorts of things that I'm interested in.
"In my first couple of years at Munster, you knew what you wanted but I was shit at getting messages across to the boys. My clarity wasn't as good as I've probably come to now.
"So those were the things, the teaching aspect of things, that I reckon help me develop at the moment, getting cues as to how different people learn and how to get the best out of them really.
I really enjoyed my time at Munster. We were just talking about it, myself and Jerry Flannery, about his first couple of years out and how the borders were a bit blurred. I had the same thing, I look back on the first year or two and it was a little bit like that.
"Maybe you weren't tough enough on boys in some areas. I learned my lesson in my coaching at Munster and it has made a difference since I have been back."
Holland is among the most promising young Kiwi coaches now, and he is enjoying every second of overseeing a Hurricanes attack that features sublime talents like Beauden Barrett, TJ Perenara, Nehe Milner-Skudder and many others.
Boyd is very much a manager-style head coach, not heavily involved in the technical coaching on the pitch, and Holland enjoys those responsibilities.
His relationship with fellow Hurricanes assistant John Plumtree – who controls the forwards and defence – is a major positive for the Super Rugby side.
Billy Stickland / INPHO Holland helped Munster to the 2008 Heineken Cup. Billy Stickland / INPHO / INPHO
"He's quite different but passionate about it and we complement each other quite well because he loves the motivation and puts a bit of ticker into it, whereas I tend to put a bit more into detail and he can come in as the bad cop sometimes," says Holland.
"So I've enjoyed Plum and there's a bit of banter off the park too. You've got to have a thick skin, just like Munster!
"We used to need a thick skin around the place in Munster, not take things too personally and it's just the same here. It's important to have fun. If it's all too serious for people, you won't get anything out of them."
That philosophy breathes through everything at Rugby League Park in Wellington, where the Hurricanes are based. It's not a glamorous facility but there are few complaints from an ambitious group of players who are looking to defend their Super Rugby title this year.
Though they were disappointed with elements of their performance against the Lions on Tuesday, especially in the first half, their comeback draw sets them up well heading towards the Super Rugby play-offs in the next month.
As for Holland himself, he is delighted to be part of such a successful and exciting set-up.
He loved his time in Munster and, as he told The42 last year, would love to return to the province one day, but with his daughters still in school in New Zealand he doesn't feel it's the right time to move.
Holland – who first moved back to New Zealand in 2012 to join Canterbury as an assistant – also believes he has a lot more learning to do with the Canes before looking elsewhere.
Exclusive Six
Nations Analysis
Get Murray Kinsella's exclusive analysis of Ireland's Six Nations campaign this spring
Become a Member
Even though the main role at Munster is opening up in the near future with director of rugby Rassie Erasmus set to make an early exit, Holland is not yet keen on being a boss.
"I'd love to stay here for a good while, partly because of the family – I've moved them around," the former centre says.
"I remember I was telling the girls they were leaving Ireland four or five years ago, or whenever it was, and then nearly changing my mind because their worlds were falling apart. They were born over there.
INPHO 'Dutchy' would love a return to Munster in the future. INPHO
"And then going to Canterbury and two years later telling them, 'we need to have a chat, girls' and them looking at me like 'we're not moving again'. I said, 'Yeah, we have to.'
"So I don't want to have to move them again. They're 14 and 10, just at high school, but as far as coaching is concerned I'd love to bed in here.
"I've still got lots to learn but I've got an opportunity here to run the attack and the backs and bounce ideas off Nehe Milner-Skudder and Beaudie Barrett and TJ Perenara and those sort of boys, which is great learning.
"You'd have to be mad if you're not milking those boys in this environment. So I'd love to be just doing what I'm doing for another couple of years and see what happens. I've got no interest in being the head coach at the moment.
"I reckon the head coach job these days seems to be not as much on the grass. Maybe that's New Zealand because with us it's a sort of director of rugby or football manager in England role, that's where it seems to be going.
"I just want to be out on the grass – technical, tactical, skills, how are we going to play, how are we going to break this down – that's what excites me."
And so Holland reckons he's happy where he is for another three or four years and then he may take a look further afield. He knows that Munster will always be a lure.
"We still love Munster, we've got such good mates over there," he says. "I still love the Irish, love the place. I'd love to go back at some stage but not in the near future.
"I'd love to get back for a good holiday with the kids. Long-term it would be good to get back, yeah, especially when Axel passed away, I thought 'Jeez, I want to go back, I want to go back'. But we'll see what happens here.
"I'd love to go back but not at this moment."
The42 is on Instagram! Tap the button below on your phone to follow us!