THE FIRST THING you notice when Jason Jenkins walks into the room is the sheer size of the man. At 6'8″ and 124 kgs, there's a reason Leinster were so keen to take a punt on a player who endured a difficult first year in Irish rugby.
Jenkins signed for Munster from Japan's Toyota Verblitz in the summer of 2021 but his impact was limited across an injured plagued season. He didn't make his Munster bow until late December and only managed 10 caps before his one-year deal expired – a frustrating outcome for all involved.
Yet Leinster, who had picked up a habit of struggling against some of the more physically dominant packs in Europe, looked at Jenkins and put two and two together. Calls were made, contracts were signed and Jenkins found himself swapping Limerick for Dublin.
He left Munster disappointed with how his one season at Thomond Park played out, but enthused by the prospect of a fresh start at Leinster.
"Initially when I went to Munster, wherever you go, as a rugby player, you want to make an impact," Jenkins says. "It was really disappointing not to be able to do that. 
Dan Sheridan / INPHO Jenkins made just 10 appearances for Munster last season. Dan Sheridan / INPHO / INPHO
"Initially when I signed at Munster, it was obviously a risk just signing a one-year contract. Most players probably wouldn't do that, usually it's a standard two years or more. So it was a risk, but I was willing to take that risk."
He wasn't the only high-profile lock stuck in the Munster treatment room. Jenkins goes a long way back with fellow South African RG Snyman and while the pair are close friends, they found themselves spending far too much time on the couch together during their shared year in Limerick.
We'd sit together on the weekends and watch all the games and I'd feel bad if I complained (about my injuries) so I'd rather just stay quiet, because he's been through hell in the last two years in terms of his knee and off-field things. He's really had a tough time."
Snyman's struggles helped Jenkins put his own setbacks into perspective and he's been relaxed about his latest spell on the sidelines.
It also helps that this time around, the 27-year-old has already had the opportunity to show Leinster what he can offer. The powerful lock hit the ground running at the start of the season and had already clocked up nine appearances in blue before suffering a hamstring injury.
A dominant presence who has added extra steel to Leinster's skilful, dynamic pack, his absence has been keenly felt as Leinster's setpiece has come under pressure recently. Leinster supporters will be relieved to hear the South African "should be ready to fire again" in a couple of weeks as he steps up recovery, and that so far, he's enjoying life in Dublin.
"It's obviously a very different lifestyle (to Limerick)," Jenkins says.
"I enjoy both lifestyles to be fair, Limerick's a bit more quiet and all the guys live close to each other. But there's a lot more to do in Dublin. You spend your whole weekends going to the coffee shops, going to the beach, things like that. It's a different lifestyle but I'm really enjoying it."
A different lifestyle off the pitch, and a different approach on it. At Leinster, Jenkins has found the training week is geared differently to what he experienced at Johann van Graan's Munster.
"Look, they are both extremely professional setups and it's been an honour to be part of both of them," he continues.
"I think Leinster is obviously very professional as well, the way they train, there is a lot of ownership on the players, which is really nice to see. Attention to detail is another big thing as well.
"I have had to step up in that department as well, in terms of knowing your detail, knowing your role in the team. And just the preparation and everything that goes with that."
Jenkins is asked to expand on that point.
"I think Leinster doesn't really try and build up a team that we are playing against or a game in particular," he replies.
You are always focusing on yourself and as a team, we take a lot of confidence from how we prepare. So I think that's a big thing, just executing what we want to do and I think that's what makes it difficult for teams to keep up with us."
His early form with Leinster was even enough to put him back in the frame with South Africa.
Jenkins was capped once by the Springboks in 2018 but seemed to have slipped off the radar before being called back into camp in November – lining out for South Africa A against Bristol and Munster during their autumn tour. He's hoping a strong run-in with Leinster over the next couple of months can push him into the mix for World Cup contention.
"That's one of the reasons I left Japan and came to Ireland, just to put your name back in the running. Coming over to Leinster, literally after six or seven weeks I got that call up to the SA A squad which was really nice. Hopefully in the future I can get a couple of more caps behind my name, it's definitely a goal of mine.
"Over in Japan it sort of felt like that (the ship had sailed with South Africa) a little bit."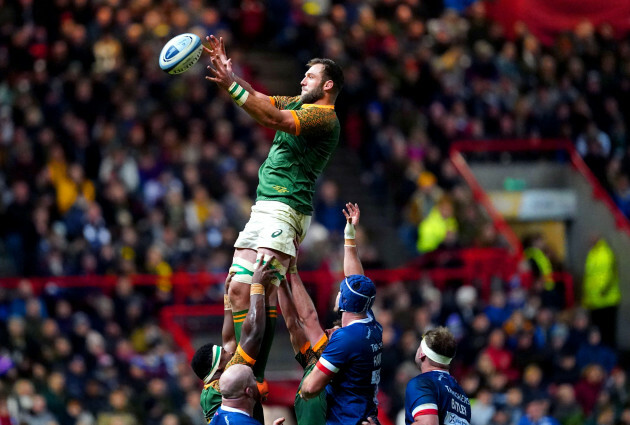 Alamy Stock Photo Jenkins played for South Africa A twice in November. Alamy Stock Photo
If all goes to plan for Jenkins, he could be lining out against his current Leinster teammates – and former Munster colleagues – when South Africa face Ireland at the World Cup. 
"That would be something special, but we'll see what happens."
No doubt Rassie Erasmus and Jacques Nienaber would appreciate his inside knowledge of both camps. Jenkins is asked if the Springbok coaches looked for some intel ahead of their November meeting in Dublin.
"No, definitely not. I can honestly say Rassie and Jacques didn't ask me anything.
"I mean, guys have to understand that they do their homework for months before they play against Ireland. So, when we walk in the room, they've analysed everything and everyone.
"For Rassie and Jacques, they have worked in Ireland as well for a couple of years, so they know how hard the guys work.
"Ireland has an incredible system from junior level all the way up into the seniors. It's no fluke that they are number one at the moment.
"It is obviously a goal that I want to achieve, to be able to go to a World Cup would be incredible. But my focus is just playing the best rugby that I can for Leinster. Whatever happens, happens." 
Jason Jenkins was speaking as Just Eat announced the launch of their sustainable Notpla food packaging at Leinster Rugby fixtures across the remainder of the 2022/23 season.  just-eat.ie/blog/news/notpla-fund-leinsterrugby 
Get instant updates on your province on The42 app. With Laya Healthcare, official health and wellbeing partner to Leinster, Munster and Connacht Rugby.