HOME IS A relative term, and Jason Quigley has had five months to draw conclusions as to where it lies for him.
Of course, in Ireland, given our predilection for globetrotting – be it by necessity or curiosity – we have a separate term: 'home home'. That's where an Irishperson abroad might tell their elated Mammy they're going for Christmas, after she mistakenly infers they'll be spending the holidays in London or Brisbane or Toronto, or wherever they happen to call home these days.
Christened 'El Animal' by the Latino contingent in his adopted city of Los Angeles, Quigley is the reigning North American middleweight boxing champion, but for him 'home home' will forever remain Ballybofey, County Donegal.
'Home', as he sees it, is a bit more complex.
"It's funny," he says, "when I first came here to LA, I had to be here constantly because I was fighting so quickly one after the other, and I wasn't able to come home to Ireland much because of the time difference, jet lag – everything like that.
"So at the start I just had to be here, you know what I mean? This was where everything was happening, so this was where I was based workwise. And then halfway through my career so far, I was starting to have my normal life here, if that makes sense. My training camps were here but my life away from boxing was here as well.
But the type of person I am, and the type of person I believe you need to be in boxing, you can never get comfortable. For me, I started to get a wee bit too comfortable here. I no longer felt as if I was in training camp for fights. It just felt like home.
The former European champion and World silver medallist upped sticks in 2014 having been headhunted by boxing icon and leading promoter Oscar De La Hoya, who signed Quigley to his Golden Boy Promotions stable.
In the intervening three years he's won all 13 of his professional contests, 10 inside the distance, and headlined on ESPN back in March – the same network that had named him one of the world's hottest pugilistic prospects just weeks prior.
But his career-best moment to date arrived at a cost; in round three of his NABF title victory over Tapia, Quigley broke his hand so severely that it inflated to a cartoonish size, and with the subsequent surgery dictating that he'd remain on the safe side of the ropes for the foreseeable future.
Once medically permitted to fly, he returned to Donegal to spend downtime with loved ones. It transpired to be quite the epiphanic stint on home soil, as he explains from his LA base.
"My objective now is to come here to California when I'm in camp, when I have a fight coming up. Because if you're here all the time, you can get into a sort of autopilot mode where you're just cruising along, and that's not the way it should be.
"You need to be making sacrifices, you need to be out of your comfort zone. You need to be waking up maybe not knowing everything, not being in such a steady routine every day. You need to wake up and have a few things thrown at you, a few things that might catch you off-guard.
"It's about keeping the mind sharp. I'll be coming home to Donegal a lot more now after fights, because that's my switch-off. It's very important for boxers to be able to switch on and off.
"For the likes of me, I like to always keep in shape anyway, so I'll keep it ticking over in my home environment. And then as soon as I get a fight date, boom, I'll be straight back to LA and doing my work here, away from my home comforts. I'll be in camp mode and my focus will be on one thing: the fight.
What people don't understand is that boxing is majority a mental game, especially the professional ranks. And I was coming out here living a luxurious life, playing golf and everything. And that's okay, but say when you get into the ring and you're taking punches, you're getting hit, getting hurt, golf is no good to you then. That's when you need to be mentally strong, and you get that by living a hard life and going through hard camps.
"So I cannot get too comfortable. Comfortable is a word that, I dunno, I don't think it should ever have been invented! But especially in this sport, because once you get comfortable that's when you get left on your ass. When you have the dreams and ambitions that I have set for myself, you simply can't afford it."
It's worth putting into context Quigley's stature in his native county, even at this formative stage in his career: a random pub acquaintance from out The Forgotten way once admitted he had no interest in sport, but when asked if he had heard of Quigley, responded, 'Ah, sure everyone up there knows Jason Quigley.'
For the Vinn Valley man, a homecoming means he's perpetually on public appearance duty, with this summer entailing everything from half-time parades at MacCumhail and Finn Parks to an impromptu street dance session with Murphy Moore Dance Academy when he spotted the youngsters having a bucket collection on Ballybofey's Main Street.
And make no mistake about it, none of it is perceived as burdensome. Such is the support he receives from 5,000 miles to his east while applying his own fleet footwork across the Atlantic, he feels not merely obliged, but honoured to pour it back into his community.
Having left the hills of Donegal for those of the Hollywood variety three years ago, Quigley remains immensely appreciative of his county – a feeling reciprocated by its people.
"It was unbelievable being back there, like," he gushes. "To be honest, when you're so far away from home, I think people – especially the Irish people – we get behind each other so well. Of course, being from Donegal, the Donegal people get behind me even more so.
"It's just unbelievable, so it is, because as I says, I'm not just over in England or Europe, I'm the whole way across on the west coast of America. It's a long, long way from home. And the time difference makes it so hard to keep in touch with everyone back at home. But the support I have from everybody regardless, it is unbelievable.
Like, the amount of other sportspeople that get behind me as well, and I can only put that back in whenever I get back home. I see the love and the support that they show me when I'm away, and it means the world to me. When I come back, maybe they look at me a wee bit different because I'm out of the county, the country, and I'm doing things differently. But they're really appreciative of what I'm trying to do, and I'm more than willing to give that back to them – anything that I can do.
"I'm with the Donegal Gaelic team, the hurling team, Finn Harps, everything. I'm involved with them all, and anything I can do to help, I do it."
Quigley's half-time unveiling during Finn Harps' 3-1 victory over Limerick back in May, just 24 hours after departing LAX, was a particular highlight. The club are proud supporters of Quigley, as is true of the reverse, and released a statement hours before kick-off welcoming him back to Finn Park.
It was his second appearance at his local stadium this year; months previously he arrived to promote season tickets for the 2017 campaign. A lifelong fan, he's regularly photographed wearing Harps gear at The Rock Gym in Carson, California, where he trains under Manny Robles.
"I remember going to all them games when I was younger," Quigley says with a chuckle. "I'd be begging my mum and dad, 'Can I go in and watch the match?'
"You'd go in there when you were a very young fella just to see your friends and have fun, but then as you start growing up you actually start supporting the team and going to the games to watch them and roar them on.
"Obviously, moving away, I kind of lost contact with that a wee bit, and it's harder to follow them. But I keep in touch with them all the time, checking in to see how they're doing.
"When I get back home and I can give them that little bit of support again, they welcome me with both arms. I'm delighted with that."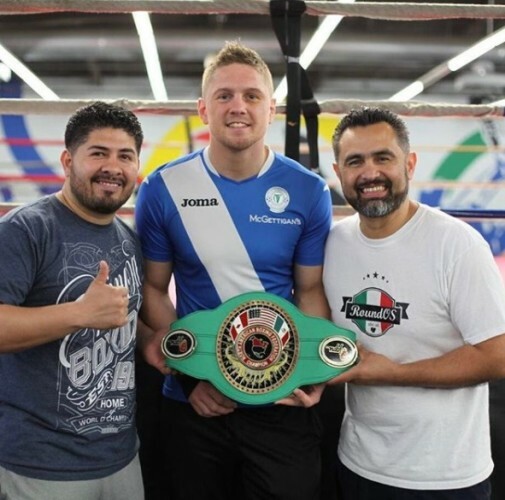 But by basing himself Stateside for the bones of his three-year professional career to date, it's not the lack of League of Ireland football which manifests itself as Quigley's most pressing concern whenever he turns back toward the airport.
His beloved mother, Muriel, his younger sisters, Jade and Holli – the latter heading into the championship rounds of primary school – wave him off on each occasion, all the while wise to the dangerous nature of his chosen craft.
So too does his girlfriend, April, with whom Quigley maintains a transatlantic relationship through the modern means.
"It's funny, like, whenever you grow up…You know when you grow up and things are just, I don't know… You just go with the flow, you know what I mean?
"I'm only realising now that I've hit my mid-twenties – I'm 26 now, which I know is still young – but I just can't afford to be as young-minded as I used to be, especially in the sport that I'm in. I need to be mature.
"My girlfriend and I have been through hard times and we've come back around to each other again. This is what it's all about – having these people in your life that stand by you through everything, through the ups and through the downs. Having her back in Ireland makes me want to go back that much more – of course it does. But it's the same as family and everything like that.
Like, out here in LA, it's a beautiful and luxurious place, but no matter where you are in the world, if you're not with the people you love, it'll never be good. When you go to these great places you want to share those moments with the people you love. It's hard not to be able to to do that.
It doesn't get easier, either, not least after a prolonged stint in good company this summer, although the Quigley family did join their Golden Boy for a summer break of their own when he jetted off a fortnight ago.
But during an injury layoff in which 'El Animal' has had ample opportunity to reconfigure, he has arrived at the rather astute conclusion that absence makes the heart grow not merely fonder, but stronger.
As such, he's arrived back in America at an unusual juncture, cognisant that a fighter can be imbued by his loneliness.
"My girlfriend and my family have been there through the hard times and the good times, and that's what makes a team strong and gives me confidence," he says.
"Okay, I might be getting into the ring on my own, but when you've got a solid team around you it makes all the difference. And when I say team, I mean my coach, my management team at Sheer Sports, Golden Boy, but also my girlfriend and my family.
But it also makes the difference when you're away from them, because that's when you go through the hard times in camp. I actually want to go through the loneliness, missing my family and making that sacrifice, because that's what hardens you.
"Say you get knocked down, or you get cut, or you get hit a shot and you can't see for 30 seconds, it's the sacrifices which make you think – excuse my language, but – don't let any bastard take it away from you. You think to yourself, 'You have sacrificed too much to let this be taken away.'
"These are the small, small percentages which put you on the next level. You know what I mean? It makes you win a close fight by split decision instead of drawing it, or instead of being knocked down in the 10th or 11th round, you knock your opponent out in the 12th. These are the small things that a lot of people don't see in boxing that make the difference.
"And even recognising that, that's why I know I'm a champion, and that I'm going to succeed in this career. Because a lot of people, if they get to LA or America, will rub their hands together and go, 'Aw, Jesus, look, I'm living a great wee life here now,' whereas me, I don't want that.
"I'm not ready to put my feet up and just get in the ring to get paid. I'm still at a stage in me career where I've achieved nothing… Yet. At least by my own standards."
God be with the days of anecdotes about meeting a bedraggled Matt Damon at a Coldplay after-party in Pasadena, or tongue-in-cheek rebuttals regarding poolside temperatures if it was suggested to him that he might be stuck for teabags.
The older and wiser Quigley would probably bite your hand off for a box of Barry's finest and warn you to get your act together.
"To be honest, the past four or five months, I feel like I've matured 10 years," he laughs.
"Look, I'm real, and I don't want to be… I don't like people painting pretty pictures for young kids coming up, making them think that everything is a smooth road, because it's not.
"If you want to be successful in whatever you do in life, you have to go through the hard times. And yes, I went through hard times. I went through hard times with my family through boxing. I went through hard times with my girlfriend through boxing. I went through a lot of hard times, all through boxing.
"But it's not all sunshine and rainbows. Everyone sees Instagram, Twitter, Facebook and thinks, 'Quigley's in LA, living the life.' But life is never that simple. I'm not going to put up things on days when I fall out with my girlfriend, or I fall out with my family, or I've had a bad day the gym. Do you know what I mean? I don't post that kind of stuff.
This is what young kids have to realise: okay, you might see me training out in LA, or you might see me at home enjoying myself, and everything looks brilliant. 'Quigley's out in LA, he comes home every now and then, he's at the Canelo fight in Vegas, he sees Conor McGregor' – all this kind of stuff. On social media it looks like an absolutely perfect life, but nobody has a perfect life!
"It's the way you come through the parts that people don't see that count, the way you make decisions."
He's already made a few that have altered the trajectory of his career and life, and others that he maintains might seen things spiral southwards were it not for the patience of those closest to him.
He's quick, too, to reinforce his point that social media amounts to little more than a passive-aggressive life competition, and that people shouldn't discern from pictures of fancy cars or handshakes with heroes that his American odyssey to date has been one of plain sailing.
"I'm very lucky that my family have stood by me in my career, and my girlfriend has stood by me," he says. "Because it wasn't easy, you know, moving out here to LA.
I mean, I'm from Donegal! Donegal, like! I'm not meant to just lounge about here in LA, it's not a place that we'd come to and everything just seems normal, like! It's a completely different world.
"And yes, I've caused problems for my family. I made sacrifices and decisions in my life, through my family, that I've done for myself. I've done it as well with my relationship with my girlfriend. I had to do it for my career.
"But at the end of the day, the people that are still with you at the end of it, that's what counts. No matter the shit that you go through, as long as they're still fighting by your side, you respect them, and that's what counts.
"There's no point in going around with people telling you you're brilliant – licking your ass, really. Once shit hits the fan, they're nowhere to be seen."
It's striking that the Ballybofey banger can speak with such a renewed vigour considering he's been lauded for his unerring focus throughout his career to this point.
His ring moniker, 'El Animal', was bestowed upon him by Latin American gym-mates who were wowed by his work ethic under the roof of The Rock Gym in Carson, California, where he trains alongside two current world champions as well as Michael Conlan.
But it's clear that injury has afforded Quigley a fresh perspective, and an opportunity to fine-tune what he describes as his 'rise'. This, he believes, will make him an altogether more dangerous animal when he does eventually climb through the ropes once more.
"In the last four or five months, I've come to understand – and I think it might have been partly to do with the injury – how short a boxing career can be," he says.
"I turned 26 there a few months ago, and I have a good 10 years, maybe nine years left in my career. I don't drink, I don't smoke, I look after myself. And I'm so lucky that I've gone through this kind of period in my career of maturing, because I've never felt more stable either in my career or in my life.
Not that I didn't feel stable before, but making some of the decisions that I've made recently and in the last few years, and having such a strong structure around me, the people that are real to me, I know it's going to take some man to stop me… If there even is a man out there to stop me.
"I've a strong mind, myself, but the people that are with me are pushing me on as well."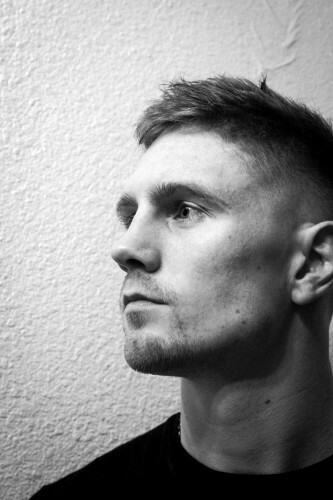 Eoin Mundow / INPHO Eoin Mundow / INPHO / INPHO
Mind you, breaking a hand to the point that the doctor feels compelled to describe it as a 'one-in-ten-million' injury could hardly be deemed much of a plus.
"I'm still not punching with the right hand yet, but it's good to get back in there and just start working on everything else," Quigley says. "I've been training flat-out anyway, just doing cardio and keeping in shape, keeping the weight down. So I'm back in the gym now, back shadow-boxing just to get the muscles back in action again.
"It was such a bad break that it's just taking a wee while longer for the bone to heal. The doctor – he's one of the best hand surgeons in the world – and he's never seen anything like it. He says to me, 'You really must have cracked him hard!'
"It was the tendon that was meant to be the initial problem and the bone was meant to just heal back as it was. The tendon is perfect again, it's well on its way to recovery, but the bone is just taking that little bit longer now to heal. So I'm just waiting on that there now to heal back up. It'll take an extra few weeks and then we'll be laughing.
"We all need some sort of goal to push towards, and right now my goal is to be back in the ring defending my title at the end of this year or early next year."
This likely rules him out of any potential homecoming fight in 2017, no sooner than the drums had begun to beat for an Irish debut on either the undercard of Katie Taylor's mooted world title fight in Dublin in November – which is now off the cards regardless – or Ryan Burnett's unification fight versus fellow world champ Zhanat Zhakiyanov in Belfast on 21 October.
The latter will be the first ever unification contest to be held on Irish soil, and Quigley, thrilled for his fellow Ulster fighter, is less than surprised that the pro game has enjoyed somewhat of a renaissance in his native land.
"For such a small country, look at the talent that we are producing. It is un-be-lievable. We're not just producing fighters that are opponents for world champions, we're producing fighters that are going out there winning world titles, getting unification matches.
"This is what it's all about, and this is why Ireland is such a great country – because of the talent that we produce, but because the people of Ireland realise the talent we produce, and we get behind our men and our women – our sportspeople. That's the difference between our country and a lot of other countries.
"A lot of other countries don't appreciate, I think, some of the talent that they produce. We're so lucky as a country that we have so much support throughout all sport. Whatever it is that we put our hand to, the whole country gets behind us. I think that's the reason for Irish sporting success on the big stages, especially with us boxers."
Burnett's shot at history marks the dawn of a new era in a sense, though the very expression borders on taboo in a country which has seen pro boxing endure plenty of false dawns in recent times.
False gods, too, perhaps, but Quigley – for years earmarked as the fighter best positioned to transcend his sport in Ireland through that sparsely-found amalgamation of ability and amiability – has never wavered in his insistence that his time will come at 'home home'.
"I've said it from day one, I came out here to America to put in my apprenticeship, learn my trade, and to get myself to a level," he says.
And once I get myself to that level, I'm bringing big-time boxing back to Ireland. I want to have a pay-per-view fight in Ireland, you know what I mean? I want to bring it back to Ireland because the people of Ireland deserve it.
He'll be back here plenty before that comes to fruition, and almost as if to rubber-stamp the point, signs off from LA with the quintessential Irish farewell.
"Bye, now. Bye, bye, bu'bye, bye, bye…bye."
The42 is on Instagram! Tap the button below on your phone to follow us!