FOR SOME, AGE is no barrier.
At the 1920 Olympic Games in Antwerp, Belgium, Sweden's Oscar Swahn — then aged 72 years, 281 days — became the oldest athlete to ever compete at an Olympics, a record he still holds to this day.
For most athletes, however, age is the one opponent they can't beat so it's little wonder Jason Smyth is starting to consider his post-athletics career. even if the six-time Paralympic gold medallist is still just 30.
"I've talked to one or two people [about retirement]," Smyth told The42 earlier this month.
"Not necessarily within my sport, but I've spoken to a guy who has transferred out of tennis a few years ago. With sport in general, I think it's very different from a normal career, so it's important to pick a few different brains.
"You see a lot in sport that it can be quite a tough transition for people. All of a sudden the end comes and they don't know what to do. I understand that though because you've got to be so focused in sport and so single-minded to what you want to achieve that you've little choice but to let everything else drift.
But there does come a time for everyone where you've got to slowly start transitioning from that position and I don't know anyone who has ever said that the change is easy but I feel like I've given myself a good bit of time to make that transition smooth.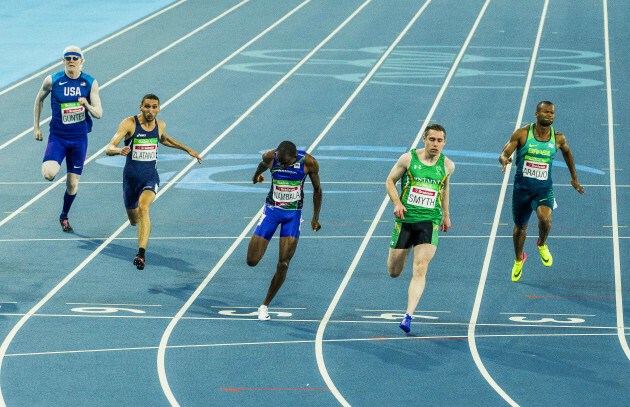 Dan Behr / INPHO Smyth wins in Rio. Dan Behr / INPHO / INPHO
Part of that transition for Smyth — who, along with his six Paralympic gold medals, holds the world record in the men's T13 100 and 200 metres — has been to try his hand at a number of internships.
But just because both have been in the financial sector to date, that doesn't mean he his mind-set on any particular career path.
"I haven't ruled out what I would do. At this stage — I only moved back to Ireland this year — so I always knew I would return as I came into the final number of years of my career. I also knew I was going to take this time to try to figure out what I was going to do with my post-athletics career.
"I've started doing a few things this year, some work experience and internships in the financial sector, but I wouldn't rule out working in the media. I'm just trying to get a feel of things over the next few years and see what suits me. Obviously I have massive experience dealing with the media, so it's an obvious one to at least explore.
"I had an internship in a bank and then an investment firm. When you spend so much time in sport and are so focused on what you want to do, dipping your toe in the workplace at least gives you a glimpse of what comes after you retire.
"And people ask me what I would like to do, but I've spent all my life doing what I'm doing now, trying to be successful in athletics so I don't necessarily understand what different jobs entail.
"So I wanted to get a taste for what it might be like and my hope over the next few years is to try a few different things and, from there, I think it will be easier to decide what it is I actually want to do.
"I mean, I could end up back in sport and I might not, but at this time I have the ability to a least get a sense of what I might like to do. I certainly don't want to be one of those people who are stuck working somewhere they don't want to be."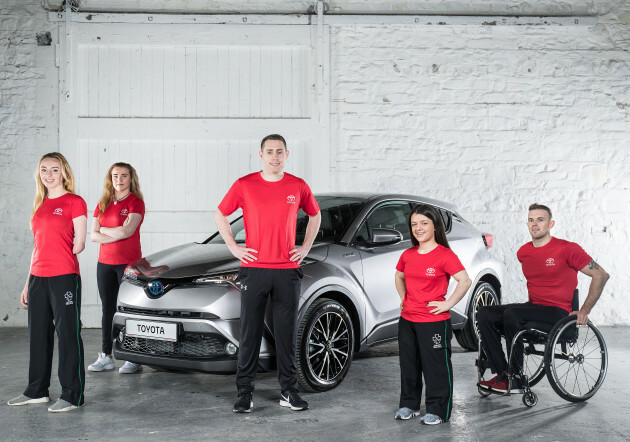 Dan Sheridan / INPHO Smyth was speaking to The42 as Toyota Ireland announced a new partnership with Paralympics Ireland. Dan Sheridan / INPHO / INPHO
Though Smyth sometimes wonders if it is harder for athletes coming from the top of their sport to find a normal, nine-to-five routine, as with every challenge he has faced, it's just a matter of embracing what may come.
"I think it depends on how you handle [the transition]," he says.
"The way I look at it is that I've had a lot of success in sport and the same attributes, the same characteristics and the things I've had to do all through my career to be successful in the sport, well they are the exact same things that you have to do to be successful at anything else.
"It's just the same applied a different way so, for me, I quite like the thought of a new challenge or a new goal and trying to be successful at something else. And I know I can be because I've shown I can a number of times in my career.
"So there's something exciting about being successful at something else, it's just trying to figure out what that is.
Change, sometimes, can be scary but, for me, I've always seen it as an opportunity for something more, something better and I quite like that. Of course, it might not necessarily be an easy process to get there or to figure it out but, it's part of the journey isn't it?"
Morgan Treacy / INPHO Smyth with Enda Kenny and Michael McKillop after his double gold in London. Morgan Treacy / INPHO / INPHO
Part of whatever the next stage of Smyth's life is very likely to involve mentoring young Irish athletes. It's a role he clearly embraces.
"I feel, as an athlete, it's your responsibility to inspire the next generation and I've been fortunate enough to be successful but I'm not going to be around forever. For the sport to move forward, Irish athletes have to continue to be successful.
"Those of us who have been successful hold the mantle to inspire the athletes in the next generation to come up and create their own success so, for me, it's exciting to see where they could go.
"And, as athletes, we're not just representing our sport or representing Ireland, but we represent what people can achieve. We always look at people with disabilities and think about what they can't do but people who go out and be successful ask themselves what can they do and it's always been my attitude that you can do whatever the heck you want to do because everyone faces challenges.
We all have to face things we have to overcome but I think that's one of the most powerful things about Paralympic sport, you have elite athletes overcoming massive challenges just to compete, never mind be successful and, for me, that's something everyone can relate to."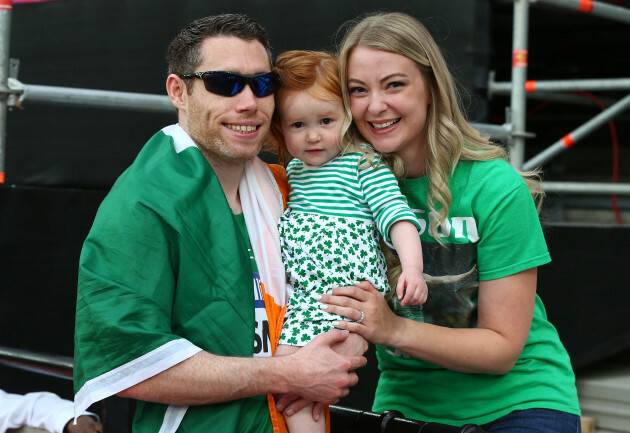 Kieran Galvin / INPHO Smyth with his wife Elise and daughter Evie. Kieran Galvin / INPHO / INPHO
That said, Smyth does wonder what the future might hold for athletics in Ireland, as the success achieved by him and others in world events do not necessarily receive the coverage he would expect it to, particularly in comparison to football and rugby.
"In past generations, athletics seemed to be massive and, I don't know, has it lost a little bit of its appeal or its excitement or maybe it's some of the drugs scandals that maybe impacted it as well?
"I understand some of that but, looking at Para-athletics and, at the end of the day we're Irish and we want every Irish person to do well. So, considering we're fairly successful as a Para-athletics team, to me it would be common sense to buy into success as we all want good news stories to have the country celebrate.
You can look at all the negatives and, yeah, athletics might not be all well watched as it used to be, but success is success whatever way you want to put it and, to me, if I'm involved as a competitor or if it's supporting the next generation, we should be celebrating those who are the best in the world.
"How many sportspeople do we have that are the best in the world at something? You're not talking about many so it should be covered. I watch all the big sports myself and I think success is measured differently.
"In football, you talk about success as making a World Cup — and that is success for the Irish team to try make a World Cup — or in rugby, success is making the last four of a World Cup. But imagine how the country would react if one of those teams were to potentially win a World Cup?
"It would be incredible to see what this country would do, we'd nearly have to declare a public holiday because of it. But we have other sports where we have people at that level but it's not getting the same recognition. And those sports are watched by huge numbers around the world and are well supported.
"It's just trying to change the attitude people have towards the sport. I've tried to change it through my success and I hope I can continue to bring more attention and drive that change."
The42 has just published its first book, Behind The Lines, a collection of some of the year's best sports stories. Pick up your copy in Eason's, or order it here today (€10):