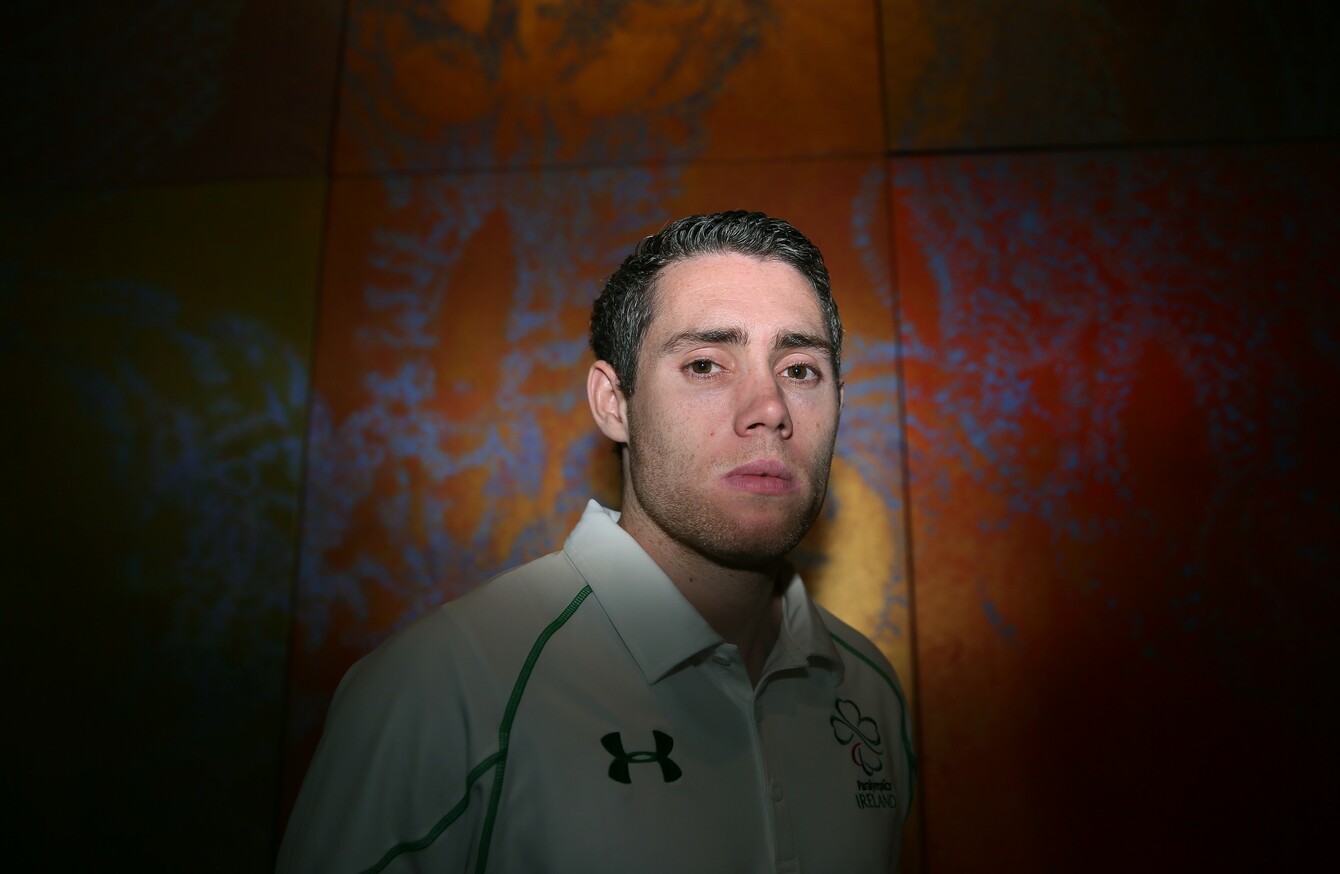 Image: PA Wire/Press Association Images
Image: PA Wire/Press Association Images
– Ryan Bailey reports from Rio de Janeiro 
JASON SMYTH HAS never been one to believe the hype. He has always gone about his business in a cool, clinical and calculated fashion. No fuss, just extraordinary success.
Up until this point, the four-time gold medallist has yet to be beaten at a Paralympic Games and if he doesn't defend his T13 100m title in Rio on Friday night it would be a major shock.
Yet it doesn't really bother him. Of course he expects nothing less of himself but his easygoing personality and unflappable disposition means he goes into his third Games comfortable with whatever happens.
There will always be the pressure and expectation because, after all, he is widely regarded as the 'Usain Bolt of the Paralympics.' He just takes it all in his stride and runs faster.
"I'm looking forward to it, as each Paralympics goes on I'm obviously more experienced and I think I'm better mentally set-up to go there, compete and enjoy the experience," he told The42.
"There's two ways of looking at it but for me it's an opportunity, it's an opportunity for people to see what I can achieve but also what anybody else on this team or anybody watching can achieve.
"I'm not better than anyone else, I've just worked hard with what I've wanted to achieve and continually kept at and I believed in it.
"There's always pressure. Do I feel it? Not really, to be honest. One of the big things I learnt in London was that this opportunity of being there on such a big occasion only comes around once every four years and you can get sucked into but the fact is you have to enjoy it because it's so incredible to be there and if you don't enjoy it you lose the whole point of being there."
It speaks volumes of Smyth's stature that, along with athletes from America and hosts Brazil, he was put up to the world's media by the International Paralympic Committee earlier in the week. He is big news around here.
He will be one of the first Irish athletes in action in Rio, as he begins the double-defence of his Paralympic crown tomorrow night in the Olympic Stadium.
Despite his stature and being one of the headline acts at this Games, the 29-year-old will likely find himself to be the villain as his main rival, Gustavo Henrique Araujo, is the home favourite.
"This will be my third Paralympics and I've been going to major championships for years now and I don't get too bothered by it, to be honest," he continues.
"The pressure or mentally putting myself under the pressure. At the end of the day there's nothing you can do about what other people say or do and if I run to the best of my ability then I should be in a position to win a gold medal.
Be part
of the team
Access exclusive podcasts, interviews and analysis with a monthly or annual membership.
Become a Member
"If I still do that and it doesn't happen then hats off to that person on the day."
Unlike eight and four years ago, Smyth has been forced to fully concentrate his efforts on the 100m discipline after the 200m event was scrapped from the athletics programme.
Nevertheless, opportunity knocks for the Eglinton native as he goes in pursuit of a fifth gold medal and in the process establish himself as one of Ireland's most decorated athletes, able-bodied or not.
Since London a lot has changed in Smyth's life off the track as he got married and had his first child. His perspective in life has changed but that doesn't mean he doesn't want that gold medal any less than when he took the Paralympics by storm in Beijing.
"I don't think I would continue to do it if it [gold] didn't mean something," he adds.
"Each time is different, it's hard to describe in what way it's different. It's never quite the same. You spend years of work for this one moment so if it didn't mean something you wouldn't put all that work in.
"I don't tend to look back too much but I'll probably look back more when I'm completely done but I have been very, very fortunate. In Paralympic terms I've won everything there is to win, I've never been beaten as a Paralympic athlete. I'm very grateful things have gone well."
But he's not finished just yet. A season's best time of 10.39 in Florida in May was his fastest in three years following a knee injury he sustained in 2013.
The hope is that he'll continue on for another Paralympic cycle to compete in Tokyo but for now the focus is on tonight and safely negotiating the heats. The hype? You'd better believe it.
The42 is on Snapchat! Tap the button below on your phone to add!
The Paralympic Games takes place between 7 and 18 September. Follow The42′s coverage from Rio here.