JASON SMYTH is almost worth his weight in gold.
With five Paralympic, seven World and two European titles to his name, it's little wonder the 30-year-old is dubbed the 'world's fastest Paralympian'.
But despite his success in the T13 class of the 100 and 200 metres, Smyth doesn't believe that he and his fellow Paralympic athletes get the credit they deserve for their achievements.
"For me, the biggest thing that needs to change [in Paralympic sport] is that the media needs to buy into it. It's as simple as that," Smyth told The42 yesterday.
"Britain, to give them credit, they really have and you see that Paralympic sport is massive there but, looking around a lot of the world, most countries haven't bought into it.
"The reality is that this will take time, but what fans really buy into is what the media show and fans are created by what the media push out.
"If you look at London 2012 we had limited live coverage and again in Rio. But, in the grand scheme of things, it's very little."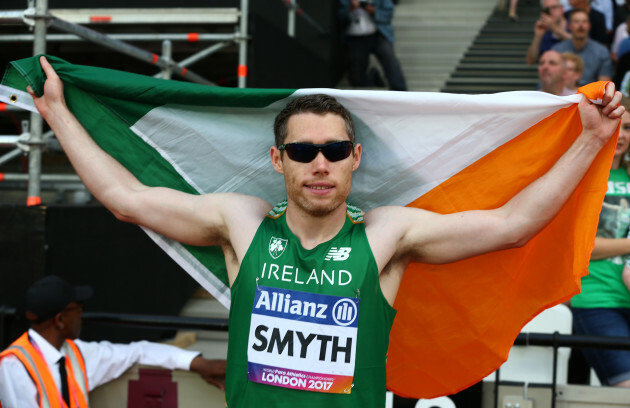 Kieran Galvin / INPHO Smyth after winning the men's 200m T13 final in London. Kieran Galvin / INPHO / INPHO
Smyth is particularly critical of the coverage of this year's World Championships in London.
"We had four gold medals and three silvers," he says.
"Can you tell me any Irish team that's going to be that successful this year? We probably aren't going to have one.
"And yet I got far more British media coverage than I did in Ireland. Even random countries around the world did more with me than Irish media did. That seems wrong considering I'm Irish and running for Ireland.
"And yet, I don't remember seeing any Irish media straight after I won my event. I mean, London's an hour away on a cheap Ryanair flight.
"It's great for them to come to the airport a few days later but the point of the media is the impact of 'right now'.
"If you look at news, you don't cover news three days later because it's already been covered, you cover it right there when it happens and, for me and for para-sport in general to have an impact, you've got to cover it right away.
"I also think that big brands can come in and help change that because they have more power to make change than athletes do. They can help with a change in mindset."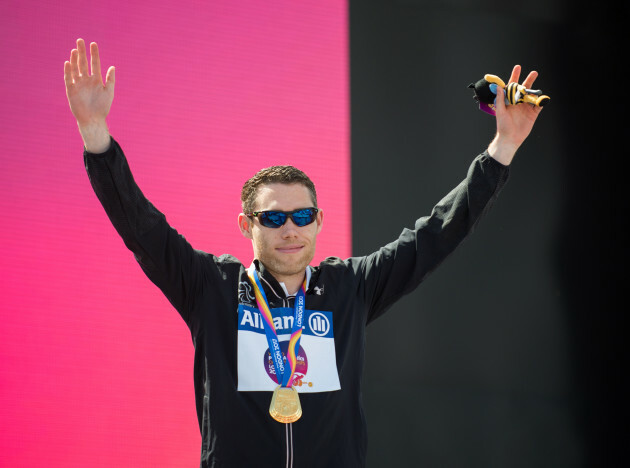 Kieran Galvin / INPHO There's a reason Smyth is called the fastest Paralympian on the planet. Kieran Galvin / INPHO / INPHO
One big brand to partner with Paralympics Ireland is Toyota, who yesterday announced a deal with the organisation and the 2020 and 2024 Paralympic teams.
It's the kind of sponsor the Derry native believes will lend more credibility to his sport.
"The plus side for Irish sport in general is that, I've been competing since 2005 and I've seen it change massively and we're now seeing more and more big organisations coming on board which means the sport is moving in the right direction.
"It's not going to happen overnight, but it's moving in the right direction.
"There are two sides to it really. For the Paralympic movement, it's hugely important and, even though we have some sponsors on board, the reality is that, the more sponsors you have, the more it increases the credibility of Paralympic sport.
"What it also does for the sport is increase awareness and they try to promote the sport which, in turn, benefits the athletes because we have a better platform to show what we do.
"At a personal level, it's great that companies like Toyota come on board and support you as an individual because, at the end of the day I'm out competing and performing for myself, but it gives you the opportunity to increase your profile and gives you more recognition."
James Crombie / INPHO Smyth and Michael McKillop returning home from Rio with their golds. James Crombie / INPHO / INPHO
Having a sponsor come to your door is also a lot easier than having to go out and find one, but there are still challenges if the company doesn't share the same ethos for the sport as the athlete, says Smyth.
"I can't speak for all sports but, within Paralympic sport, athletes would always be putting feelers out for sponsorship. When you have instances where sponsors come on and support the movement then it's a natural fit that ambassadors come on board too.
"Outside of that, you'd have to go searching for them. But, the reality is, you can search as much as you want for them but not every brand sits with what you're trying to do, so it's about finding something that fits and works for you and works for them."
Jason Smyth was speaking as Toyota Ireland was announced as a new partner of Paralympics Ireland and to the 2020 and 2024 Irish Paralympic Teams.