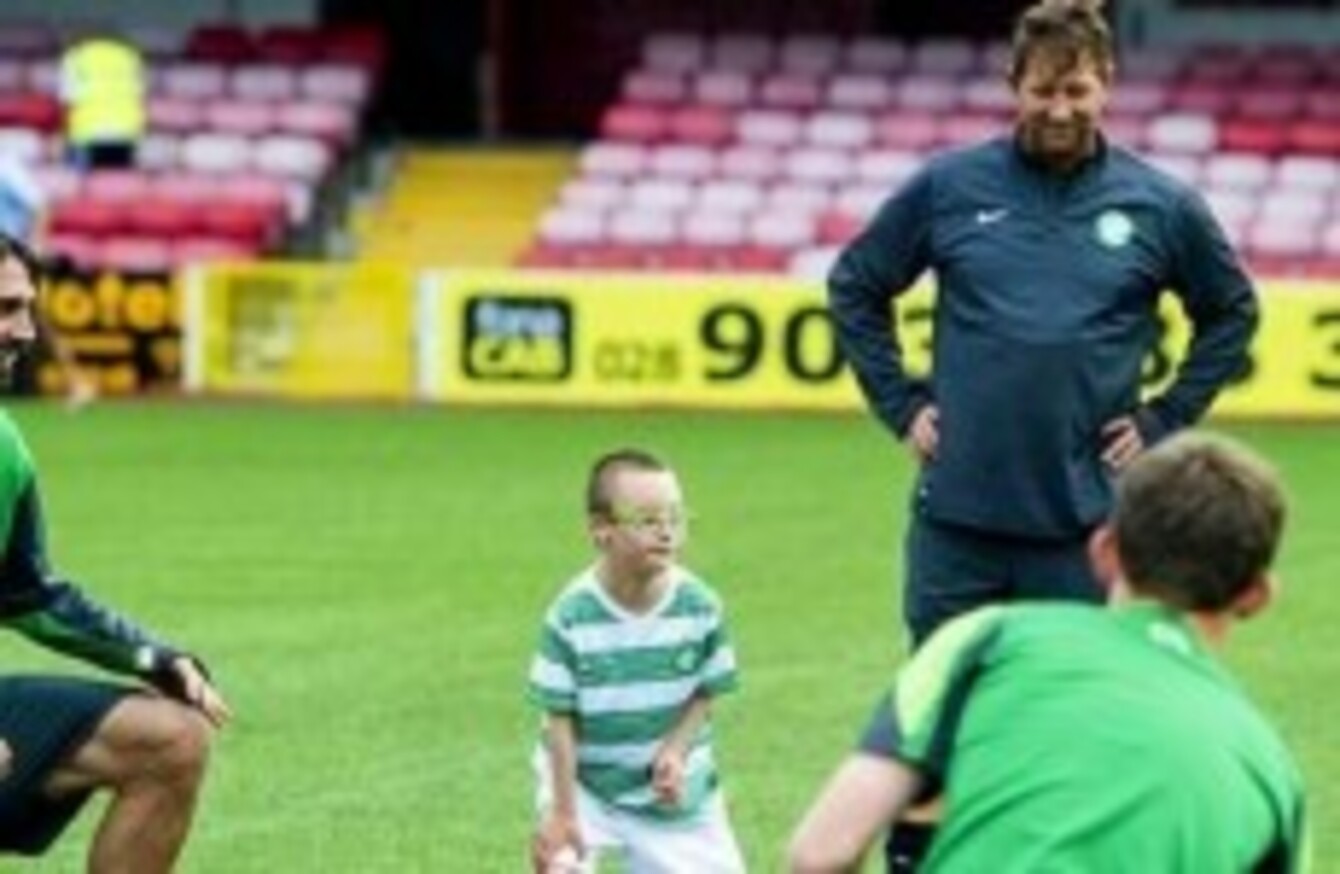 Jay Beatty trains with the Celtic team.
Image: Martin Beatty
Jay Beatty trains with the Celtic team.
Image: Martin Beatty
GREEK FOOTBALLER GEORGIOS Samaras first came across 11-year-old Jay Beatty from Armagh when Celtic played a match in Ireland last year.
Just prior to the Scottish club's Champions League clash with Cliftonville, young Jay — a lifelong Celtic supporter — was given the opportunity to meet his heroes.
"Jay was invited down the night before to watch them train," Jay's father, Martin, tells TheScore.ie. "They spotted Jay in the stand and brought him over to Samaras. It started from there. Jay got to train with the team and run about with Samaras."
Since that first encounter, Jay, who has Down's Syndrome, visited Celtic Park a couple of times thereafter, with the Irish youngster gradually striking up a bond with star striker Samaras — to the point where the footballer carried the young fan during a lap of honour to celebrate the Scottish club's league title win last season.
"There were 50 or 60,000 people there," Martin recalls. "He spotted Jay when he was getting his medal and then Samaras picked Jay out of the crowd.
"The Greek press and Greek fans were interested. And we were getting phone calls from every single news channel in Greece to do interviews."
Source: aris' chanel/YouTube
Yet it wasn't until Samaras scored a crucial penalty for Greece against Ivory Coast at the 2014 World Cup that the interest in their story truly snowballed.
"I posted Jay's reaction to the goal when Samaras scored the penalty," Martin explains. "I posted it on to Facebook thinking only family and friends would watch it, but millions of people saw it. It was shared 10,000 or 15,000 times, I think."
Remarkably, this innocuous family video gained traction in Greece amid the wave of euphoria in the country caused by their World Cup success.
It became so popular that Samaras was even asked about Jay at a press conference, with the striker subsequently delivering a touching tribute to his biggest fan.
Source: enikos. gr/YouTube
Jay was even invited by the Greek Federation to come to the World Cup and watch their team play Costa Rica in their crucial last-16 match, though unfortunately, his family had to decline the offer, as they had already booked a holiday to Boston.
"On the way from Dublin airport to Boston, we were inundated with phone calls," Martin adds. "I checked my phone before we went and it was a Greek number ringing again.
"I said I'll answer this call and then turn it off. It was from the Greek Football Federation asking could they fly Jay over to the World Cup. So there was disbelief that it actually happened when we were sitting on a plane.
"So I had to turn them down. I was absolutely gutted.
"When we arrived in Boston, we said 'at least we'll have no phone calls over here,' because nobody knew Jay, but someone who was going up the escalator in Boston Airport said 'hiya Jay'. We had never met him in our lives.
"We were then having our breakfast in Boston and a large screen on the wall in our hotel was on. I was eating breakfast and turned around, and there Jay was on some American news channel. They were talking about him on NBC. So even America, which is not really a big soccer country, was covering it."
As much as anything else, Jay's story was an illustration of the power of social media, with news of his passionate support for Greece quickly spreading online.
"I think there's five fan club pages now that are set up for Jay — three or four are Greek and one's Irish and one's Spanish," Martin says. "The one that has the most has 90,000 or so now — it was a campaign to urge the Greek Football Federation to get Jay to the World Cup. It was absolutely crazy.
"Those Facebook pages were set up after Samaras brought him around onto the pitch. It was seen by about two million people.
"When we put a video up of his goal at the World Cup, it went crazy. There were special programmes about him. You just need to go to Greek YouTube channels and type in 'Jay' and there are 30-40 clips. It's in Greek, so I don't know what they're saying, but they're talking about him on chat shows and things like that, so he's really had his 15 minutes of fame."
Source: Rifet Junior/YouTube
Samaras has since left the Scottish club and currently plays in the Premier League with West Brom, and while Jay remains "Celtic through and through," he now makes sure to look out for the Baggies' results and retains a special place in his heart for the Greek forward.
"The press build you up and they can knock you down again," Martin says. "You don't really hear about all the good things footballers do — they don't often make the headlines. Nothing, apart from a scandal, makes the headlines. But in this case, maybe it's because Jay has Down's Syndrome, it's made world headlines — newspapers from Peru to Singapore.
See Sport
Differently
Get closer to the stories that matter with exclusive analysis, insight and debate in The42 Membership
Become a Member
"And I have to say, it's not just Samaras, but every single one of the Celtic players. It's not often we can go over, but when we go over, Jay would be the first into the ground. He would stand at the wee wall and watch them train.
"Every single one of them would come over and say 'alright Jay,' including the manager and the chief executive Peter Lawell — they say 'hello' to him, which is very humbling. You don't read a lot about that — it's all the negative stuff that you read."
Martin has also set up a company to raise awareness of the difficulties faced by people with Down's syndrome on the back of some bad experiences that people such as Jay have been forced to endure.
"For my wife and I, sometimes it's quite emotional when you see your son being treated like that. People with Down's Syndrome haven't been treated well in the past and in certain countries, they're still not, so we hoped we could make a wee difference by setting up a company called 'Down's and Proud' in Lurgan.
"All we did was try to create awareness so that people would look at Jay and the other children and not call them names. We just wanted to stop that in Lurgan and we have actually stopped that. But little did we know he was going to be [embraced] by lots and lots of people."
In addition to a wealth of goodwill, Jay also received numerous souvenirs over the course of his heartwarming story — from a Scottish Championship medal (see above) to a pair of Celtic midfielder Kris Commons' football boots.
"I'd just like to thank Celtic Football Club and their supporters," Martin adds. "It's just out of this world — not even just Celtic supporters, but people in general have treated him so well and with so much respect. They will never know what it means to us, but it means so much."
To find out more about Jay and other people with Down's Syndrome, you can visit the Down's and Proud Facebook page.
All images used with permission from Martin Beatty.