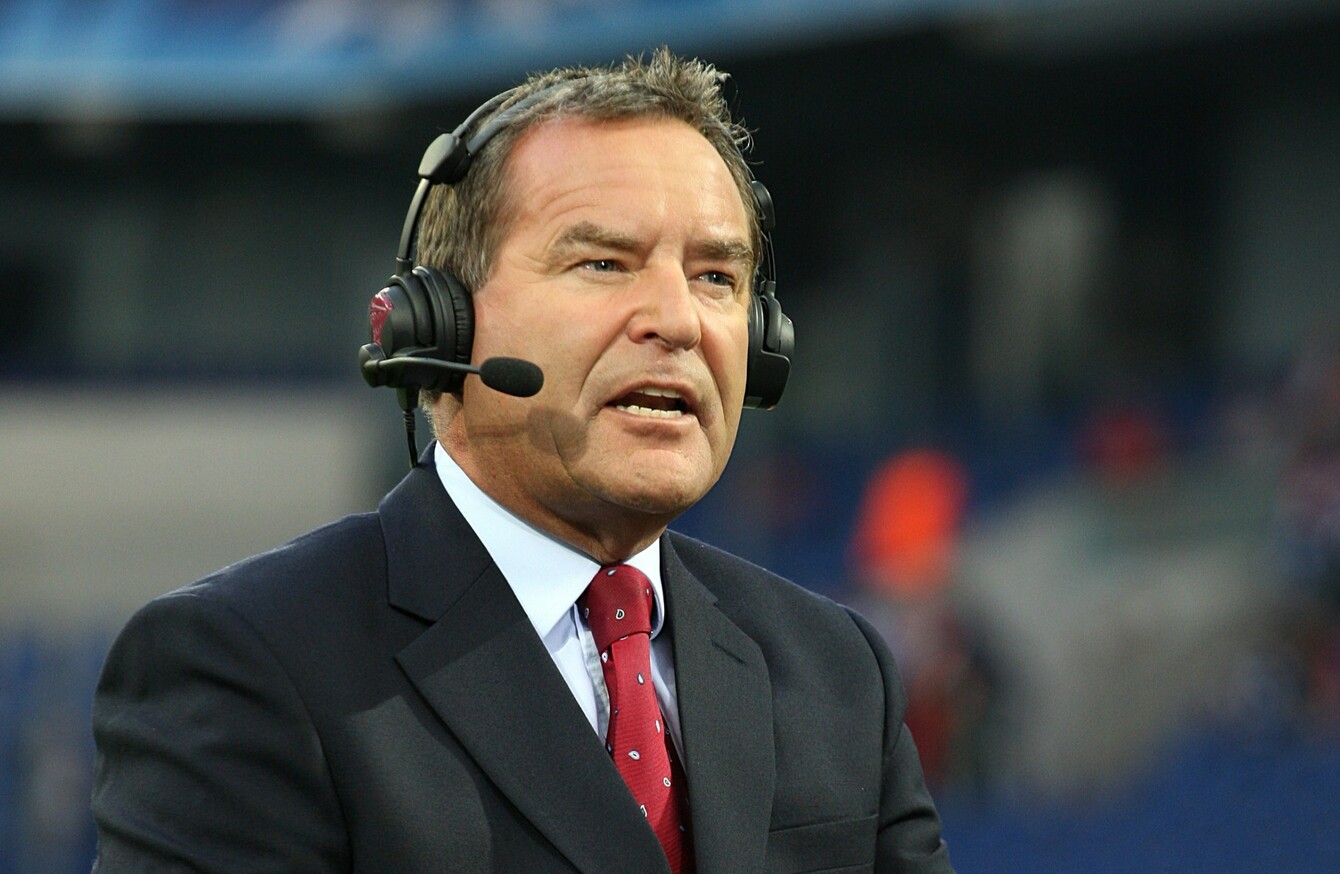 Image: Empics Sports Photography Ltd.
Image: Empics Sports Photography Ltd.
WHEN YOU ARRIVE at the sprawling Sky Sports campus on Grant Way in Brentford, it's hard not to marvel at the sheer scale of the place.
There are a litany of different buildings, all glistening and imposing. 12,000 employees. It bears more of a resemblance to an airport than a television station.
Then again, this is Sky and they tend to do things differently.
Like the very reason I'm here. Another Premier League campaign and another launch. Except, this year, seeing and raising the challenge from BT Sport in recent seasons, they've gone out and asphyxiated the opposition again.
To add to their glittering array of weekend content, Sky will also broadcast Friday night games now while they've moved in on the Irish market by sweeping up the 3pm fixture that Eir Sport (formerly Setanta) offered for the last three years.
Gary Neville, surely the most in-demand football personality in the UK, is back on punditry and commentary duties too, having reportedly landed a £300,000 pay rise in the process.
As I sip a coffee in one of Sky's seemingly never-ending glass monstrosities (complete with cinema, gym and proper, dine-in restaurant), the less-than subtle message is pretty clear: this is the big leagues.
But as much as their top-flight live coverage is box-office, it's another show that carries a loyal and unwavering following: the barmy but brilliant Soccer Saturday.
In a sentence, the show is four men watching football on screens that we can't see and describing the action. Essentially, it's a radio programme on television.
But, for certain reasons, it's much, much more than that. Perhaps the biggest reason is Jeff Stelling.
The anchor has been a mainstay of the station since the early 1990s but it's odd seeing him on any other show, Sky or otherwise.
When he started presenting Channel 4′s Countdown in 2008, you half expected to see Chris Kamara as his sidekick, wearing a headset, looking a bit confused and separating the vowels from the consonants.
Soccer Saturday is Stelling's home – a cosy, inviting and entertaining place.
The appeal is obvious.
"Football is supposed to be entertainment and so is TV", he tells The42.
We had a fire alarm last season so we were out of the building for 45 minutes and what I didn't realise was that they'd put out a loop of Tony Pulis. It was just Tony again and again and again. But it was great because I could come back and just say, 'Now, to West Brom and Tony Pulis…' and I could have the fireman's hat on – daft things and I'm lucky that Sky have given me that latitude. Or rope to hang yourself with, some might say."
For the new season, BT Sport will try their hand at a similar type of goals update show. But despite the competition, Stelling isn't bothered too much. Sky will stick with the tried and tested method.
Source: Soccer AM/YouTube
"If it ain't broke, why fix it? And it ain't broke", he says.
"The figures we've had over the last few years have just got better and better. There's nothing wrong with competition and we're not going to be complacent about that. We'll carry on doing things to the best of our ability and hopefully in the manner we've done it over the years which is, I think, treating the football seriously but doing it with a bit of a smile on our faces too."
The problem for BT, of course, is that Stelling is a master of his craft. He has the quick-thinking, the comedic timing and football knowledge to react to the unpredictability of a Saturday afternoon.
Ultimately, he says, it merely comes down to preparation but he's being overly self-effacing.
I will do pages of stats myself and we've got one statistician. The way the balance works is if someone's got his 19th goal of the season or his third hat-trick in six games, I should know that. If a full-back for a Scottish First Division side scores for the first time in 341 games, you can't know it. So, Trevor Simmons is our stats man and he'll be the one beavering through to try and tell me that as quickly as he can. There are lots of things he'll expect me to know and the truly spectacular ones, a lot of the time might come from him. I have some random ones myself – if someone hasn't scored in 250 games, I'll pick out a few like that every week and hope that one week I'm the lottery winner and it comes in.
"You never know what you're going to get in terms of the football or the conversation so you prepare for everything. If we're talking about Sunderland versus West Ham, I've got a page with an idea of where I want that conversation to go but it doesn't always go that way. When we get to the game itself, I've got page after page after page of stats – which I've hand-written and colour-coded. How you deal with it is to remember if something does go wrong, not to let it throw you because it's live TV so if you make a mistake it's done. Just carry on as normal. People used to tell me not to apologise but I think that's wrong. I think that if you've made a mistake and realised it, you should say sorry and people will forgive you".
But there's more to Soccer Saturday than the facts and stats. There's also Stelling's ability to keep you interested in what's going on through his delivery, his language, his performance. He has an infectious talent for enticing a viewer in. For some reason, and without warning, you really do find yourself wanting to know who's scored Alloa's last-minute winner against Stranraer.
There's also his chemistry with the regular panel of Matt le Tissier, Phil Thompson, Paul Merson and Charlie Nicholas.
"What I particularly enjoy, with any of the boys, is tugging the lead and bringing them gently down the garden path and then being able to pounce. Last season you had someone refuse to come off the bench and Charlie is absolutely hammering him. And I just said 'Charlie, wasn't there an occasion when you refused to come off the bench?' And there was – when he was sent to play with Arsenal's kids at Cambridge or wherever. At which point Merse is laughing his head off. So I said, 'Merse, what about you? Wasn't it at a Conference side – Tamworth – when you refused to play?' So it is great when a plan comes to fruition."
Source: SuperUmair11/YouTube
The blend is important. We've tried people in the past who might have been big names and might have been quite eloquent but without chemistry, then they don't necessarily get in. It is a problem and it's the same across the board – you go to BBC, ITV, BT – it's difficult to find new pundits who have played at a certain level. We're lucky here. You look across at Carra – this is something he wanted to do. Matt le Tissier the same. But there aren't a lot of them around."
There is plenty of joshing once the show gets underway but what's sometimes forgotten is the excellent dissection of the day's fixtures and the week's big headlines. Le Tissier is an astute analyst while Thompson can hold his own too.
"In the hour before kick-off, we still treat things seriously", says Stelling.
"You still talk about the major topics. And even in the early days, Sky wouldn't say to us 'Don't talk that game down' or 'Don't have a go at him', 'The contract is up for grabs, don't criticise him' – they just said 'It's working – get on with it, get some opinions, let the boys have their say, gently take the mickey out of them if you can'. I'm sure everyone would agree that in the early days, we could make a nil-nil sound like the greatest game in the world but there's never any pressure on us to do that. Football fans aren't daft and they know a bad game when they've seen one and we'd lose all credibility if we didn't do the same.
A few weeks ago, the FA's chief Martin Glenn said former players now prefer the easy life of TV punditry to getting their hands dirty as coaches. Is Stelling surprised that none of the Soccer Saturday quartet have found a way back into the game?
"But how long does that last for?" he asks.
Whether it be management, assistant management, the academy…as soon as the manager loses his job, the chances are that half the guys below him will lose their jobs too. There's no incentive for them. To be brutally honest, when the FA talking about the number of people tempted into punditry, that still leaves thousands of ex-players. Why can't they tempt them back into the game? I think the reason, partly, is its unpredictability. It's very hard to get a job, it's very hard to keep one.
Tommo has given it a go, obviously. He was assistant to Gerard Houllier and took over Liverpool when he got ill. He's had a taste of it. He was asked back by Gerard at Aston Villa and had a big decision to make whether he'd go there or stay with us. And he chose, after a lot of soul-searching, to stay with us.
Also, the boys know they're good at this. And it is hard to find good pundits so the last thing we'd want is for them to be prised away from us because in this day and age, to have someone who can talk about football with knowledge and humour and who can show their medals –  that earns them, in my view, the right to criticise current players because they've been there and done it – it's hard to find. Most modern day players, especially nowadays, they don't need to spend their Saturday or Sunday afternoons sitting in a TV studio."
Perhaps the show has also seen the added benefit of the viral video age. As a result, its digital footprint is huge.
Soccer Saturday compilation videos are a massive hit on YouTube but two personalities dominate the space: Chris Kamara and Paul Merson.
Source: HuuKiwi/YouTube
"The great thing about Kammy is that he doesn't realise how funny he is", Stelling says.
"It is unintentional a lot of the time and you can be naughty with it. At West Ham last season and we crossed to him and he couldn't hear. So the producer said 'We've lost the connection so don't go to him'. So, I immediately threw to him again so he still couldn't hear. By this stage, the others had caught on. And it came back to me again and I threw to him again. And it was just another great Kamara moment.
Source: Soccer AM/YouTube
But he takes it all in great spirits. Despite having that side to him, he knows the game upside down. A lot of managers will come to Kammy for advice or information because he is so knowledgeable. Sometimes you make him out to be a figure of fun but, in actual fact, he's a really bright football brain."
Merson is different. When he first arrived on the show, Sky's top brass didn't see him lasting long. They felt he couldn't express himself properly – a real issue for a pundit. But he appeals to the average football fan. They empathise with him. And he brings an adorable, wide-eyed, inoffensive quality.
He's also responsible for Stelling's favourite on-screen moment.
Source: dbyrne7694/YouTube
"Merse was watching the QPR v Manchester City game in 2012. There were a couple of great moments like when Joey Barton got sent-off and I think his quote was 'It's like a scene from Platoon – there's bodies everywhere'. And when City scored, Merse came out with 'They're piling on top of each other – they're giving each other love-bites and everything'. He's different class because you never know what the turn of phrase will be, what expression he'll come up with."
Part of the Sky furniture for so long, Stelling has seen lots of changes down through the years. But as much as there's been a constant stream of new technology and new faces, he pinpoints a really simple idea as having been the biggest game-changer for both the channel and the show.
Vic Wakeling, then Managing Director of Sky Sports, said, 'What if during the commercial breaks we left the videprinter there?' I asked how that would go down with broadcasting authorities and he just said, 'Look, if you're an advertiser, you know the time people will had for a coffee or whatever – it's during commercial breaks but if we leave the videprinter there, there's more chance of viewers staying with us and the advertisers should be absolutely delighted'. And it was a stroke of genius. You never miss a thing."
There will be another substantial change for the 2016/2017 season. Live football across Friday, Saturday, Sunday and Monday evenings.
Too much?
Stelling feels for supporters but thinks the new Friday game is a perfect kick-off to the weekend.
Source: doodlecheesebug2/YouTube
"It's been trialed in other countries and been a big success. I understand the problems it poses for travelling fans. Our first game is Manchester United against Southampton and I don't live a million miles from Southampton – I understand why their travelling supporters are unhappy. It's a long way to Manchester. If you're not driving, it's impossible to get back on a Friday night. But on the other hand…there'll be about 5,000 away fans. That leaves 27,000 that would normally be at St. Mary's  probably pretty thankful they can see their side live on a Friday night."
Wrapping up, I ask Stelling about how he unwinds. The general perception is probably him coming home from a show, heading to his study and devouring Rothmans latest Football Yearbook.
And that perception is pretty accurate.
"I play golf really badly. My three kids  are all still at home – the oldest is 17 – so that takes your mind off things. We live in the country with three dogs so I'll take them out for a few hours a day. I run a lot and that's good thinking time.
But, during the season, you can't really afford to and don't want to have your mind taken off it too much. You've got to try and watch everything you can and read everything you can. Otherwise you get left behind".
Thankfully, there's no fear of Stelling or Sky doing that just yet.
Sky Sports has a record 159 live Premier League games this season – up to 4 times more than any other broadcaster – including Saturday 3pms for the first time ever. Upgrade to Sky Sports today by calling 0818 904 082 and get HD with Sky Box Sets Free for 12 months.
The42 is on Snapchat! Tap the button below on your phone to add!