AFTER 20-ODD SECONDS spent exchanging pleasantries with Jessica McCaskill it becomes patently obvious she's not the antagonistic loudmouth we've seen spring to prominence in the Irish and British boxing media this week.
Nowhere near it, in fact: the ABO champion and top-ranked American lightweight has been calling out Ireland's Katie Taylor for the bones of a year, granted, but considering the person on the other side of the phone is but a cold-caller from Katie's side of the pond, she's friendly, more than generous with her time and, above all else, extremely articulate.
For the 33-year-old 'CasKILLA', the week following Taylor's WBA World lightweight title success in Cardiff has been one spent licking lips and fanning flames.
At a press conference in Dublin on Tuesday, Taylor and her team confirmed her first championship defence for 15 December, a fight likely to take place in London with WBA number two McCaskill her opponent of choice.
This is a scrap which, through no shortage of astute pre-promotion, has almost subliminally become the people's choice, too, given McCaskill and team's frequent badgering of the five-time amateur world champion, as well as Taylor's aversion for such verbal jousting.
Naturally, the American's phone has been hopping.
"It's been busy," McCaskill tells The42 from her adopted hometown of Chicago. "A lot of social media – just my Facebook and Twitter and things have went crazy. I kind of have to work that side of it, keep everything interesting, keep everyone excited; I have to share, I have to comment, I have to 'like'.
"It's kind of like a job to keep everything going and to keep my name out there so I can get this opportunity."
Only she already has two jobs: as well as honing her skills as a world-rated boxer, the St. Louis native is a regulatory reporting specialist with an investment bank in the Windy City – a long way from her home in Missouri or, as it once came to be during a tough childhood, her lack thereof.
She first laced up a pair of gloves aged 24 and, nine years later, stands on the precipice of her maiden world title tilt having just recently become the first woman ever to headline a professional boxing card in Chicago.
It's been some journey, but neither gig affords much time for reflection.
"It's definitely a challenge at times, but as long as I try to keep a set schedule – you know, I run in the morning, I get to work at 6:30 in the morning, I'm headed to the gym by 3:30, – as long as I have a set schedule it makes it pretty easy, but it's definitely not the lifestyle that everybody else lives.
People ask me, 'hey, did you see such-and-such on tv?' and I'm like, 'dude, I don't even watch tv – what are you talking about?'
"I started boxing in 2008. It was just like an hour-long class, and it was actually kickboxing. I really had no need to stretch my legs every day, or to be able to kick higher than my head, so there was a guy that was in the same gym but he was a boxing trainer, and after I had finished my classes – I had done about a month with my kickboxing trainer – I transferred over to boxing.
"I'm almost 10 years in the sport, and maybe two years professional. I'd definitely say I've progressed pretty fast, but I owe that to competitive spirit, my competitive nature.
Once I got to Chicago – I actually transferred to Chicago for a job – I found Rick Ramos, and he kept me on a fast pace. He really pushed my career every step. He really didn't let me rest or get complacent. He just had goals – non-stop goals – for us to conquer, and then onto the next goal, and rinse repeat.
Trainer and adviser Ramos has played no small role in manufacturing this prospective fight between Taylor and his own charge, which is expected to be confirmed for London in the coming days.
There have been numerous photoshops (nothing untoward) and mock-up 'missing person' pictures on milk cartons ('If you can identify this woman please report any information to Body Shot Boxing Club at…') as well as transatlantic jabs – most of them flying one-way.
In July, after a scathing rant on his personal Facebook page, he told The42 he felt the Bray woman had "disrespected women's boxing" by demanding her rivals step up to the mark, confirming he had not been approached by Eddie Hearn nor any member of Taylor's team in spite of their insistence that she was finding it difficult to secure an opponent.
Taylor spoke of her annoyance at the remark at her press conference on Tuesday, threatening to break character in admitting she looks forward to meeting McCaskill in her domain. Incidentally, Ramos had already been contacted directly by Eddie Hearn a night prior.
Media sparring and harmless jibes aside, McCaskill believes herself more than a live dog in the fight should she finally get her paws on the 2012 Olympic champion, and suggests Taylor expect the unexpected when champions Irish and American go hell for leather in December.
"I think it'd be a really great fight," she says.
I definitely think that this fight is a fight that Katie will never have seen before. I think there'll be a little surprise – I think a lot of people are surprised by the way that I fight, and the outcome.
"Coach [Ramos] always says that I don't translate very well over tape, and I guess people are just watching tape too much. We don't really do that in our camp. We just make sure that I'm 100%, and that my power growing, or that my stamina is high. We make sure I'm at my best. It doesn't matter what the other team is doing."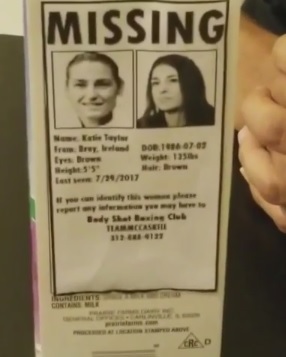 But aside from a career-best pay-day and career-biggest fight, the hard-hitting Windy City blow-in believes she has an obligation to both respect her sport and restore it to its past glory.
Ensuring the women's game isn't dragged into a swamp of chicanery and thuggishness is as important to McCaskill as her own individual career progression, and she's adamant that should she and Taylor finally meet face-to-face in the coming weeks, any chatter on her behalf will be firm but fair.
"I've always had high goals to achieve for female boxing, and kind of bring it back from the days when Christy Martin was big, Laila Ali, all of the big names – Lucia Rijker.
"Ever since they got out, nobody has been ready to take over, and we've had a big lull in female boxing. It's time to bring it back. This is the type of fight that will bring the fanbase back.
Katie Taylor seems like a very respectable girl, so I think we can do this in a high-fashion kind of way. We can do it in a way that's respectable for the sport, and not tear it down.
"I feel like there are things out there that make a mockery of female boxing", she adds, "and all of the people who have opinions that female boxing is not entertaining, or that it's a waste of time – it gives them something to feed on. I just want to cancel that out as much as possible, as well as furthering my career at a high standard."
Team McCaskil would like to wish the best of luck to our friend @KatieTaylor next week. Keep that belt clean for us. @EddieHearn @WBABoxing pic.twitter.com/asw7rTJcWN

— Rick Ramos (@RickRamosBoxing) October 19, 2017
Her own attempts to coax Taylor into battle have included a mic-dropping call-out from centre-ring after her victory over Natalie Brown at Chicago's UIC Pavilion in July – suitably greeted with much fanfare – but McCaskill is quick to clarify the difference between talking brown and merely seeking out competition.
While extremely grateful to her own team, she doesn't have Taylor's sizeable Matchroom backing or its accompanying clout, and so to fight the best, she's required to shout louder than the rest.
"I think we can talk, but in a respectable manner," she says. "I mean, she says she wants to fight the best, and I definitely think I'm at the top level and want to be known as one of the best.
"I don't think there's any harm in saying, 'hey! We should fight!'"
There's all this talk around here that Michael Jordan used to call his opponents' hotel rooms at like three in the morning and say, 'hey, I'm going to score like 30 points on you, and I just want you to know that.' And it's just fun – there's nothing disrespectful about that. It's just part of being a competitor.
"And for us, it's just one-on-one. It's just me and it's her. I can't really rely on fans or my coaches or my trainers – if I want that fight, I have to let people know that I want it."
Indeed, Taylor might be wise to disconnect the phone in her London hotel room come the eve of her throwdown with the puncher from Chi-Town.
"If I can find that number I just might!" McCaskill laughs.
"Going abroad to fight Katie would definitely be an experience. Actually, we thought that I'd be travelling a lot sooner than I'm anticipating. We just thought that I'd have a fight in Chicago and then some fights overseas.
"We're mentally prepared for that kind of thing, so it's not really a shocker. When it comes to boxing, this is business. This is hardcore business.
"It's nice if I go to London, but I'm also kind of just like, 'okay, we'll get on a plane and we'll find a place to train,' you know? It's all about getting back to the boxing. But, of course, I'd love to visit London."
McCaskill was more than willing to rock into Dublin, too, if it would have come to it, though Taylor's much-anticipated homecoming scrap is now being tentatively mooted for next spring.
However, hard and all as it is to believe given Taylor's national treasure status, there might well be a few Irish neutrals when CasKILLA does eventually step to the champion.
I have a high appreciation for the love that I'm receiving from Ireland. We have friends there, and they're picking up newspapers and they're screaming on Facebook: 'OH MY GOD, I've just seen you guys, the reporters are picking you up!' I have an appreciation for that.
"This is going to be a fight that nobody is really expecting to happen, and I'm excited to bring more fans into boxing with this fight. I just hope everybody takes the time to tune in and to follow what we're trying to do here."
As per her word, Jessica McCaskill's final message for Katie Taylor is loaded but above-board:
"Tell her to heal up so we can get to it!"
Taylor's right of reply will be published on The42 on Saturday morning.
Subscribe to The42 podcasts here:
'I look forward to the day I step into the ring with Jessica, seriously. She hasn't left me alone!'