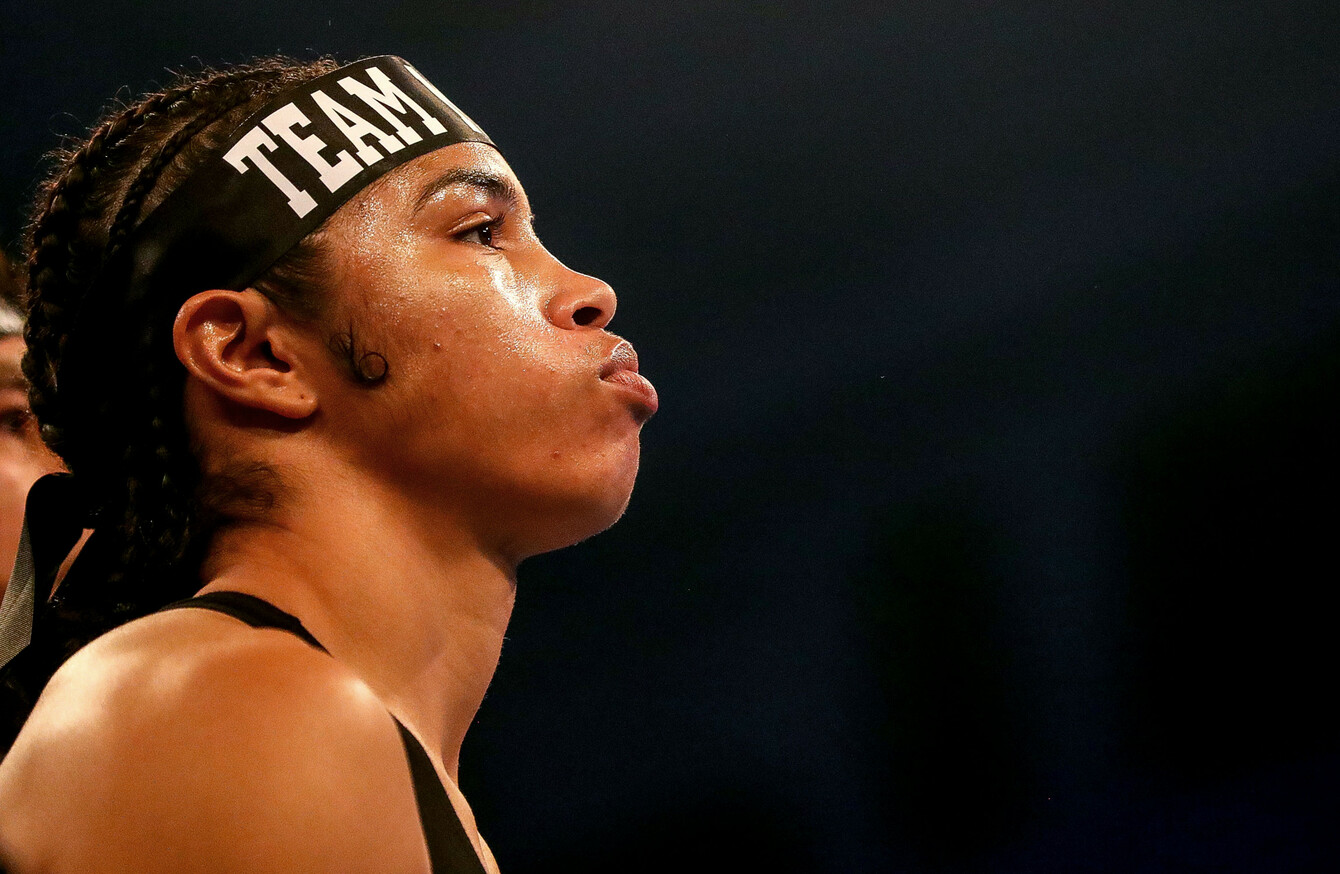 Image: James Crombie/INPHO
Image: James Crombie/INPHO
THE PAYCHECK JESSICA McCaskill received for fighting Katie Taylor in London last December was satisfactory if scarcely life-changing.
To be clear, it was sizeable to the point that it would have changed many lives — it just paled in comparison to McCaskill's annual salary with Chicago-based investment banking company R.J. O'Brien & Associates, and so it didn't necessarily transfigure hers.
It meant a lot, though.
It meant a lot that the Windy City power-puncher was fairly compensated for her efforts – an arduous training camp followed by 10 untamed rounds in which she pushed the world champion close – where in years past women would have been paid pittance for similar.
It meant a lot that she saw fitting financial reward for her part in the first women's fight ever to headline on Sky Sports – a seminal show of faith not only in Taylor, but in McCaskill and her ability to captivate an audience, which she did.
It meant a lot that she was able to show her peers in female boxing that, slowly but surely, change was coming; that they too might one day be sufficiently recompensed for putting their bodies on the line in the name of sport and entertainment, in pursuit of something glorious.
But for 'CasKILLA' herself, not much changed.
Sure, there was a moment in the airport in London en route home when, during a customs pre-clearance, one officer muttered to the other, 'she just fought Katie Taylor', and McCaskill was waved through immediately.
There were plenty of fans gained, too, be they back in Chicago or in Ireland or in London or elsewhere; in that same airport, she found herself shaking hands with strangers even as she was putting back on her shoes on the other side of baggage screening.
But the months which followed her career-biggest night in the English capital brought with them a cold dose of reality. Several follow-up fights fell through: one – in the Bahamas, no less – was lost to a storm; others to opponents' weight issues and other logistical snags.
Offers to face high-calibre opponents such as Barry McGuigan's Northampton lightweight Chantelle Cameron and Top Rank's 2016 U.S. Olympian Mikaela Mayer – two propitious talents paving their own paths towards Taylor – were deemed inopportune; neither woman holds a major title and McCaskill's manager, Rick Ramos, was hellbent against his fighter being used as a shortcut to the top by either heavily-backed 'upside' combatant.
A concoction of these factors saw McCaskill's career stall at a juncture in which it seemed bound to take off, and though she's been constantly training since her fight with Taylor, she hasn't yet stepped through the ropes since her points defeat at York Hall.
Quite recently, she and trainer-manager Rick Ramos found themselves perusing an offer to fight former Taylor opponent Jasmine Clarkson on the burgeoning women's bareknuckle circuit as a means of dusting off the cobwebs.
They decided to hang tight: Eddie Hearn, Taylor's promoter with whom they had so effectively brewed an excellent fight promotion last year, had singled out their native Chicago as the launchpad for his billion-dollar U.S. streaming deal with DAZN.
Sure enough, an Instagram message arrived from Hearn which proved their patience vindicated: after 9 months' of frustration and false starts, McCaskill will return to the ring on Matchroom's show at the 10,000-capacity Wintrust Arena in her hometown on 6 October.
"It's funny", says McCaskill, "like, at the press conference the other day, Matchroom shared my quote, my picture, my Twitter, and next thing you know I have a crapload of new followers; I have a lot of messages and people asking for interviews.
"When you have a fight coming up, the interest spikes. My phone has just been going bananas the last couple of days – just Twitter, Facebook, Instagram.
"People at work haven't really caught wind of it; I've said to a couple of people – I told the CEO who's very involved in my career and keeps abreast of what's going on, making sure I'm okay, which is very much appreciated.
But once the rest of the people in work find out, it's going to be insane. I'm going to have to ask to work from home or something! Fighting in Chicago is going to be amazing.
"You know, I have to remind people why I'm in the position that I'm in. A lot of people have implied that I'm 'such a novice', comparing my resumé with other fighters'; 'why did she get that world title shot?' People said I got paid too much! Et cetera, et cetera.
"I want to make female boxing better by helping fighters to get paid what they should be paid; I want to help female boxers to market themselves correctly.
"All across the board, female boxing is coming back to life – the pay is all part of that. And we're excited to be a part of that."
"We're beyond excited," adds Rick Ramos, the owner of Body Shot Boxing Club in Chicago's Pilsen area, where he trains the 33-year-old McCaskill. "We're just really looking forward to working with Eddie Hearn again.
"Eddie is putting on one of the biggest shows that's been here in a long time, and we're thrilled to be fighting on such a major platform right here in Chicago. This is a huge opportunity for Jessica to shine so close to home.
"Whoever we fight, we're looking for a massive knockout to get some eyes back on us; to make sure people know we're still here, and we're hungry.
"It's going to be a huge occasion, and Jessica tends to step up to the occasion!"
McCaskill and Ramos are intent on making up for lost time: October's ring return is tentatively scheduled to see the entertaining aggressor square off with a recent lightweight world champion who, for now, must remain nameless.
What Ramos can reveal is that their plan is to send this particular opponent home from Chicago with her tail between her legs to make a statement and set the wheels in motion for another crack at the biggest name in McCaskill's division.
Around this time last year, Ramos and McCaskill were busy attempting to lure Taylor into the ring with some harsh words. In an interview with The42, the former accused the Bray woman of 'disrespecting' women's boxing in her claim that "no one stepped up to the plate" when she faced fairly tame opposition in Jasmine Clarkson on her U.S. debut; the latter accused Taylor herself of going hiding using, among other means, a milk carton.
And it worked: Taylor, mild-mannered on the safe side of the ropes though she may be, wanted to put manners on McCaskill immediately only for her own manager Brian Peters to advise that they let the fight marinate before attempting to silence her suitors.
In their pursuit of a rematch, however, Ramos realises that McCaskill's action in the ring will speak louder than any prospective verbals.
He maintains that if CasKILLA can regain momentum from her stellar showing last time out – and if she remains the fighter to have pushed Taylor closest to the brink after the world champion's title defence against Cindy Serrano on 20 October – their paths might well converge once more.
"If we can make a big statement on October 6th, hopefully against this former world champion, maybe a rematch with Katie will be a discussion – maybe it'll be a legitimate idea," he suggests.
And this isn't disrespect. I don't want to disrespect her publicly…again! Katie Taylor is in charge right now. She's in charge of female boxing, I'm not afraid to say it. I don't think anyone is. Everyone wants to fight her, everyone wants to beat her. That's no secret.
"We were lucky enough to get that opportunity once and, who knows, maybe we can get it again.
"I have a lot of respect for Kimberly Connor but Katie blew her away. If she blows through Cindy Serrano, I think Jessica deserves to be in the conversation again. Nobody has given Katie an issue apart from Jessica.
"I mean, the Serranos are on record in the conversation on Twitter after your interview with Brian Peters on The42, where I think Amanda Serrano said that Jessica made Katie 'do the Elvis Presley' a couple of times, which was pretty funny.
"And again, that's no disrespect to Katie: when you're the best, people are going to call you out! People want to fight you."
Absolutely! You guys are awesome. Keep it up. I hope you guys get to do it again with her. I'm one who truly believe Jessica exposed her. I saw her do the Elvis Presley a few times lol God Bless 🙏

— Amanda Serrano (@Serranosisters) August 5, 2018
What's certain, regardless of how you scored Taylor-McCaskill the first time (this writer had it 96-93 Taylor from ringside at York Hall, the judges 97-92, 97-92 and 98-91), is that McCaskill has been the WBA and IBF champ's most competitive opponent to date by a distance.
The American's adherence to her trainer's gameplan, in which Ramos demanded his fighter to "rough Katie up and make her uncomfortable", was effective to the point that Taylor had a point deducted in the seventh round for excessive holding of her marauding opponent.
The Chicago duo feel McCaskill did enough on the night to warrant a draw, but they didn't complain much then and are scarcely seething nine months removed from what remains a career highlight regardless.
Both, however, maintain that had McCaskill attempted to force the issue a fraction more, or had the bout taken place on their side of the Atlantic, the outcome might have been different.
"From our point of view", McCaskill says, "with her losing a point, we feel the fight could have been a draw. I definitely felt that [seventh] was a 10-8 round in my favour as we were up in that round as it stood.
"We're not throwing our toys out of the pram or saying anything conclusive – just that it was a close fight and could have been a draw.
We knew going into that fight that if I didn't stop Katie, I probably wouldn't win. You know, homefield advantage, that sort of thing – it plays into the scoring, as do people's emotions. And that's fine! That's how the game is played – we know that.
"We wanted to gain some respect in the world of female boxing, which I think we did. And we wanted to gain some fans, too, which I feel we did."
Adds Ramos: "You know, I've watched the thing like a hundred times. I'm like, 'Shit, if we'd done a little bit more in those last two rounds, we could have gotten it.' It would have been a little bit more arguable that it was a draw, at least.
I still think it could have been a draw. Maybe in Chicago or in America, it goes down differently. The judges' cards, clearly, were pushing for Katie. But that's fine – we knew that going in.
"We've been to London. If we could do it again, we'd love for that fight to be in Chicago or America, obviously. And it doesn't have to be right away, you know? Maybe it could be next year – the end of next year. Let's see what happens."
McCaskill describes herself as fortunate to have enjoyed many 'firsts' in her six-fight professional career to date.
On the top of being the first female fighter signed to both her promotional company, Warriors Boxing, and Ramos, she's the first woman to headline a fight card in Chicago; she shared the ring with Katie Taylor in what was the first women's fight ever to headline live on Sky Sports; she'll be the first woman to fight on one of Eddie Hearn's DAZN-broadcast bills in the States and, as part of a 6 October deuce in her hometown, McCaskill's curtain-raising bout will also be the first boxing match ever to take place at the Wintrust Arena.
She has plenty more firsts in mind, but predominant is her wish to inflict a maiden professional defeat upon Taylor whom she maintains has long since reached her performative ceiling.
"I definitely think Katie is stoppable," McCaskill says matter-of-factly.
"She has a lot of total fights between amateur and professional. I am a young 33 – almost 34 – as far as boxing is concerned. I haven't had as many fights as most, so I feel I'm a lot younger – physically – than a lot of these fighters. I had maybe 25 amateur fights.
"I think that I'm still getting better with age, whereas I think other fighters are just the opposite. I'm still learning new things but others have fought so much they're in a repetition stage, and they don't have anything new to the table.
"Honestly, if you look at how Katie's fights tend to go: so, she starts off, she gets going, she puts pressure on her opponents and they back down, she starts to throw flurries, and somewhere along the line her pressure gets to opponents: a lot of these boxers can't fight on the backfoot. You see the same thing over and over again.
Katie's not bringing anything new to the table. She doesn't have a lot of power, she's not a big body-puncher. It's like reading the same book over and over again. And it's great for her because it's working! But I do think she hasn't done anything to surprise me in her fights so far, including when I fought her.
"I think I surprised a lot of people the last time – going the full 10 rounds, rocking her a few times; the little flurries that she does – that never happened against me. She couldn't get those off. And I think I'll surprise people if we fight again, too.
Katie's not improving. I think she's done learning. She is definitely stoppable, and I feel my hands are made to do exactly that. We just hope to get the opportunity to expose her again and take it all this time!
Neither McCaskill nor Ramos are demanding an immediate re-run of last year's Christmas clash with the Irish icon.
Both are cognisant that there's a queue; their aim is simply to work their way back to the top of it the old-fashioned way.
Ramos has one eye on high-profile showdowns which might see that process expedited, both on 6 October and beyond: he mentions Amanda Serrano and Heather Hardy – both of whom have world title fights on their respective horizons and both of whom hope to collide with Taylor in the coming months – as prospective options.
He maintains his fighter would "just destroy Hardy" inside six rounds, and says 'The Heat' has previously rebuffed his attempts to lure her into the ring with McCaskill due to the required climb in weight. And he stresses that, while it's doubtless frustrating, he understands why Hardy is willing to make that same divisional jump in order to face Taylor, whom under Hearn's promotional banner has quickly established herself as the biggest financial draw in the women's sport.
But blue in the face from his efforts to elevate that sport's standing, Ramos warns that the female ranks could soon emulate their male equivalent for the wrong reasons, with fighters shirking challenges in order to preserve their records.
He acknowledges, too, however, that with its recent influx in talent and perpetual ascent towards mainstream prominence, women's professional boxing is an industry within which business decisions have become all the more necessary: one wrong move and you could find your boat sunk while the rest rise with the tide.
"If you look at the lightweight division, even," he says. "Rose Volante (WBO champion) is dodging Katie Taylor for sure, and so is Delfine Persoon (WBC champion). They're both hiding. Obviously they don't believe they can beat Katie, so they want to give up their belts yet.
"And I understand that. The belt gives them more bargaining power.
But if the women in this sport truly want to be pioneers – the way Jessica is, the way Katie is – they can't be afraid to lose. I mean, if Rose Volante and Delfine won't fight Katie, why don't they fight us? Jessica has no problem relieving these women of their belts. We've already proven that we're at world level. Jessica will fight anybody once it makes sense.
"But it's gotta make sense, too," he adds.
I got a phonecall the other day asking for Jessica to fight Mikaela Mayer. For starters, it would have been at 132 pounds. I mean, why the hell would we take that fight? We've got to cut weight for a six-rounder against someone with really no publicity, with no title. I said: 'What are you going to give us, like four grand? Come back to me when you've got a world title and you're going to give us 30 grand.'
"Don't even call me with that crap," he laughs. "Jessica has already proven she'll fight anybody: she went to London to fight Katie, so she's seen as a gatekeeper. But we're not going to give that up easily. We're not going to help anyone else's career. We're trying to end careers, not help them!"
McCaskill, too, is looking upwards rather than entertaining the notion of sliding back into the bottleneck. She considers herself a contender, not a prospect – and taking last December's performance into account she does so with good reason.
Key to it all is 6 October in Chicago, but her vision for the next 12-18 months is relayed with a stern confidence: by concussive hook or by crook, she will find a way to deliver Taylor's reckoning.
And until then, she wants her former foe to keep doing what she does.
"The goal after this fight in October is definitely to get back into a world fight, whether it's with Katie or Delfine Persoon or another champion," she says. "In essence, I want all those girls to keep winning so I can take their belts.
We always felt that we had to force the fight with Katie the first time, and if it's going to happen a second time, it'll be by our hand as well. So, if we're in world-title contention in the rankings and we can't get Katie, then we'll take somebody else's belt and make her come to us.
"And, look, if someone beats Katie Taylor, then there's a chance that she could decline rapidly. Her stock would certainly decline. And then it won't mean anything when I fight her an knock her out.
"So, to Katie and those other girls, my message would be: 'Keep winning… I'll see you soon!'"
The42 is on Instagram! Tap the button below on your phone to follow us!