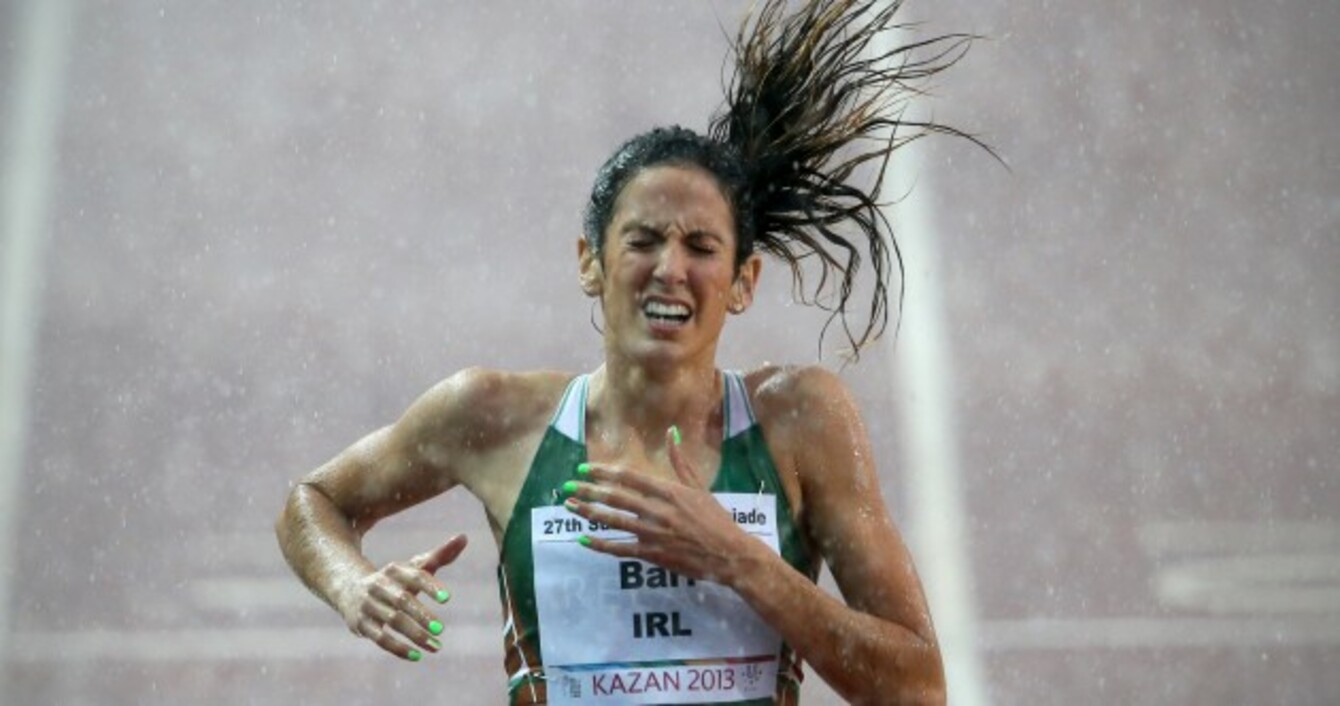 Barr in action at the World University Games, Kazan 2013.
Image: Cathal Noonan/INPHO
Barr in action at the World University Games, Kazan 2013.
Image: Cathal Noonan/INPHO
IT WASN'T SO long ago when Jessie Barr was considered one of Ireland's brightest athletes. A young 400 metre hurdler with a prodigious future. Jessie, not her brother Thomas. A genuine talent, potential which knew no bounds.
Five years ago, she burst onto the scene with a fifth-place finish at the U23 European Championships. Then, there were finals at the World University Games and, 12 months later, the European Championships in Helsinki. The potential had developed into real promise.
There was the 2012 Olympics, too. Having just missed out on the qualification time for her individual event, Barr was part of the Irish relay team in London. It was naturally disappointing not to compete in her main event but at 23, it was only meant to be the start for Barr. A good learning curve. It was expected, not hoped, that it would be the first of many Games.
Rio was an altogether different experience. Barr watched every second of the most recent Olympics from afar, and hated it; that's even allowing for the remarkable performance of Thomas as he came within touching distance of Olympic bronze. His near miss may have been agonising but back home, Jessie was going through her own torment.
"All I wanted was for both of us to be on the plane to Rio," she tells The42. "Mum and Dad were looking for places to stay and were going to be booking and I just told them not to plan anything around me. I've learned not to.
"It was awful, I'm not even going to lie. I hated Rio. I watched everything and hated it. I loved talking about Thomas and his achievement but part of me, there was this little thing in the back of my head thinking I wanted to be over there, I wanted this for me too.
"It's a selfish thing but athletes are selfish. I'm absolutely delighted for him, he deserves everything he's getting but I want that as well. I would never want what he has, I would never want to take that from him but I want it for me as well. I felt hard done by."
To put it mildly, the last Olympic cycle was a difficult one for the Waterford native. It was an injury-plagued one and four years filled with endless frustration and discouragement.
A stress fracture to a toe, two Achilles tendon injuries and calf problems. It has been non-stop for Barr and after Rio she questioned her future and wondered whether it was all worth it anymore. 2014, 2015 and 2016 were effectively write-offs and this is the fifth January in a row Barr has been battling injury.
Naturally, the flame began to flicker and that threat of optimism threatened to snap. Rio may just have been one setback too far. She had gone from being in peak physical condition and on the verge of a major breakthrough to the athlete whose potential had expired.
"I feel like I'm in a constant circle of injury recovery and trying to get back fit," Barr continues. "I spend more time on a Watt bike or in the pool than I do actually running.
"I've had so many minor injuries that I'd say I'd have to go back and look through my diary to remember them all. I've had little niggly injuries. I was never set back with a long injury which had me out for say six months but it was maybe two months and then a setback.
"Always one step forward, two steps back, two steps forward, three steps back. I never really got to push on and that's what I hope for this year. Just a good stretch and consistency in training."
Barr continues to battle a minor calf problem she sustained earlier this month but, thankfully, it's nothing significant and she hopes to be back racing when spring rolls into summer. That's the plan, anyway.
In so many ways, it could have been a lot different. Before Christmas, Barr had convinced herself she had fallen out of love with the sport. It wasn't what she wanted to do anymore and she essentially hung up her spikes and was at peace with her decision.
"2016 was a disaster," the 27-year-old explains. "I had entered the year all guns blazing having worked my way back. I raced competitively for the first time in a few years at a local event in Belfast in May. The week after I was involved in a car crash. It was my fault as I went into the back of someone but I ended up in a boot with a foot injury.
"It was made worse by the fact all the injuries had no timeline for a return. With an Achilles tendon it's just until the pain subsides. One day it might be fine and you go and train and the next you're in agony. And it was just a case of going on a week-to-week basis. I'd be crossing races off my calendar because I just wasn't ready.
"I did find it tough to pick myself back up for the monotony of training when all I do is train and never get to race. I do it for the racing because I don't enjoy the training enough to keep me going.
"After Rio I came back in September and started doing my own stuff and then I went back to the [training] group. I just wasn't enjoying it. I was going to training and doing the same thing everyday and I just didn't want to be there. I've never had those feelings.
"I remember one day I was doing something boring, think it was taxes, and I'm not funded anymore. I knew without Sky Sports [ambassador] I actually don't have an income and I'm a student as well so I've a lot of outgoings and not a lot coming in. Why am I doing athletics, what has it done for me over the last three years?
"All athletics has done has made me cry, it hasn't given me anything good, I've given so much to it and I haven't got anything back. Maybe it's time I quit and it was the first time I've ever thought it. I'm only 27 and I always thought I'd go onto Tokyo and that was a given. It kind of dawned on me, maybe I do need to just quit because it hadn't given me much enjoyment. I've cried more times over injuries in the last number of years than anything else."
And the decision was made.
"I was living a normal life," she adds. "College got very busy and it worked out well because I had a lot of work to do but then when it went back to normal, I started to miss it."
And then the rethink.
"I think if I was to do it right now, I wouldn't be content. I think I would look back with regrets and I remember talking to my Mum and Dad and they told me if I wasn't 100% sure or had any doubts over retiring, don't do it."
Despite everything that has happened, and everything Barr has gone through, the fire still burns. There is still a hunger and determination to overcome the injuries that have threatened to overshadow a career which promised so much. This is not how she is meant to bow out.
"There is something there niggling away and that will continue to niggle away. The reason you start is because you enjoy it and love it but if that's gone what else is keeping you there? I didn't have competitions or racing to keep me going so I was really training for the sake of it.
"But what has kept me going over the last few years is glimpses of potential. I've always been the athlete with potential but never saw it. I do think there is still potential there but I really have to dig deep and find it at the moment. It's buried in of all those years of injuries.
"I do feel I look back on my career and think what could have been. Even the years I was injured, I wonder was there something I could have done differently. I'm very bad at looking back and thinking what could have been. I don't want that and that's why I'm glad I didn't quit because I would have regrets."
At the moment, it's baby steps — but steady progress is better than none at all.
Barr is back enjoying training again and there is a clear goal at the end of it all; to get back racing this summer in one last bid to save her career. 2017 is, unfortunately, make-or-break and Barr recognises that herself. She's the first to admit it.
What are they
really like?
Rare insights on sport's biggest names from the writers who know them best. Listen to Behind the Lines podcast.
Become a Member
"My motivation was at an all-time low but it's getting there again. I've always concentrated on the end result and forgot to enjoy the process or experience. I'm starting to do that again and hopefully that will bring the desired result.
"I've been kind of tipping away and when this calf flared up again, I was like for 'God's sake' because I thought I was starting to make progress. My target is May but at the moment I don't know how it will go. Will I get back racing? I don't know. I'm taking it session by session because that's all I can do.
"For six weeks I had quit and I was at peace with that so I'm just happy to be back training and enjoying it but I think this will be a make-or-break year. For me it's the enjoyment and that's been the biggest thing. I have to enjoy it.
"I'll see how this summer goes. If I had another summer of injuries again it will be very, very hard to pick myself back up."
Unfortunately it's the reality of the situation, and Barr has always been fully aware of it. A lot of that comes down to the fact she has a Masters in Sports Performance and is currently doing a Phd in Sports Psychology. While athletics is her first love, there is no desperate attempt to hang on in fear of having nothing else to turn to.
Her work with Sky Sports as an athlete ambassador has also given her a fresh perspective or, more importantly, a greater appreciation of sport and what she is lucky enough to do for a living.
"I do a lot of work in schools and that nearly reinforces your motivation because you're talking to all these kids about how great sport is," she says. "And you realise it is great and think 'what am I talking about, why am I being so down about it?'
"And this Sky programme has probably helped me as much as I've helped any kids because every time I go in, I remind myself why I'm doing it. Sometimes when you've been injured for so long you forget why you're doing it.
"I'm finding ways to get my motivation back but at this stage now my aims are now very different. I've always been looking to World Championships and forgetting about the process and getting there. Now it's just about running, plain and simple.
"Working with these kids gives me a distraction and I don't just have to think about myself and injuries. It means nothing to them and that helps a lot. You leave all your problems and it reminds you of when you were starting off and being exciting about sport.
"Actually going into schools and saying I was retired would have hurt. It would have hurt a lot because I'm only 27. They would ask questions and wonder so I feel I still have more to give in athletics and that's kind of what's keeping me in it.
"As hard as that summer [just gone] was, I've had to let it go because I can't keep holding onto it because it makes me angry. I have to keep looking forward. I'm going to keep going and if I feel during the summer that it's just not there anymore then I'll probably be happy to [retire]. But I do feel there is something more to give.
"I have been forgotten about so there's no pressure anymore. I can go under the radar and just go out and run. Any race will be progress but at the same time I am still competitive. That's what is keeping me going anyway."
One step at a time, Barr is working her way back. Let's hope this next Olympic cycle will bring her more luck and we'll see the Barrs — Jessie and Thomas — wearing the Irish vest for years to come yet.
"I would love that, it would mean a lot to get back. All I can do is try my best and we'll see what happens."
The42 is on Instagram! Tap the button below on your phone to follow us!