DUBLIN BOSS JIM Gavin was heavily critical of the free count against his side in yesterday's All-Ireland final and insisted that 'not only were we playing Mayo but we were playing the referee as well'.
Gavin steered his side to All-Ireland senior football glory in Croke Park but expressed his annoyance with the performance of referee Joe McQuillan.
Dublin had 32 frees awarded against them in contrast to 12 frees being awarded for them.
And Gavin believes it is reflective of a trend that has hampered his side throughout the season.
"That's just beyond me. I can't understand that. I really can't. That's one of the very disappointing things. Not only were we playing Mayo but we were playing the referee as well.
"For the whole game, there is a double count going against us. All the time. And it's not only today. We probably held our counsel for most of the games but that has been the trend.
"We are getting very few frees, particularly from the forward division. It's a fight that we have in every game, that opposition players are getting more frees than we are. It's disappointing."
Gavin refuted suggestions that Dublin were cynical in the closing stages of the match as they sought to protect their lead as Mayo attacked.
"Anybody here can ask me are Dublin a cynical team and we're not. We play the game with certain values in the squad and we play the game the way we believe it should be played.
"At the end, that was just Dublin players getting frustrated. That free count is just not acceptable."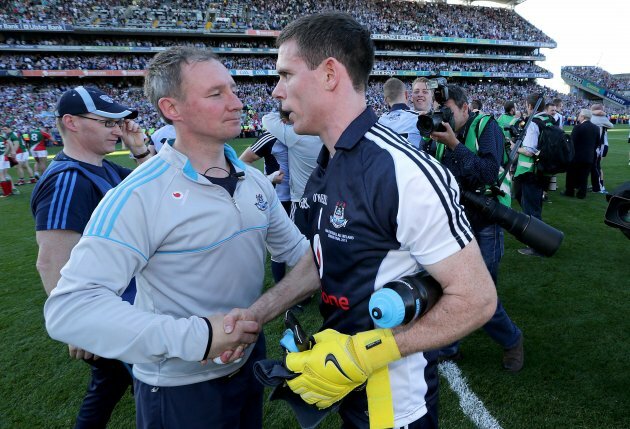 Jim Gavin congratulates captain Stephen Cluxton after the game
Pic: INPHO/Morgan Treacy
Champions
Victory yesterday saw Gavin join a unique GAA club as he became an All-Ireland winning manager after claiming the Sam Maguire Cup as a player in 1995.
But he lauded his players for yesterday's feat, particularly after they finished the game with both Eoghan O'Gara and Rory O'Carroll carrying injuries and five substitutions having already been made.
"No comparison. Absolutely none. It's all about the players. We take a player-centred approach to it and we are just facilitating their hopes and ambitions.
"We had a lot of injuries on the field there and we weren't getting the roll of the referee. Rory got a bang and his mobility was gone and Eoghan's hamstring was more or less torn.
"We were defending with 13 men but that's a tribute to their resolution that they worked their way through it. We did a few tactical moves on the sideline but essentially it was all their work. They showed great heart to come through it."