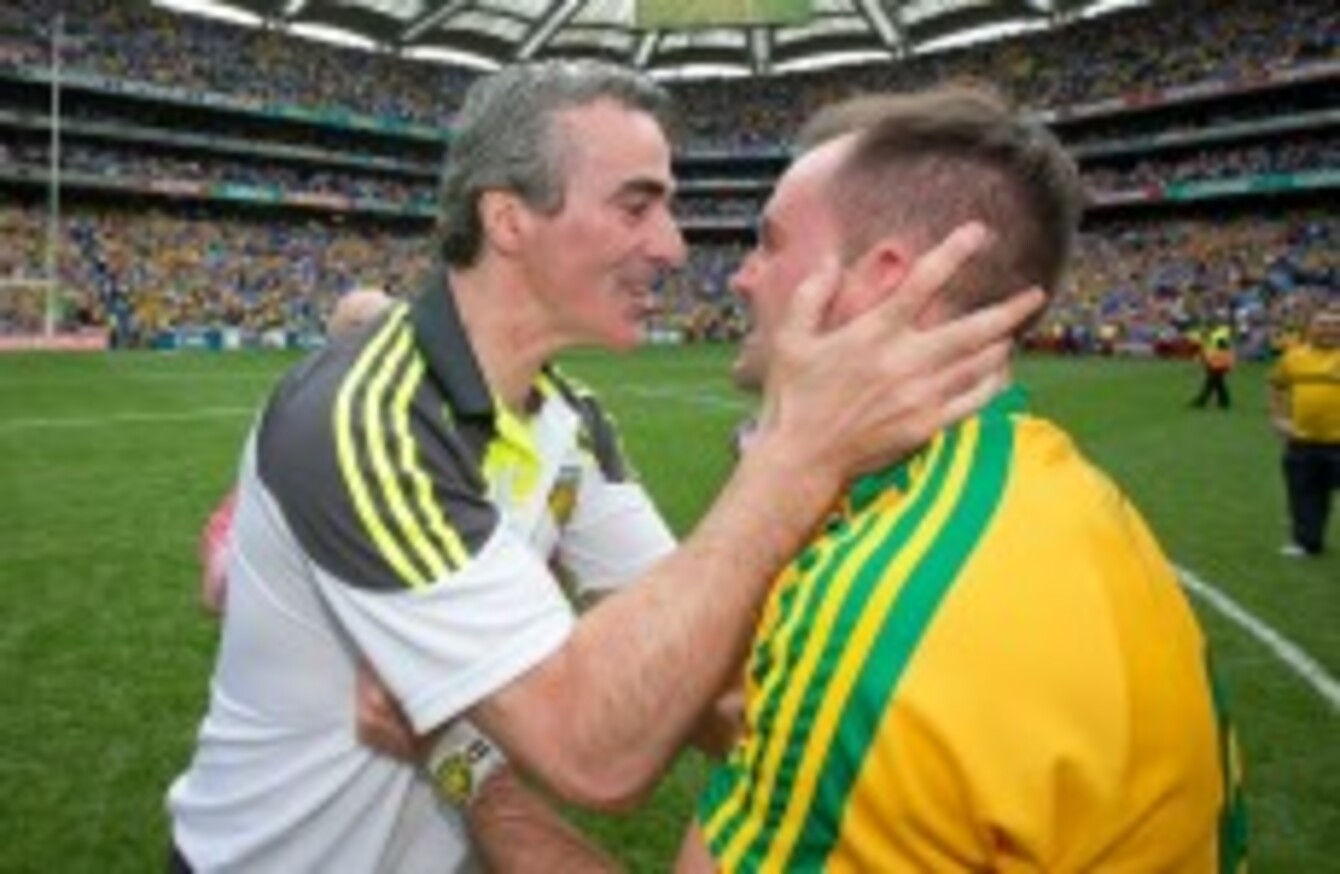 Image: Morgan Treacy/INPHO
Image: Morgan Treacy/INPHO
LAST OCTOBER JIM McGuinness cut his ties as Donegal manager, bringing an an end to a four-year cycle where he overhauled the fortunes of the county's football makeup.
His sporting focus has shifted to Celtic where he works as a performance consultant.
And Karl Lacey, one of his former onfield stars, believes there are no limits what McGuinness can achieve.
"Jim will go to the top if he really wanted to. He's obviously thinking about management or coaching in the soccer club as he's doing his badges through the FAI. I never had the conversation with him about it.
"But I see he was in Saracens there as well (recently), so he's opened huge doors for himself. He's a big sporting personality now in Ireland. He's got the CV, he's had the success."
McGuinness had an enormous influence on Lacey's career and forged a close alliance with him and the rest of the Donegal squad.
But since they received the news of McGuinness's seismic departure via text message last October, Lacey and his former boss have travelled separate paths.
"Yeah he has (just removed himself). I've got one or two texts. Obviously he's still following us. He's watching out for results. I think he was at the Tyrone game in Ballybofey.
He's a busy man, he doesn't be home much at all. I'd love to catch up with him but he hasn't been home. I suppose Celtic is winding down now, hopefully he might be home more in the summer time. I'll catch up with him then.
"That's just typical Jim, he steps aside, when things are done, he moves on. I think he didn't think he could take us any further so he was happy to step aside. You knew by the text message that was it, there was no way you were going to convince this man to stay on.
"I think maybe that's what he was afraid of too, if he rang a player or two, the players would probably try to convince him to stay. He got the text message out to players directly.
"Jim's not my focus now for the summer time, hopefully we'll catch up with him and we're always good friends."
And Lacey has full confidence that Donegal have an adequate managerial replacement in Rory Gallagher.
"What Jim did with us in the four years was incredible. But as a player, you've got to move on. It's in the past now. I think what Rory did with Jim in the three years out of four was massive as well and I don't think he got the credit that he deserved.
"He's in there now and he's the main man now so hopefully he can prove that he's every bit as good."