FORMER DONEGAL SENIOR football manager Jim McGuinness was a guest on Second Captains last night on RTÉ.
McGuinness is currently promoting his book, 'Until Victory Always', and the Glenties man was asked some tough questions by presenter Eoin McDevitt.
During his time as Donegal boss, McGuinness dropped All-Star defender Kevin Cassidy from the panel in 2011 after the player revealed some apparently confidential details while contributing to a separate book.
McGuinness stepped down as Donegal manager last year and was replaced by Rory Gallagher, who recently expressed his disappointment at some of the content in the McGuinness book.
McGuinness, who's now working in a coaching role at Celtic, disputed suggestions that he may have been guilty of double standards by revealing some inside information in the book, insisting that he was merely giving an honest account of his time in charge.
Here's the full transcript of his exchange with Eoin McDevitt on Second Captains last night…
Eoin McDevitt: "Does it sadden you that you fell out with two of them, if I can put Kevin Cassidy in that bracket and Rory Gallagher, your assistant; do you find that sad, in the context of what we've talked about, that you built up that bond with all these guys?"
Jim McGuinness: "Of course. You don't go into any situation and look for conflict. Absolutely not. But, I suppose, management is about decisions, and it's about the decisions you make. You don't wake up and say that you're going to get rid of an All-Star. You know what I mean? You just don't do that."
EM: "Of course."
JM: "So obviously there's a lot of thought processes that bring you to that point. An issue arose, you look at the issue, you look at it from the terms of the individual, and in terms of the group. And I personally felt at that time that it was a situation where the group was compromised. We had other situations where individuals within the group were compromised and we dealt with it a different way, because they only compromised themselves. But when the group was compromised, what's to say that somebody else couldn't do something similar the following year and the wheels come off and the whole thing dissipates? The group is the most important thing. Nothing is more important than the group and that's why every decision that was made was based around that."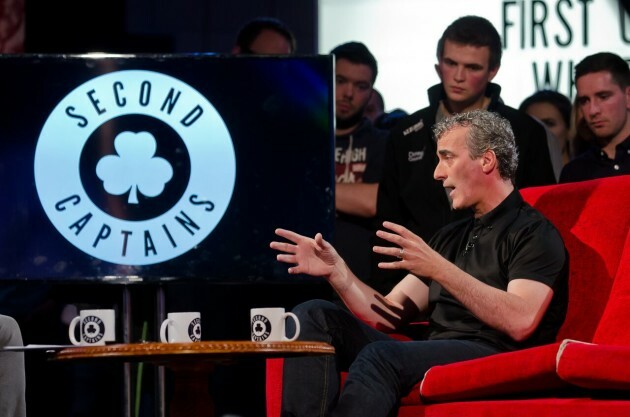 Donal Glackin Jim McGuinness Donal Glackin
EM: "Well, say in the case of Gallagher, more specifically, he's talked about being disappointed that you chose to comment on the break with the management team. He says, 'The players, the management and backroom team had a very clear understanding that what happened in the group remained within the group'. What would you say to that? What would your reaction be to what Gallagher says there?"
JM: "I don't think there's a need to react to that. I've said in the book what I wanted to say in the book and that's my perspective of what happened…"
EM: "So you don't see any double standard in Kevin Cassidy divulging details of what went on in the squad and losing his place in the squad for that…"
JM: "No."
EM: "…and you now talking about it in the book…"
JM: "No."
EM: "Can I ask you why not?"
JM: "Because, in the same context as Alex Ferguson writing a book after he stepped away, it's after the event. The situation with Kevin was, everything that we were doing in that moment… we were trying to win the All-Ireland. We were putting our lives on hold to try and win the All-Ireland, and everything we were doing in that moment was laid bare for every single manager in Ulster and every single manager in the country. And every single method that I was bringing to what we were trying to achieve was laid bare in that moment. I'm gone now and there's another man managing Donegal, and that's why Alex Ferguson has written his book now; because he's gone from the Manchester United job. It's the exact same context with me. That's what people do. They explain what happened when they were in a job after the event, not during the event.."
EM: "But those guys are still there, though. Gallagher is still there, for example. Cassidy is not but Gallagher is still there. Some of the players are still there, so when you, for example…"
JM: "But it's different methods. Different manager, different methods. Rory has a different system to me."
Exclusive Six
Nations Analysis
Get Murray Kinsella's exclusive analysis of Ireland's Six Nations campaign this spring
Become a Member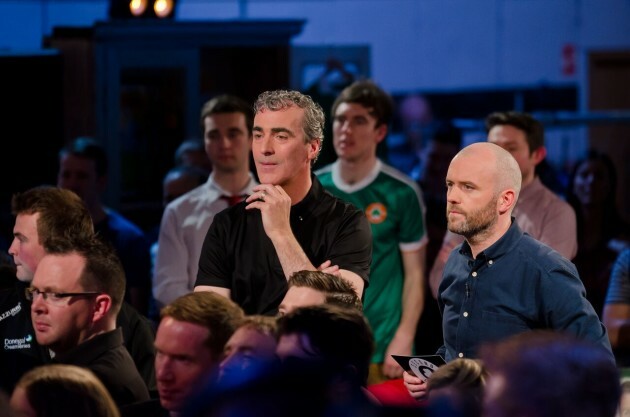 Donal Glackin Jim McGuinness and Eoin McDevitt Donal Glackin
EM: "Sure, but when you talk about something like, for example, you're coming home from the Mayo All-Ireland semi-final from Croke Park; you're on the bus on the way home and you say, 'Rory had been trying to convince me that we needed to rebuild from the beginning now and that a lot of the senior boys had had their day'. I've got to be honest with you, when I read that I was thinking, that might be awkward for him now given that he's managing those players and that might impact on that somewhat. It could be potentially a bit damaging there."
JM: "That's what happened [laughs]. It's in the book. That's what happened, that's what the book's about. If I didn't put in the book what happened, people would be saying, you fudged things… if I didn't talk about Kevin Cassidy in the book. There's 320 pages in the book but we're talking about Kevin Cassidy and Rory Gallagher now. I've done a lot of interviews in the last couple of weeks and that's been the tone, whereas the book is about much, much more than that."
EM: "Sure and, in fairness, that's only a part of the interview but I do think it's a very interesting part of the story."
JM: "Yeah, but how much time have we spent on it tonight? Because this is what sells and people love conflict. Tomorrow morning, we'll wake up and you'll see something in the paper about it and they'll be looking for Rory to comment on it. Rory's in the job now, I wish him well, I wish the boys well, they need to get after that Ulster championship next year and everybody needs to move forward. What was said was said because it happened, and if I didn't do that I wouldn't be true to the book."
EM: "Just to be clear, I don't want us to be sitting here and looking like we're going after salacious sort of information. I just find it fascinating…"
JM: [laughs]
EM: "…the relationship that you guys built up and the way it fell apart. It was one of the most amazing management teams that we've seen, one of the most amazing stories, in the fact that the two guys at the centre of it now are in a situation where, for example, you'll be having reunions later on… in 10 years and 20 years… do you ever see a scenario whereby you could — the two of you could — sit down, have a drink and hopefully bury the hatchet."
JM: "I don't know. We'll have to wait to see what happens."
EM: "All right. We'll talk about Celtic, Jim, because I'm equally fascinated by that…"
JM: "Is the grilling over, is it [laughs]?"
You can watch Second Captains' interview with Jim McGuinness in full by clicking here.