TO MARK TRANSFER Deadline Day, or as it's known in some quarters, 'Jim White Day,' the ubiquitous Sky Sports News presenter spoke to us this morning ahead of a busy few hours.
Read on below for his thoughts on the big move to watch out for, the absence of Harry Redknapp, the popularity of Irish colleague Rachel Wyse, Sky Sports News no longer integrating supporters with reporters, whether he has every Premier League manager's number on his phone, his favourite memories from past Deadline Days and much more…
What goes on behind the scenes on Deadline Day? What sort of stuff are you doing to prepare around this time?
Behind the scenes, there's an enormous amount of activity. It's not just me and Katie Abdo and Hayley McQueen who'll be flat out tonight. Producers and people like that (will be busy too). A big part of it is gathering information and sifting through to ensure what we get is accurate before it goes to air. It's all about making sure things are good to go and we're on the ball with it. Everybody's got to bring their A game to Sky on a day like today, myself included. So there's a bit of pressure all round, but we all relish it.
What's the most challenging aspect of covering Deadline Day?
One of the most challenging things is to be ready for the completely unexpected moments — when something comes out of the blue that you totally don't expect and you have to react to it. Naturally, it's great if you have pundits alongside you like Jamie Redknapp, Thierry Henry or later on tonight, Niall Quinn, because these guys know the game inside out. We rely on them so much. If something comes out of the blue, we have to be ready, we have to cope with it, try and work out why it's happened, the reasons behind it, what it means for the selling and the buying club, all that kind of stuff.
Presenting obviously takes up a lot of your day — do you still get much time away from the spotlight to do a bit of digging and look into transfer stories behind the scenes?
I do that quite a bit, it's part of my DNA. Before I go on air tonight, I'll try to be on top of as many deals as I can. I'll make a whole bunch of phone calls over the course of the day, to make sure I know where certain deals are going and when they might get over the line, if they are to cross the line, or if they might start to falter. Like you, our business is very much about who you know in terms of contacts and whether you're going to get reliable information from them. Having said that, once I'm on air, the opportunities to speak to people are few and far between. I rely on commercial breaks for that. But when those breaks come along, I maximise the moment.
Is it true you have every Premier League manager's number on your phone?
I don't have every manager's number, I've certainly got a lot of them. I've every club covered. If it's not the manager, I'll be able to call somebody else within that club. If anything breaks regarding a certain club, I'm able to take it on a bit further with a call here and a call there, so I'm pretty well equipped.
Are you expecting any big last-minute deals today?
The beauty of it is that you never really can tell. At the moment, all the talk is about Saido Berahino potentially leaving West Brom. Everybody was amazed yesterday when Newcastle came in with £21 million (€27 million) — it might actually be a little bit more than that — but this was a cash bid, which is quite unusual. All the money was up front.
I know Stoke have been monitoring the (Berahino) situation very closely. They've discussed a fee and talked money. A source told me yesterday that they have actually made a bid. So that's unconfirmed. Tottenham we think are interested in Berahino and they will (probably) bid over the course of the day. Of all the bids, that's the one I'm keeping my eye closest on.
Of course, Everton will do business, there's no question about that. Other business will be done all around the country. Whether the big guns will do business, I don't know — Arsenal, Manchester United, that remains to be seen. And that relates to what I said earlier — I need to ready, because you need to know who the player is, where he's coming from and what he might give one of those clubs.
Looking back on past transfer windows, do you have any best or worst memories?
One that really got me going was Gareth Bale, when he went to Real Madrid, which remains a world record. I'll always remember getting a call from one of Bale's representatives saying 'deal done, crossed the line, new world transfer record'. I couldn't get my head around that — I was amazed. It was brilliant to know that so quickly.
One that still baffles me is Peter Odemwingie (who played for West Brom at the time) pitching up to Loftus Road. He was effectively saying 'please buy me' and QPR weren't prepared for it. I didn't expect it, nobody expected it. But Peter Odemwingie is such a nice guy that even he can laugh and joke about that incident. That says an awful lot about the player himself.
Do you have a favourite Deadline Day from down through the years? I assume the Fernando Torres and Andy Carroll one must rank pretty highly?
Yeah, that ranks pretty highly. I remember Berbatov going to Man United and Robinho going to Man City at the same time. Fernando Torres going to Chelsea from Liverpool for £50 million. These were great, great moments. But you never know, we might be talking about the biggest one tomorrow, having had a big one the day before.
You've become rather synonymous with Deadline Day yourself. Are you aware of things like Deadline Day bingo?
Yeah, it's a crazy day. The bookies are running on what my first catchphrase is going to be. 'This just in,' 'you're never going to believe this' or 'breaking news'. The lovely thing about it is it's harmless, it's fun. It's not fun for the guys trying to do the deals, that's for sure — it's heavy-duty business. But for me, it's terrific. It's immense. I'm thrilled so many people get pleasure and enjoyment out of it.
You're speaking to me shortly before 9am and you'll be on until very late tonight. How exhausting a day is it? How many cups of coffee do you need to drink?
I'll certainly be whacking into some decaffeinated coffee tonight before I go on air. It can exhaust you, but an hour goes like five minutes — especially that last hour between 10 and 11, when everything is happening. I'm in a revolving door that I just can't get out of. You give it everything — it's what I said earlier about bringing your A game. I hope to do that again tonight, because you don't want to short change anyone. So you give everything and you look back and think: 'What on earth was that all about?' But it's terrific fun.
Do you miss another person that's become irrevocably associated with Deadline Day — Harry Redknapp — given that he's not managing anyone these days?
Sean Dempsey Harry Redknapp and his car window have become synonymous with Deadline Day. Sean Dempsey
I used to love when Harry would emerge from the training ground and roll the window down. He was always so good. When he was at QPR, the reporter down there in the wind and the rain was always assured of getting a mug of coffee or a cup of tea from Harry. He was terrific. But Harry will be watching — I know that. I'll probably speak to him before I go on air. He's in the know — he's helped me before and he'll help me again. But tonight, another Harry may emerge. You never know!
Given Deadline Day's popularity over the years, it inevitably attracts cynicism from certain quarters? Do you ever pay heed to the criticism?
I can't take that on board. I can't pay attention. Anyone that's tired of it needs to realise it's harmless. The bottom line is it's fun. If anyone's ever tired of it, then they've got their own reasons for that.
In previous years, reporters were surrounded by fans but this practice has been discontinued after increasingly farcical and often inappropriate scenes. Was that a regrettable but necessary step in your opinion?
The fans still have their own part to play and they do play a part in it. You move on — nothing lasts forever. It's good to change it and there was a reason to change it, and they did. But I think it's now bigger and better than ever.
Is there ever a feeling of pressure to live up to the 'Jim White' character, or to outdo what you did last year?
No, I go in with a clean slate every time with the outlook that 'this is the one'. Expect the unexpected. This is the biggest of all time. So everything that's gone on before, I put it in the back of my mind. And I give the next one an absolutely fresh approach with a punch of energy.
One figure who's obvious very popular over here is Dublin-born Sky Sports broadcaster Rachel Wyse. What are your thoughts on her as a presenter?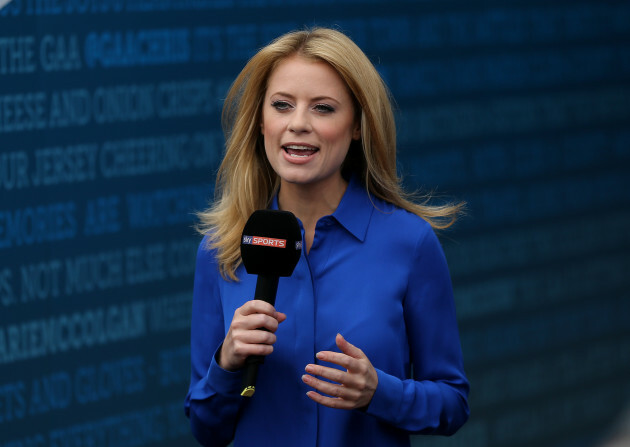 Cathal Noonan / INPHO Sky Sports presenter Rachel Wyse is a highly popular figure in both Britain and Ireland. Cathal Noonan / INPHO / INPHO
I think she's terrific. She came to Sky with very little experience. But she's settled in magnificently and become a very accomplished broadcaster. I'm aware that she's very popular in Ireland, and it's not hard for me to work out why. She's got a delightful nature on air and it's exactly the same off air. She's one of the nicest people you could ever meet, Rachel, and a very good broadcaster, and she's got an immense future in front of her.
Finally, any tips for today? What should we look out for later?
Watch out for the big one. The big deal that everybody will talk about comes when you least expect it. So it's all about being ready, and I'm ready.
Jim White will be on air from 8pm tonight on Sky Sports News HQ as the January Transfer Window comes to a close.