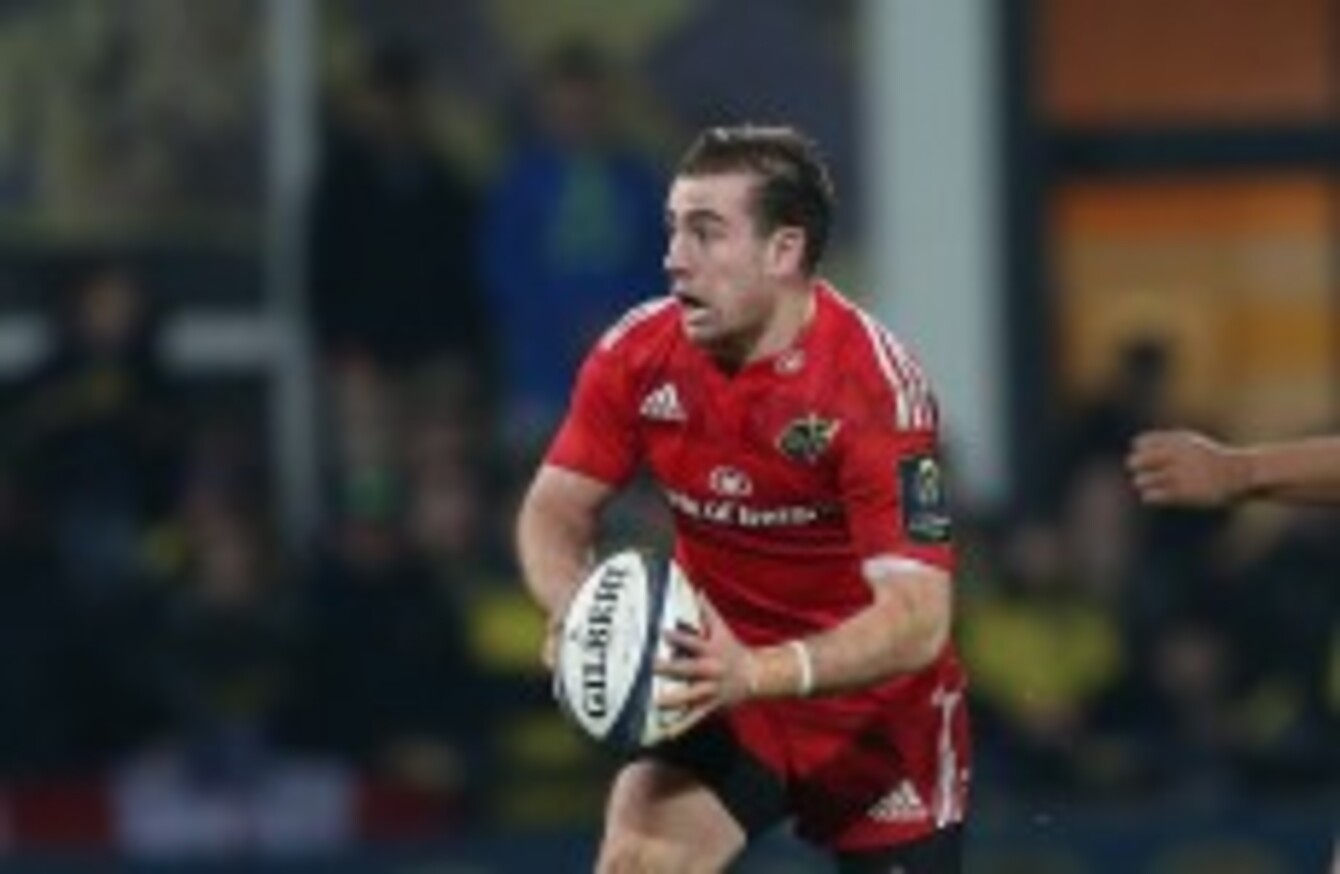 Hanrahan has been behind Ian Keatley at out-half.
Image: Inpho/Billy Stickland
Hanrahan has been behind Ian Keatley at out-half.
Image: Inpho/Billy Stickland
RONAN O'GARA believes JJ Hanrahan has shown courage by agreeing a move to Northampton Saints.
It was announced yesterday that the 22-year-old out-half/centre would be departing Munster for the Premiership club next season after being left frustrated at the lack of opportunities afforded to him by head coach Anthony Foley.
Munster legend O'Gara, these days coaching at Racing Metro, admits it hurts to see a player of Hanrahan's quality leave, but says the province did everything in their power to keep him.
"I can tell you it's nothing to do with money — it's a pure rugby decision," O'Gara told Hugh Cahill on 2FM's Game On tonight. "He feels at the minute that Anthony has placed his faith in Ian Keatley and he doesn't see that changing in the 6-18 month period.
"So his vision is to surpass (Stephen) Myler in the Northampton team and look good in a good team. It's obviously a bit risky but he is backing himself.
"Then in two years' time when he is proven and, in his eyes, when he's pushing Johnny Sexton in the Irish team, he would obviously love to come back to Munster again.
Believe me, Munster did everything and JJ appreciated everything they did but in this case it's a pure rugby decision which, say what you want, you've got to admire the balls of the young fella because no one has done it before.
"He's just in a hurry and he is ambitious, which is crucial if you want to be a world class number 10 because you have to back yourself at the times when people keep knocking you. You've got to get up and this is the route he has taken."
While praising Hanrahan's bravery for taking the risk in order to further his career, O'Gara added homegrown talent is the lifeblood of Munster and therefore needs to be retained at all costs.
"For an U20 World Player of the Year nominee, it shouldn't happen," he said. "These are the type of players who should be driving Munster.
He's a local boy, he's everything that is good about Munster and I think that's what makes playing for Munster so special.
"10-12 local players with some shrewd signings– that has been the heartbeat for 20 years. That's why it hurts people and they care about it because it is such a great team.
"It shouldn't happen but it is happening and that's the reality."