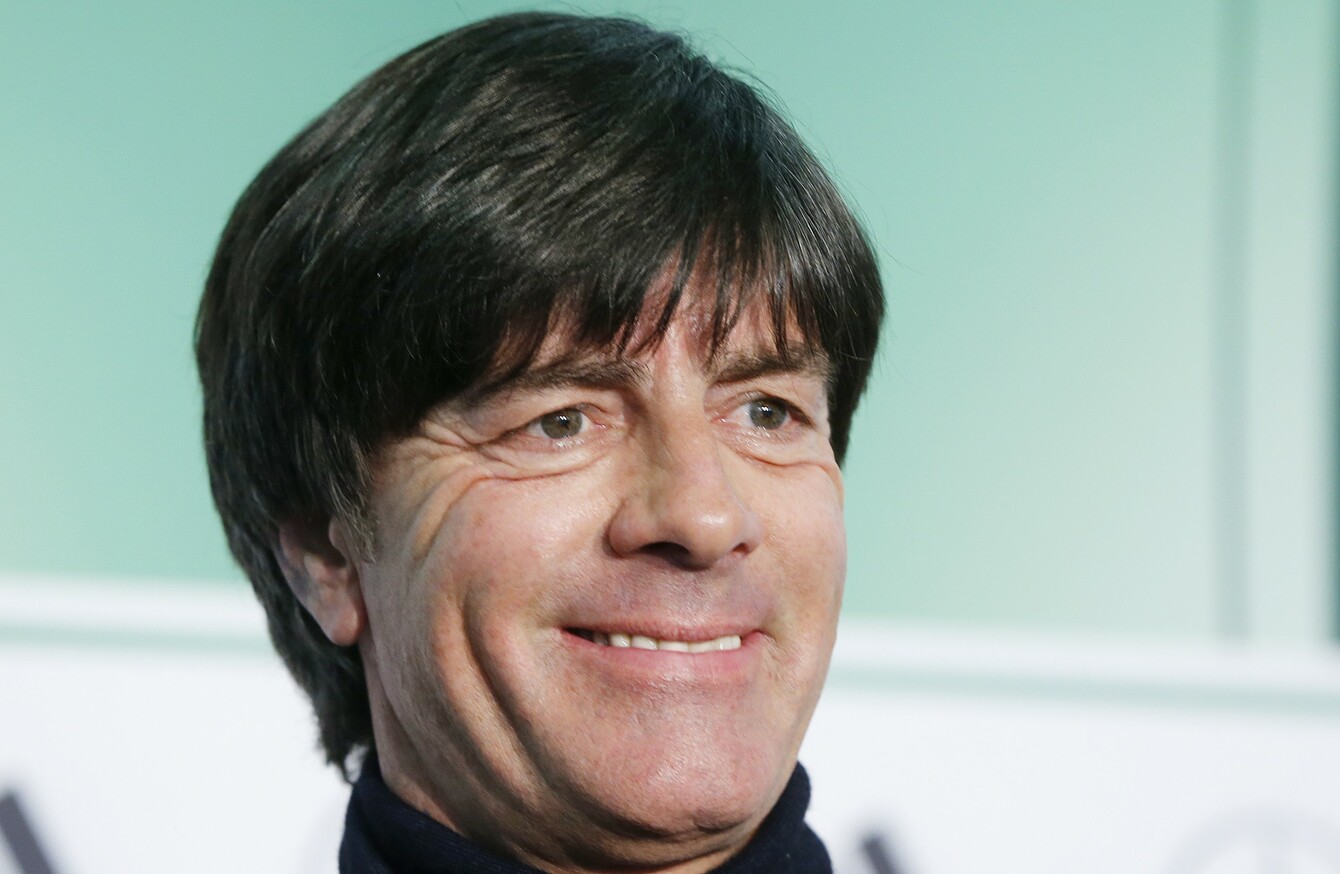 Germany manager Joachim Loew.
Image: Michael Probst
Germany manager Joachim Loew.
Image: Michael Probst
GERMANY COACH JOACHIM Loew is targeting a second World Cup triumph and European glory after extending his contract until 2020.
The 56-year-old, who took charge in 2006, has signed a two-year extension to lead Germany's defence of the World Cup in Russia in 2018 and to the European Championships in 2020.
If Loew — a popular figure in Germany — stays in office until then his 14-year tenure would make him the joint second-longest serving Germany coach, equal to Helmut Schoen (1964-78).
Germany, under Loew, won a fourth World Cup in Brazil two years ago but lost to hosts France in the Euro 2016 semi-finals in July.
Germany have not won a European crown since 1996.
"We have visions and things that we want to tackle, so the time of the extension was just right," Loew said.
"The goal is, of course, to repeat our success story in Rio [World Cup] and we want to be European champions, which is a big goal of mine.
"When the head and the heart both say 'yes' at the same time, then there is not much to think about."
Loew, who took charge of Germany after the 2006 World Cup following two years as assistant coach under Jurgen Klinsmann, will reportedly receive a pay rise to earn €4m per year.
Loew's old deal is believed to have earned him an annual salary of around €3m.
"I feel the same motivation as I did at the beginning of my term at the DFB (German FA) and I still feel their confidence," he said.
"It's simply great fun to work with this team and these players.
"We all have the same goal — to confirm the Brazil success at the World Cup in Russia."
Germany, top of their 2018 World Cup qualifying group with three straight wins, play minnows San Marino away in their next qualifier on 11 November before facing Italy four days later in a glamour friendly in Milan.
Loew, who coached VfB Stuttgart to the 1997 German Cup title, has ruled out a return to the Bundesliga once his Germany reign is over.
Under his stewardship, Germany have reached at least the semi-finals of either the World Cup or European championships for the last decade.
He is though prone to the occasional sideline gaffe, caught on camera, including picking his nose on numerous occasions and thrusting his hand into his trousers to scratch his genitals during a Euro 2016 game.
Sepp Herberger holds the 28-year record for a Germany coach, from 1936-64, during which time he led West Germany to their first World Cup title in 1954.