A CAMPAIGN TO reform organ donation practices in Ireland is set to intensify in the coming weeks.
The campaign is spearheaded by former Derry All-Ireland football winner and current RTÉ GAA pundit Joe Brolly who was lauded last year for his selfless gesture in donating a kidney to his friend Shane Finnegan.
Since then Derry barrister Brolly has been campaigning to change the laws with his 'Opt For Life' campaign as he seeks for organ donation levels in Ireland to be increased to the figures that exist in other European countries.
Under the new proposals people would be presumed to have given consent for their organs to be donated upon their death, unless they have opted out.
Brolly has already consulted with Oireachtas Health Committee chairman Jerry Buttimer over the proposals and stressed that family consent will remain a critical aspect of organ donation. He also believes once people are educated about the campaign that they will row in with their support.
"95 per cent of people think that organ donation is a great thing but only 25/26 per cent have a donor card. In future we wouldn't need a donor card, we'd all start off as donors.
"If you decided for some reason that you didn't want to be a donor you would opt out.  Even if you didn't opt out, under this new system family consent is always critical. So without your family consenting at the hospital, God forbid if you were on a ventilator, the donation wouldn't go ahead.
""The more people understand what it is the less they will have to fear. Opt For Life makes perfect sense. The answer is to create a more sensible system where organ donation just becomes part and parcel of dying just as it is in countries like Belgium, Spain, Croatia and Portugal.
"We have no need to have so many people dying every year and suffering on waiting lists.  It's a good thing. Once people become aware it's not a threatening thing and the leading European counties use this system.  If it's good enough for them it should be good enough for us."
GAA
Brolly believes the public support of the GAA will be central to their hopes of creating awareness about the campaign.
"Things are most definitely starting to move now.  The GAA are going to launch a national strategy in the next few days.  There was a big cross party group of TDs and Senators in Croke Park for a dinner last night with Dave Hickey, Professor Jim Egan and people who are spearheading the Opt For Life campaign.
"In every single GAA championship match programme there's going to be a page about the new law and what we are supporting. It's going to make a big difference that the GAA are so publicly supporting. I can't think of anything better suited to the GAA, the idea of neighbourliness and thinking of others.
Brolly was speaking yesterday in Croke Park at the launch of the 14th annual All-Ireland GAA Golf Challenge which takes place in Waterford Castle Golf Club on September 12th-14th. Opt For Life and local Waterford charities are two of the beneficiaries of the event.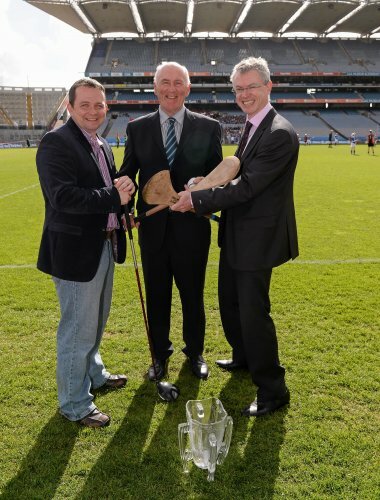 Joe Brolly (right) with Davy Fitzgerald and Eddie Keher in Croke Park yesterdayn.
Pic: Ray McManus/Sportsfile