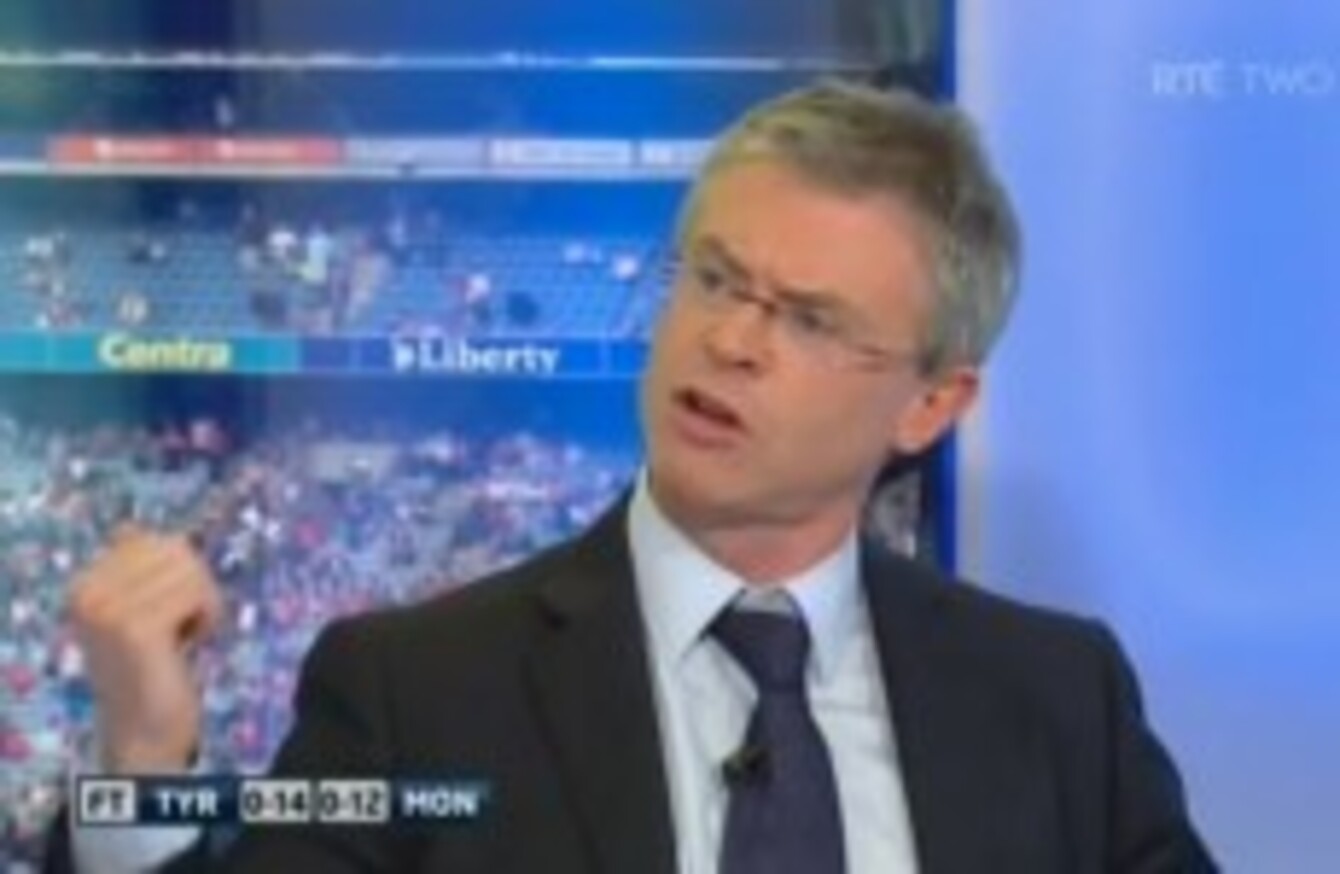 Brolly talking after the game on Saturday.
Image: YouTube Screengrab
Brolly talking after the game on Saturday.
Image: YouTube Screengrab
JOE BROLLY IS refusing to stand down in the debate sparked by his comments made after Tyrone's win over Monaghan on Saturday.
The RTÉ pundit branded the Red Hand's achievement "absolutely rotten" and criticised man-of-the-match Sean Cavanagh for a cynical foul on Monaghan's Conor McManus to deny him a goal chance.
While Cavanagh responded by insisting that he has been brought up to stop a player "any way necessary" in such a situation, former Derry footballer Brolly went on BBC Radio Ulster this afternoon to make his stance clear.
"I was very angry," he told Wendy Austin on BBC's Talkback. "This type of thing is happening far too often nowadays and I feel very, very, very strongly about it. It just happened to be that Sean Cavanagh was the straw that broke the camel's back.
"I think I'm speaking for the silent majority – we need to stop this. It's just a travesty and a bad example for kids.
"There's Conor McManus through. He's been playing since he was a kid and is a tremendous Gaelic footballer. He was through for a goal and had played adventurously to get his goal chance.
And this is the big moment – he's going to put Monaghan through to the All-Ireland semi-finals. Sean Cavanagh just cold-heartedly rugby tackles him from behind.
"Pulls him down, shrugs his shoulders and says afterwards 'well, I don't like doing it, I agree with that. The current rules, we're just exploiting them. That's the way we play' and shrugs his shoulders."
Brolly added that he is delighted his outburst has sparked a debate on the current rules and, after speaking with GAA chiefs, believes they are determined to improve the system to eradicate this type of fouling.
He also praised Tyrone fans and accepted that they would "support their own" but is adamant that Cavanagh should be showing a better example to children playing the sport.
"I'm calling Sean out on this because he's a serial offender. It's not good enough. He's a 30-year-old man and is responsible for his own behaviour. He's suggesting that he's sort of the victim of a system that Tyrone employ.
He's a big boy. He can stand up for himself. I've spoken to Sean about this before. You're talking about probably, in my view, the best footballer in the modern generation. I genuinely mean that and I've said it before. And he's tarnishing his reputation. It's a terrible example for kids.
"My mother's from Tyrone and I'll be supporting them as I always have done but boy are they making it difficult at the moment."
Listen to the full BBC Radio Ulster interview with Joe Brolly here