Image: Morgan Treacy/INPHO
Image: Morgan Treacy/INPHO
GALWAY'S JOE CANNING says that winning an All-Ireland will not define him, after helping the county to bridge a 29-year gap since their last Liam MacCarthy triumph.
A senior All-Ireland title was the one major accolade missing from Canning's trophy cabinet, and prior to Sunday's clash against Waterford, he had played in two All-Ireland final defeats.
Canning scored nine points on the way to Galway's win at the weekend, including two points from play.
But when asked if getting the Celtic Cross means he can start living his life now, he said that although it takes away some of the pressure from the media, it won't change his life.
Speaking to Off The Ball's Oisín Langan, he said that those who don't know him might look at things differently.
"For other people's head space? Maybe. People in the media, people that don't know me, I suppose they can't use that stick to beat me with anymore. I've heard through the media down through the years that I didn't have an All-Ireland medal and stuff like that.
It bothered me for a while alright but then I realised that they're only looking for click bait and stuff like that. They don't actually have a clue about hurling because not many of those guys have played at a high level.
"When you bring it into context like that, it didn't really bother me. If it makes people feel happier now and less stuff to talk about, that's fine by me."
Canning also paid tribute to the former players who lined out for Galway throughout the 29 years since their last All-Ireland victory, and said that this title belongs to them too.
"It's a pity (because) with the bit of luck, they might have got the breakthrough as well. It's (the All-Ireland) is for everybody over the past 29 years that have hurled for Galway and have managed and been in the backroom team for Galway.
"It was a representation of all the effort that everybody puts in. It's not just about the guys that are lucky enough to be on the panel now.
"You even look at guys like Andy Smith and Davy Collins and a few of the lads like Iarla Tannian as well from last year. They're gone this year and you do feel very sorry for them guys that it wasn't last year and not this year.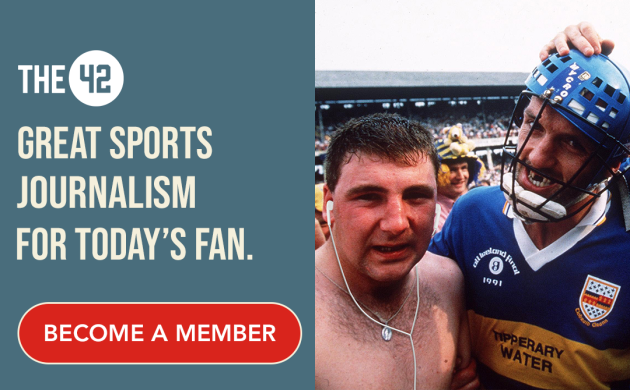 "They battled so hard for so many years. If you want to take a little bit of disappointment out of actually winning in a way. It's a funny thing to say but you feel sorry for them guys but the guys we have are still relatively young.
"Myself and a few of the boys would be the oldest on the team. We're just delighted to finally get over the line."
Listen to the full interview here.
Subscribe to The42 podcasts here: