OLLIE CANNING CASTS his mind back to the 2005 All-Ireland hurling final day.
He lined out at corner back for the Galway senior hurlers, while his younger brother Joe had been making a name for himself with the minor side.
It was a huge day for the Canning household, of course. It ended in joy and elation for one brother, but disappointment for the other.
Ollie, and the seniors were beaten by Cork, while Joe and the minors came up trumps over Limerick.
When asked if it was hard to be happy for his younger brother and his counterparts that day, Ollie Canning smiles: "It's not hard to be happy for them. It's great.
"On that day, that was the way the cookie crumbled, we weren't good enough to win the game. You have to take that on the chin and move on.
"I had to get over my own match, but I was delighted the young lads had got through on the day. The same applies all the time. I was the type of guy who looked at it, we weren't good enough and that's it.
"Obviously, you're very, very disappointed and you do go back and analyse the game, but that's just the nature. But with the younger lads winning, you can only be happy for them."
This year, it's almost like history repeating itself in a sense. Joe is lining out with the seniors as they face Waterford, while his nephew Jack will play a central part in the minor curtain-raiser.
Jack Canning is a name coming to the fore more and more as of late, and he is expected to shine yet again on the biggest stage in GAA come Sunday.
Canning, an analyst with Sky Sports, looks back on that day in 2005, and compares the two.
"We've had that in the household. It's a bit different this time with Joe being Jack's uncle. Myself and Joe — brothers, so it was a big day.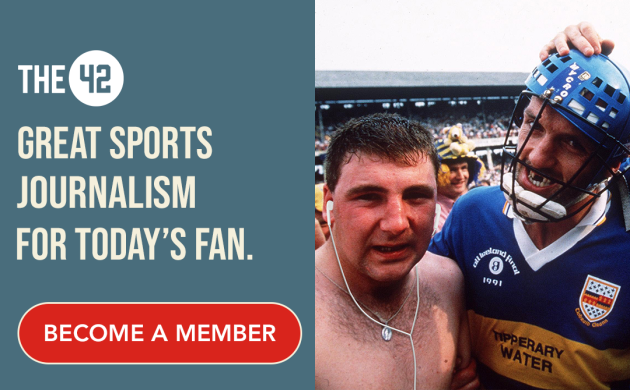 "It was a day that we enjoyed the build-up to it. That's what you have to try and do. You have to concentrate on the day itself and on the hurling, the plan, you're conscious of all that, but you would hope that the players can build the whole preparation and the build-up.
"For me personally, I enjoyed everything that came with the game — being out on the field earlier, the parade, the full house in Croke Park, the noise and everything else that goes with it.
"I really enjoyed All-Ireland final days, even though we lost both times. It was a great experience that I really enjoyed. I just hope that the guys can savour the moment as well as concentrate and do themselves justice on the field."
It can't be denied that the Canning house is hurling mad, and that there is huge excitement surrounding Sunday.
Canning is well aware that his brother Joe is more than used to it at this stage, but he says that Jack is taking it all in his stride as well.
"I think he's fine. I was only chatting to him a few times about it. In the house at home, it doesn't get dwelled on too much. The guys have to get on with their life outside of hurling as well.
"Jack, he's just done his Leaving Cert so he's trying to get his college and all that good stuff sorted out. Look, it's a big day for the minor team and Jack indeed.
"It's a huge to go out in an All-Ireland final day, the whole build up and the whole fanfare  around the day. It's a huge undertaking for the players that are only 17, 18 years of age.
"All you can hope is that they go out and perform to their potential. If they're good enough to win it, they will and if they're not, they won't. It's as simple as that.
"You just hope that the day doesn't pass them by, that they can settle into the game fairly early and do themselves justice with regards the performance."
And the mood in the West can't be bet this week.
"The flags are being put up and Galway is looking really well. It's really starting to build now. Pressure's coming on everybody for tickets at this stage.
"It's a great place to be from a Galway point of view. To have the teams in the senior and the minor All-Ireland this year, and everybody's looking forward to it.
Sky Sports analyst Ollie Canning will be in the studio this weekend as Galway and Waterford go head-to-head in an historic All-Ireland hurling final, shown live on Sky Sports Arena from 2.30pm and Sky Sports Main Event from 3.30pm.
Subscribe to The42 podcasts here: