LIFE COULDN'T HAVE been much better for Joe Gamble on 12 August, 2008.
Just days earlier he signed the most lucrative professional contract of his career with his hometown club. Now he was savouring the early stages of fatherhood. His partner Sylvia had just given birth to Madison, the couple's first child.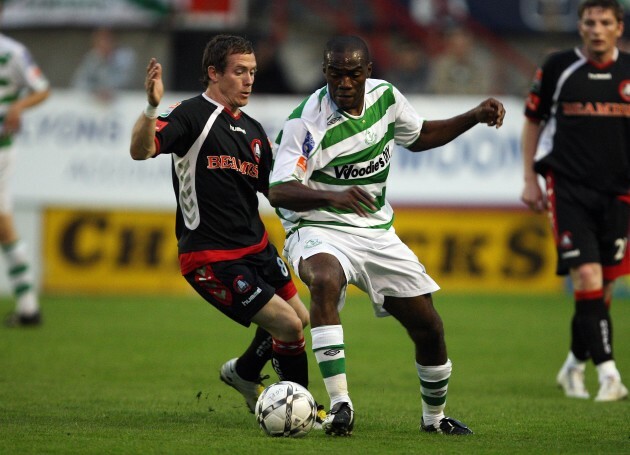 Cathal Noonan / INPHO Cork City's Joe Gamble (left) tussling with Joseph Ndo of Shamrock Rovers in August 2008. Cathal Noonan / INPHO / INPHO
With his daughter in his arms at Cork University Maternity Hospital, Gamble received a call from Jerry Harris, Cork City Football Club's secretary. The news he was about to deliver wasn't positive, but Gamble was oblivious. Football could wait until tomorrow.
"Jerry rang me and said the club was about to go into examinership," Gamble recalls. "I didn't even know what examinership meant. I was still on a buzz from my daughter being born so I didn't think too much about it. I just told him I'd call him back the following day.
"It was only when I came into training the next morning that I found out what it meant. I just said, 'What? I only signed a new contract last month'. What I signed was worthless in the end. I got one month's wages on the new contract."
A complete midfielder who blended technique with tenacity, Gamble was hot property in the League of Ireland in the summer of 2008. However, Cork City had allowed his contract to enter its final few months. With a child on the way, the 26-year-old was in need of assurances over his future.
While City procrastinated, St Patrick's Athletic pounced. According to reports at the time, the Inchicore outfit offered him a deal worth in the region of €200,000 a year — an unprecedented salary for a League of Ireland a player. With no sign of a new contract materialising in Cork, Gamble's decision was simple.
"I really got massively stung by the whole situation," he says. "I had signed a pre-contract with St Pat's because they put an offer on the table which was simply too good to turn down. I'd have been a fool to refuse it. I didn't want to leave Cork but if someone offers to quadruple your money, you're not going to turn it down.
"I felt I was one of Cork's better players but they hadn't offered me a new deal. Then when they found out about what Pat's offered, they came back with the same deal. There hadn't been any hint of financial problems at the club before that and I was signing a three-and-a-half-year deal to stay at home. I only ever wanted to play with Cork so this was ideal."
City had been taken over the previous year by venture capital firm Arkaga, who gave Gamble his new contract before it emerged that the club was €800,000 in debt. As the protection of examinership was sought, pay-cuts of up to 70% were implemented and the team were docked 10 points, which ultimately cost them a place in the Europa League.
"How could things have changed that much in a month, where they could afford to offer me that contract but then end up in examinership? It was a disgusting way to do things and from that moment in my career I became much more ruthless and less emotional about clubs. The word 'loyalty' is bandied about a lot about players, but it has to work both ways. My outlook changed overnight about the real, cut-throat business of professional football. I was genuinely dumbfounded by the whole situation," Gamble recalls.
"It was probably a good thing that my daughter was born on the same day because I probably would have gone into the club with a baseball bat and taken someone's head off. Looking back on it now I probably should have anyway."
Lorraine O'Sullivan / INPHO Gamble pictured in 2000 while training with the Republic of Ireland U18 squad. Lorraine O'Sullivan / INPHO / INPHO
The latter stages of Joe Gamble's Cork City career were tainted by their financial problems, but they're not the memories that spring to mind when he reflects on his time with a club he first joined in 1998 after playing his schoolboy football with Everton AFC, who hailed from his own parish of Togher on the southside of the city.
Alongside fellow future Republic of Ireland internationals Damien Delaney and Alan Bennett, Gamble was part of the Cork City side that won the FAI Youth Cup in 2000. He then marked his senior debut with a goal in a Super Cup game against Bohemians, but by then he was already earning admirers from across the Irish Sea.
After impressing for the Republic of Ireland U18s in a tournament in Portugal, Gamble rejected the advances of Aston Villa and Crewe Alexandra to join Alan Pardew's Reading. Over the course of his first two seasons with the Royals, the Corkman managed to force his way into the first team to make 13 appearances.
Reading were promoted to England's second tier for Gamble's third season in Berkshire, but an injury that threatened to end his career meant that he didn't play any part in 2002-03. Gamble suffered complications after dislocating his knee. The recovery wasn't straightforward.
"When I had the operation at 21, I was told that I'd never play again," he explains. "I've had many operations on it since and I definitely paid the price down the line. But it was just sheer determination and properly managing my knee after the operation that got me through the rest of my career.
"I was very lucky that the injury happened in England too. If it happened at Cork City, being honest at that time, I wouldn't have had a career. No one knew what the problem was for a long while. I played at home with Everton and Cork City youths and it needed experts to get to the bottom of it. I was fortunate that I was at a professional club in England with access to top medical staff."
When he returned to full fitness, Gamble spent the 2003-04 season on loan at Barnet. He never played for Reading again but there are no regrets about a spell he describes as "a four-year apprenticeship" at a club who were promoted to the Premier League two years later.
"I went at 18, which is the right age. It can be great to go at 15 or 16 but I think that has a massive effect on your mentality. You're not even old enough to have a pint and you're living away from home. You're a child, that's all.
"Training all day every day, being away from your family and friends, you can end up doing too much too soon and there's a danger that you can fall out of love with it. I know a lot of players who have.
"It's hard, hard work at that stage because so many kids want to be professional footballers. It's a long way away from your perception of driving fancy cars and playing in front of big TV audiences for big money. I think I was ready for the move at 18, certainly mentally anyway.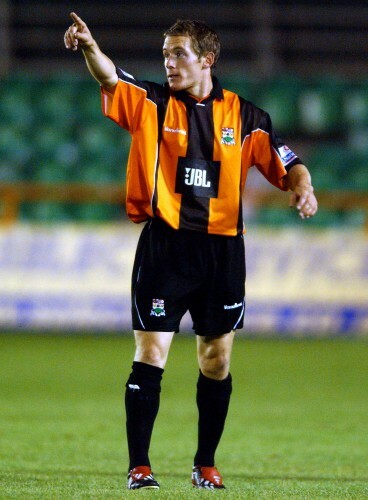 Tony Marshall Gamble spent the 2003-04 season with Barnet. Tony Marshall
"I went to Reading thinking that I was good player because I had already played with Cork City's first team, but when I got there I realised I was nowhere near as good as I thought and I had a lot of work to do. It was a massive learning curve in terms of finding out how to actually be a footballer and what you need to do on a daily basis.
"I was thrust into the first team pretty quickly so I skipped the whole thing of youth team football in England. Academy football is really a load of nonsense anyway. It's all playing out from the back under no pressure, looking good and poncing around the place. You want to be playing football where fellas are actually kicking, hitting, biting, elbowing you — real, men's football that gets you ready for playing for three points and your wages every week. It's a totally different mentality.
"I could look back and wish that my time at Reading had been better, and I could moan about the injury. But the reality was that while I was a good player, at that time in my career I just wasn't good enough for that level. If I was, I would have been playing. No excuses. That's just a simple fact."
Gamble had options in England in the summer of 2004, but none of them appealed to him as much as a return to Leeside. Under the management of Pat Dolan, Cork City were assembling a promising squad which included several players who were in a similar position to Gamble: young Cork lads, such as John O'Flynn, George O'Callaghan, Roy O'Donovan and Liam Kearney who had a point to prove after returning from England.
Gamble: "I knew that Cork City were full-time and Pat Dolan came over to watch me at Barnet. It just felt like the right move to make at that stage. It was probably the best decision of my career in the end. There was a massive difference there compared to when I left. There was a great buzz about the club too.
"Nearly all of the players were from Cork and we were all hungry. We went over to England, got a good apprenticeship, and then came back as better players with high standards. It was a case of, 'Hang on, I'm not accepting second-rate standards here, we need to be pushing to be the best'.
"Pat [Dolan] and Rico [Damien Richardson] after that, they realised the importance of a proper, professional set-up. The players drove that on too. Maybe there was a point to prove but there was also a sense of belonging. 'This is our club, this is our city, we're representing where we're from so let's do it right'."
After they upset Malmo in the previous round, Gamble made the first appearance of his second spell with Cork City when they knocked Dutch side NEC Nijmegen out of the Intertoto Cup. Nantes ended that particular run but Gamble would go on to enjoy several more memorable European nights over the next five years.
He excelled in 2005 as City eliminated an overly-confident Djurgardens side — who were crowed Swedish champions just a few months later — from the Uefa Cup. The following year they got the better of Cypriot champions Apollon Limassol in the qualifying rounds of the Champions League.
"Djurgardens were fairly cocky, yeah," says Gamble. "The French lad, Ibrahim Ba, was playing for them. If you're in his position, he was after playing for AC Milan and then he's playing against a team from Ireland who he'd never heard of. I can see why they were so over-confident. They wouldn't have known anything about us. They were cocky but in fairness they were also a good side who could back it up, to an extent.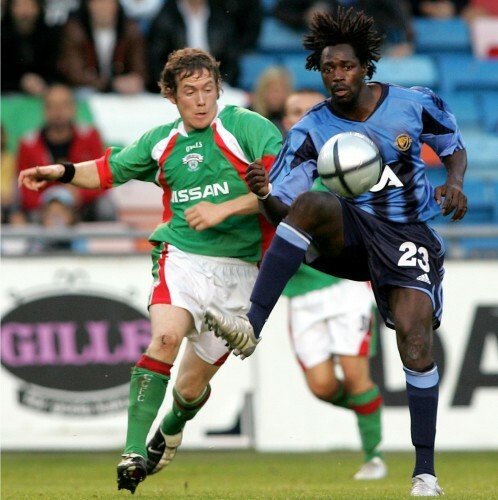 Bjšrn Tilly Gamble battling for possession with Ibrahim Ba of Djurgardens. Bjšrn Tilly
"That result just showed the level we were getting to. The Cyprus one was big as well. The Cypriot champions got to the group stages only two years later, which just shows that we're not that far off in Irish football if we can manage the finances better and have sustainable clubs. If we can achieve that on a regular basis, the league would move up a few gears."
Although he took many good memories from those European ties, what stands alone as the highlight of Gamble's playing career is the night of 18 November, 2005. Cork City defied the departure of Kevin Doyle for Reading midway through the campaign to pip Derry City to the Premier Division title in the final game of the season.
Needing a win over the Candystripes at Turner's Cross to seal just the second league title in the club's history, goals from John O'Flynn and Liam Kearney gave the home side a 2-0 victory — a triumph the Leesiders have yet to repeat.
"We had to win, whereas all they needed was a draw," recalls Gamble. "That suited us. When Dundalk and Cork City played on the final day of the season three years ago, I knew — even though I was rooting for Cork — that Dundalk would win because I pictured my own situation in 2005, where we had to go out and chase the win. That focuses your mindset. It's do or die. Winning is the only option. There's nothing in between. Derry came to Cork that night looking for a draw. They dropped Paddy McCourt. It set alarm bells ringing for us.
"We went out and smashed them off the pitch. Even all that week, I remember Rico having to stop training sessions a few times. We were so pumped up that we were flaking each other around the pitch and fellas were being kicked up and down the place. A few scuffles had to be broken up. We were just that hell-bent on winning the game. To go out and win the league in that manner was an unbelievable feeling. I still get goosebumps thinking about it."
He adds: "With that group of players, that was by far the best dressing room I've ever been in. I said at the time that I'd never be in a dressing room like that again, and I never was. You couldn't replicate what we had, with the days and days of laughter and banter we used to have.
"There was serious messing that went on, between fellas cutting up each other's clothes and throwing mannequins in your car. There was all sorts of ridiculous stuff going on but it contributed to a great atmosphere among the players and it never diverted from what we had to do on the football pitch.
"We used to kick the shit out of each other in training but the bond was incredible. Sessions on a Monday morning were often tougher than matches on a Friday. Fellas were flaking into each other — and that's the way it should be. No one was afraid to put it up to each other and demand from each other. It was a special dressing room with top characters and players."
Sixteen days after they overcame Derry, Cork City had an opportunity to complete the double when they faced Drogheda United in the FAI Cup final at Lansdowne Road. But at the tail-end of their league title celebrations, City delivered a flat performance in a 2-0 defeat.
INPHO "We used to kick the shit out of each other in training but the bond was incredible." INPHO
Gamble: "Honestly, I don't have any regrets about the cup final. I know it would have been great to win a double but my sole focus — and I think the team's all year — was on winning the league. Nothing else would do. I'll be honest, I didn't care about the cup final until after we won the league. And we celebrated so much after winning the league that I wasn't too concerned about it.
"I just thought we'd beat Drogheda. That's not being smart or complacent, I'm just being honest. We were young boys and we nearly drank Cork dry for over a week. I remember going down through the lobby of the hotel in Dublin on the day of the cup final and there were thousands of people there, which kind of shocked me. 'Fucking hell, is this for us?'
"I definitely didn't realise the magnitude of winning the cup. I didn't think it would be as big a deal as it was. The attendance was over 25,000. Afterwards when people were talking about the regret of losing the final, I thought people had put too much emphasis on it when we had just won the league for only the second time in the history of the club.
"I was still young so I was just saying, 'Ah, we'll come back and win it next year'. But I had no regrets about it because all I was thinking about all year was winning the league, and we did that. I know it sounds very unprofessional but that's the truth of how I was feeling at the time."
Less than six months after the defeat at Lansdowne Road, Gamble and Cork City were denied more silverware by Drogheda. This time it was the Setanta Sports Cup, as Mark Leech's extra-time goal was the difference between the teams in the decider at Tolka Park.
Nevertheless, Gamble's influence on the team continued to grow and the new Republic of Ireland manager was taking notice. Ahead of his second game in charge, Steve Staunton called the midfielder into his squad for a training camp in Portugal in May 2006, which was followed by a friendly against Chile at Lansdowne Road.
"Rico phoned me and asked me to meet him down in the Rochestown Park Hotel. He told me the news down there and I was absolutely buzzing. I never expected it. I know Glen Crowe and Jason Byrne had been called in before me, but you never really think of it as a possibility when you're playing in Ireland.
"I was ecstatic. Even though I didn't play in the game, it was a huge honour for me even to be training with the squad," says Gamble, who had to be content with a place on the bench for the duration of Ireland's 1-0 defeat to Chile, for whom a 17-year-old Alexis Sanchez was among the substitutes.
A year later, however, Gamble did become a senior international footballer. He made his debut in a draw against Ecuador at New York's Giants Stadium, before playing again three days later at Gillette Stadium in Foxborough, as Staunton's side drew with Bolivia. A decade later, Gamble remains the last domestically-based player to be capped by Ireland.
"Did I feel like I was representing the League of Ireland; like there was an onus on me to prove that League of Ireland players can cut it at that level? No, to be honest. I didn't care about other players in other teams. I just wanted to represent myself first and foremost, then Cork and my City team-mates. I wanted to show that I was capable of playing there and that I was worthy of being there.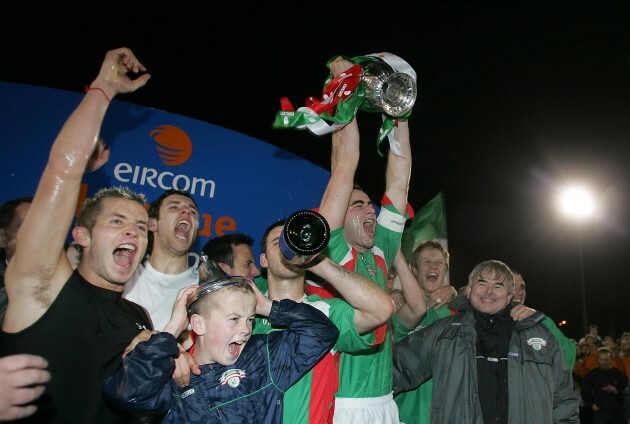 Andrew Paton / INPHO Cork City captain Dan Murray lifts the trophy after their league title success in 2005. Andrew Paton / INPHO / INPHO
"When you walk into any new dressing room, whether it's with club or country, you're always looking for acceptance from your peers. There's nothing worse than going into a team and feeling that those around you might not think you're good enough to be there. I felt I was good enough and proving that was my aim. But I was never made to feel like that, in fairness.
"The players were unbelievably welcoming each time I was involved with Ireland. I couldn't speak highly enough of them. The senior players — Damien Duff, Robbie Keane, Shay Given, Kevin Kilbane — were fantastic. I couldn't believe how grounded they were. I went in and played the way I normally would do. I wasn't unbelievable but I held my own in training and I felt good about it. I never felt out of my depth."
He adds: "I never found it daunting. There was probably nervous excitement. 'I'm actually going to put on the green jersey and play for Ireland'. There are no words to explain what it feels like to play for your country.
"I remember as a kid watching Ireland in the glory days and you tell yourself that you're going to do that some day. For me to be able to look back and say, 'I actually played for Ireland', it's an unbelievable feeling and something that can never be taken away. I made my debut for Ireland where Ray Houghton scored that goal against Italy in the '94 World Cup. That's very special."
Gamble eventually got his FAI Cup medal in 2007 when Cork City were 1-0 winners over Longford Town. There was Setanta Sports Cup success the following year at the expense of Glentoran, but off-the-field matters overshadowed his final 18 months with the club.
City emerged from their period of examinership when Tom Coughlan assumed control in October 2008, and although players' contracts were downsized for the 2009 season, further financial problems were on the horizon.
Under Paul Doolin, the team managed to sustain a challenge towards the top of the Premier Division table in spite of extremely difficult circumstances, details of which are comprehensively documented in 'Second City', an excellent account of the 2009 season written by former Cork City full-back Neal Horgan.
In addition to more pay-cuts, the power was cut off at the club's Bishopstown training ground and the driver refused to take the team to Dublin for a game against St Patrick's Athletic until the club's debt with the bus company had been settled. On another occasion, a player's landlord turned up in Bishopstown looking for his rent money.
"It was dire straits," Gamble admits. "We hadn't been earning the kind of money where we could have saved enough to keep ourselves going when things went to shit. I remember one senior player couldn't get his rubbish collected from his home because he couldn't afford to pay. Other lads were getting loans from their families. It was scandalous stuff.
"I don't care what job it is, if you don't get paid on a Friday after doing a week's work, it's demoralising. How do you feed yourself or your kids? How do you pay your bills?"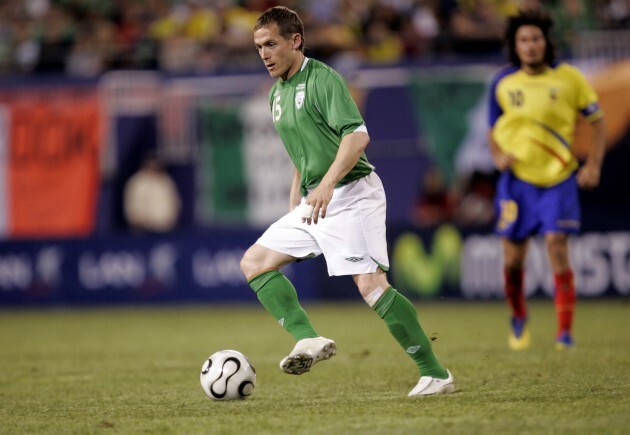 Donall Farmer / INPHO Gamble in possession for Ireland against Ecuador in May 2007. Donall Farmer / INPHO / INPHO
With a winding-up order just months away, Cork City Football Club was approaching the point of no return. While the players considered strike action, they continued to fulfil fixtures — and ultimately finished the season in a Europa League spot — in the hope that the club's future would be resolved. They also had to put themselves in the shop window.
Gamble: "You just love it so much that you keep going; keep training, keep playing. And in one sense you don't have a choice either because you know you're probably going to have to set yourself up for a move away. If you're playing badly then no one will be interested in signing you.
"You have to be mentally tough in a situation like that. But that whole year was just a mess. The only good thing from it was that I learned a hell of a lot on the footballing side of things from Paul Doolin, who was an excellent manager. How he isn't involved with an Irish club now is a travesty."
While there was overwhelming support for the players in Cork, they were also left frustrated by a lack of empathy for their plight from certain sections of the public. According to the skewed logic of their critics, the players got themselves into the mess by accepting salaries that were never likely to be affordable for a League of Ireland club.
"The people who were saying stuff like that were fucking idiots — and I mean that," Gamble says. "Who in the name of Christ would not accept a pay-rise that was being offered to them? If your boss says he's going to give you an increase in pay, you're not going to say, 'No, I'm actually okay, let's put the money somewhere else in the company or give it to someone else, they deserve it more'.
"I didn't hold a gun to anyone's head, nor did I do anything to threaten the club to give me a new contract. I had agreed a contract elsewhere. I was on my way to Dublin. There wasn't even a negotiation with Cork. It was literally a two-minute conversation. I wasn't saying I wanted more. They just came out with that offer after I agreed to go to Pat's. Of course it was too much money in hindsight, but that shouldn't be the concern of players. I wasn't doing the accounts of the club."
One of the biggest beneficiaries of Cork City's demise were Hartlepool United. Having already signed Denis Behan, the League One club then picked up Gamble. He made the move to the north-east of England in January 2010, although the timing wasn't ideal.
"I firmly believed I was going to be in Cork for the rest of my career," Gamble says. "I was delighted with the thought of that too. I didn't have any ambitions about going back to England. I was competing for trophies with my hometown club and playing in Europe. I felt very satisfied. I saw myself eventually coaching or being a manager in Cork. That's what I had in mind.
"But I'd had a child, we had another one on the way and I had to go. I couldn't even stay in Ireland because all the clubs were cutting back drastically at that stage. England was my only option and I only went for a year and a half because I really didn't want to be there. But it was the best move for my family."
At first, Gamble went to Hartlepool alone while his wife Sylvia — who was pregnant with their second child — stayed behind in Cork with their daughter. In the summer of 2010, less than a fortnight after giving birth, Sylvia followed with 18-month-old Madison and newborn Amelia.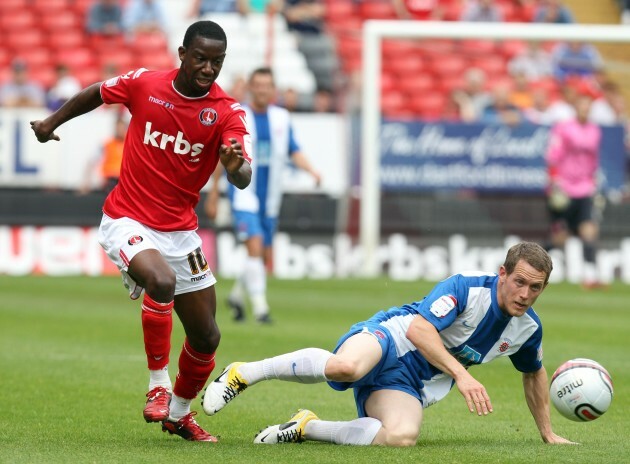 PA Archive / PA Images Charlton Athletic's Bradley Wright-Phillips is challenged by Hartlepool United's Joe Gamble. PA Archive / PA Images / PA Images
"People don't see this side of football and you'd never see it unless you're in it. But how many fellas could ask their wife, 10 days after she's given birth to a child from a C-section, to pack the car up and move to another country, to a place where your family has never been before?" Gamble says.
"You'd need a seriously patient wife for that and I'm lucky that I have one. That's not normal in any job. How she agreed to do that — put two young kids into the car and head off — I'll never know.
"Then I was straight into pre-season training and we were away in Holland for five days. The perception of playing football in England is a fairytale. I'm not saying it's a chore, but it has its ups and downs like everything else in life. But that was my reality over there. Football is a tough trade for most players. People never really see that side of it."
He adds: "I felt I did fine at Hartlepool. I held my own. We were mid-table mostly. It was a good group and we were competing against some big clubs like Sheffield Wednesday, Charlton and Southampton. But it was never home. That's not a reflection on Hartlepool, it's just a case that I ideally wanted to be somewhere else."
By the time Gamble left Hartlepool in the summer of 2011, Cork City were up and running again under the ownership of the club's supporters. However, their limited budget meant that they weren't in a position to offer him a professional contract. After Pat Scully put a full-time deal on the table, Gamble returned home to join Limerick instead.
Gamble spent two-and-a-half years with the Shannonsiders and helped them to achieve promotion back to the Premier Division. When his time with Limerick concluded at the end of the 2013 season, he followed a recommendation from former Cork City team-mate George O'Callaghan and relocated with his family to South-East Asia.
They spent two years in Brunei, where Gamble enjoyed the lifestyle and earned a decent salary while playing for DPMM FC, a club owned by the Crown Prince of Brunei and managed by former Blackburn Rovers boss Steve Kean.
"When George phoned me about it first I just said, 'Brunei? Who? What? Where's that?' But in hindsight I wish I had experienced playing abroad earlier. Players feel like they have to play in that bubble of Ireland and England. One thing I'd say to other players is take your boots and travel. Experience different things and you'll appreciate it more. You'll be a better player for it too."
After playing his part as DPMM were crowned champions of the S League — Singapore's top flight — in November 2015 for the first time in the club's history, Gamble headed back to Ireland and eventually decided that it was time to begin life as a former professional footballer.
In that regard, his spells with Limerick and DPMM had been particularly beneficial. So too was his final year at Cork City. The financial difficulties at the club had illustrated to Gamble the importance of putting plans in place for retirement. He therefore began a three-year course in strength and conditioning with Setanta College.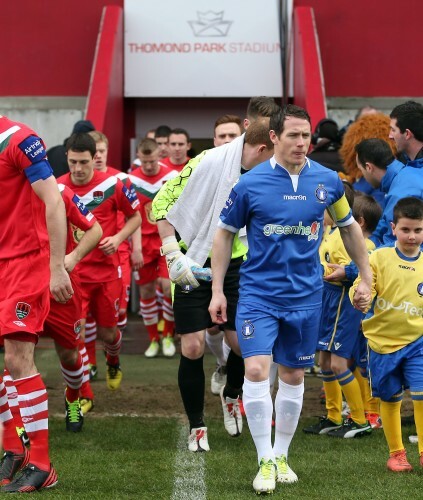 Donall Farmer / INPHO Gamble leads Limerick out for a Premier Division game against Cork City at Thomond Park in 2013. Donall Farmer / INPHO / INPHO
Gamble had shown an interest in S&C as far back as his time with Reading, where he was struck by the differences in the levels of preparation and recovery between clubs in Ireland and England. In addition to his playing commitments, Steve Kean allowed him to act as DPMM's S&C coach. Last November, Gamble returned to Limerick in the same role.
"Limerick worked out really well for me when I came back from Hartlepool," he says. "I'm delighted I went there. I met some great people who are friends for life and I was part of the team that won the First Division, which the club hadn't done for a long time. From that connection I'm now there coaching and doing S&C in a full-time capacity. If I hadn't played for Limerick I certainly wouldn't be there now."
Gamble ultimately hopes to go into management, although he admits that's a long-term ambition: "I want to learn first. I don't want to jump into anything too soon. That's still five or six years away." In the meantime his main focus is keeping the Limerick players in peak physical condition. Strength and conditioning has come a long way in the League of Ireland.
"We've made a lot of progress in terms of having players who are better prepared physically, as results have proven in Europe with Dundalk and Cork last year," he says. "But if you're flogging the players to death to try and get them fit, you're going to pay a price. Guys are going to break down with injuries because they can't handle the workload. Then when it comes to match-day you'll be down three or four players.
"The old-school way of thinking would be to say that a player just isn't fit enough or he's mentally weak because he can't handle the excessive training load. But instead you need to ask if there's too much being done. At the end of the day, what's the goal: to play well on a Friday or to train as hard as is physically possible on a Monday or Tuesday? Because I've never seen any medals given out to a player for training.
"You're judged on a Friday night, that's all that matters. The fans don't care — nor do they see what you're doing during the week — as long as you perform on a match night. The old mentality of 'work, work, work' has to change because it's not always the work that gets you fit, it's the restore, rebuilding and recovery for the next session that gets you in top condition.
"People might say that I'm only promoting my job because I'm an S&C coach, but I'm not. I'd say give me 16-to-18 top pro players and a top S&C coach who can make 90% sure that my players are in tip-top condition and ready for selection, instead of having 22-to-24 full-time players, of which three or four might be average and will never play anyway.
"Set the standards really high in training and have top players play against each other. The football sessions will not break down as much and that real competition will bring the best out of every player."
Joe Gamble's playing days may be over, but his pursuit of the highest standards continues.